Tiger Woods at WGC-Bridgestone Invitational 2013: Day 2 Live Score & Analysis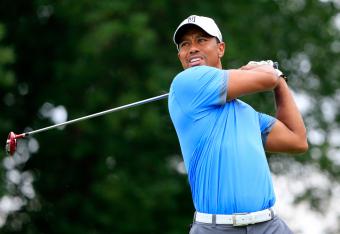 Sam Greenwood/Getty Images
Tiger Woods buried a 26-foot putt for par on the final hole Friday afternoon at Firestone, providing a fitting end to one of the best rounds of his illustrious career. He seized a seven-stroke tournament lead with a second-round 61, matching his top PGA Tour score and tying a course record.
The nine-under effort puts him at 13 under through 36 holes at the Bridgestone Invitational, where Woods is a seven-time champion. The impressive performance featured seven birdies, one eagle and no bogeys.
Woods has bogeyed just two holes through two rounds of the tournament, which sets the stage for the PGA Championship next week. He needed two birdies on the final three holes to finish at 59, but picked up pars at each stop.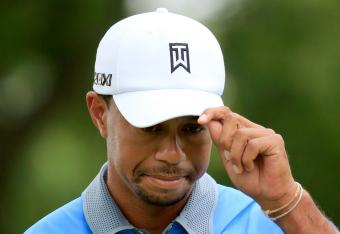 Tiger Woods received an incredible ovation from the crowd at Firestone after canning a 26-foot par putt on his final shot of the afternoon. The gallery always tails Tiger, but today was different.
This vintage performance took onlookers back to the days when Woods was seemingly on touchable tournament after tournament. His second-round score of 61 is Woods' best mark since his 2009 fall from grace.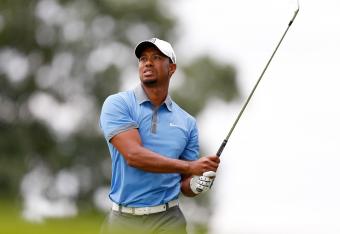 Tiger Woods caps off an incredible performance with a dramatic long-distance putt, saving par on No. 18. The final hole was an adventure, but it caps off a career-best effort for Woods, who matches his lowest score with a 61.
He finishes the day nine under and is now 13 under for the tournament. Woods leads by seven strokes heading into Saturday.
Suddenly, Woods is in a mess. His second shot collides with a cluster of trees and the ball settles in a piece of trampled grass in the gallery.
The wheels have really come off the wagon for Woods in the past few minutes. He will get a free drop one club length away.
Tiger's drive on No. 18 lands right beside a barricading tree. He's looking at a major challenge here and 59 is out of the picture.
He seemed to check out mentally after that putt missed on No. 17. We'll see if he snaps out of it here on his second shot.
Woods delivers his poorest putt of the day on No. 17. The seven-foot attempt lingered to the right of the hole and just looked plain ugly.
Tiger must hole his second shot of the par-4 18th hole in order to finish at 59. A birdie would give him the best round if his career (60). One of his four 61 scores occurred at Firestone.
Don't count Tiger out just yet! He sticks his second shot from the rough right onto the green.
The 9-iron served Woods well and his now staring at a seven-foot birdie putt to keep the sub-60 dream alive.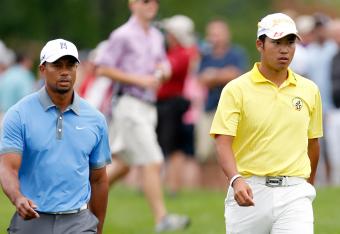 The 30-foot birdie putt attempt comes up short and to the right of the hole. It never looked ready to threaten to drop. Woods is then able to save par.
He must birdie each of the final holes to hit 59. Woods stays at nine under for the day, 13 under for tournament and holds a six-shot lead over Chris Wood.
If he can shave another stoke off his score, Woods would compile a career-best round of 60.
Tiger goes long on his third shot attempt and reacts with a grimace. A birdie looks to be essentially out of range as he is 30 feet out. But I wouldn't put anything past Tiger today. History in the making...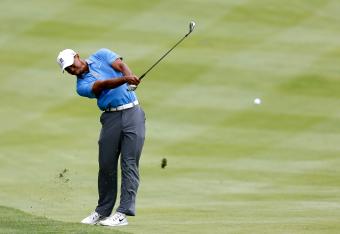 As light rain begins to fall, Tiger plays it safe on his second shot. He lays it up on fairway perfectly, rather than trying to clear pond en route to the green.
This 16th hole is one of his two bogeys in the tournament, occurring yesterday. His third shot in the par-5 hole is upcoming.
The Golf Channel posts an interesting and timely graphic on the screen during broadcast. Woods has finished two-under in the final three holes at Firestone six times in his career.
Again, that's exactly what he needs to secure a 59.
Woods begins the 667-yard par-5 16th hole with a blast. He crushes the ball on drive but it comes to rest along left cut, so his second shot could be challenging.
If he can get it off cleanly, you better believe Woods is in great shape to set up a birdie put. Remember he needs two birdies on these final three holes to finish at 59.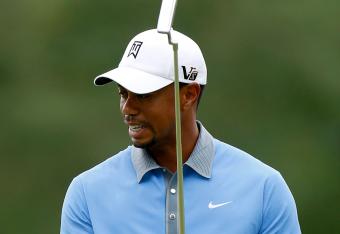 Woods settles for a two-putt and his second straight par. He will need two birdies on the final three holes to finish at 59 for the day.
He is currently at nine under in the second round now heads to No. 16, which was one of his two bogeys yesterday.
Tiger's drive on No. 15 is a thing of beauty. He sticks it on the green.
Birdie attempt upcoming on the 216-yard par-3. Woods is about nine feet away.
Tiger displays nerves of steel to save par on No. 14. His six-foot putt was never in question.
His streak of four straight birdies is snapped but he avoids his first bogey and still sits at 13 under for the tournament and nine under today.
Woods' lead is still seven strokes, ahead of Keegan Bradley and Chris Wood.
A four-yard chip attempt from fringe of green runs long past the hole. Woods will have to hit about a six-foot putt to avoid his first bogey of the afternoon.
Interesting action playing out on No. 14.
Tiger attempts a fade on a tough angle on right side of 15th fairway. The shot is well executed, lands on green and after a bit of a roll the ball comes to a halt on back end of the green.
This is going to be a very tough birdie attempt.
Obviously, 59 is the number everyone is enamored with here but keep 61 in mind as well. That's the best score of Tiger Woods' career on the PGA Tour.
He's accomplished that feat four times.
Woods is off the mark on his drive at No. 14. The ball sails right and presents a challenge among some trees.
No one said 59 would be easy.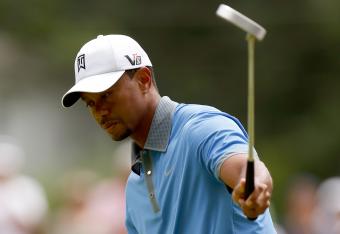 And he does it again! Tiger makes a 13-foot putt for birdie on No. 13, giving him 11 one-putts for the day.
Woods improves to nine under in the second round. He is now 13 under for the tournament, leading Keegan Bradley by seven strokes.
First-round leader Webb Simpson is one over today and suddenly sits eight strokes back of first place.
When Tiger Woods is at his best, he's burying putts that leave his opponents shaking their heads. That's been the case today.
Woods has drained three putts from 20-plus feet out.
Good fortune continues for Woods on No. 13.
His tee shot went awry and straight into a cluster of trees BUT the ball bounces back along the left side of the fairway. Being great and lucky at the same time is a lethal combination.
Good time for a golf fan to belly up to a bar with a few buddies, order a beer, or more, and soak up some potential history...#Mr59?

— Matt Ginella (@MattGinellaGC) August 2, 2013
Could we be following a historic round today? It sure seems like it.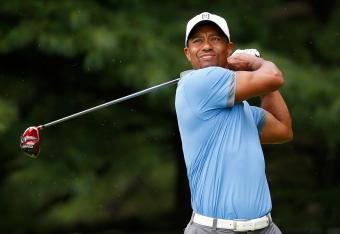 Tiger Woods is now three-for-three on the back nine at Firestone! He drops a third consecutive birdie putt on No. 12 to balloon his lead to six strokes.
He's required just 14 puts to get through 12 holes.
Ladies and gentleman, a 59 is officially in play!
Tiger Woods stepped to the first tee of the second round a little more than an hour ago. At the time, he sat at four-under-par and trailed leader Webb Simpson by three strokes.
Since then, Woods has surged to a five-stroke lead over Simpson and Keegan Bradley. He is seven under this afternoon through 11 holes.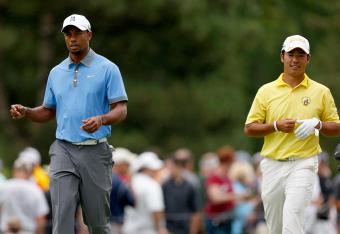 Woods moves on to No. 11, the site of his first bogey yesterday. That's one of just two bogeys he's suffered through 29 holes at Firestone.
This article is
What is the duplicate article?
Why is this article offensive?
Where is this article plagiarized from?
Why is this article poorly edited?