Stock Up, Stock Down for Pittsburgh Steelers Training Camp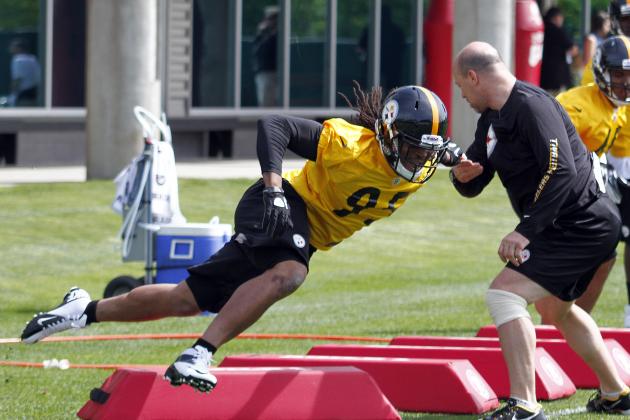 Justin K. Aller/Getty Images
Jarvis Jones has looked pretty good in his short time as a Steeler.
There may not be much to go on at this point in training camp, but we now have enough information to begin judging which Steelers are over and underachieving so far.
The stars have predictably looked good. Guys like Ben Roethlisberger, Antonio Brown, Emmanuel Sanders, Ike Taylor and (shockingly) William Gay have all reportedly been doing their respective things so far and doing them well.
But those are not the biggest stories coming out of Steelers training camp. The best headlines are the ones that involve guys fighting for playing time and using the preseason as a proving ground.
As expected, there have been some pleasant surprises mixed in with some room for improvement. It is way too early for a critique that will carry any weight, but that never stopped us before!
To those whose stocks are up: Keep up the good work. To those whose are down: Step up your game.
Begin Slideshow

»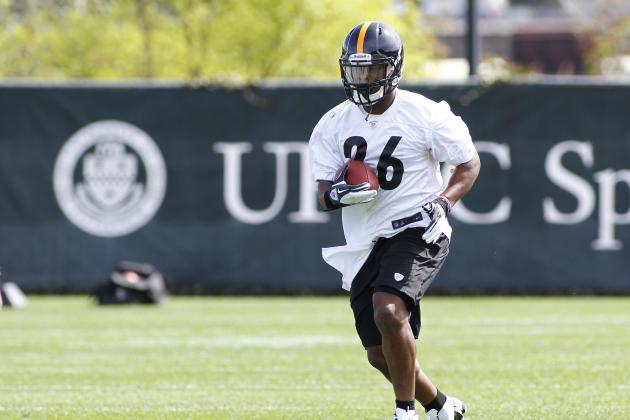 Justin K. Aller/Getty Images
Bell is on the fast track for Pittsburgh's starting running back job.
The fact Bell is getting reps with the first-string offense proves the Steelers want him to be their guy for the regular season.
He appears to be holding up his end of the bargain. Bleacher Report's Chris G. showered Bell with praise after watching him on Wednesday:
"Bell is well on his way to earning the starting job. He has been the best receiver out of the backfield by far and can make plays happen in space. He was also the best back in the live hitting session Wednesday."
Everyone knew Bell could run, but impressing with his receiving skills could solidify a starting spot.
Bell was also the only running back who could find any holes in the steel curtain during 11-on-11 drills, according to CBS Pittsburgh's Matt Popchock.
Good news for Bell means bad news for…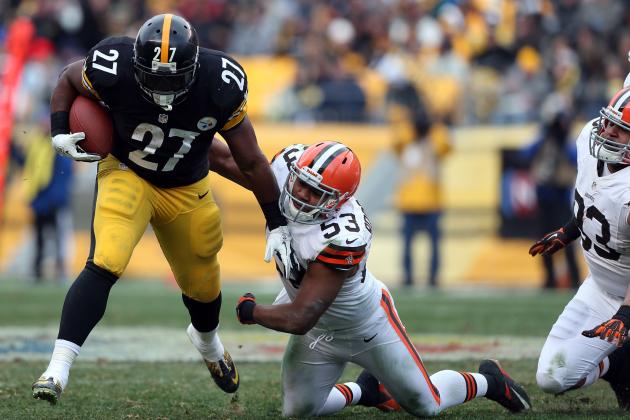 Karl Walter/Getty Images
Dwyer needs to prove he can do more for the Steelers than Bell.
Dwyer came into camp leaner and with a renewed commitment to winning the starting running back job.
Unfortunately, none of that may matter if the Steelers hop on the Bell bandwagon. Dwyer might have to do something truly eye-opening to get his starting job back.
It is not like Dwyer is having a bad training camp so far. In fact, Popchock reported that he had a bit of success against the defense during the 11-on-11 drills.
But that success came against Pittsburgh's second-string defense. Anything he does against them will have an asterisk next to it until he gets consistent reps with the starters.
For Dwyer's stock to rise, he has to prove there is a reason to start him over Bell. Right now, it appears that might be a tough battle to win.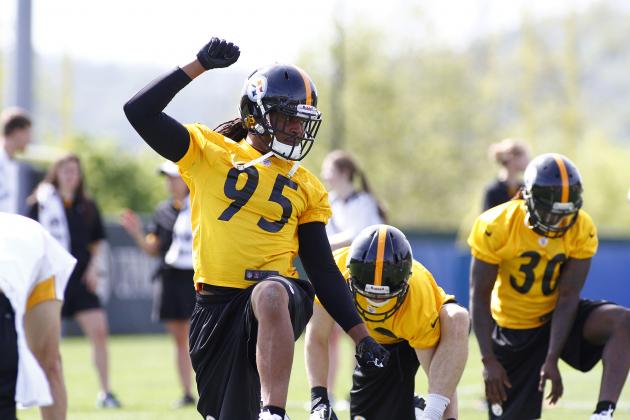 Justin K. Aller/Getty Images
Jones is making a compelling case for some extra playing time.
Jones is nipping at Jason Worilds' heels for the starting outside linebacker job opposite LaMarr Woodley. So far, he has been showing flashes of real NFL talent.
The rookie has shown he can get both get to the quarterback and destroy an opponent's running game. Being able to do those things consistently will get him far.
Bleacher Report's Chris G. was a fan of his play on Wednesday: "Jarvis Jones has already showed signs of growth, particularly defending the run and dropping into coverage."
He did concede that Jones "has a long way to go before he beats out Worilds", though he was impressed with his ability to get around the edge of offensive linemen.
Whether he comes out on top or not, Jones is showing he has the potential to make the linebacker position prosperous for the Steelers in the near future.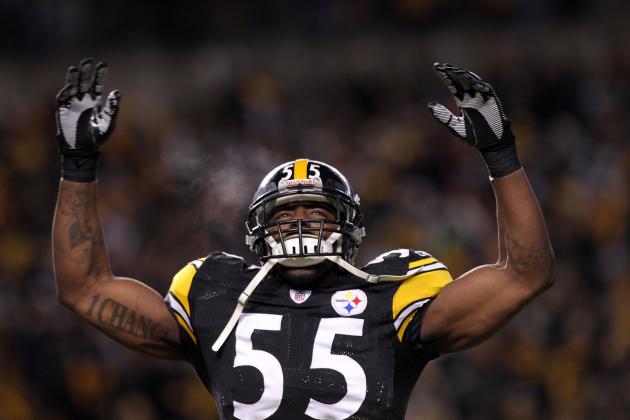 Nick Laham/Getty Images
Sylvester has not looked particularly impressive so far in training camp.
The young linebacker is not showing any reason he should be more than a backup this season.
Big Ben embarrassed him on Wednesday, making him bite on a play-fake, springing Matt Spaeth for an easy reception. Sylvester could not hide his audible frustration after the play.
He was able to haul in an interception and apply some pressure from the outside before the day was over, but Chris G. said Sylvester struggled in coverage.
Sylvester better bounce back quickly if he does not want to end up in Mike Tomlin's doghouse.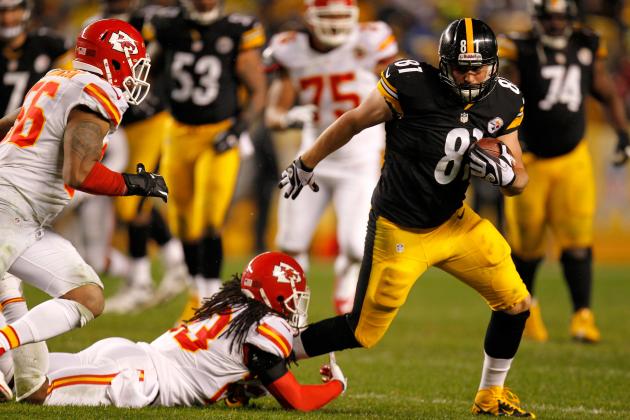 Gregory Shamus/Getty Images
Paulson and Jamie McCoy are gunning for Matt Spaeth's minutes.
Right now, Matt Spaeth is expected to start at tight end until Heath Miller recovers from his injuries.
According to SB Nation's Rebecca Rollett, Spaeth better watch his back. David Paulson and Jamie McCoy are making strong cases for why they deserve playing time.
She reported that McCoy was impressive with the tight end blocking sled drill, receiving praise from Tomlin twice.
Paulson made his coaches notice him with an impressive one-handed grab to salvage a Big Ben pass.
For his own efforts, Spaeth reportedly looked solid enough. His stock remained steady.
Miller's job is safe no matter what. But Spaeth better make sure he has that backup job secured quickly if he does not want to be passed over by two upstarts.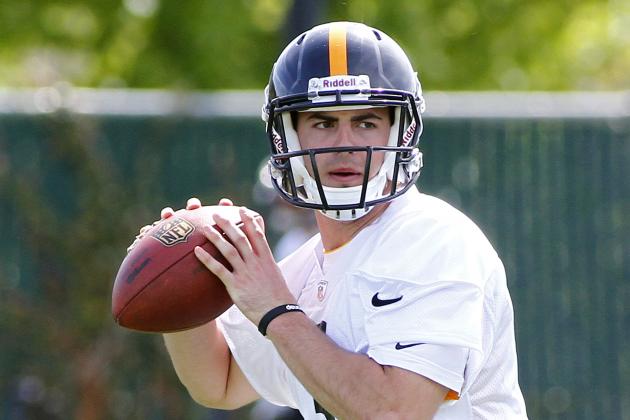 Justin K. Aller/Getty Images
Jones can and needs to do better if he wants to stay in Tomlin's good graces.
The trio of Bruce Gradkowski, Landry Jones and John Parker Wilson did not do anything to inspire confidence in the case of another Big Ben injury.
None of them particularly impressed in the garbage can drill and continued that trend on the practice field.
Jones had the toughest time on Wednesday. Popchock said Tomlin was visibly unhappy with Jones' play, including allowing a forced fumble from Troy Polamalu and misfired passes to David Gilreath and Derek Moye.
This one is particularly troubling. The Steelers expected the Oklahoma rookie to be raw, but it looks like Tomlin is not seeing what he was looking for when he drafted Jones.
It would be tough for this unit to look less old and slow than Byron Leftwich and Charlie Batch did last year. But these guys—especially Jones—need to do better going forward.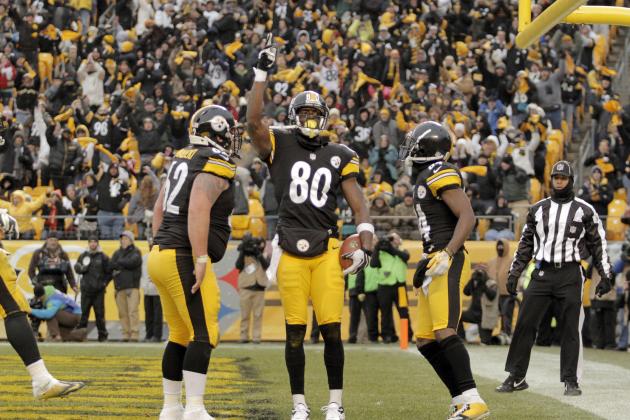 Justin K. Aller/Getty Images
Plax is showing there he still has some game left in those old bones.
Who saw this coming? Apparently the old man still has fuel in the tank.
Chris G. liked what he saw:
Burress may not have that elite speed that so many teams look for, but being able to beat press coverage off of the line, using his hands and body to fight off a defender and getting up for high balls with his height and long reach are still skills that no other receiver on the roster can match.
Hollett agreed: "He may have at least 10 years on most of the other wideouts, but I'll tell you what, he beat out three DBs in full pursuit to pull in about a 40 yard pass, and cruised into the end zone."
This is high praise for a guy who some thought may not even make the roster. It looks Plax still has what it takes to be one of Pittsburgh's top five receivers.
As long as he does not shoot himself in the leg…sorry, I could not resist. Moving on.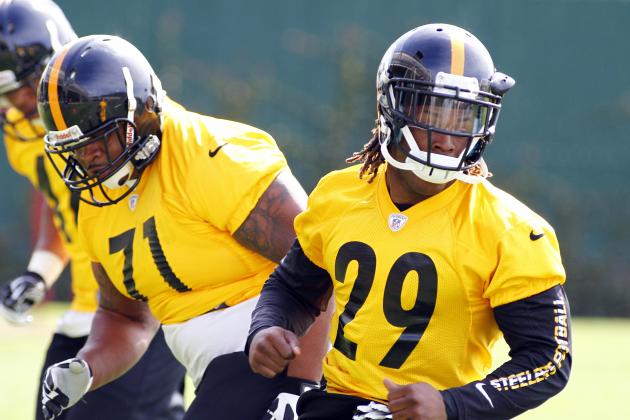 Justin K. Aller/Getty Images
Thomas' height could be a problem against the league's taller receivers.
Take this one with a grain of salt. Very few Steelers had their stock noticeably dip during the first few days of training camp.
So to say Thomas' stock is "down" is a little misleading. But a few holes in his game have emerged in his short time in black and gold.
Thomas may have an NFL-ready body in most aspects, but one he is sorely lacking in is height. He is only 5'9", which puts him at a big disadvantage against tall receivers like Burress.
Chris G. said he also showed an inability to adequately guard crossing patterns. The rookie certainly has time to learn and fix this issue, but he cannot change his height no matter how hard he tries.
Obviously the Steelers knew how tall he was when they drafted him. But if he cannot compensate for his stature, he might not have a place in the NFL.