What WWE Must Do to Restore Importance to Non-Main Event Championships
Use your ← → (arrow) keys to browse more stories
(photo courtesy of WWE)
In order for non-main event championships in WWE to be important again, they need to become symbols signifying who future main event Superstars may be.
Many pro wrestling legends have held non-main event championships before becoming main event stars. Shawn Michaels, Triple H, Bret Hart, Chris Jericho, CM Punk, Daniel Bryan and numerous others have held secondary titles in WWE before earning main event championships.
No. 1 Contender Factor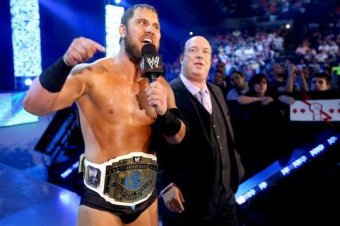 The WWE United States Championship and WWE Intercontinental Championship once meant that the title holder was the No. 1 contender to the main event title.
The Ultimate Warrior was the WWE Intercontinental champion when he defeated Hulk Hogan for the WWE Championship at WrestleMania VI, and Bill Goldberg was the WCW United States champion when he defeated Hollywood Hogan for the WCW Championship on Monday Nitro. These are only two examples of non-main event championships represented as important.
WWE could easily utilize the WWE United States champion as the No. 1 contender to the WWE World Heavyweight Championship and the WWE Intercontinental champion as the No. 1 contender to the WWE Championship. Of course, this is much easier said than done.
Performers who are still within their first year in WWE, under their current personas, hold both of these non-main event championships. Right now, Dean Ambrose and Curtis Axel are not perceived as main event-caliber championship Superstars.
With enough strong wins and compelling feuds, they could easily rise up to the main event.
Dominant Wins Needed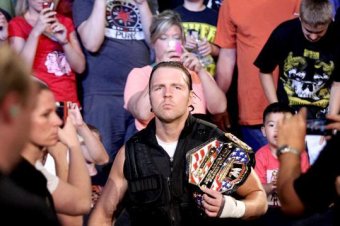 Those who hold secondary championships need to be in matches on television often. Non-main event champions should be featured not only on Raw and SmackDown but also on Main Event and even Superstars. Secondary titles do not always need to be defended, but it would help their importance to be defended with frequency.
The championship might help to make a WWE Superstar more well known, but it is the title holder who brings importance to the championship through frequent wins.
Curtis Axel's appearances on WWE programming in recent weeks have brought more attention to the WWE Intercontinental Championship. He is not a main event Superstar yet, but with a strong title reign filled with dominant wins, he very well could be.
Dean Ambrose has not had a singles match on WWE programming since the June 25th, 2013 edition of Main Event when he lost to Christian by disqualification. The WWE United States Championship has pretty much been forgotten since Ambrose's feud with Kane abruptly ended on the June 17, 2013 edition of Monday Night Raw.
Frequent matches with dominant wins are needed for secondary championships to be relevant. Feuds worth watching at the midcard level should be utilized as well.
Compelling Midcard Feuds
Non-main event champions can have match after match and be on television all the time, but it does not mean anyone will care.
Midcard championship feuds can help boost Superstars to main event status.
In WCW, the best-of-seven match series between Booker T and Chris Benoit to determine the No. 1 contender to the Television Championship helped to make the title relevant while building momentum for each wrestler.
WWE needs to invest in making their secondary championships meaningful through exciting feuds. Feuds can become exciting through combinations of excellent matches, backstage vignettes, interviews and intelligent match interference. These conflicts should be marketed as being nearly as important as main event feuds.
In the end, secondary championships should be treated with respect and put at nearly the same level of importance as main event championships.
Read more from Sean McCallon on the Double Axe Handle Blog.

Follow Sean McCallon on Twitter @TheBlueMask246.