Fantasy Football 2013: 3 Running Backs to Make or Break Your Draft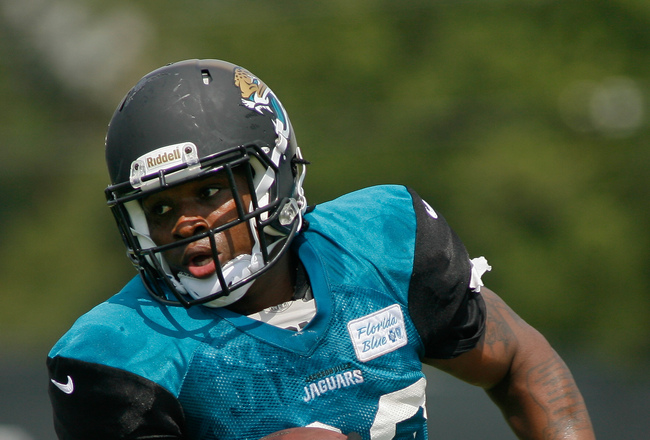 Phil Sears-USA TODAY Sports
Fantasy football is dominated by running backs. They're the most scrutinized group of players in fantasy football before the season starts and for good reason.
A strong group of running backs can carry your fantasy football team to the playoffs, but a weak group leaves no room for error at any other position. There won't be running back depth to pick up off waivers like there will be for receivers, tight ends and quarterbacks.
That makes running back the most important position on draft day and also the position most criticized in the offseason. It only takes one down year for a running back to go from a consensus first-round pick to an afterthought or one good year to vault him to the top of draft boards.
These three running backs haven't quite dropped out of the top rounds, but they've gone from being considered top-10 fantasy players at their position to late second-rounders or early third-round picks.
That's late enough to provide significant upside but early enough to put any fantasy team they're on at a serious disadvantage if they don't pan out.
All three guys have shown they can be consistent fantasy running backs, and they all come with serious question marks heading into this season.
If you draft them and they live up to potential, you probably win your league, but if they should produce another letdown season, they could cripple your team. That makes them the definition of make-or-break candidates for the 2013 fantasy football season.
All stats used are from ESPN.com unless otherwise stated, and all references to fantasy production assume standard fantasy scoring.
Darren McFadden, Oakland Raiders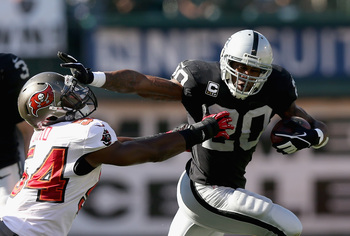 Ezra Shaw/Getty Images
When healthy, Darren McFadden of the Oakland Raiders is one of the most talented running backs in the league. He just hasn't been healthy very much.
McFadden has missed at least three games every season of his career and 13 over the last two seasons.
Last season's struggles were not just limited to injuries, though, as McFadden averaged only 3.3 yards per carry and only managed to produce two rushing touchdowns.
It's fair to wonder if McFadden's injuries are starting to wear on him, and as he's on an offense that does not provide a lot of support for him, it is unlikely he can produce unless he's at the top of his game.
On the other hand, that lack of support is exactly why McFadden remains an interesting player for fantasy football. Oakland does not have a lot to work with on offense other than McFadden, so if he's healthy, he should see a good number of touches.
If he's healthy, McFadden could easily be a top-five fantasy football running back. But for fantasy owners, there is no reason to believe he will, or even can, stay healthy. If you could grab McFadden as your No. 3 running back, he'd be worth the risk, but it isn't likely that will happen.
If he ends up being your second running back—or even worse, your first—McFadden is more likely to break your fantasy football playoff hopes.
Chris Johnson, Tennessee Titans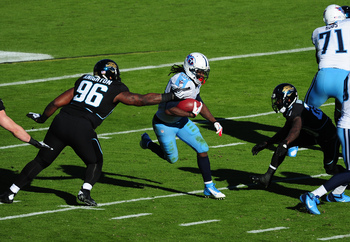 Scott Cunningham/Getty Images
During the 2009 NFL season, Tennessee Titans running back Chris Johnson earned the nickname CJ2K as he rushed for over 2,000 rushing yards. He became one of the most sought-after running backs in fantasy football in the build-up to the 2010 fantasy football season.
But since then, Johnson hasn't really been the same player, and there really hasn't been a good reason for his drop in production.
The Titans offense hasn't been great by any standard, but a lot of that falls on Johnson's lack of elite production. The offense is built around him, and he needs to play at a high level for that plan to work.
Johnson is arguably the fastest player in the league, making his fair share of big plays using his speed and quickness to be one of the most dangerous players in space, but he knows that, and sometimes it hurts him. He goes for the big play seemingly every time he touches the ball, and when it doesn't work he's usually left with an unproductive play.
Johnson did manage more than 10 fantasy points in nine of his 16 games, including six straight weeks in the middle of the season. It's possible that he just suffered from a poor start and then was slowed down by minor injuries as the season wore on.
As far as health goes, Johnson hasn't missed a game since his rookie season. Staying healthy is a fantasy football skill to keep in mind, and Johnson has it.
Another promising stat from 2012 is his yards-per-carry average of 4.5, which is the highest Johnson has posted since his 2,000-yard season. There's also room for him to improve in the passing game, as he saw career lows in targets (49), receptions (36) and yards (232).
If Chris Johnson can get his receiving stats back to normal and run a little more consistently this year, he could be a top-10 running back. If he returns to 2009 form, he could challenge for the top fantasy football running back spot.
That upside, coupled with his durability, makes Chris Johnson a good candidate to increase your fantasy football team's playoff hopes.
Maurice Jones-Drew, Jacksonville Jaguars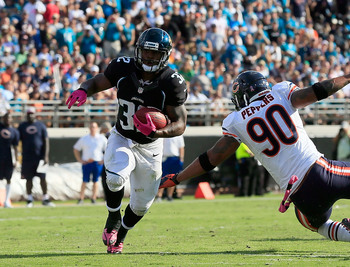 Sam Greenwood/Getty Images
Jacksonville Jaguars running back Maurice Jones-Drew entered last season with concerns that his holdout for a new contract would cost him regular-season games, or at the very least that missing training camp would impact his ability to get off to a fast start.
Even with those concerns, Jones-Drew was typically being drafted no later than the middle of the second round.
This season there are injury concerns, as Jones-Drew is recovering from a fractured foot. Prior to last season, he had only missed three games over six seasons, but minor injuries have limited him in several games.
In the four seasons prior to last season, MJD rushed for over 5,000 yards, tallied 48 total touchdowns and grabbed 192 receptions. That's a lot of production, and it's why Jones-Drew had consistently been one of the first five fantasy running backs selected.
Last season, Jones-Drew was on pace to repeat his usual production, which is a good sign that if he's healthy this year, he'll continue to be one of the best fantasy football running backs.
It could be argued that Jones-Drew, entering his eighth season and coming off a serious injury, might be past his prime. That is the risk in drafting him, as there is no way of knowing how he will perform this year until the season starts.
Given that MJD has fought through minor injuries throughout his career while maintaining a consistently high level of production, I'd bet on him making a strong comeback this year. It's a contract year for him, and he's approaching the point of his career where most running backs start to wind down, so this is his last chance at a big payday.
A motivated and healthy Maurice Jones-Drew should have a great year. He is the best player on his team, and as such he has a great chance to carry his fantasy football team. MJD would be a solid choice to be a borderline No. 1 running back.
Even if you grab a running back early, grabbing Maurice Jones-Drew should give you a very good chance of having the best running back combination in your fantasy football league.
Keep Reading