USA Today Preseason College Football Rankings 2013: Winners and Losers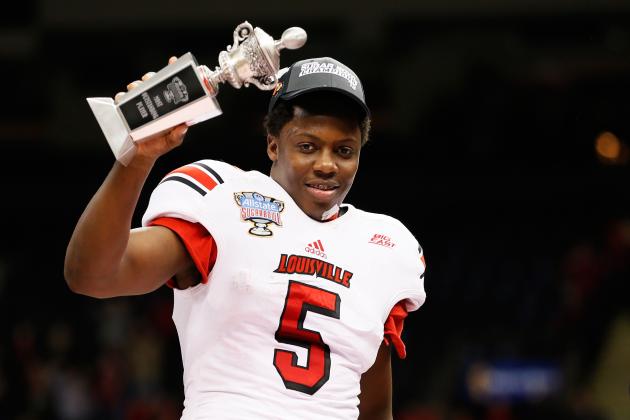 Kevin C. Cox/Getty Images

The calendar turned to August on Thursday, the first month of college football, and with that came the release of the USA Today Coaches' Poll.
However, poll-making is a zero-sum endeavor. Every point one school receives is a point another school didn't. And in like manner for such a win-lose process, the poll left some teams giddy and others incensed.
Here are the full rankings:
| | | |
| --- | --- | --- |
| Rank | Team | Points |
| 1. | Alabama | 1,545 (58) |
| 2. | Ohio State | 1,427 (3) |
| 3. | Oregon | 1,397 |
| 4. | Stanford | 1,262 |
| 5. | Georgia | 1,250 |
| 6. | Texas A&M | 1,215 (1) |
| 7. | South Carolina | 1,136 |
| 8. | Clemson | 1,047 |
| 9. | Louisville | 1,010 |
| 10. | Florida | 930 |
| 11. | Notre Dame | 872 |
| 12. | Florida State | 844 |
| 13. | LSU | 797 |
| 14. | Oklahoma State | 726 |
| 15. | Texas | 622 |
| 16. | Oklahoma | 620 |
| 17. | Michigan | 589 |
| 18. | Nebraska | 426 |
| 19. | Boise State | 420 |
| 20. | TCU | 400 |
| 21. | UCLA | 202 |
| 22. | Northwestern | 186 |
| 23. | Wisconsin | 172 |
| 24. | USC | 165 |
| 25. | Oregon State | 135 |
Begin Slideshow

»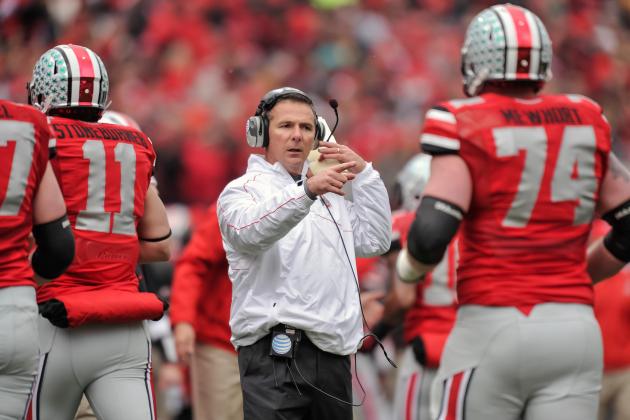 Jamie Sabau/Getty Images

Plenty of obstacles stood between Ohio State and a No. 2 ranking.
Running back Carlos Hyde and cornerback Bradley Roby—two of the Buckeyes' best players—are engulfed in legal issues, calling into doubt their early season eligibility. Plus, there's the whole "anti-Big Ten bias" thing, where voters might have deemed last year's 12-0 record overrated.
Though Ohio State is many experts' pick to reach the BCS National Championship, that doesn't necessarily mean it's the second best team. Predictions of that ilk take the schedule into account, and OSU's is widely regarded as an easy one.
In any case, the first Coaches' Poll vindicated its spot as a top-two team this year. Oregon made it close, finishing just 30 points behind, but the voters showed sufficient respect for Urban Meyer's boys in Columbus.
Three even voted them No. 1.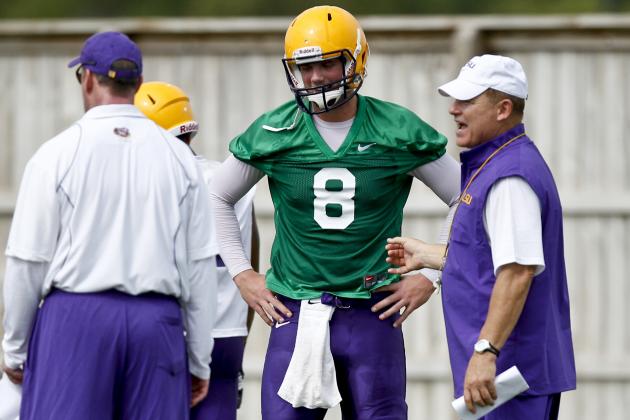 Derick E. Hingle-USA TODAY Sports

Would 12 teams really be favored over LSU on a neutral field?
The overwhelmingly likely answer is "no," but that's ostensibly what this poll reflects—that because of some attrition in the Tigers' front seven, 12 different FBS teams could beat them in a nonpartisan environment.
It seems kind of ludicrous. LSU hasn't built a "dynasty" under Les Miles, but whatever it's built is the next best thing. The Tigers are consistently great, from one season to the next, regardless of whom they lose on defense or which stiff starts under center.
Last year, they beat Texas A&M and South Carolina, two teams that combined to go 24-2 in their other 26 games. Both graced the top seven of the Coaches' Poll while LSU's rank was two times higher.
That's a little hard to understand.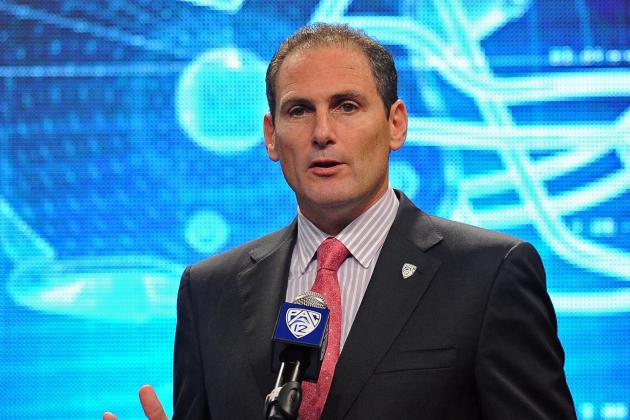 Jayne Kamin-Oncea-USA TODAY Spor

With Stanford's surprising (but not undeserved) fourth-place ranking, the Cardinal joined Oregon in the top four, making the Pac-12 the only conference with two teams ranked that high.
There's a long drought between No. 4 Stanford and No. 21 UCLA, but the Bruins start a late run of Pac-12 teams as well. USC clock in at No. 24 and Oregon State round out the poll at No. 25—the fourth and fifth Pac-12 teams to appear.
Only the Big Ten and SEC joined them with five or more teams in the poll, giving the Pac-12 an early stake in the race to be "America's second-best conference."
With Arizona State lurking right outside the rankings, they might just be getting started.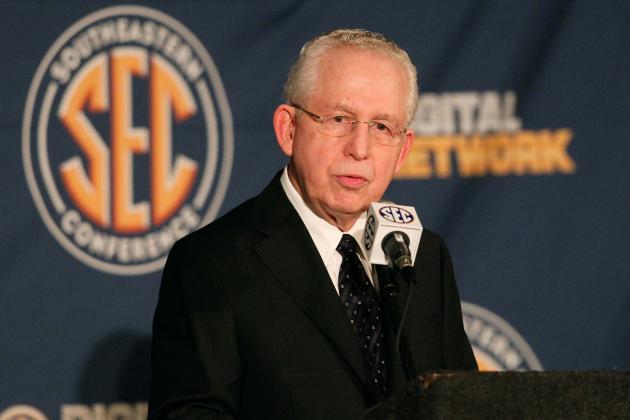 Marvin Gentry-USA TODAY Sports

So maybe "loser" isn't the right word. After all, the SEC leads all conferences with five teams in the top 10, six teams in the top 25 and supplies the No. 1 team in Alabama.
With that being said, a number of breaks didn't go the SEC's way. Stanford outpaced Georgia, Texas A&M and South Carolina for the No. 4 position, giving the Pac-12 half of the nation's top quartet. LSU also got shafted from the top 10 and Ole Miss finished in no man's land with just 32 points.
The SEC isn't used to losing—in almost any capacity. And fans of the conference, known worldwide for their loud, partisan opinions, are sure to voice their displeasure.
Of course, if 2013 is anything like the past decade, this could be the only time they lose all year.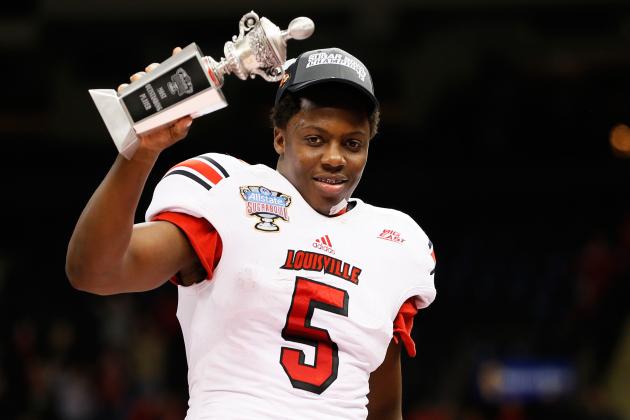 Kevin C. Cox/Getty Images

Apparently coaches watched the Sugar Bowl.
Louisville played its best game of the season in its biggest game of the season, beating Florida by 10 in a game that wasn't even as close as the final score indicated. They return outstanding quarterback Teddy Bridgewater from that team, making them a sexy pick to crash the BCS again this year.
Of course, the Cardinals also lost to Syracuse and Connecticut last year, and needed overtime to avoid a third loss (at home) against Cincinnati. They also beat South Florida by just two points in Louisville and Rutgers by just three in New Jersey.
Had a team like LSU posted those results, it might have been regarded as the Tigers' worst season of the decade. For Louisville, apparently, it warrants a place in the top 10.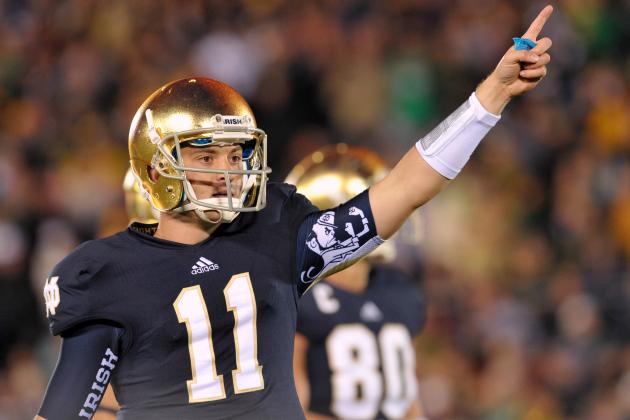 Matt Cashore-USA TODAY Sports

Quite the opposite of Louisville, undefeated Notre Dame played its worst game of the season in its biggest game of the season. In the offseason, the Irish then lost starting QB Everett Golson for academic reasons.
All of that worked to push them out of the top 10, despite finishing No. 3 in last year's poll and returning 14 starters from that squad.
Unlike Louisville, whose regular-season body of work was unimpressive and lacked a quality win, Notre Dame beat Michigan State, Michigan, Miami, Stanford, Oklahoma and USC.
Even without Golson, the Irish still have Tommy Rees—a man with 4,400 career passing yards and 34 career touchdowns to his name.
It's hard to believe Louisville (and, to a lesser extent, Florida) finished ahead of them.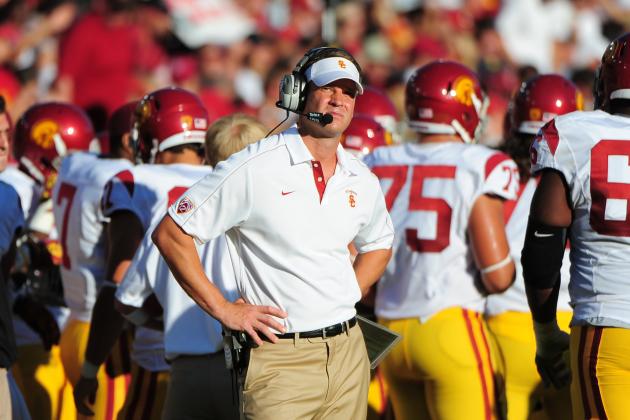 Kyle Terada-USA TODAY Sports

USC went 7-6 last season, tied with No. 20 TCU for the worst 2012 record among teams on the poll.
However, TCU's 7-6 was looked at from a much different perspective.
Given it was their first season in the Big 12 and the fact they lost star QB Casey Pachall in October, who left the team to enter rehab, the Horned Frogs' record was seen as an accomplishment.
The Trojans' 7-6 record, on the other hand, was viewed through a much more pessimistic lens. They were No. 3 in last year's preseason Coaches' Poll and No. 1 in the AP version. The sour taste of that disappointment could have easily rolled over into these rankings.
Coaches still respect the USC football brand, though, and they also respect a talented roster when they see it. As long as the Trojans still have both of those things, they might always start the season with a ranking.
Follow Brian Leigh on Twitter: @BLeighDAT