10 NHL Players Set Up for Failure in 2013-14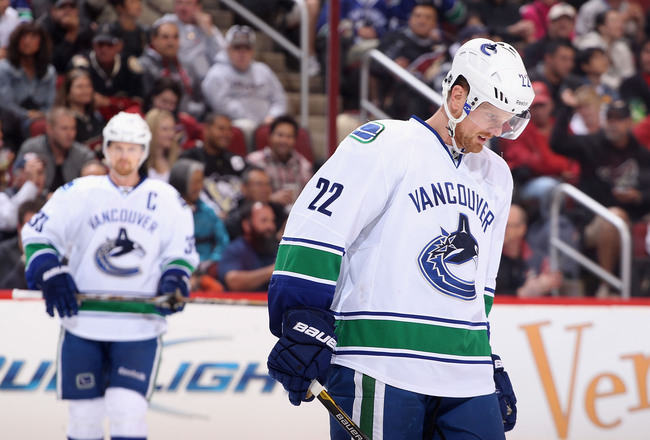 Christian Petersen/Getty Images
In the offseason, every team wins.
Well, at least in management and fans' minds.
Beyond the perpetually pessimistic and skeptical portions of each fan base, the majority will tell you how their teams' moves in the draft and free agency are going to push their team to be better than last year.
Management and players will explain their moves to the press with a positive light, and while some teams have higher expectations than others, no one is going to yield to the fact that they are not realistically pursuing a Stanley Cup.
We're here to tell you that things are going to be especially difficult for these 10 players, and that the way the offseason has unfolded has set them up for failure.
LW Ryane Clowe, New Jersey Devils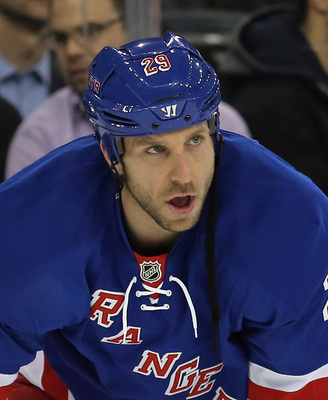 Bruce Bennett/Getty Images
Ryane Clowe had the worst season of his NHL career in 2013.
Watching the 6'2" power forward last season, it was hard to believe that this was a player who had eclipsed the 40 point mark four times in his career, including an impressive career year in 2010-11 where he managed 24 goals, 38 assists, a +13 and 100 PIMs.
This is a player that registered 11 goals and 13 assists on the power play alone in the 2008-09 season.
With the contract the Devils gave Clowe—five years at $4.85 million per year—you'd think the aforementioned stats came over the past two seasons.
Unfortunately for New Jersey, that's far from the reality of the situation.
Instead, he's been steadily declining. He only mustered 11 assists in 28 games with the San Jose Sharks in the first half of the season.
A trade to the New York Rangers at the trade deadline briefly had him showing signs of life, as he scored two goals—his first two of the season—and one assist in his Blueshirts debut.
He was average at best, and he suffered three concussions (one with San Jose, two with New York) that eventually ended his season and his time in New York.
Add in the expectation that he is a replacement for fan favorite David Clarkson, and it's going to be an extremely difficult situation for Clowe.
RW Daniel Alfredsson, Detroit Red Wings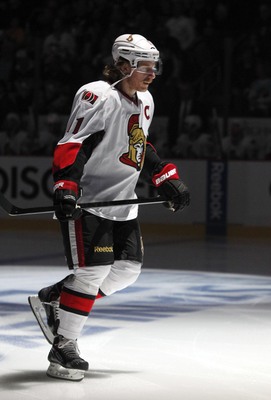 Charles LeClaire-USA TODAY Sport
Daniel Alfredsson is going to look extremely odd in a Detroit Red Wings jersey.
After spending 17 seasons with the Ottawa Senators, Alfredsson bailed for what could be viewed as one last attempt at winning a Stanley Cup.
There's a few problems here.
For one, Detroit is a team with a lot of question marks. Their core is certainly not getting any younger, and it's unclear how the bottom six is going to pan out.
Only making matters worse, Alfredsson put more pressure on himself when he told the press that money played a significant factor in his decision to leave Ottawa.
Sens' general manager Bryan Murray did not take kindly to Alfredsson airing out dirty laundry to the media, particularly the part that accused him of circumventing the cap.
Now that the divorce has turned sour, Alfredsson's legacy could take a pretty negative hit if the Red Wings' season does not go as expected.
As Bleacher Report featured columnist Mark Jones writes, after acquiring Bobby Ryan, the Senators are a good pick for a dark horse that can make a deep playoff run.
Meanwhile, the Red Wings are not drastically different from the team that would've missed the playoffs if it wasn't for a 5-2-3 finish that included four straight wins to end the year.
The long-time Sens captain has inexplicably put himself in a tough situation.
G Ray Emery, Philadelphia Flyers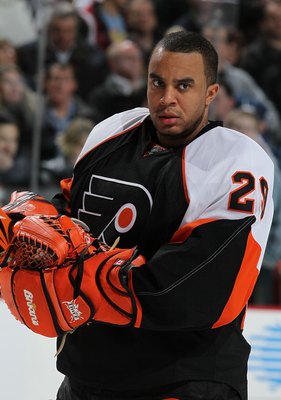 Al Bello/Getty Images
Lost in the Chicago Blackhawks' success last season was Ray Emery's impressive 17-0-1 record.
The veteran that once bailed to play in the KHL for a year returned to Philly this offseason to try and lay claim to the Philadelphia Flyers' starting goaltender job.
He'll certainly have his hands full.
Philadelphia finished 23rd in goals against per game last season. The team did very little to improve their defense.
While you can't discount Emery's hand in the record he posted with the Blackhawks—a record that included three shutouts, a .922 save percentage and 1.94 GAA—you have to expect his numbers to drop off with Philadelphia's porous defense in front of him.
There's little reason to expect Philly to be a better defensive team than they were last season. Emery will be better than Ilya Bryzgalov, but that's not exactly a difficult task.
Don't expect Emery to lead the Flyers back to the playoffs anytime soon.
G Ryan Miller, Buffalo Sabres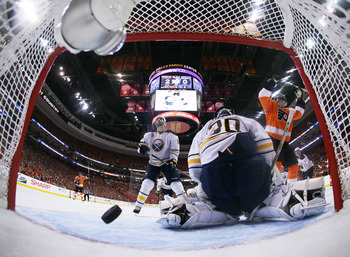 Bruce Bennett/Getty Images
The Buffalo Sabres lockerroom probably isn't going to be the most positive environment to be in next season.
Since last season's trade deadline, Thomas Vanek and Ryan Miller—once the cornerstones of the franchise—have been front and center in trade rumors.
Unlikely to re-sign, it's only a matter of time before Sabres' general manager Darcy Regier pulls the trigger on an offer for the veteran players.
While Vanek will likely put up numbers no matter what the situation, things could get rough for the silver medalist.
Miller's numbers, and his value, might drop significantly before that happens. And as we've seen with other goaltenders—Ilya Bryzgalov comes to mind—it's often difficult for netminders to rebound psychologically once their game hits a sudden, steady decline.
Once hailed as the best American-born goaltender in the league, Miller could have his worst year to date if he doesn't get out of Buffalo soon.
If it doesn't happen soon, it could turn ugly.
D Zach Bogosian, Winnipeg Jets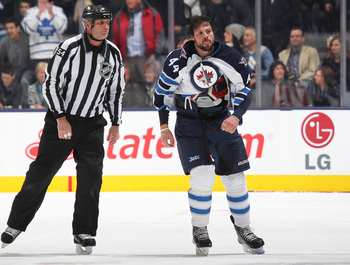 Claus Andersen/Getty Images
Massena, N.Y., native Zach Bogosian just signed a seven-year contract extension with the Winnipeg Jets this offseason.
The deal is worth $36 million—$5.14 million annually. This is a pretty large investment for a player that has yet to fully develop into a top-pairing defenseman.
When he first entered the NHL, he showed lots of potential offensively. In his first year, he scored nine goals in just 47 games. The following season, he would appear in 81 games and score 10 goals. Since then, he's only scored five goals a season.
His defensive game has improved, but if he cannot find some sort of balance that includes more offense without allowing his play in the defensive zone suffer, it will be hard to live up to that contract extension.
The pressure is now on Bogosian to step up and be the Jets top defenseman, because with he, Tobias Enstrom, Dustin Byfuglien and Grant Clitsome all signed through at least 2015-16, that's about $18 million—roughly 30 percent of the team's cap space for next season—invested in four defensemen.
If he can't live up to his new deal, it won't just make things tough on the Jets financially; they'll have a hard time improving their defensive game, as last season, the team finished 25th in goals against per game.
G Karri Ramo, Calgary Flames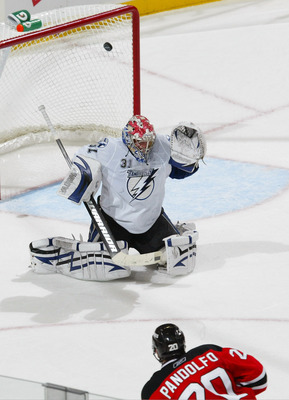 Bruce Bennett/Getty Images
The way the Flames addressed their goaltending vacancy this offseason is, well, strange.
The market was saturated with talent. In fact, you could argue it still is with names like Jaroslav Halak and Ryan Miller being discussed on the trade market and Tim Thomas still available in free agency. Even Rick DiPietro might've been a better option than what the Flames came up with.
That is, Finnish goalie Karri Ramo.
Ramo's spent the last three seasons playing for Avangard Omsk in the KHL, after he failed to materialize as an NHL-caliber netminder in the Lightning organization—you know, that team that hasn't been able to find a consistent goaltender since Nikolai Khabibulin won the Cup with them in 2003-04?
Veteran journeyman Joey MacDonald is back with the team for one more year, but he's barely an NHL-caliber backup, let alone someone capable of carrying the load.
Could Ramo shock the league ala Sergei Bobrovsky last season? The short answer is no.
Ramo was barely a .500 goalie in the KHL last season (19-17).
Why the Flames signed him to a $5.8 contract is inexplicable, but there's no way Ramo is going to suddenly find success in Calgery with a weak supporting cast.
C Henrik Sedin, LW Daniel Sedin, Vancouver Canucks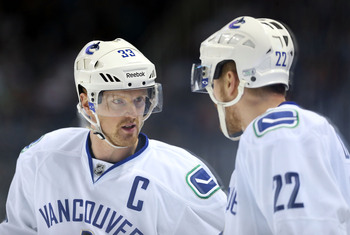 Christian Petersen/Getty Images
If you were to cast characters for a drama-filled reality TV show, putting the Sedin twins and John Tortorella together would rival ratings of MTV's Jersey Shore.
The Vancouver Canucks' window to win a Stanley Cup with the core they have now is drastically closing.
Bringing in a defensive-minded disciplinarian could be a good thing for the Canucks, but it's not at all what Daniel and Henrik wanted to see entering a contract year. And if things start to go poorly, Torts' handling of the media certainly won't help anything.
An aging and often-injured core of players that generally don't fit in to the system Tortorella has implemented as an NHL head coach his entire career could be problematic for the Canucks.
Making matters worse, it's unclear if the Roberto Luongo saga is truly resolved, even with him as the clear-cut starter.
With all of the potential drama, the cap situation extremely tight and the Sedins' performance a far-cry from their career years in 2009-10 and 2010-11, the Swedish duo have the most at stake in a poor situation. It can only get worse from here for the 32-year-olds looking to cash in on their last big contracts of their respective careers.
G Semyon Varlamov, Colorado Avalanche
Dustin Bradford/Getty Images
Since 2009, the Colorado Avalanche have had a top five draft pick three times.
While teams like the Oilers and Islanders—who have had their fair share of top five picks in that timespan—are expected to make the jump to be competitive in the NHL playoffs next season, little is expected of the Colorado Avalanche.
With young talent like Matt Duchene, Ryan O'Reilly, Gabriel Landeskog and now Nathan MacKinnon, the Avs are stacked up front.
The problem won't be goal scoring next year. The question is, can their defense and goaltending show up?
The team finished fourth worst in the league in goals against (150) and third worst in goal differential at even strength (0.83).
The defense in front of him should shoulder some of the blame, but goaltender Semyon Varlamov had an abysmal season in 2013. At 11-21 with a .902 save percentage and 3.02 GAA, Varlamov needs a solid start.
The odds of that happening are not very high. Little has been done to shore up the defense in front of him, unless you want to cite addition by subtraction with the departure of Shane O'Brien and Greg Zanon.
With one of the best goaltending coaches working with Varlamov, Francois Allaire, and one of the greatest goaltenders to ever play the game behind the bench, Patrick Roy, expectations are high.
But Allaire's last gig did not work out the way most had hoped in Toronto, and with that kind of coaching, all it means for Varlamov is there are less excuses and higher expectations.
In a contract year, the pressure on Varlamov is higher than ever. It'll be surprising if he doesn't buckle.
C Danny Briere, Montreal Canadiens
Jim McIsaac/Getty Images
In 2007-08, Danny Briere and the Canadiens would've been a match made in heaven.
Now, however, when the knock on the Canadiens going into the offseason was lack of size, Briere is probably the last thing the Habs needed.
The aging veteran only managed six goals and 10 assists in 34 games last year.
A move to a low-key environment like Phoenix or Nashville might've been a better fit for Briere. Instead, he'll have to answer to the Montreal media whenever something doesn't go according to plan.
Since Briere is 35, the only way the Canadiens could eliminate his $4 million cap hit over the next two seasons is a buyout or a trade—a trade Briere would have to approve.
If the Canadiens and their fans can live with a small, older forward that is average at best in his own end and probably won't eclipse 40 points on the year, then yeah, it'll work out.
Otherwise, you may as well call Briere "Gomez Light."
Keep Reading