Gary Woodland easily held on to capture the 2013 Reno-Tahoe Open by nine points in the modified scoring tournament.
To steal a line from Will Ferrell in the movie Blades of Glory, the 2013 Reno-Tahoe Open encouraged golfers at Montreux Golf and Country Club to do one thing and one thing only.
Go for it.
That's the self-described motto of one of the PGA Tour's alternate events, which is using a Modified Stableford scoring system. One of the only events to ever use the format, the Reno-Tahoe Open rewards golfers who are willing to be aggressive and take chances faster than those who are playing for par.
UPDATE: Sunday, August 4, at 10:30 p.m. ET by Mike Hoag
Gary Woodland ran away with the 2013 Reno-Tahoe Open on its final day, shooting a final-round 69 on Sunday. He came into the day with a seven point lead and was never in any danger of losing the lead.
While Woodland stole the show with his overall performance, Canadian PGA Tour rookie Brad Fritsch stole the show with a hole in one on the third hole. He finished in 20th place with 25 points for the week.
.@BradFritsch aced the par-3 third hole with an 8-iron from 183 yards @Reno_Tahoe_Open. #pgatour

— PGA TOUR Media (@PGATOURmedia) August 4, 2013
The scorecard might show it, but Fritsch would like to get a look at his masterful shot. Unfortunately for him, and us, there doesn't seem to be a video of the shot.
And for those wondering...that WAS a hole in one on the 3rd hole today. Couldn't see it go in, and there's no video :(

— Brad Fritsch (@BradFritsch) August 4, 2013
Here's a look at the scorecard, depicting Woodland and the next nine finishers in Nevada.
| | | |
| --- | --- | --- |
| Pos. | Golfer | Score |
| 1 | Gary Woodland | 44 |
| T2 | Jonathan Byrd | 35 |
| T2 | Andres Romero | 35 |
| 4 | Brendan Steele | 33 |
| T5 | Dicky Pride | 32 |
| T5 | David Mathis | 32 |
| T7 | Seung-Yul Noh | 31 |
| T7 | Rory Sabbatini | 31 |
| 9 | Chris DiMarco | 30 |
| 10 | Johnson Wagner | 29 |
PGATour.com
---End of Update---
Update: Saturday, August 3 at 9:21 p.m. ET by Matt Fitzgerald
Gary Woodland shot to the top of the leaderboard during Saturday's third round with 16 points thanks to firing a seven-under 65, putting his point total at 37. The long-hitting American hit just half of the 18 greens in regulation, relying heavily on his putter to bail him out.
Below is a look at the updated leaderboard:
2013 Reno-Tahoe Open Round 3 Leaderboard

| | | |
| --- | --- | --- |
| Position | Golfer | Score |
| 1 | Gary Woodland | 37 |
| 2 | Brendan Steele | 30 |
| 3 | David Mathis | 29 |
| 4 | Andres Romero | 27 |
| 5 | Charlie Wi | 25 |
| 6 | Dicky Pride | 24 |
| 7 | Rory Sabbatini | 23 |
| T8 | Russell Knox | 22 |
| T8 | Will Claxton | 22 |
| T8 | Tom Gillis | 22 |
| T8 | Brian Harman | 22 |
| T12 | Stuart Appleby | 21 |
For complete leaderboard visit PGATour.com
Round 2 leader Andres Romero is known to make birdies in bunches, but made three bogeys against four birdies en route to a 71.
The most notable charge on moving day was made by Brendan Steele, who matched Woodland with a 65 but exploded in closing the back nine in eight under-par, shooting a rare score of 28.
Steele is the closest to Woodland, and will need to at least resemble that type of phenomenal hot streak to have any hopes of catching him in the last 18 holes.
.@Brendan_Steele's birdie-eagle streak of 7-under (BBBBBE) is the best on @pgatour this season. #PGATOUR

— PGA TOUR Media (@PGATOURmedia) August 3, 2013
Considering the number of birdies that are being made in Reno, anything can happen on what should be an entertaining final day.
---End of update---
UPDATE: Friday, August 2, at 9:35 p.m. ET by Brian Mazique
A surge from Argentinian Andres Romero has landed him atop the leaderboard in Reno. On the strength of nine birdies, Romero racked up 14 points under the Modified Stableford scoring system on the day.
That ran his total for the event to 22, one point ahead of Gary Woodland and three better than Stuart Appleby, Charlie Wi and Rod Pampling.
Only Pampling, David Toms and Wi had better days at Montreux on Friday. Pampling overcame a so-so two-point performance on Thursday with a round-high of 17 points on Friday.
Wi and Toms weren't far off with 15 points in the second round.
---End of Update---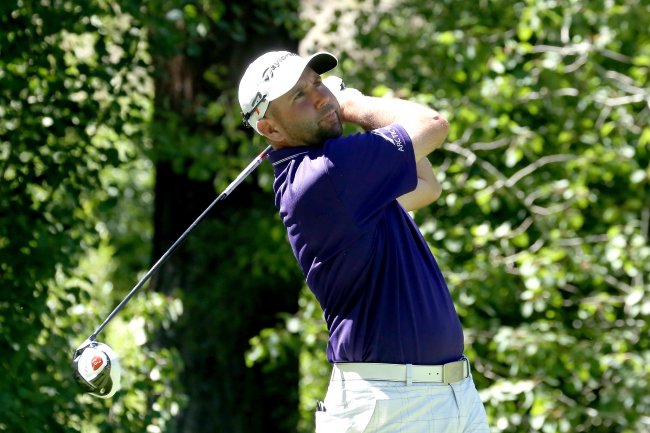 Stephen Dunn/Getty Images
The current leaders recognized that Thursday.
Josh Teater will enter Round 2 as the tournament leader. With an eagle, two bogeys and six birdies during Round 1, he totaled 15 points. PGA Tour on Twitter had this post after the opening round was in the books:
Josh Teater made an eagle and 6 birdies, gaining 15 points and taking the lead at the @Reno_Tahoe_Open. #PGATOUR

— PGA TOUR (@PGATOUR) August 2, 2013
When Friday's action begins, Teater will start the day one point ahead of Gary Woodland and James Driscoll.
Greg Chalmers, Stuart Appleby and Colt Knost are all in the mix after the first round, and Trevor Immelman headlines a group of golfers who recorded 10 points and are currently tied for seventh.
For the most part, notable names in the field struggled. Rory Sabbatini only recorded three points. Davis Love III (2), Padraig Harrington (0) and Mike Weir (-4) would be in the mix on most Thursdays, but their scores are closer to the cut than contention this week.
Most eyes in the golf world are situated on the Bridgestone Invitational, but those who decided to travel to Nevada instead of Ohio were rewarded with a completely different approach than they're used to seeing on the PGA Tour.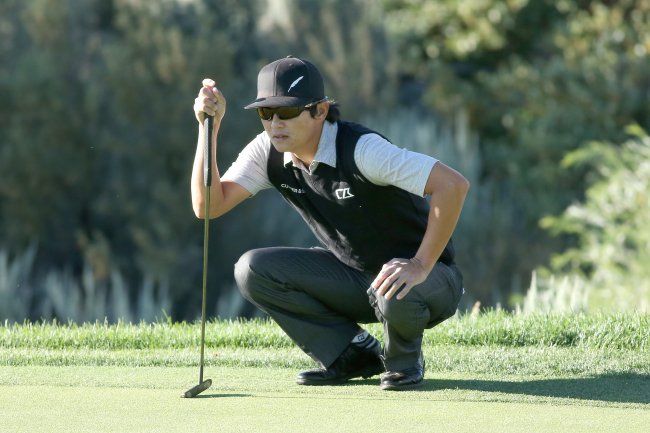 Stephen Dunn/Getty Images
While most PGA Tour events recognize the golfer with the lowest score through four rounds as the winner, the Modified Stableford format recognizes the golfer with the highest score as the tournament champion.
The Golf Channel had a look at the scoring system earlier in the week on Twitter:
This week's Reno-Tahoe Open will employ the modified Stableford scoring system -> Blog: http://t.co/brO5k1PDvA

— Golf Channel (@GolfChannel) July 30, 2013
Here's a complete breakdown of how those in the field will score points this week at Montreux:
| | |
| --- | --- |
| Result | Points |
| Double Eagle | 8 |
| Eagle | 5 |
| Birdie | 2 |
| Par | 0 |
| Bogey | -1 |
| Double-Bogey or worse | -3 |
RenoTahoeOpen.com
In short, going bogey-birdie is much better than going par-par. The former will still result in picking up one point, while the latter doesn't result in any points. By the same token, you can't record a score worse than minus-three on any hole.
After missing a bogey putt, you might as well pick the ball up, unless you're looking for a moral victory.
Thursday's tournament leaders were the ones who balanced a tough bogey by responding with a birdie (or better) in later holes. Teater did that on Thursday, and, as noted by Dan Hinxman of the Reno Gazette-Journal, he's been consistently good at this tournament in the past:
Josh Teater was tied for 3rd after first rd. last year (11 pts) and finished 7th. Tied for 10th at the 2011 RTO. #renotahoeopen

— Dan Hinxman (@danhinxmanRGJ) August 2, 2013
Teater's 15 points currently sit atop the leaderboard, but he did not record the most birdies on the afternoon. That honor belongs to Driscoll, who recorded eight birdies but fell victim to two bogeys during his opening round.
Woodland actually recorded the lowest score of the day in terms of strokes at seven under, but he was bested in the standings because of Teater's eagle on No. 8.
Over the final three days of the tournament, expect the leaderboard to be littered with golfers who took advantage of the five points offered by making an eagle on any given hole.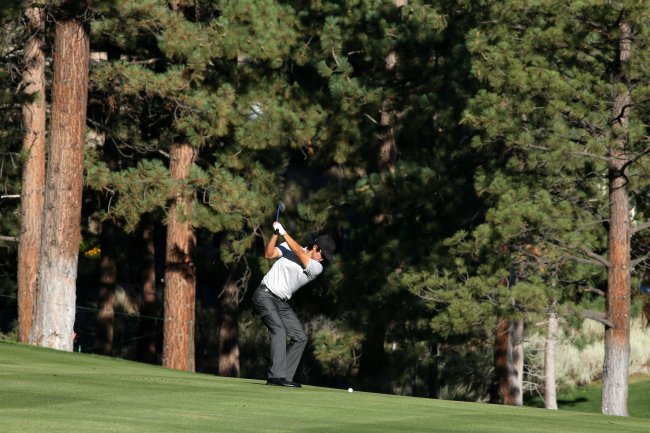 Stephen Dunn/Getty Images
Teater accomplished the feat at No. 8, but No. 2, No. 13 and No. 18 also have the potential to completely turn the leaderboard upside down.
What scoring style is your favorite to watch?
For the most part, the first round of action went off without a hitch. The beautiful backdrops in Reno are excellent scenery for both the golfers and fans in attendance, and the scoring system resulted in several participants posting high scores.
The field will take its time getting used to the new scoring format, and by Sunday, those who finish inside the top 10 will be the ones who mix aggression and skill with a knowledge of how to use the points system to their advantage.
For a point of reference, J.J. Henry won the 2012 Reno-Tahoe Open with 43 points. He recorded a 10 during the opening round.
It might not be conventional, but this tournament is an excellent changeup from the normal way we look at the PGA Tour. Eagles and birdies will quickly change the leaderboard at Montreux faster than we can blink, so make sure you pay close attention to the action in Nevada over the next three days.
Follow B/R's Ethan Grant (@DowntownEG) on Twitter.