Tennis Week's Winners and Losers: Nadal Ready, Del Potro Win, Djokovic's Dad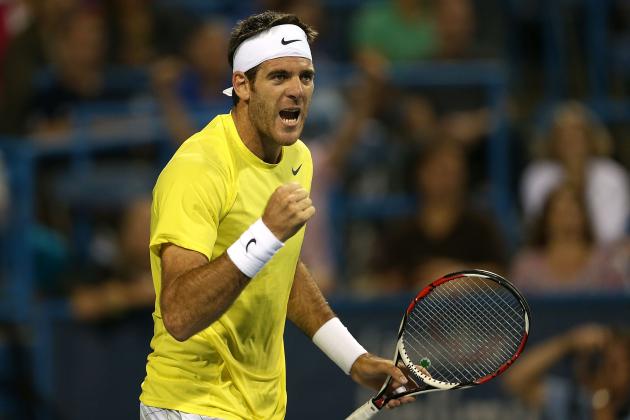 Matthew Stockman/Getty Images

Rafael is in and Roger Federer out as the Rogers Cup opens up to host a strong field including Andy Murray and defending champion Novak Djokovic.
There are also some tidbits on Djokovic's book and some bitterness from his dad.
Martina Hingis, Maria Sharapova and the Citi Open also feature stories in this week's edition of "Winners and Losers," where we look at the unusual, the mundane and the triumphant in professional tennis.
We will also hand out our first burnt bagel award.
Begin Slideshow

»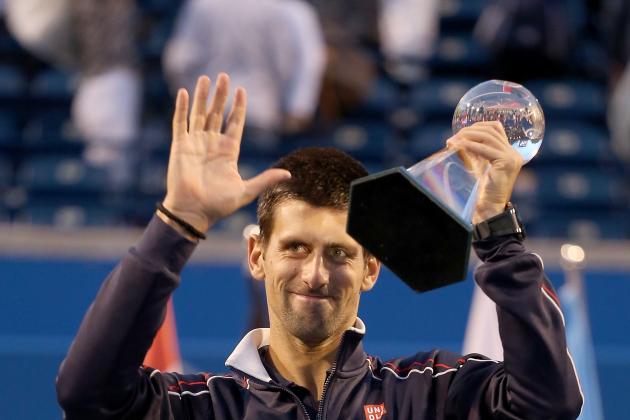 Andy Lyons/Getty Images

Only one person gets to hold the fancy trophy that is a geometry lover's dream.
The Rogers Cup for the ATP will be in Montreal, and finally some answers will be unveiled. Novak Djokovic and Andy Murray look to warp ahead of other contenders, including their more aged, famous rivals.
Can Fabio Fognini continue his hot play on hard courts?
Will Jerzy Janowicz get a chance to knock off Rafael Nadal in the round of 16?
There will be perpetual question marks surrounding Nadal's knee, and fans are waiting for answers. Can he find his best conditioning and fearless play while not doing damage to his fragile knees?
Roger Federer will also receive attention simply by not playing, but he is similar to Nadal in that they are walking a fine line if they try to compete with only part of their arsenal. It's like trying to be a gladiator at Rome without a shield. Unless they have the perfect offensive attack, they will suffer some serious wounds.
This time, Nadal will choose to play and Federer to rest.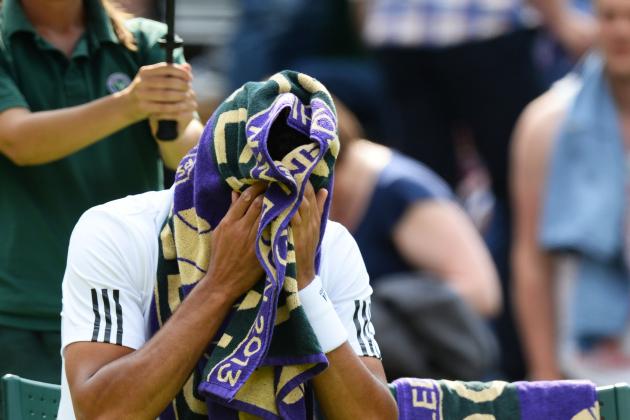 Mike Hewitt/Getty Images

Maybe it only takes a thermometer to read Jo-Wilfried Tsonga's tennis career. The problem is that his status changes faster than the weather.
He peaked at the French Open with his first semifinal appearance, but he bowed out of his second-round Wimbledon match with a left knee injury.
The knee is apparently still a problem for Tsonga, who said it needs more rehabilitation if he is to play in the U.S. Open, according to SI.com.
The real concern is that Tsonga's streaky pattern of hot and cold is now registering somewhere in the Arctic Circle. Is this the beginning of a slow, steady decline out of the top 10 where the competitive feeding frenzy is not as cutthroat?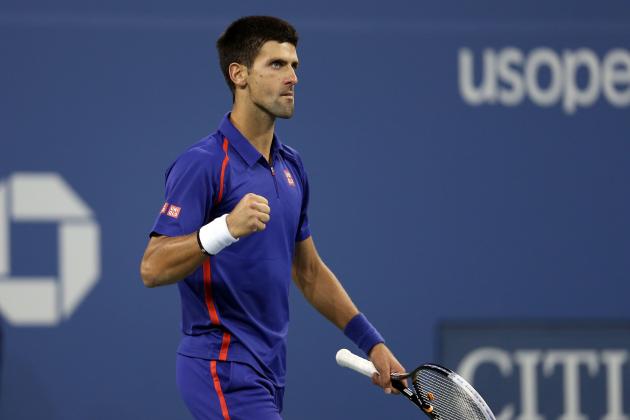 Matthew Stockman/Getty Images

Avocados, warm water and exotic New Zealand honey are all part of Novak Djokovic's diet in building his championship form. Wheat products and dairy are out, according to Tom Perrotta's advanced preview from The Wall Street Journal, which reviewed the tennis star's book Serve to Win.
For the rest of us who are not world-class athletes, we can pick and choose between rejoicing or moaning over the Djokovic diet. If you like avocados, you will feel better about yourself. If you can't stay away from chocolate milk or cheese, you will wrinkle your brow and conveniently ignore this.
A book like this will likely not do much to change somebody's fitness habits, but it can provide inspiration to many who hope to keep improving their own commitments in life. Besides, Djokovic's good-natured approach to life and sportsmanship should supplement tennis fans with competitive insight.
And if you do want to have a ziggurat of Rocky Road ice cream, at least you don't have to worry about taking on Andy Murray or Rafael Nadal the next day.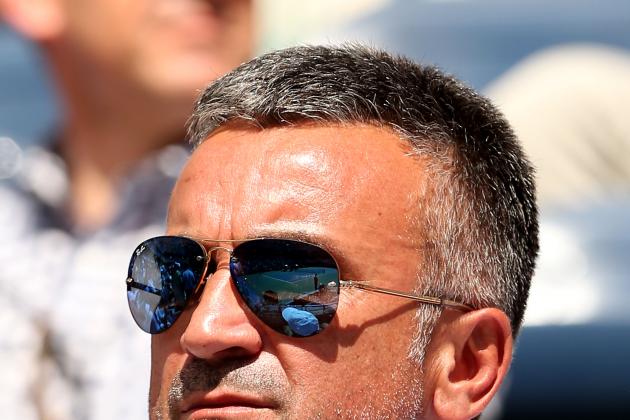 Matthew Stockman/Getty Images

Why would Novak Djokovic's father, Srdjan, unfetter his thoughts about Roger Federer and Rafael Nadal for a Serbian newspaper? (For a full account of the story and topic, read this article.)
Was Srdjan just caught up in the emotion of his more localized media and his family's "Us Against the World" mentality that was so necessary in their collective and successful upbringing?
There's no question that Srdjan's outlandish comments range anywhere from childish to angry, topped with jealousy. Does he just want Federer and Nadal to proclaim Novak as their career equal?
This does not help Novak, who has always been a fine sportsman and likable athlete. The comments do nothing to undermine Federer or Nadal.
The real loser is the one who would utter his own perceived reality in so foolish a manner. Srdjan is this week's landslide winner of the burnt bagel award.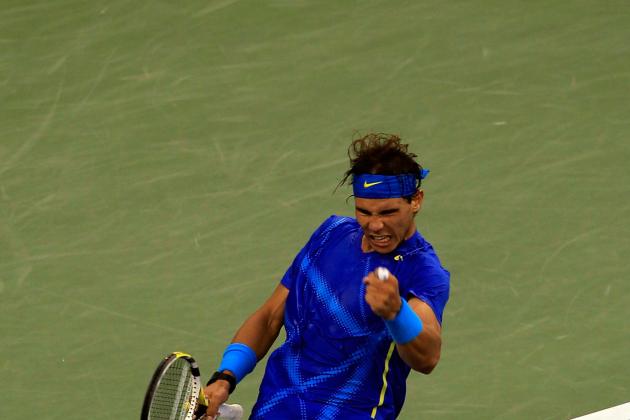 Chris Trotman/Getty Images

First, Nadal sauntered in and dropped in a simple two cents about Djokovic's father, in Marca.com, saying "People are entitled to their opinions. It's not my place to respond to anyone, especially without having heard or read these comments."
Next topic please.
Best of all, Nadal confirmed that he will play in both Montreal and Cincinnati to prepare for another U.S. Open title bid. Vamos, indeed!
It's now or never, again, if the Spanish conquistador is to get back to No. 1 for another stint. He has plenty of points to gobble up, and if he is healthy, he has a great chance at a sizzling late-summer stretch.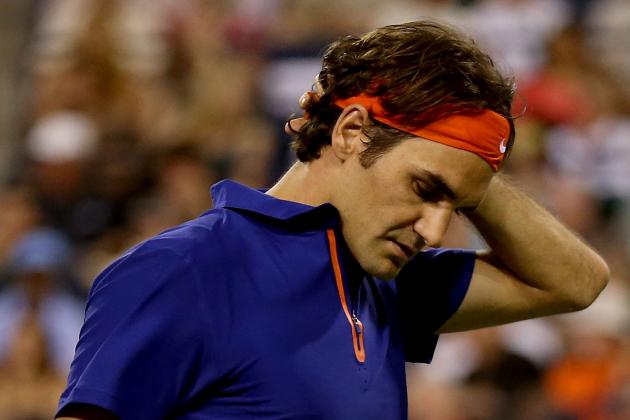 Matthew Stockman/Getty Images

Roger Federer looked to improve his tennis conditioning and start breaking in a new racket on the red clay of Hamburg and Gstaad. At least he came away with a new cow.
The price? Federer's back is probably much worse than people had been aware. Is it chronic? Will he be able to flash some of his former magic for one more Grand Slam title?
He is already skipping the Rogers Cup at Montreal and may be in jeopardy to defend his Cincinnati title. The U.S. Open seems like a long and painful road, if he is to arrive.
Federer's greatest priority, according to BBC Sport: "My main priority now is to fix my back."
All other issues must be placed on the back burner until the back is ready.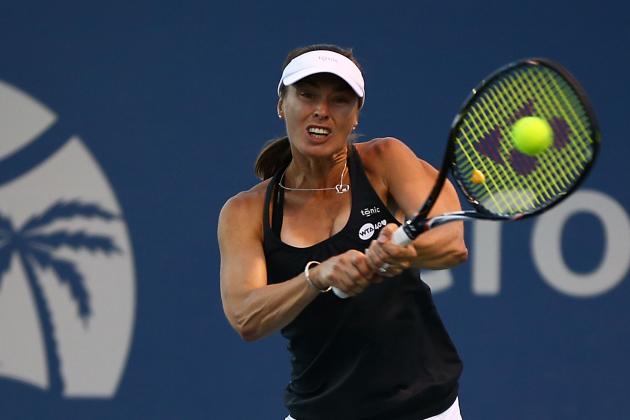 Joe Scarnici/Getty Images

Long ago, Martina Hingis was a teenage sensation, using guile and court savvy to guide her intelligent tennis. Since then, her fickle tennis relationship has featured injuries and rough times.
The former Swiss Miss, now 32 years old, had not played since 2007.
Hingis and Daniela Hantuchova teamed up for a doubles victory in the Southern California Open on Wednesday night. They were eventually knocked off Friday in the quarterfinals.
The WTA could use her star power and confident attitude to pepper the tour with more charisma. She does not have a lot of tennis mileage and may have the kind of body and fitness to return to singles.
Maybe her return will be a shot in the arm for Switzerland to continue its golden age of tennis.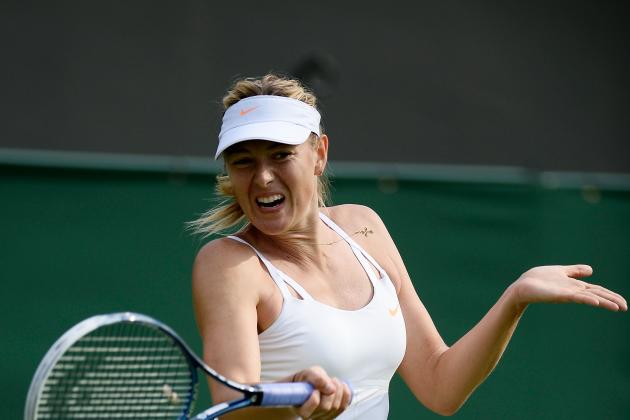 Dennis Grombkowski/Getty Images

Unfortunately, Maria Sharapova and coach Jimmy Connors will not put their show on the road for Toronto, Canada. Sharapova cited a strained hip muscle for pulling out of the Rogers Cup competition.
The anticipation of Connors joining Sharapova has tennis fans wondering what kinds of adjustments Sharapova will make with her tennis.
For now, Coach Connors may be chomping at the bit, anxious to make his coaching debut with the No. 2-ranked Sharapova. Will there be adequate time and conditioning for Sharapova to be fit for the U.S. Open? If not, Connors might be itching to grab a racket and take a few of his own cuts.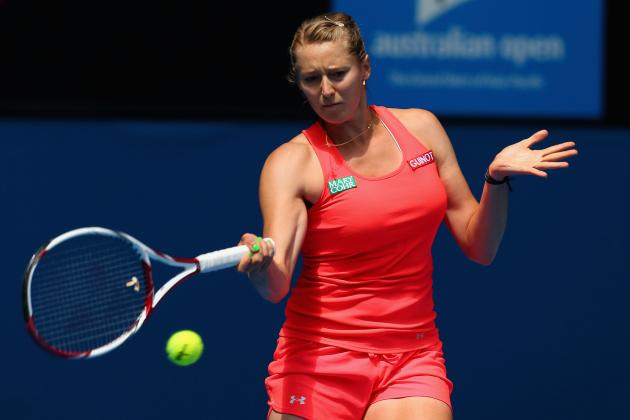 Scott Barbour/Getty Images

Two things happened in an otherwise obscure WTA match last Thursday at the Citi Open in Washington D.C.
We learned that No. 88 Olga Puchkova can hit hard enough to put a bruise on a line judge's knee.
We learned that the WTA will not tolerate a player who acts out of frustration and accidentally causes injury to someone.
Puchkova apologized, and WTA supervisor Melanie Tabb told the AP via SI.com:
I 100 percent believe her that that's true - that she didn't mean to do it....It's not just the intention that matters. It's the result of her action. And she did hit the line (judge). And he was bruised on his knee from the ball, because it was hit very hard.
Kudos to the WTA for clearly backing its policies.
Puchkova will likely think twice next time she is frustrated.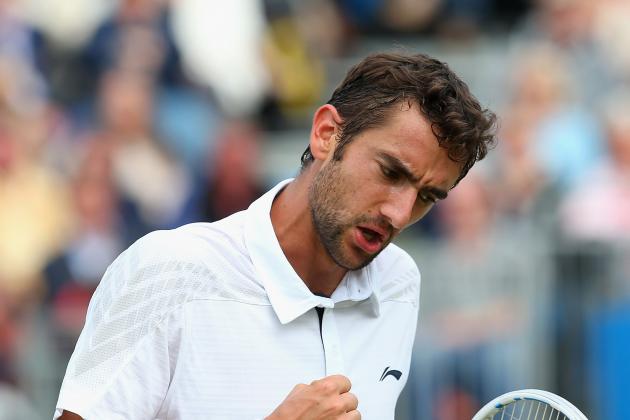 Julian Finney/Getty Images

Another dose of troubling news as ATP No. 15 Marin Cilic dropped out of the Canada Open.
The Independent is reporting that there are unconfirmed reports about Cilic failing a drug test in April, which could result in a suspension and tribunal hearing.
Cilic's team has yet to respond.
Cilic's former coach Bob Brett called Cilic "careless" and "naive" for buying tainted over-the-counter products. He said the ATP needs to do more educate players, according to ESPN.co.uk: "The [ATP and WTA] Tours need to help educate the players and people working with the players of the consequences and risk."
This is the second straight week the ATP has had to deal with possible drug abuse. Last week, Viktor Troicki of Serbia was suspended 18 months for not submitting a required blood sample.
Will the dark clouds of performance-enhancing drugs start to rain on tennis? Is it the ATP's job to do more to educate players, or should they be held more accountable?
This issue feels like it's just getting started.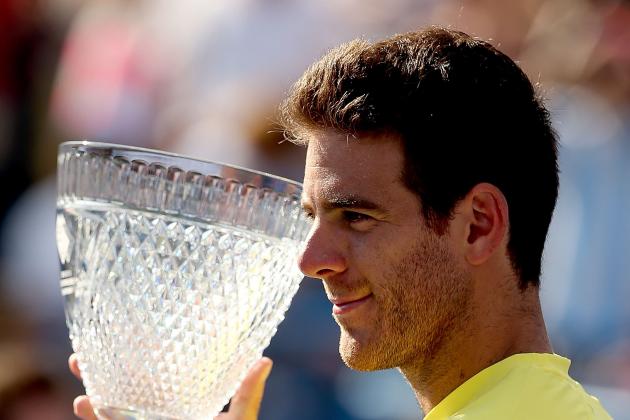 Matthew Stockman/Getty Images

Juan Martin del Potro woke up after a shaky 6-3 first-set loss against John Isner at the Citi Open in Washington, D.C.
The big Argentine then got to work in breaking Isner four times, not an easy task against the big-serving machine who is often clocked at 140 mph. He smoked Isner 6-1, 6-2 to win his third career Citi Open title.
It's a great sign for Del Potro, who will enter Canada with momentum. He is seeded No. 6 and slated for the bottom of the bracket with possible matches against Canadian Milos Raonic and Andy Murray.
Most of all, he is seeking a renaissance of the form that drove him to the 2009 U.S. Open title. Can he shake the shadow of his younger self and mature into a consistent Grand Slam champion?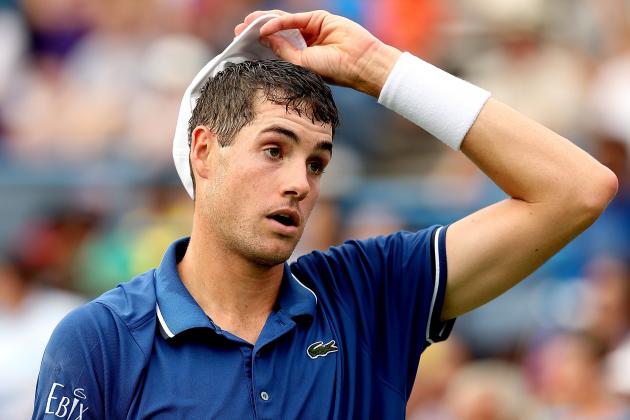 Matthew Stockman/Getty Images

Big John Isner lost his three-set final at the Citi Open in Washington, D.C. but hinted at bigger concerns about his health and recovery.
Isner told Liz Clarke of The Washington Post that he has been icing his knees after matches and that he is "a little tired and worn out."
Welcome to what it's like to be one of the Big Four, except that it must be done week after week and through larger and tougher draws. The great ones navigate through countless nagging injuries but must be ready for a reset.
Will Isner bounce back at Canada against possible opponents like Nicolas Almagro, Tomas Berdych and David Ferrer? Is he ripe for an opening upset at the hands of Vasek Pospisil?
He'd better bring plenty of ice and stamina if he wants to step it up for the big tournaments. Of course, it would help greatly to improve his return game.