Preseason rankings are illogical.
A bunch of folks take guesses as to how good they think college football teams will be before the season, then promptly spend the rest of the season adjusting those initial rankings. Do the rankings completely shuffle each week?
Nah, not really. A team that starts at No. 20 but plays like the best team in the nation in the first week won't shoot to the top of the rankings. Likewise, an overrated team is likely to remain overrated in the rankings all season long, as voters fear dropping them too far down the rankings after a loss.
Nonetheless, preseason rankings are a huge part of college football's tradition and will matter in the landscape of this college season. With the USA Today Coaches Poll being released on Thursday, let's take a look at a few surprises in the rankings.
Is Notre Dame Ranked Too High at No. 11?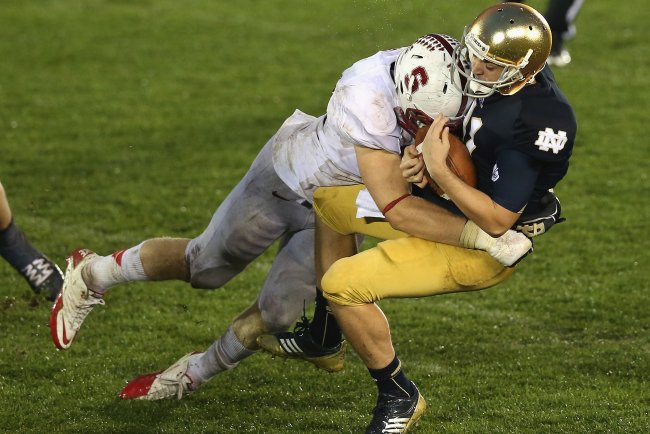 Jonathan Daniel/Getty Images
Yes.
I'm a bit surprised Notre Dame is ranked this high. Of course, I was surprised at everything they did last season, so who knows what they might have in store?
But the point is this—Notre Dame lost three of their best players from a year ago, Manti Te'o and Tyler Eifert to the draft and Everett Golson to suspension. Te'o's departure in particular can't be overstated, as he was the team's heart and soul a year ago.
Plus, this is no easy schedule, with dates at Michigan and Stanford and home games against Oklahoma and USC.
Remember, the Fighting Irish won two overtime games (though you could fairly argue they didn't actually beat Stanford) and five games in total by a touchdown or less. Will Notre Dame once again come up perfect in close games?
I'm guessing they don't. This is a good team, no doubt, but I'm not sure it's a Top 15 team.
Oregon Ranked Higher Than Stanford?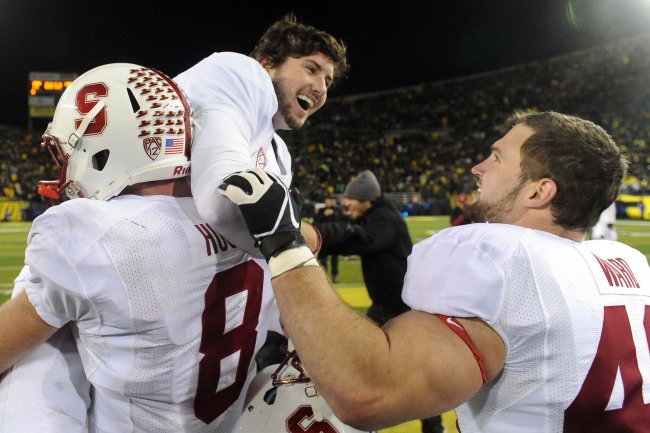 Steve Dykes/Getty Images
I'm not surprised Stanford is ranked No. 4. I'm a little surprised, however, that the Cardinal are ranked below Oregon, which comes in at No. 3.
Stanford returns 17 of 22 starters and beat Oregon in Eugene last season. Plus, Chip Kelly is no longer running the Ducks.
Stanford closed last season with eight straight wins. With most of that team intact, Stanford should be the favorite to win the Pac 12.
Jadeveon Clowney Isn't Ranked No. 1?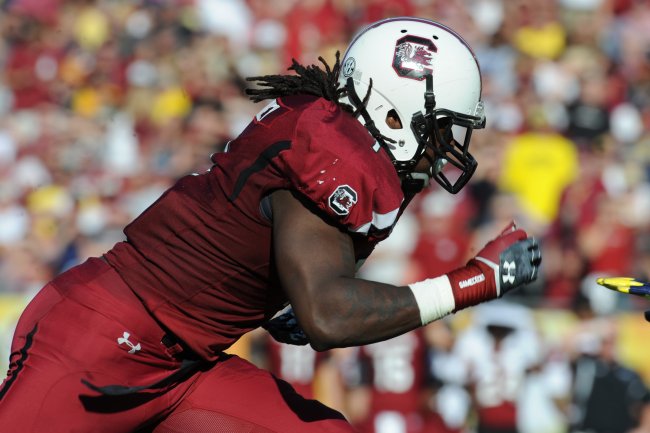 Al Messerschmidt/Getty Images
Yes, I know individual players can't be ranked in the USA Today Coaches Poll. But I've heard so much about Clowney this offseason, I just figured he'd be ranked No. 1 anyway.
(Yes, in spite of my sarcasm, I know he's a stud. And South Carolina seems accurately ranked at No. 7. But seriously, can we stop crowning this guy the next Lawrence Taylor until he actually, you know, plays in the NFL?)
Why Is Wisconsin Ranked?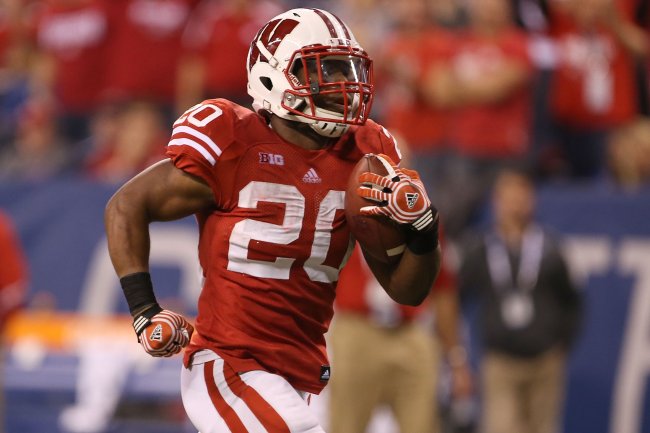 Leon Halip/Getty Images
Wisconsin was 8-6 last season. The team lost its best player, running back Montee Ball, and its head coach, Bret Bielema. The team is currently embroiled in a quarterback battle between three players, which means Wisconsin doesn't really have a quarterback.
What's the old saying? If you have two quarterbacks, you don't really have any quarterbacks? What if you have three?
Wisconsin closed last season by losing four of its last six games. They may play themselves back into the top 25, but this team shouldn't start there.
Here is the full USA Today Coaches Poll: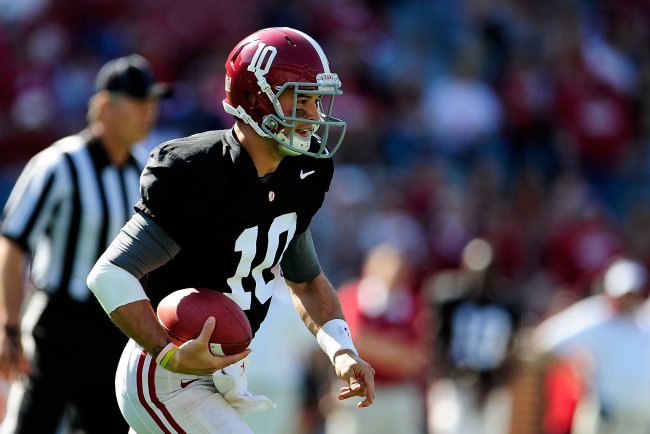 Stacy Revere/Getty Images
1. Alabama
2. Ohio State
3. Oregon
4. Stanford
5. Georgia
6. Texas A&M
7. South Carolina
8. Clemson
9. Louisville
10. Florida
11. Notre Dame
12. Florida State
13. LSU
14. Oklahoma State
15. Texas
16. Oklahoma
17. Michigan
18. Nebraska
19. Boise State
20. TCU
21. UCLA
22. Northwestern
23. Wisconsin
24. Southern California
25. Oregon State