Dropping Knowledge: Daniel Cormier Breaks Down UFC 163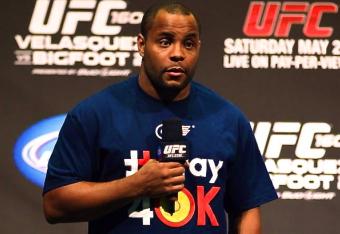 The analysis team for the UFC on Fuel TV and Fox broadcasts have been providing the most in-depth coverage mixed martial has seen in its 20 years of existence.
With a collection of seasoned fight veterans at the helm and a handful of well-versed hosts at the helm, the people working the pre- and post-fight shows for the UFC have consistently raised the bar.
For the next installment of "Dropping Knowledge," UFC heavyweight contender and Fuel TV analyst Daniel Cormier digs deeper into this weekend's UFC 163 fight card and provides insight on the key factors the competitors will face when they step inside the Octagon in Rio de Janeiro.
The former Olympian is one of the fastest rising stars in MMA. Over the past four years, the 34-year-old Louisiana native has gone from prospect to title contender, as he's amassed an impressive 12-0 record to begin his career. During this run, "D.C." has built a solid resume which has included winning the highly touted Strikeforce Heavyweight Grand Prix and a lopsided unanimous decision victory over former champion Frank Mir in his organizational debut at UFC on Fox back in April.
In addition to Cormier's success inside the cage, he has quickly established himself as one of the top analysts in mixed martial arts as well. The former Oklahoma State wrestling standout uses a cerebral approach when breaking down the action, and his years of experience in combat sports makes the information he shares easily digested with the MMA fanbase.
This is what Cormier told Bleacher Report about this weekend's UFC 163 fight card:
Bleacher Report: Let's start with the main event between Jose Aldo and Chan Sung Jung. The featherweight champion has shown one of the most dynamic and versatile skill sets in all of mixed martial arts, and "The Korean Zombie" has proven to be dangerous in many aspects of the fight game as well. What are the keys to victory for both fighters in their upcoming tilt?
Daniel Cormier:"In this fight, Jose Aldo needs to be himself. His skills are very diverse. He can mix it up and there isn't much he can't do inside the cage. The biggest difference in this matchup is athletic ability. Aldo is extremely powerful and very quick, and he needs to use those skills against Jung. He is considered one of the pound-for-pound best for a reason, and he is truly one of those rare fighters who have special skills.
"That being said, those things tie in to what the 'Korean Zombie' has to do in this fight. He needs to make this fight ugly like he did in his last fight against Dustin Poirier. When Jung dictates the action, that is when he is at his best. He stays in his opponent's face, keeps the pressure up and never allows them to get going. He always comes forward, keeps the leather on his opponent, and that is what he has to do in this fight against Aldo."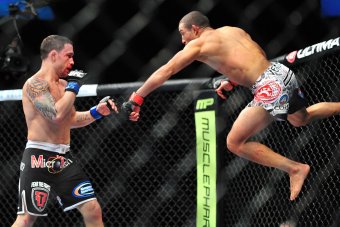 Gary A. Vasquez-USA TODAY Sports
B/R: There are many variables a fighter faces stepping into the cage, but this weekend in Rio de Janeiro, Jung will certainly be facing some unique challenges. The bout with Aldo will be his first bout in over a year, and if potential "ring rust" isn't bad enough, he will also be facing the pound-for-pound great in his home country of Brazil. What are your thoughts on how Jung will deal with these issues?
D.C.: "The issue which is bigger than the actual lay-off is where he is fighting. Not only is he facing one of the best pound-for-pound fighters in the world, but he is doing it in Brazil, where non-Brazilians have had a very difficult time winning fights. I'm not sure what the exact numbers are, but it is astounding how well Brazilian fighters have done competing in their home country.
"Jung is a veteran, and most times experienced fighters can overcome 'ring rust' once the action gets underway. I believe having to face Aldo in Brazil is going to be the biggest variable he has to deal with. A few guys like Phil Davis, Nik Lentz and Jon Fitch have been able to go down there and win big fights, but they are definitely on the short side when you look at the numbers."
B/R: There is a lot of of talk about Aldo moving up to the lightweight division should he defeat Jung on Saturday night. While a potential move certainly presents some interesting options, the featherweight division has become a shark tank over the past year, and there are several solid challenges that remain for Aldo in the division. Do you believe he should remain at featherweight or make the jump up to 155 pounds?
D.C.: "I definitely think he should stay at featherweight. I only think a champion should leave his division once his weight class is cleaned out and when they show actual interest in leaving their division. Jose Aldo has spoken about moving up to lightweight in the past, but it has typically come in response to a question he was asked. I think he has a lot of work to do at featherweight. There are some good challenges waiting for him in that weight class.
"Ricardo Lamas is on a crazy roll. Frankie Edgar just won his last fight and looked great doing it. Cub Swanson has looked fantastic as of late. There is a lot of work for Aldo to do, but when you get a guy who is as special as Aldo is, he makes it seem as if he's levels above the other good fighters in the division. Lamas, Edgar and Swanson are all great fighters, but Aldo makes it seems like they are not as good as he is.
"Another interesting thing about a fighter as unique as Aldo is that you start to envision him fighting certain opponents and trying to figure out who can actually test him and who might have a chance at beating him. You kind of give him obstacles. The only thing going up to 155 pounds would do is put him at a size disadvantage, so you think maybe that would make a difference. But you don't know if that is going to be true. He's fighting guys his size right now and has looked so dominant we try to give him hypothetical obstacles."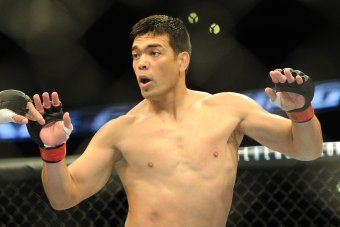 Jayne Kamin-Oncea-USA TODAY Sports
B/R: Let's move on to the co-main event matchup between former light heavyweight champion Lyoto Machida and surging contender Phil Davis. Both men are hungry to earn a shot at the 205-pound title, but at the same time, both have dealt with respective rough patches. "The Dragon" put himself in a difficult situation by turning down a rematch with Jon Jones at UFC 152 last year, and Davis was stuck in divisional limbo for two fights with Wagner Prado. Do you believe the winner of their tilt at UFC 163 has to find victory in impressive fashion to be considered for the next title shot?
D.C.: "When we talk about winning impressively, Machida has done that. I'm not exactly sure why he hasn't been given another title shot, but he's definitely proven he is one of the top light heavyweights on the roster. When we talk about Machida winning impressively, he did that against Ryan Bader. He knocked him out and looked great doing it. I'm not sure why he didn't get a title shot coming off that fight, but he then fought Dan Henderson and won that fight as well.
"As for Phil, I think when he lost to Rashad [Evans] and had the unfortunate eye-poke situation with Wagner Prado, it did set him back a little bit. He was fighting a guy considered the No. 2 light heavyweight in the world in Evans, and if he would have won that fight, I believe Phil would've been given the title shot against Jon Jones at UFC 145. But he lost against Evans, and with his next fight coming against Prado, it showed that loss pushed him back a little bit.
"But Phil is a young guy and he's very skilled. No disrespect to guys like Wagner Prado or Vinny Magalhaes, but Phil is on a different level and is exactly where he needs to be to get a title shot. I think he actually goes a lot further with an impressive win against Machida than Machida will if he beats Davis. If Lyoto wins this fight, then it's something we've come to expect from him, but if Phil can get the victory in impressive fashion, he beat a former champion, did it in Brazil, and I believe it will really boost his stock in the title picture."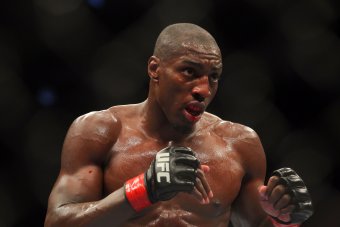 Brad Penner-USA TODAY Sports
B/R: Wrestling is obviously Davis' biggest weapon, but Machida has proven to be a difficult fighter to put on the canvas. What does Davis need to do in order to keep his greatest strength a factor in this fight?
D.C.: "He has to find a way to close the distance on Lyoto, but that is much easier said than done. We've seen accomplished wrestlers try to take Machida down and solve that puzzle. Only one has actually done it, and that was Jon Jones in their fight at UFC 140. Jon was able to take him down, hold him down and eventually get that cut on him. That was the beginning of the end in that fight.
"Phil needs to close the distance and he has to make him respect his striking. He has to find a way to make Lyoto respect his striking. If he starts rush he's going to be in trouble. He has to be patient, stay calm and know the takedown is eventually going to come. He has to be confident in his skills.
"If Phil doesn't remain patient, it is going to cost him in a big way. As history has shown, the only guy to ever rush in on him and get the win was 'Shogun.' Their first fight was very close and ended in a controversial decision, but in the second fight, he ended up knocking Lyoto out. Normally, if you rush like that, you get in trouble. Phil can't do that in this fight. He has to stay calm and has to have confidence in his game plan.
"One thing a lot of people don't realize with Machida is that if you are patient and don't over-react, he will actually let you in the fight. Dan Henderson didn't rush against Lyoto. He stayed patient, walked him down and tried to get a hold of him and because he didn't rush or over-extend himself, Dan was actually in that fight without actually doing very much. If Phil can remain patient, Lyoto will let him into the fight."
B/R: Aside from the two big fights on the card, are there any fighters or matchups you feel fans should keep their eyes on?
D.C.: "There are a couple fighters this card I think people should be paying attention to. The fight card from top to bottom may not have the name recognition as some of the other cards, but there are still some very good fights on the card. Ian McCall was one of the original members of the four-man flyweight tournament to determine to the first 125-pound champion in UFC history.
"Amanda Nunes is fighting on the FX portion of the prelims. I watched her fight in Strikeforce a couple times and she is very aggressive. She has an 18-second knockout victory over Julia Budd, who is one of the better kickboxers in the female fighting world. Those are two fights I'm really excited about.
"I really want to see Iliarde Santos versus Ian McCall. I think it's a chance for McCall to show what he has without the distractions of all the other things that have been going on in his life. The first Demetrious Johnson fight where it was called a loss when in reality it was a draw. Then he had to go back and fight Johnson again and losing another close fight. Next, he fought Joseph Benavidez right as he was going through a divorce and a lot of personal issues.
"This will be chance for him to fight when he is not going through a bunch of things in his personal life—at least not publicly, anyway. He's a fighter to watch, and it will be interesting to see if he can get back to the top."
Duane Finley is a featured columnist for Bleacher Report. All quotes are obtained firsthand unless noted otherwise.
This article is
What is the duplicate article?
Why is this article offensive?
Where is this article plagiarized from?
Why is this article poorly edited?