USA Today released the first coaches poll of the 2013 college football season on Thursday, and a familiar name was at the top of the list.
The Alabama Crimson Tide, winners of three of the last four BCS National Championships, will start the upcoming season as the No. 1 team in the eyes of the 62 coaches who represent the voting body.
Ohio State, Oregon, Stanford and Georgia round out the top five, with current Heisman Trophy winner Johnny Manziel and the Texas A&M Aggies sitting at No. 6.
Alabama (58), Ohio State (3) and A&M (1) were the only three schools to receive first-place votes in the poll. Behind the top six teams, South Carolina, Clemson, Louisville and Florida make up the rest of the Top 10.
Who are you picking to win the national championship this year?
After losing to the Tide in last year's national championship game, Notre Dame currently sits at No. 11. The Fighting Irish will be without last year's starting QB, Everett Golson, for the entire 2013 season.
Behind the big names from the SEC that will dominate national conversation, several teams in the Top 25 will start the season relatively quietly. Earning "sleeper" status, these teams have a great chance to climb in the rankings with strong showings this year.
As we often say in sports, it's not about how you start; it's about how you finish.
Keeping that in mind, here's a look at three of the biggest sleeper teams from Thursday's opening coaches poll.
Complete USA Today Preseason Rankings
| | | |
| --- | --- | --- |
| Ranking | Team | First-Place Votes |
| 1 | Alabama | 58 |
| 2 | Ohio State | 3 |
| 3 | Oregon | 0 |
| 4 | Stanford | 0 |
| 5 | Georgia | 0 |
| 6 | Texas A&M | 1 |
| 7 | South Carolina | 0 |
| 8 | Clemson | 0 |
| 9 | Louisville | 0 |
| 10 | Florida | 0 |
| 11 | Notre Dame | 0 |
| 12 | Florida State | 0 |
| 13 | LSU | 0 |
| 14 | Oklahoma State | 0 |
| 15 | Texas | 0 |
| 16 | Oklahoma | 0 |
| 17 | Michigan | 0 |
| 18 | Nebraska | 0 |
| 19 | Boise State | 0 |
| 20 | TCU | 0 |
| 21 | UCLA | 0 |
| 22 | Northwestern | 0 |
| 23 | Wisconsin | 0 |
| 24 | USC | 0 |
| 25 | Oregon State | 0 |
USA Today
*via USAToday.com.
Biggest Sleepers from First Top 25
No. 9 Louisville
The Louisville Cardinals will be one of 10 teams vying to be the inaugural winner of the first American Athletic Conference (formerly the Big East) football season.
Looking at Louisville's 2013 schedule, it's not surprising the team is ranked inside the Top 10. With nonconference games against Ohio, Eastern Kentucky and Kentucky before hitting their conference slate, the Cardinals have a great chance to go undefeated in the regular season.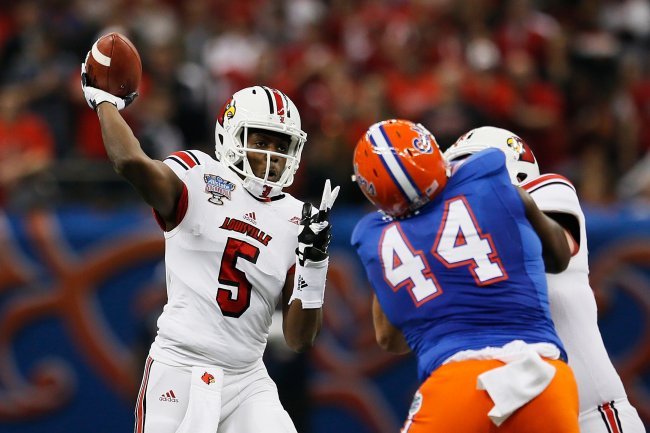 Kevin C. Cox/Getty Images
It also helps that they are returning weapons on both sides of the ball.
For starters, junior quarterback Teddy Bridgewater will be back under center. The 6'3" signal-caller threw for 3,718 yards and 27 touchdowns last year. As noted by Louisville Football on Twitter, he's also been named to the Davey O'Brien watch list:
Congrats to QB Teddy Bridgewater for being named to the Davey O'Brien Watch List; one of five semifinalists from last year to appear on list

— LouisvilleFootball (@UofLFootball) July 17, 2013
If Bridgewater has a strong start to the season, it wouldn't be a surprise to see him in the mix for the Heisman Trophy later this year.
The Cardinals will bring back running back Senorise Perry and wideouts DeVante Parker and Damian Copeland on offense, and they'll have a talented defense built around defensive end Marcus Smith, linebacker Preston Brown and cornerback Terrell Floyd.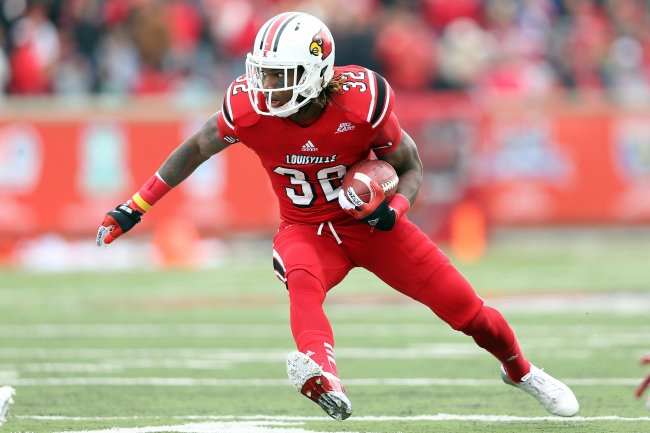 Andy Lyons/Getty Images
According to USA Today's George Schroeder, Louisville might also have one-time Auburn star Michael Dyer busting heads in the backfield soon. Per the report, he'll be eligible to play immediately.
All the pieces are there for the Cardinals to have a great 2013 season.
Playing in a "weaker" BCS conference, they will need to dominate and get help from other schools to be considered national championship contenders, but that isn't out of the question heading into the season.
No. 20 TCU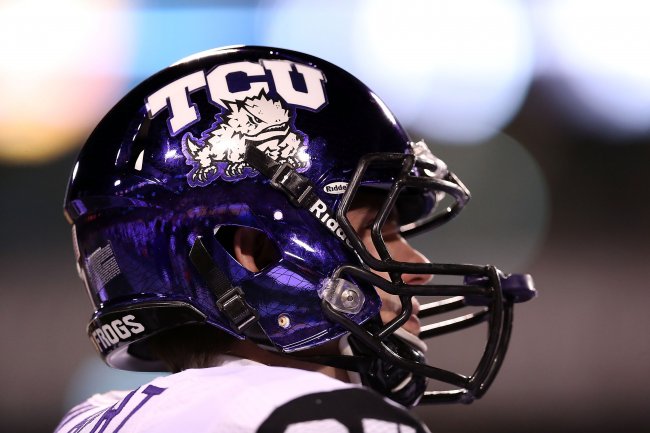 Christian Petersen/Getty Images
Despite finishing with a 7-6 record and losing their bowl game to Michigan State, hopes remain high that the Horned Frogs will turn things around in 2013.
Most of those hopes ride with QB Casey Pachall.
Pachall, who missed the majority of the 2012 season due to drug-related problems, is back in line to compete for TCU's starting QB job this year. Confidence in his ability has not waned—media members picked Pachall as the first-team QB on the Preseason All-Big 12 team.
Speaking to reporters for the first time in 10 months on Wednesday, Pachall expressed remorse for his actions and told Fort Worth Star-Telegram's Stefan Stevenson and other media members that he has "matured a lot" in preparation to lead TCU this year.
If Pachall cannot handle the load, sophomore QB Trevone Boykin's mobility and experience will give Patterson another option to keep pace with the rest of the Big 12.
Waymon James will step into the spotlight and try to win the running back job outright, but receiver figures to be a major question mark for the Horned Frogs when the season begins.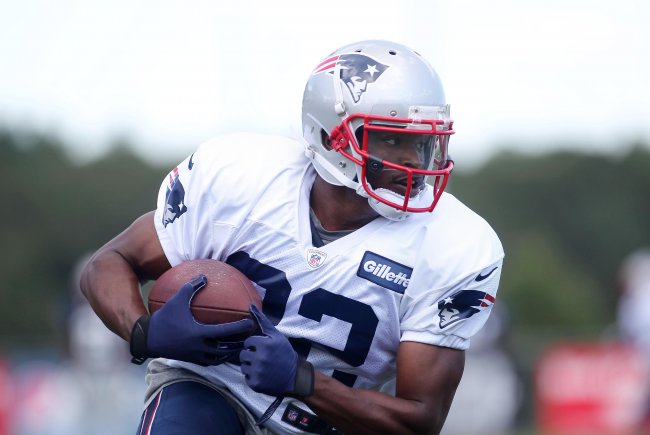 Stew Milne-USA TODAY Sports
On defense, TCU returns several starters and has a talented secondary, with CBs Jason Verrett and Kevin White anchoring the team's passing defense. Defensive end Devonte Fields is also a player to watch on the defensive side of the ball.
As noted by CFBStats.com, the Horned Frogs were the 16th-best defense in the nation in 2012 and gave up just over 322 yards per game. While the offense adjusts to either Pachall or Boykin, the defense will continue to be the team's strong suit.
By all accounts, the Big 12 is anyone's to win.
Bleacher Report Big 12 lead writer Lisa Horne examined TCU's chances to win the conference back in April. As she smartly pointed out, we'll know how real the team's chances are in a showdown with LSU to open the season. If the Horned Frogs win that game, they could be well on their way to a strong season.
Picking up road wins against Oklahoma and Oklahoma State will bolster TCU's chances to climb higher in the Top 25, as will taking care of business at home. It's still very early, but the combination of strong defense and the potential for an explosive offense make TCU a huge sleeper candidate right now.
No. 21 UCLA
Harry How/Getty Images
The Pac-12 is littered with talent in both the North and South divisions. While Oregon and Stanford will battle it out for the North crown, the UCLA Bruins have quietly established themselves as the favorites to win the South division for the second straight year.
A No. 21 ranking in the coaches poll isn't exactly a vote of confidence from coaches that UCLA will find a way to go 3-0 in its three toughest games of the 2013 season (road games at Oregon, Stanford and USC), but the Bruins quietly finished 9-5 last season and took the Cardinal to the brink twice.
There's buzz that this program has been resurrected.
From sophomore QB Brett Hundley to a defense that is headlined by LB Anthony Barr, UCLA is going to be extremely dangerous. Although several of the team's biggest 2012 contributors (Johnathan Franklin, Datone Jones) are NFL-bound, Jim Mora's emphasis on recruiting has given the program some depth.
Which sleeper team will have the best season?
Top 2013 recruit Eddie Vanderdoes has also reportedly been cleared to play. As noted by Chris Foster of the Los Angeles Times, the 6'3", 310-pound freshman-to-be would bolster the Bruins defense right away.
Top to bottom, the Bruins have the talent to contend with any team in the Pac-12. They have an extremely tough schedule to navigate through, but opportunities will be there to prove they belong with college football's elite teams.
Louisville, TCU, UCLA and every team competing for legitimacy this fall will have a tough task at hand. By flying under the radar to start the season, there's a good chance these three teams (and others) can avoid pressure and just play ball.
And when that happens, the rankings start looking starkly different from week to week.
Follow B/R's Ethan Grant (@DowntownEG) on Twitter.