10 College Football Quarterbacks Who Must Shoulder the Load in 2013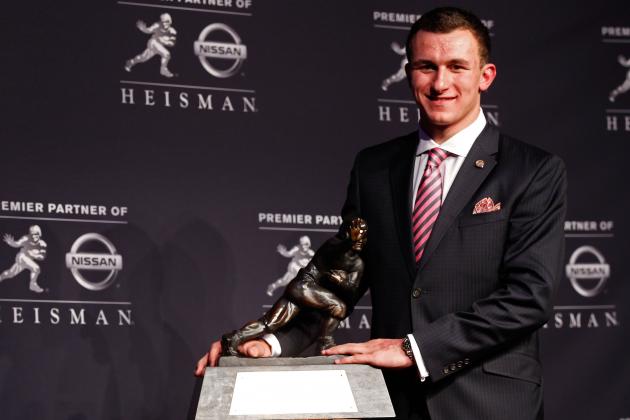 Mike Stobe/Getty Images

Quarterbacks play the most important position on the college football field, so they need to give their best efforts for their teams to reach their potentials. Some QB's have solid teams around them that can make up for their mistakes. Other signal-callers are relied upon heavily just to get their teams in the win column.
In this slideshow, I discuss which 10 college football quarterbacks in 2013 best fit into the second category I described.
Here are some of the things I considered while compiling this list, in no particular order:
RETURNING STARTERS: The fewer returning starters, the more leadership and experience the quarterback must show.
STRENGTH OF DEFENSE: If the quarterback plays on a team with a bad defense, then he'll need to get more out of his offense to win games.
STATISTICS: How much offense does the quarterback generate for his team?
I often say, "Player X was directly involved in Y percent of Team Z's offensive plays last season," or something along those lines. How did I arrive at that number? Here's the equation:
(Player Pass Attempts + Player Rush Attempts + Player Receptions) / (Team Plays From Scrimmage + Team Incomplete Passes) x 100 = Percentage of Offensive Plays
Some quarterbacks can handle the pressure their teams put on them, while others perform as if they're overwhelmed. You'll find both types on this list.
I limited the candidates to returning starters who are all but guaranteed to start the season as of this writing. I also ordered the list alphabetically by player surname.
Feel free to debate in the comments section below.
Begin Slideshow

»
Jamie Sabau/Getty Images

Tyler Benz isn't driving a luxury car at Eastern Michigan; it's more like a clunker.
The Eagles made progress in each of Ron English's first three seasons as head coach before regressing again in 2012. If Benz can't lead the team to the kind of season it had in 2011, it's likely English will get the pink slip.
Benz was one of Eastern Michigan's few bright spots in 2012, and with only half the offensive and defensive starters returning, he'll have to carry more of the weight.
Eastern Michigan at least went out and made some good coaching changes to jump-start their program. New offensive coordinator Stan Parrish was the quarterbacks coach for both a collegiate national champion and a Super Bowl champion team. Though the Eagles aren't even considered a possible MAC West champion this season, Benz should improve under Parrish.
Leading rusher Bronson Hill returns, but Benz had the second-most rushing attempts on the team in 2012. Throw in his duties as a passer, and his importance to the program is clear.
If Benz does his best to lead the Eagles in 2013, maybe they'll turn into a car that gets you from point A to point B.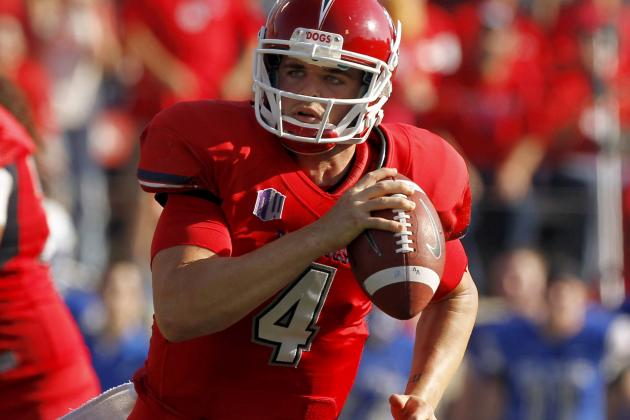 Cary Edmondson-USA TODAY Sports

Among FBS players returning to college football in 2013, Derek Carr of Fresno State finished second in both pass attempts and completions, both behind Marshall's Rakeem Cato. This season, Carr could be even more active.
Even with workhorse running back Robbie Rouse, Carr filled up the stat sheet for Fresno State. Now that Rouse has moved on, he'll take full control of the offense.
With Rouse, Carr was directly involved in nearly 58 percent of Fresno State's offensive plays in 2012. Without Rouse, expect that number to rise significantly.
This is another one of those players that got on this list, regardless of returning starters and strength of defense.
Fresno State could be in the Top 25 conversation this season, so Carr will have to live up to his darkhorse Heisman hype if the team wants to stay there.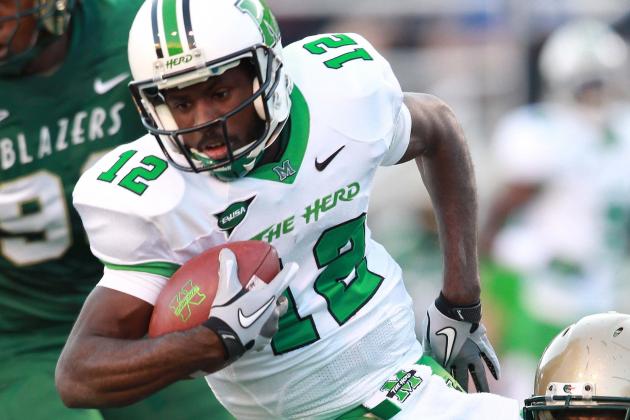 Marvin Gentry-USA TODAY Sports

Marshall's Rakeem Cato threw the ball more than anyone in FBS in 2012. Disregard all that returning starter and defense business for Cato, because he's easily the biggest piece of the Thundering Herd in 2013.
Though Phil Steele says Marshall is FBS' most improved team this season, suggesting the defense will be exponentially better, Cato will still attempt a lot of passes.
Cato led FBS in completions and attempts in 2012. His closest competitor among returning players was Fresno State's Derek Carr, who finished sixth and eighth in those categories, respectively.
Cato was directly involved in nearly 60 percent of Marshall's offensive plays last season. He did whatever possible to win games, but thanks to the horrible defense, Marshall went 5-7.
Doc Holliday is the name of the head coach, so it's fitting that we'll see a gunslinger's mentality from Cato again in 2013.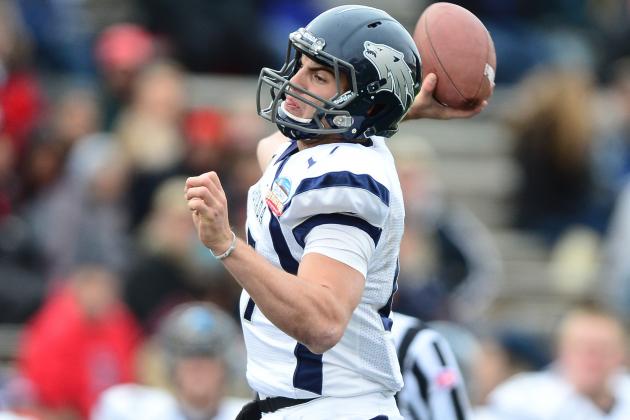 Mark J. Rebilas-USA TODAY Sports

Cody Fajardo will have to carry Nevada in 2013 more than he did in 2012, and that's saying something.
The Wolf Pack defense last season was no help, as it finished 102nd in FBS in scoring defense. Only four starters return from the unit, so it could worsen before it improves.
Leading rusher Stefphon Jefferson declared for the 2013 NFL draft as a junior, which was somewhat of a waste, as he signed with the Tennessee Titans as an undrafted free agent. Jefferson finished second among FBS players in both carries and rushing yards in 2012.
Fajardo was a 1,000-plus yard rusher himself, but he'll be a bigger part of the ground game with Jefferson gone. Even with Jefferson, he was directly involved in approximately 52 percent of Nevada's offensive plays in 2012. Who knows how high that number will go in 2013?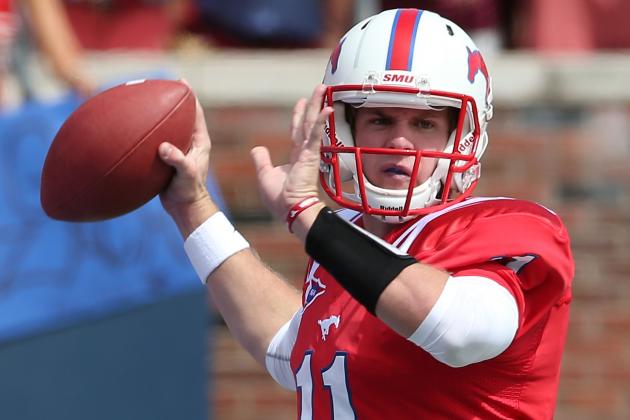 Ronald Martinez/Getty Images

Even though it's not where he expected, Garrett Gilbert will be one of the most important quarterbacks to his team in college football in 2013.
Gilbert, the 11th overall prospect in ESPNU's Class of 2009, failed to be the next great Texas quarterback after Vince Young and Colt McCoy. He transferred to SMU in time for the 2012 season, where he was mediocre. This season, he'll have to be much improved.
Even though most June Jones-led teams put up big numbers on offense, the defense was the story for the Mustangs in 2012. Only three starters return from the unit, and a massive departure is 2013 NFL draft second-round pick Margus Hunt.
Gilbert was directly involved in nearly 65 percent of SMU's offensive plays last season. With Zach Line's 277 carries out of the picture, expect that number to rise in 2013.
The Mustangs move to the American Athletic Conference, where they'll see a bump in competition from Conference USA. They avoid Louisville, but that's the only break Gilbert and Co. will have in a difficult schedule.
Gilbert has the potential to carry his team through the season, but he'll need to turn that potential into production, because there's little else he can count on for help.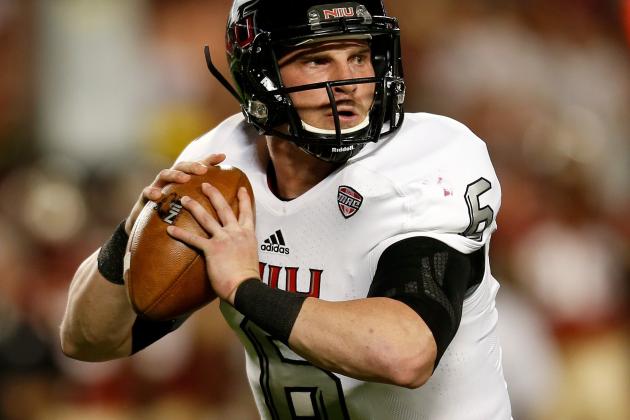 Chris Trotman/Getty Images

Jordan Lynch carried Northern Illinois so much in 2012 that he finished seventh in the Heisman voting. With 12 starters returning to the Huskies in 2013, Lynch could play an even larger role for the team.
Lynch was directly involved in over 68 percent of Northern Illinois' offensive plays last season. In addition to passing, he ran for 1,815 yards on 294 carries, which led the MAC.
The defense was strong for the Huskies in 2012, but the unit returns only four starters. Head coach Dave Doeren also left for NC State, so Lynch will have to put the team on his shoulders if it wants to defend its MAC title and break into the BCS party again.
With Lynch and the Huskies now on everybody's radar, it could be more challenging to repeat last season's numbers, but expect Lynch to give it his best shot.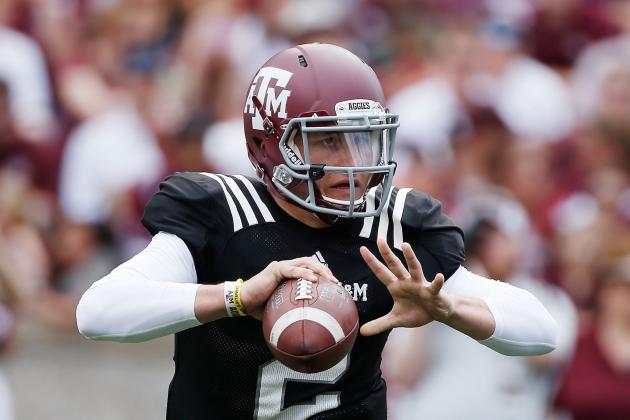 Scott Halleran/Getty Images

With Johnny Manziel, Texas A&M is a darkhorse national championship contender. Without the defending Heisman Trophy winner, the Aggies would struggle in the loaded SEC West, at the very least.
"Johnny Football" will have to shoulder more of the load for his team in 2013, if that's possible. The Aggies only return 10 starters across the board.
Manziel led FBS in total yards and total touchdowns in 2012; these statistics include passing, rushing and receiving. The breaker of many records became the first freshman to win the Heisman.
Using the old "if it ain't broke, don't fix it" adage, expect Manziel to chase his own records.
All returning Heisman winners have to answer the same question: Can you do it again? Manziel will have to answer an additional question that's equally intriguing: Can you beat Alabama again?
Though it's not necessary to prove his spot on this list, would you like to know what percentage of Texas A&M's offensive plays in 2012 directly involved Manziel? OK, approximately 63 percent.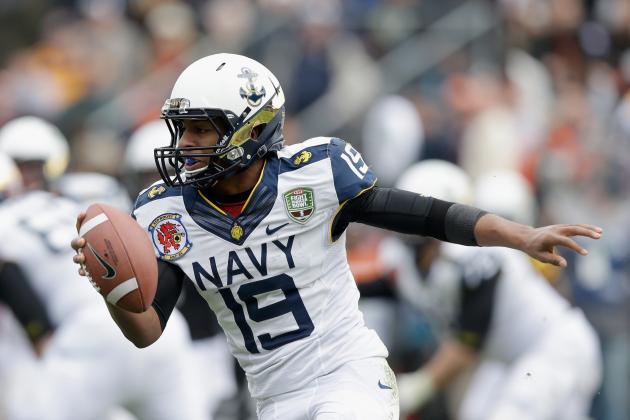 Ezra Shaw/Getty Images

Keenan Reynolds was involved in approximately 31 percent of Navy's offensive plays in 2012, but that number will go way up in 2013.
First, Reynolds didn't start the first five games of the season. Second, the program dismissed Trey Miller, the original starter. Third, the offense loses five starters from last season, as well as a huge chunk of its rushing attack.
Leading rusher Noah Copeland returns to help Reynolds out some in that department, but outside of them, there's little experience.
The defense loses its top four tacklers from a season ago, and though the unit helped the Midshipmen reach a bowl game, it was middle-of-the-pack in FBS.
In the triple-option offense, the quarterback always needs to be watched. This season, Reynolds will have more responsibility than ever before.
Fortunately, the Navy program and everyone in it knows a great deal about responsibility.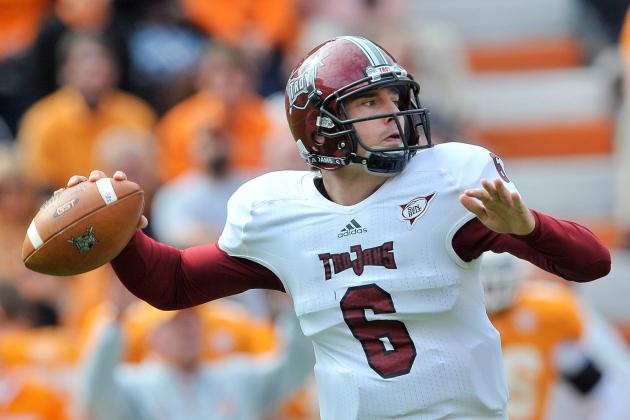 Jim Brown-USA TODAY Sports

Troy returns only seven starters between the offense and defense in 2013, which is the second-fewest among FBS teams. Corey Robinson is one of those returning starters, and as a pass-happy quarterback, he'll carry the load for the Trojans this season.
The Trojans finished eighth in FBS in passing yards per game in 2012, but they went 5-7 in the win-loss column. Three returning starters on this said of the ball suggests a regression form last season.
Robinson could be left all alone until the new starters get acclimated. It probably won't happen quickly, as the Trojans visit defending Sun Belt champion Arkansas State, Mississippi State and Duke in September.
On defense, only four starters return from a unit that finished 85th in FBS in scoring defense.
Robinson can chuck it, as he threw a high school-record 91 touchdowns his senior year. He's also put up gaudy numbers in college. Look for him to keep on throwing and becoming more important to the program with every dropback.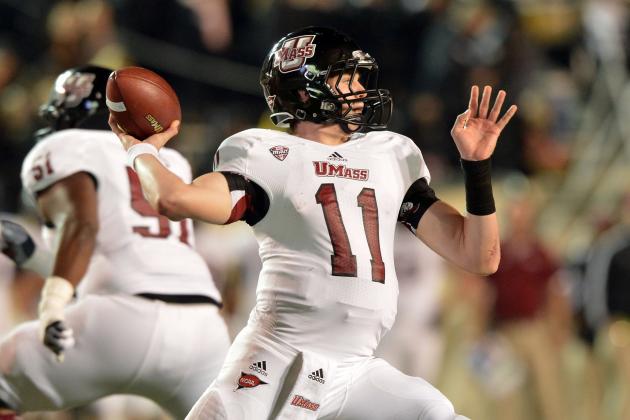 Don McPeak-USA TODAY Sports

UMass understandably suffered through its first season in FBS. If the Minutemen want to be more competitive in 2013, they'll have to rely more heavily on Mike Wegzyn.
With nine returning starters between the offense and defense, UMass could struggle just as much this season. Wegzyn is one of those returning starters, and anything he learned playing in FBS last season will come in handy.
The Minutemen had the lowest scoring average in FBS in 2012, and Wezgyn's two biggest helpers on offense are gone. One of them, running back Michael Cox, is in training camp with the NFL's New York Giants.
The defense squashed any progress Wegzyn and Co. made on the scoreboard by allowing over 40 points per game. Perry McIntyre, a First Team All-MAC linebacker who led the club in tackles and sacks, is also gone.
In short, pile on the responsibility for Wegzyn.
Wegzyn is also the returning rushing leader for the Minutemen.
Three of the first four games for UMass are against BCS competition (Wisconsin, Kansas State, Vanderbilt). If Wegzyn can keep the team in the game for a half, then maybe he'll surprise in the MAC.
And by surprise, I mean win more than the one game UMass won last season.