Ranking the NBA's Best Players Under 25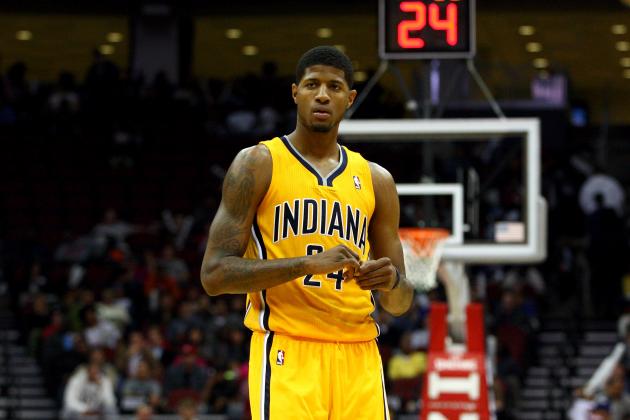 Chris Chambers/Getty Images

It's all about 24 here.
No, I'm not talking about the shot clock or Paul George's jersey number, both of which you can see up above. I'm not discussing Jack Bauer and his ability to save the world, either.
That's the magic number here because players must be 24 or younger in order to qualify for the these rankings. If you've turned 25 already, you're out.
Basketball is a young man's sport, even if veterans can still dominate the game. It's truly amazing just how many young studs we have in the NBA right now, as this top-10 list is absolutely stacked.
With only five honorable mentions, we have plenty of players, like Kawhi Leonard, Jimmy Butler and Anthony Davis, who I feel terrible about leaving off.
But c'est la vie. The NBA wouldn't have it any other way.
Note: All stats, unless otherwise indicated, come from Basketball-Reference.
Begin Slideshow

»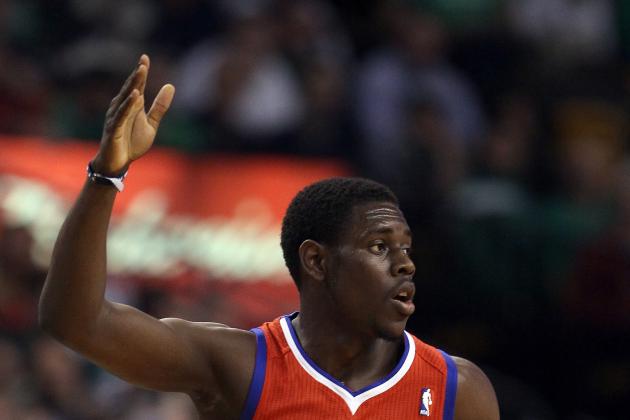 Elsa/Getty Images

Danilo Gallinari, Denver Nuggets
The Italian forward turns 25 on Aug. 8, so let's allow him to enjoy his eligibility while he still can.
Once he returns from ACL surgery, Gallo will continue along the course he started in 2012-13. It's one that leaves him trending toward being an elite two-way player who thrives as a perimeter defender and sharpshooter.
Jrue Holiday, New Orleans Pelicans
One of the 10 best point guards in basketball, Jrue Holiday was the first player left out of the 10th spot here.
He's an improving defender, and playing alongside Tyreke Evans and Eric Gordon should allow him to remain offensively dominant much later into his first season with the New Orleans Pelicans.
Serge Ibaka, Oklahoma City Thunder
A few years ago, Serge Ibaka was just a shot-blocking menace with a solid mid-range jumper.
Fast forward to the present and Ibaka has become much more disciplined. He doesn't try to swat everything, which has allowed him to turn into a complete interior defender and a player who should compete for DPOY for years to come.
Damian Lillard, Portland Trail Blazers

The reigning Rookie of the Year must get better defensively if he hopes to elevate himself into the Top 10.
As good as he was offensively, Lillard often resembled a sieve when he was attempting to stop opposing point guards on D. If he can even become a replacement-level defender, he'll stay in All-Star contention for a long time.
Greg Monroe, Detroit Pistons
It will be interesting to see how Greg Monroe fits alongside Andre Drummond and Josh Smith, but he has the versatile game necessary to thrive. He just needs to expand his range a little bit so that someone can space the court.
Monroe is one of the more uniquely talented centers in basketball, dominating games despite a lack of elite athleticism because he is such a skilled player with the ball in his hands.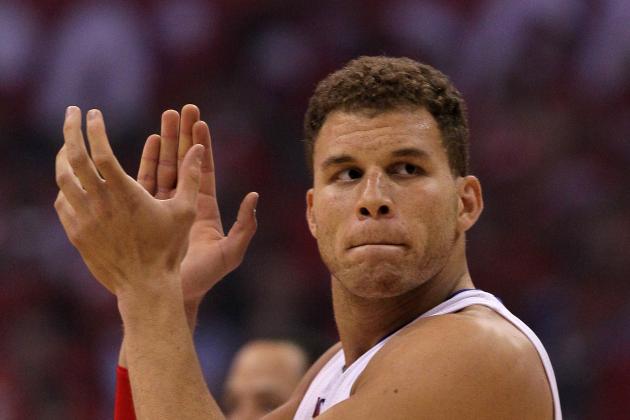 Stephen Dunn/Getty Images

Team: Los Angeles Clippers
Position: PF
Age: 24
Per-Game Stats: 18.0 points, 8.3 rebounds, 3.7 assists, 1.2 steals, 0.6 blocks, 22.4 PER
Blake Griffin's development has slowed, and I have some serous questions about his long-term upside, but he's still a legitimate All-Star.
The 24-year-old power forward is one of the premier athletes in basketball, dunking on anyone and everyone like they insulted his mother's cooking. He throws down a SportsCenter dunk every few nights, yet his game is built around more than just his knack for thunderous slams.
Griffin has developed some workable post moves and a decent jumper. The spin is his newest calling card, and he uses it quite effectively even when defenders know what's coming.
The Los Angeles Clippers' No. 2 man has become the new vogue player to hate on, but most of the complaints are a bit exaggerated. For all his faults, Griffin still produces.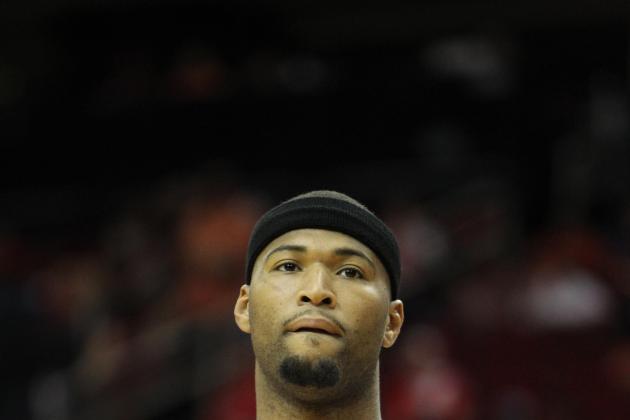 Brett Davis-USA TODAY Sports

Team: Sacramento Kings
Position: C
Age: 22
Per-Game Stats: 17.1 points, 9.9 rebounds, 2.7 assists, 1.4 blocks, 0.7 steals, 20.2 PER
Can you imagine what would happen if DeMarcus Cousins got his head screwed on straight?
His noggin is the only thing holding him back, as suspensions and ridiculous technical fouls have hindered his development. Fortunately, there haven't been off-court problems...although the on-court ones are still, well, problematic.
Boogie is a dominant big man with the potential to become the best center in basketball. He's that physically gifted, especially when he uses his massive body to clear out space and attack the glass.
The Kentucky product is also a unique player because he can affect the game in so many ways. His offensive numbers speak for themselves—excellent passing and scoring stats alike—and he held his own defensively during his third season.
Cousins is by no means a standout defender, but he's starting to rotate better and play solid post defense without fouling. Once he starts excelling on that end, the sky is the limit.
USA TODAY Sports

Team: Washington Wizards
Position: PG
Age: 22
2012-13 Per-Game Stats: 18.5 points, 4.0 rebounds, 7.6 assists, 1.3 steals, 0.8 blocks, 20.8 PER
John Wall's importance to the Washington Wizards can be summarized in either a group of four numbers or a set of three.
The first: 5-28 vs. 24-25.
While the former is the Wizards' 2012-13 record without Wall in the lineup, the latter represents how well they played with their star point guard. Prorate that to 82 games and you get a 40-42 record—one that would have been good enough to sneak into the playoffs.
The second: five years and $80 million.
Those are the terms of Wall's new contract, which shows just how much confidence the Washington front office has in him.
Wall still has a lot of improving to do, particularly with regard to his jump-shooting, but he's already one of the most offensively dynamic point guards in basketball.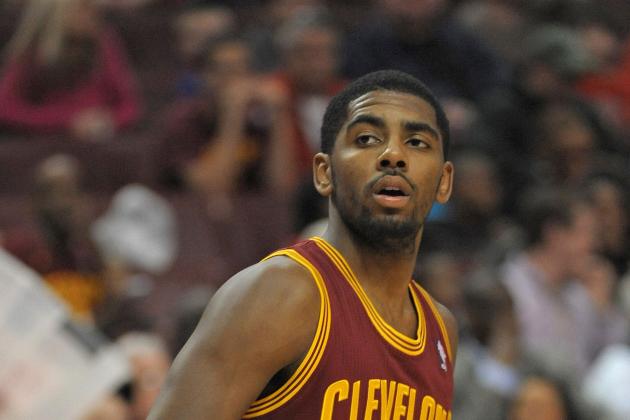 Eric Hartline-USA TODAY Sports

Team: Cleveland Cavaliers
Position: PG
Age: 21
2012-13 Per-Game Stats: 22.5 points, 3.7 rebounds, 5.9 assists, 1.5 steals, 0.4 blocks, 21.4 PER
Speaking of offensively dynamic point guards...
Kyrie Irving has the potential to become the best scoring point guard in basketball—better even that Russell Westbrook and Derrick Rose. That will take some time, but the 21-year-old Duke product is trending in that direction.
His defense certainly needs a lot of work, but Irving has the physical tools to start performing at least adequately on the less glamorous end of the court. For now, though, it's still all about his offense.
Irving can score from anywhere on the court. He has a smooth jumper and the best handles around, even when he's pretending to be Uncle Drew.
Only eight times in NBA history has a player averaged at least 18 points and five assists per game with at least a 55 true shooting percentage and 21 PER during either his rookie or sophomore year.
Any guesses on how many players have done so in both?
Only two. Kyrie Irving and some guy named Oscar Robertson.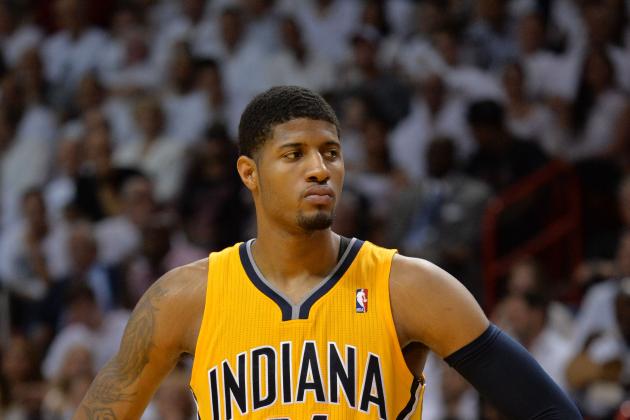 Steve Mitchell-USA TODAY Sports

Team: Indiana Pacers
Position: SF
Age: 23
2012-13 Per-Game Stats: 17.4 points, 7.6 rebounds, 4.1 assists, 1.8 steals, 0.6 blocks, 16.8 PER
Paul George's breakout was simply unbelievable.
He was expected to take a major step forward, but not to this extent. After lounging around as a mid-level player for the Indiana Pacers as the No. 10 overall pick in the 2010 draft, George became a true superstar thanks to his tremendous defense and versatile offense.
When LeBron James takes the time to give you a high five after a quarter ends, you know you're arrived. George's offensive game is fun. He makes three-pointers and dunks with reckless abandon, but his dribbling is always an adventure; controlling the ball needs to be a point of emphasis next season.
However, his offense pales in comparison to his defense.
The Pacers allowed 2.5 fewer points per 100 possessions when George was on the court, and his individual numbers are just as impressive. According to 82games.com, he held opposing small forwards—an offensively stacked position—to a 12.0 PER.
Once George develops a more potent mid-range shot and discipline with the rock, he has the chance to be a legitimate MVP candidate.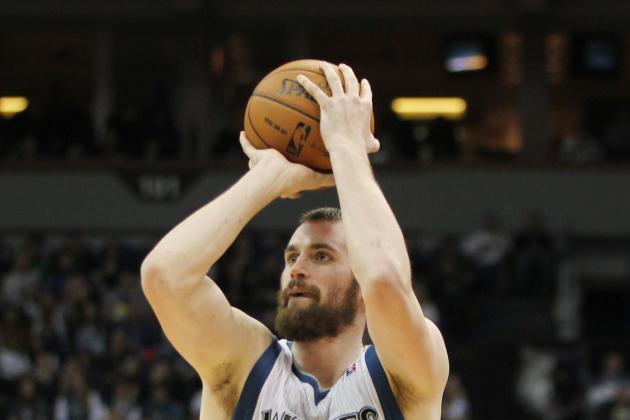 Brace Hemmelgarn-USA TODAY Sports

Team: Minnesota Timberwolves
Position: PF
Age: 24
2012-13 Per-Game Stats: 18.3 points, 14.0 rebounds, 2.3 assists, 0.7 steals, 0.5 blocks, 17.9 PER
Kevin Love is an absolute monster on the glass.
Rebounding skills are different on each end of the court. Offensive rebounding requires more aggression and agility around players, while defensive rebounding is all about positioning and maintaining a firm base.
Love is one of the few players who excels at both.
Technically, he didn't play in enough games (18) for these stats to count this past season, but he did put up a 23.3 total rebounding percentage, 11.5 offensive rebounding percentage and 35.9 defensive rebounding percentage. Those would have ranked him ranked second, 19th and second, respectively.
Only three players have ever reached or matched those numbers in the same season while playing at least 30 minutes per game: Love, Dennis Rodman (twice) and Danny Fortson, who did so while only playing six games for the Golden State Warriors in 2000-01.
How's that for nice company?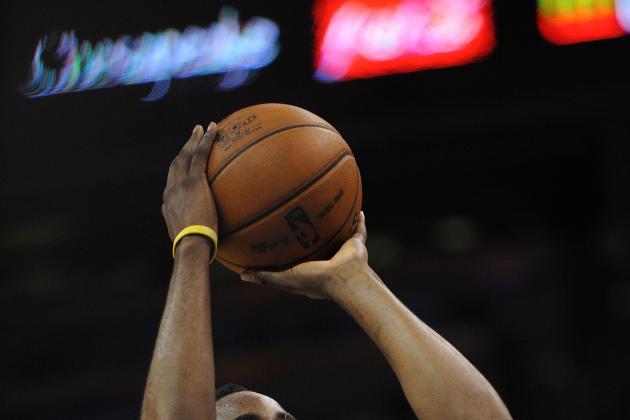 Mark D. Smith-USA TODAY Sports

Team: Houston Rockets
Position: SG
Age: 23
2012-13 Per-Game Stats: 25.9 points, 4.9 rebounds, 5.8 assists, 1.8 steals, 0.5 blocks, 23.0 PER
The bearded one took well to being placed in a featured role.
There were some questions about how James Harden would perform after losing the protection of Kevin Durant and Russell Westbrook in the lineup, but they were all answered. And then some.
Harden was one of the best offensive players in the NBA, thriving with his ultra-efficient game. While his 43.8 field-goal percentage might not look all that impressive, it gets better when you factor in his work from the charity stripe and three-point shooting. Much better, in fact.
True shooting percentage accounts for all three types of shots, and that's where Harden stands out. His 60.0 true shooting percentage was down from his final season in OKC, but it was still impressive.
In fact, only 13 players in the league scored more efficiently, and Kevin Durant and LeBron James were the lone featured scorers who occasionally strayed away from the basket.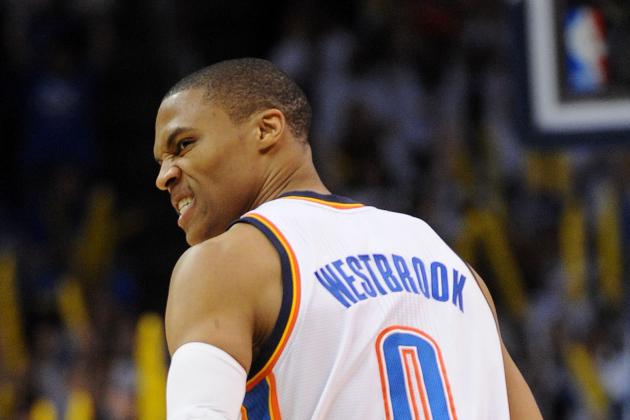 Mark D. Smith-USA TODAY Sports

Team: Oklahoma City Thunder
Position: PG
Age: 24
2012-13 Per-Game Stats: 23.2 points, 5.2 rebounds, 7.4 assists, 1.8 steals, 0.3 blocks, 23.9 PER
The major difference between Harden and Russell Westbrook comes on the defensive end of the floor.
While the Houston 2 guard doesn't understand the first thing about defense, Westbrook is slowly improving. As shown by 82games.com, the young Thunder star held opposing point guards to a 14.5 PER in 2012-13, a sizable improvement from 2011-12 (15.7 PER).
Westbrook is learning how to turn his aggressiveness into effectiveness. Early in his career, he gambled way too much and was often caught out of position. Now he's learned how to manage his risks, and he spends a whole lot more time between his man and the basket.
Now preparing for his sixth pro season, Westbrook has improved each and every year in the league. 2013-14 should be no different.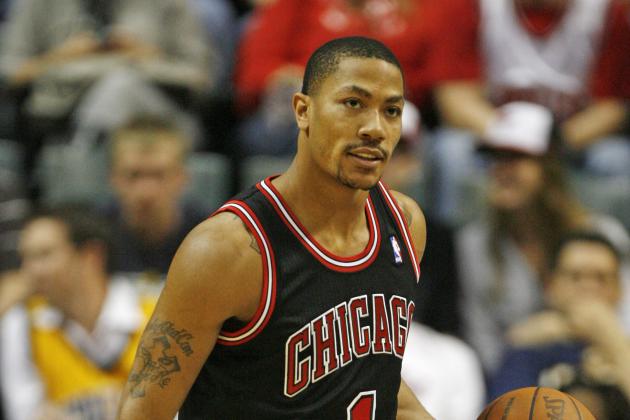 Brian Spurlock-USA TODAY Sports

Team: Chicago Bulls
Position: PG
Age: 24
2012-13 Per-Game Stats: N/A
We don't know exactly what to expect from Derrick Rose, but the dynamic point guard claims that he's 100 percent ready to go for the preseason opener. Unless he's claiming that he's the best player in the NBA (I know, what else was he supposed to say...), there's no reason to doubt him.
If Rose is really 100 percent, we can expect another MVP-caliber season out of him. He creates so much offense with his passing and scoring abilities, and his jumper has only progressed. Once he adds a consistent long-range shot to his arsenal, defenses simply won't know how to play him.
The scary thing is that Rose is only 24 years old. [You could have guessed that based on A) the fact that it says so above, and B) he's featured in this article...but it's worth repeating.]
How many 24-year-olds have already been named MVP and sat out an entire season? Rose's career is still in its infancy, and he's already reached a level where he can legitimately challenge Chris Paul for the "best point guard" title.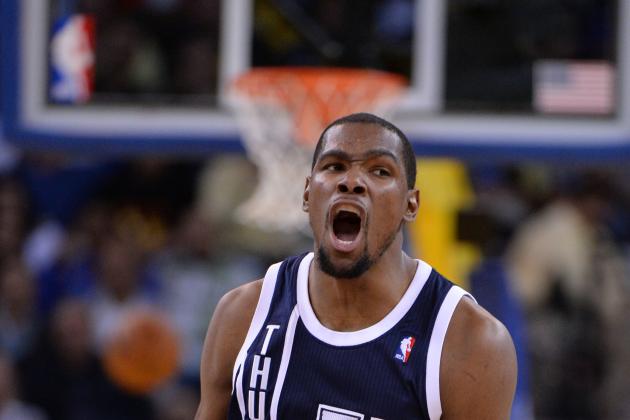 Kyle Terada-USA TODAY Sports

Team: Oklahoma City Thunder
Position: SF
Age: 24
2012-13 Per-Game Stats: 28.1 points, 7.9 rebounds, 4.6 assists, 1.4 steals, 1.3 blocks, 28.3 PER
Was there any doubt that Kevin Durant would rank No. 1? He and LeBron James are head and shoulders above the rest of the NBA, even if he trails LeBron by a rather significant margin.
The best comparison I can come up with involves Cristiano Ronaldo and Lionel Messi. They're the two best in world football—you simply can't put Xavi, Andres Iniesta, Gareth Bale or anyone else in the same class—but Messi is clearly ahead of his Real Madrid counterpart. (Unless we're talking about the ability to throw awful first pitches.)
The only reason you shouldn't have expected Durant to headline these rankings would be if you thought he was already 25-plus. It would be an understandable mistake, as it's almost unthinkable that a 24-year-old could have the resume Durant boasts.
After posting a career high assist percentage of 21.7, it's quite clear that Durant is still getting better. He's obviously an incredible scorer—only Larry Bird has competed for the scoring title while going 50/40/90—but the rest of his game is starting to catch up.
Look out, NBA.
Durant is both the present and future of the NBA, and that's great news for the Oklahoma City Thunder, who, including Ibaka, have three players present in this article.