David Moyes spots Cesc Fabregas in a bar. He's instantly attracted to his touch, technique and passing and feels the urge to make a move.
But instead of walking over, practicing his best pick-up line as he does, he sends his friend over first to test the waters with one of Fabregas' friends.
This way, David can walk over confidently knowing that his approach will be welcomed or save him the embarrassment of public rejection. As it happens, the "my friend likes your friend" line works and Cesc hints to the friend that he likes what he sees.
United fee not believed to be the issue over #Fabregas deal, with player open to prospect of the move. Still in balance but possible #MUFC

— Kevin Palmer (@kpsundayworld) August 1, 2013
Bullish about his chances, David goes in for the kill.
Of course, Moyes didn't meet Fabregas in a bar. But, in the age of agents and intermediaries, transfers are done in such ways.
United are a big club with contacts and helpers in every corner of the globe. And someone, somewhere has given Moyes enough encouragement to keep chasing Fabregas.
It's easy to see the attraction for the United manager. With Darren Fletcher battling illness, Anderson consistently inconsistent, and Nick Powell not yet ready to be a regular starter, he desperately needs a central midfielder.
Sir Alex Ferguson—who never publicly acknowledged the need for another midfielder as Moyes has recently done—was lucky that Michael Carrick stayed relatively injury-free for the last five years.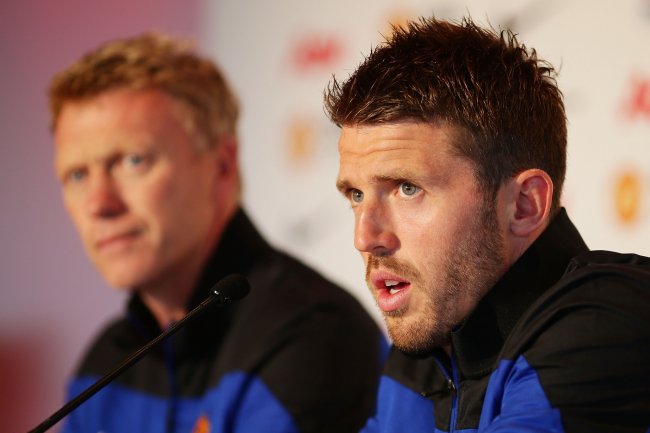 Matt King/Getty Images
Even with Robin van Persie's goals last season, it's difficult to see how United might have won the Premier League title had Carrick not been able to hold the midfield together, almost single-handedly.
United, too, should be attractive for Fabregas. Just not as attractive as the hometown club he fought so hard to join from Arsenal two years ago. But despite his obvious affiliation with Barcelona—and no guarantee Barcelona are willing to sell—Moyes keeps plowing ahead (most recently with a reported £35 million bid).
Fabregas, meanwhile, continues his silence. After all, if United's interest was unwelcome, Fabregas could quite easily announce to his near 5.5 million followers on Twitter that he's staying at Camp Nou and no amount of wooing from Old Trafford is going to change his mind.
As it is, his latest tweet was of his baby daughter watching a video of Justin Bieber on a laptop.
There is always the possibility that Fabregas is using United to strengthen his position at Barcelona. And it wouldn't be the first time a player has used interest from a rival club as a bargaining tool with their current employers.
Moyes is too experienced to put all his eggs in the Fabregas basket, and there will almost certainly have been conversations about Plans B and C should he not get his man. Marouane Fellaini perhaps, or Sami Khedira.
But where there's hope, there's life. And Moyes' actions over the last month suggest there's life in the bid for Fabregas yet.
He needs a midfielder and Cesc Fabregas is one of the best around. It would seem Moyes isn't ready to lower his standards while the most attractive prospect is still giving him the eye.