Re-Ranking All 30 MLB Lineups Post-MLB Trade Deadline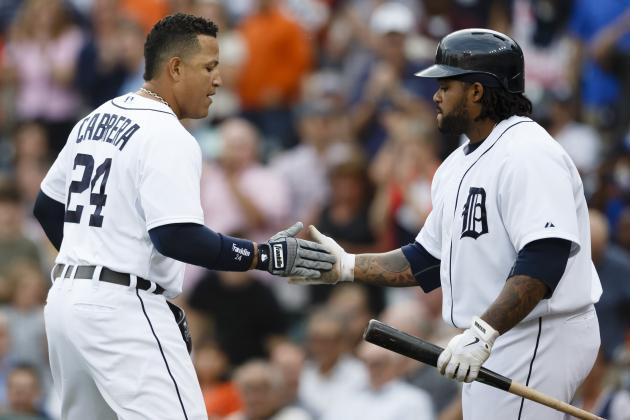 Rick Osentoski-USA TODAY Sports

It was a quiet trade deadline throughout the league, especially on the offensive side of things, but now is a good time to take a look at where all 30 MLB lineups stand, regardless.
The old adage that pitching wins championships is still true, but a good offense can go a long way in helping a team make a legitimate run at contention.
Not every great offense belongs to a legitimate contender, and not every contender has a plus offense, but here is a look at where all 30 MLB lineups rank post-trade deadline as the postseason races begin to heat up.
All statistics through August 1
Begin Slideshow

»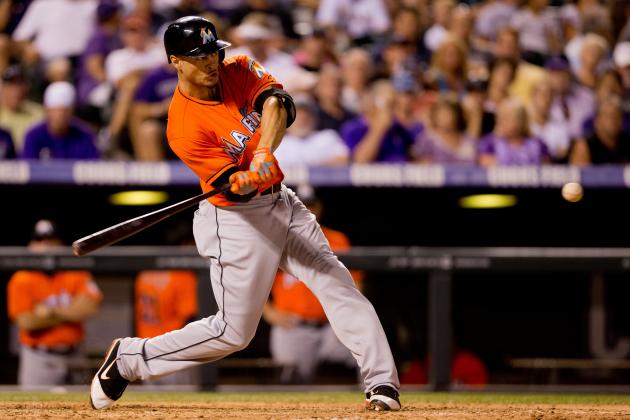 Justin Edmonds/Getty Images
RF Giancarlo Stanton
Overview (.230/.290/.333, 3.19 RPG)
It's been a rough season in Miami, specifically on the offensive side of things, but Marlins fans are at least getting a glimpse into the future right now with top prospects Christian Yelich and Jake Marisnick both called up and plugged into everyday roles.
The team is not likely to move from its bottom ranking this season, but the Marlins organization as a whole looks to be headed in the right direction after a disappointing winter this past offseason. If nothing else, Giancarlo Stanton remains must-see TV.
Starting Lineup
1. SS Adeiny Hechavarria
2. LF Christian Yelich
3. RF Giancarlo Stanton
4. 1B Logan Morrison
5. 3B Ed Lucas
6. CF Jake Marisnick
7. C Rob Brantly
8. 2B Donovan Solano
9. Pitcher
Bench
C Jeff Mathis
3B Placido Polanco
IF/OF Greg Dobbs
OF Juan Pierre
OF Justin Ruggiano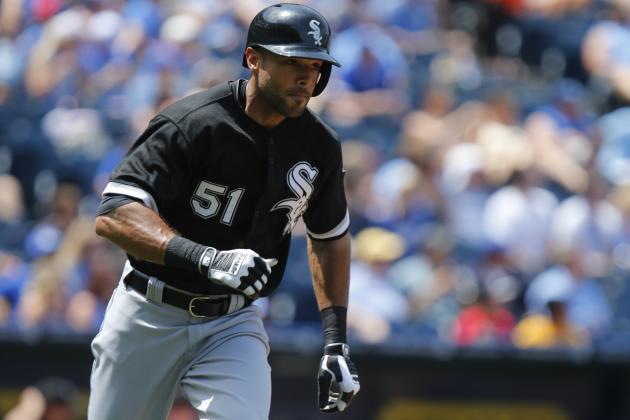 Kyle Rivas/Getty Images
RF Alex Rios
Overview (.248/.300/.378, 3.69 RPG)
Despite the fact that the White Sox wound up holding on to one of their top trade chips, and perhaps the top bat on the market, in Alex Rios, the team's offense remains one of the worst in all of baseball.
The duo of Adam Dunn and Paul Konerko isn't what it used to be and, in all honesty, is light years away even from what it was last season at this point. The time is now to start rebuilding on the South Side, and while Chris Sale looks like a strong piece to build the pitching staff around, the offense needs a complete overhaul.
Starting Lineup
1. CF Alejandro De Aza
2. SS Alexei Ramirez
3. RF Alex Rios
4. 1B Adam Dunn
5. DH Paul Konerko
6. LF Dayan Viciedo
7. 3B Conor Gillaspie
8. C Josh Phegley
9. 2B Gordon Beckham
Bench
C Tyler Flowers
IF Jeff Keppinger
OF Jordan Danks
OF Casper Wells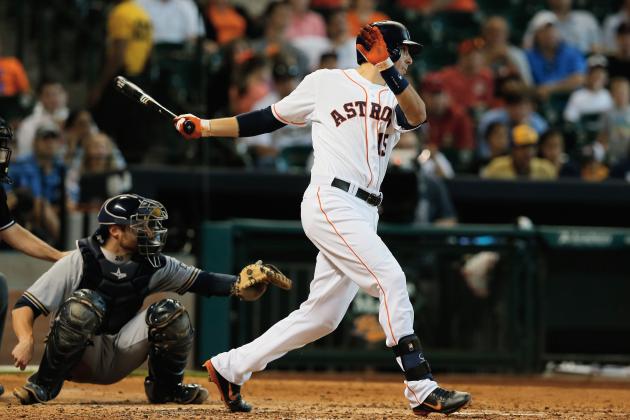 Scott Halleran/Getty Images
C Jason Castro
Overview (.236/.295/.377, 3.81 RPG)
The Astros' starting lineup has been a revolving door of sorts this season, with the foursome of Jose Altuve, Jason Castro, Matt Dominguez and Chris Carter standing as the only players whose names have consistently been on the lineup card on a day-in and day-out basis.
Prospect L.J. Hoes, who was acquired from the Orioles in the Bud Norris deal, profiles as a solid on-base guy who should hold down a starting spot for the foreseeable future in Houston. The emergence of Castro as an All-Star this season gives the team a pair (Altuve being the other) of legitimate big-league cornerstones to build around.
Starting Lineup
1. SS Jonathan Villar
2. RF L.J. Hoes
3. 2B Jose Altuve
4. C Jason Castro
5. DH Chris Carter
6. 1B Brett Wallace
7. CF Brandon Barnes
8. 3B Matt Dominguez
9. LF Robbie Grossman
Bench
C Carlos Corporan
1B/OF Marc Krauss
IF Jake Elmore
OF Jimmy Paredes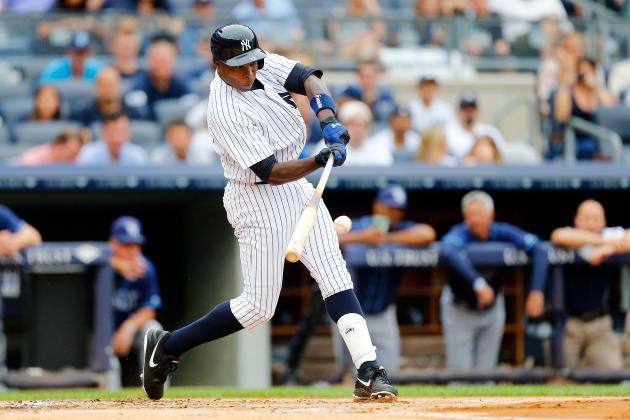 Jim McIsaac/Getty Images
LF Alfonso Soriano
Overview (.241/.304/.368, 3.85 RPG)
The acquisition of Alfonso Soriano and return of Derek Jeter should give the Yankees offense a boost, but it may not be enough to secure a playoff spot, as this patchwork group has fallen apart over the past month or so.
Robinson Cano remains one of the elite players in all of baseball, and Brett Gardner is a solid piece as well, but for now this lineup is an absolute mess and looks as though it will keep the Yankees out of the postseason in 2013.
Starting Lineup
1. CF Brett Gardner
2. SS Derek Jeter
3. 2B Robinson Cano
4. LF Alfonso Soriano
5. 1B Lyle Overbay
6. DH Vernon Wells
7. RF Ichiro Suzuki
8. 3B Jayson Nix
9. C Chris Stewart
Bench
C Austin Romine
IF Eduardo Nunez
IF Brent Lillibridge
OF Melky Mesa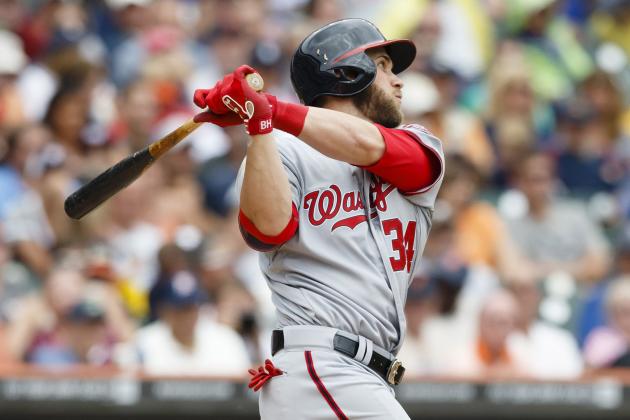 Rick Osentoski-USA TODAY Sports
LF Bryce Harper
Overview (.241/.300/.384, 3.71 RPG)
After the pickup of Denard Span in the offseason, it looked as though the Nationals had no real holes heading into the season, but their offense has performed well below expectations, and that is at least part of the reason they have been a major flop.
Bryce Harper remains a star in the making, and the double-play combination of Anthony Rendon and Ian Desmond should be among the league's best for the next several seasons. This is a group that is more or less locked into its current core of guys, at least for next year, so they'll all need to pick up their games for the team to cash in on its vast potential.
Starting Lineup
1. CF Denard Span
2. SS Ian Desmond
3. LF Bryce Harper
4. 3B Ryan Zimmerman
5. 1B Adam LaRoche
6. RF Jayson Werth
7. 2B Anthony Rendon
8. C Kurt Suzuki
9. Pitcher
Bench
C Wilson Ramos
1B/3B Chad Tracy
IF/OF Steve Lombardozzi
OF Roger Bernadina
OF Scott Hairston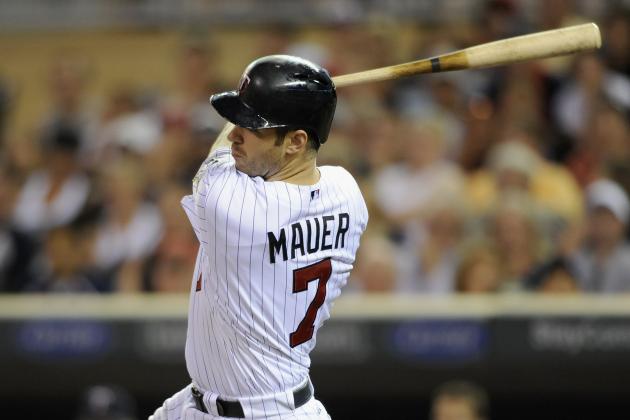 Hannah Foslien/Getty Images
C Joe Mauer
Overview (.242/.313/.379, 4.0 RPG)
Joe Mauer remains one of the elite players in baseball today, and Justin Morneau has managed to stay healthy this season, but the Twins lineup as a whole is an absolute mess in 2013.
Top prospects Miguel Sano and Byron Buxton give plenty of hope for the near future, but for now the lineup is a patchwork collection of underperforming veterans and journeymen who likely wouldn't start almost anywhere else.
Starting Lineup
1. 2B Brian Dozier
2. 3B Trevor Plouffe
3. C Joe Mauer
4. 1B Justin Morneau
5. RF Ryan Doumit
6. DH Chris Colabello
7. LF Oswaldo Arcia
8. CF Aaron Hicks
9. SS Pedro Florimon
Bench
OF Clete Thomas
C/OF Chris Herrmann
IF Doug Bernier
IF Jamey Carroll
Ezra Shaw/Getty Images
3B David Wright
Overview (.237/.307/.377, 4.09 RPG)
David Wright and Daniel Murphy are once again having solid seasons, and low-cost offseason signing Marlon Byrd has been one of the biggest surprises of 2013, but there are holes up and down the Mets lineup outside of those players.
The future looks bright thanks to a trio of top-flight young arms, but some young bats will need to step forward for this team to return to contention. How much time does the team give Ike Davis to figure things out before it gives up on him being a key part of the future?
Starting Lineup
1. LF Eric Young
2. 2B Daniel Murphy
3. 3B David Wright
4. RF Marlon Byrd
5. 1B Ike Davis
6. C John Buck
7. CF Juan Lagares
8. SS Omar Quintanilla
9. Pitcher
Bench
C Anthony Recker
1B/OF Josh Satin
IF/OF Justin Turner
OF/1B Andrew Brown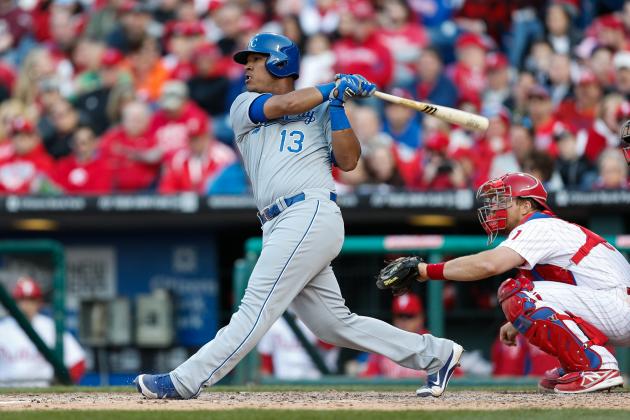 Brian Garfinkel/Getty Images
C Salvador Perez
Overview (.257/.312/.375, 3.97 RPG)
After focusing on pitching in the offseason in an effort to back their young core of position players, it's been the offense that has held the Royals back this season.
Key building blocks Mike Moustakas and Eric Hosmer have failed to take that next step in their development, and while Alex Gordon and Salvador Perez were both deserving All-Stars, the rest of the lineup is average at best.
Starting Lineup
1. LF Alex Gordon
2. 1B Eric Hosmer
3. DH Billy Butler
4. C Salvador Perez
5. RF David Lough
6. CF Lorenzo Cain
7. 2B Chris Getz
8. 3B Mike Moustakas
9. SS Alcides Escobar
Bench
C George Kottaras
IF Elliot Johnson
OF Jarrod Dyson
OF Justin Maxwell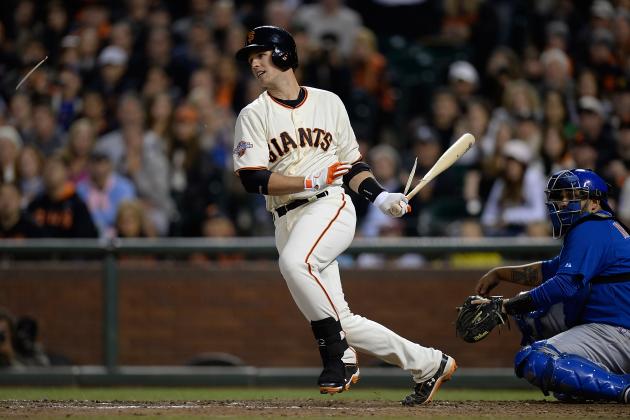 Thearon W. Henderson/Getty Images
C Buster Posey
Overview (.262/.318/.379, 3.86 RPG)
Outside of all-world catcher Buster Posey and the solid duo of Pablo Sandoval and Hunter Pence, the rest of the Giants lineup is not exactly going to strike fear into the hearts of its opponents.
Losing Angel Pagan to injury hurts, but the offense has been a disappointment, regardless. The pitching staff is what has carried the Giants to their recent run of success, and with it faltering, the offense has been unable to pick up the slack and keep the team in contention this year.
Starting Lineup
1. CF Gregor Blanco
2. 2B Marco Scutaro
3. C Buster Posey
4. 3B Pablo Sandoval
5. RF Hunter Pence
6. 1B Brandon Belt
7. LF Roger Kieschnick
8. SS Brandon Crawford
9. Pitcher
Bench
C Guillermo Quiroz
1B/OF Brett Pill
IF Joaquin Arias
OF Jeff Francoeur
OF Andres Torres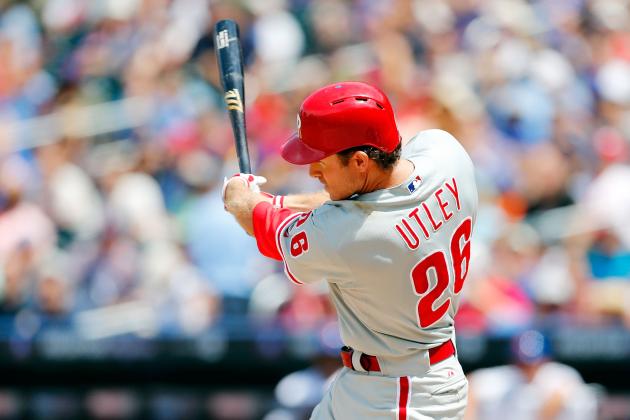 Jim McIsaac/Getty Images
2B Chase Utley
Overview (.254/.309/.394, 3.78 RPG)
The Phillies' core of superstars has aged rapidly over the past couple of seasons, and while former top prospect Domonic Brown has finally broken out this year, the lineup as a whole is in desperate need of a face-lift.
Ryan Howard is vastly overpaid and struggling to stay on the field. The double-play combo of Chase Utley and Jimmy Rollins was once considered among the best in baseball but is now well past its prime. Michael Young looks like a prime candidate to be moved through waivers, and catcher Carlos Ruiz and Utley may both also be gone by next season, as the rebuilding process begins in Philly.
Starting Lineup
1. SS Jimmy Rollins
2. 3B Michael Young
3. 2B Chase Utley
4. RF Delmon Young
5. LF Laynce Nix
6. 1B Darin Ruf
7. CF John Mayberry Jr.
8. C Carlos Ruiz
9. Pitcher
Bench
C Erik Kratz
3B Cody Asche
IF Kevin Frandsen
IF John McDonald
IF/OF Michael Martinez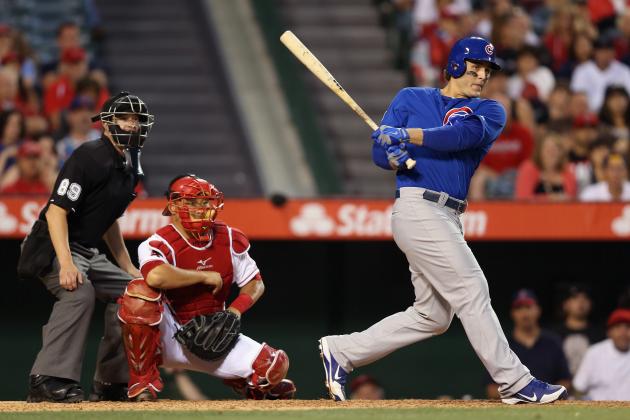 Jeff Gross/Getty Images
1B Anthony Rizzo
Overview (.241/.302/.404, 4.0 RPG)
With the trade of Alfonso Soriano—a necessary move in the team's rebuilding process—the Cubs lineup has taken a major hit for the rest of the 2013 season. As much as his time in Chicago was scrutinized, he's been the team's best hitter since the start of last season.
That said, offseason pickup Nate Schierholtz has been terrific, and youngsters Anthony Rizzo and Junior Lake have given the team a glimpse into what looks like an incredibly bright future. The Cubs have the prospects to be a top-five offense three or four years down the road, but for now they'll continue to fight for every run they get with a makeshift lineup.
Starting Lineup
1. CF David DeJesus
2. SS Starlin Castro
3. 1B Anthony Rizzo
4. RF Nate Schierholtz
5. LF Junior Lake
6. 3B Luis Valbuena
7. 2B Darwin Barney
8. C Welington Castillo
9. Pitcher
Bench
C Dioner Navarro
IF Cody Ransom
OF Julio Borbon
OF Cole Gillespie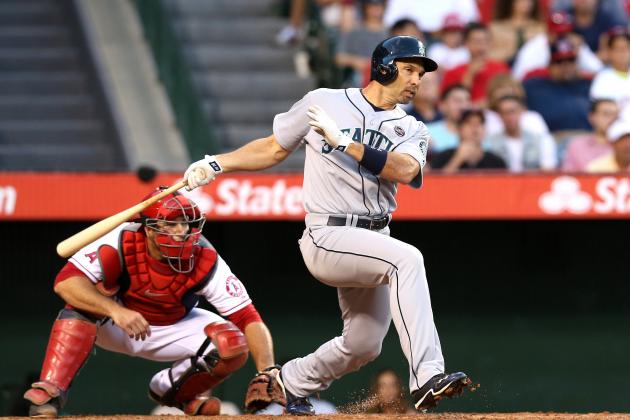 Stephen Dunn/Getty Images
LF Raul Ibanez
Overview (.244/.310/.400, 4.03 RPG)
The Mariners had a busy offseason, adding the likes of Michael Morse, Kendrys Morales and Raul Ibanez to their offense in an effort to avoid a fourth straight season as the lowest-scoring team in the American League.
It looks like they should have no problem doing that, but this team remains one of the weaker offensive clubs in baseball. Top prospects Nick Franklin, Brad Miller and Mike Zunino have given a glimpse of what should be a bright future, and third baseman Kyle Seager looks like a legitimate block to build around as well.
Starting Lineup
1. SS Brad Miller
2. 2B Nick Franklin
3. LF Raul Ibanez
4. DH Kendrys Morales
5. 3B Kyle Seager
6. 1B Justin Smoak
7. RF Michael Saunders
8. CF Dustin Ackley
9. C Humberto Quintero
Bench
C Henry Blanco
1B/OF Michael Morse
IF Brendan Ryan
OF Endy Chavez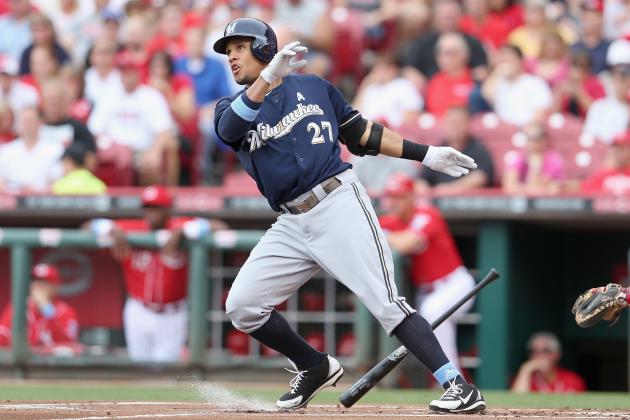 Andy Lyons/Getty Images
CF Carlos Gomez
Overview (.255/.310/.404, 3.93 RPG)
The highest-scoring offense in the National League just a season ago, the Brewers have not been the same team this year, and injuries to Aramis Ramirez and Corey Hart are at least part of the reason for that.
Losing Ryan Braun to suspension for the rest of the year certainly didn't help things any, though pitching is the real reason this team has been among the worst in baseball. If there are any positives to point to for this season, it's the fact that shortstop Jean Segura and center fielder Carlos Gomez have both emerged as stars and should be legitimate building blocks for the future.
Starting Lineup
1. 2B Rickie Weeks
2. RF Norichika Aoki
3. SS Jean Segura
4. C Jonathan Lucroy
5. CF Carlos Gomez
6. 1B Juan Francisco
7. LF Caleb Gindl
8. 3B Jeff Bianchi
9. Pitcher
Bench
C/1B Martin Maldonado
2B Scooter Gennett
IF Yuniesky Betancourt
OF Khris Davis
OF Logan Schafer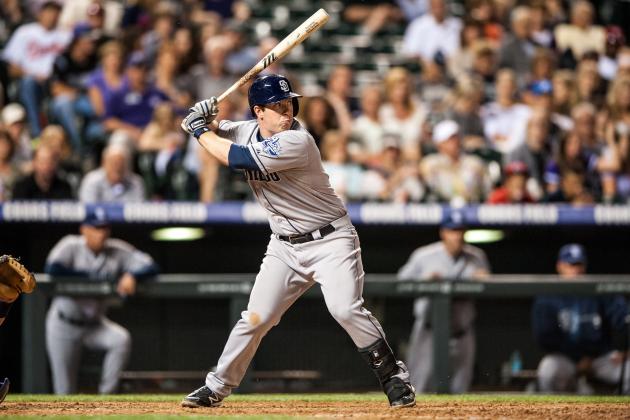 Dustin Bradford/Getty Images
2B Jedd Gyorko
Overview (.245/.310/.380, 3.98 RPG)
Their play this year as a team has been inconsistent at best, and they still lack the starting pitching to make a legitimate run at contention, but there's a lot to like about the direction the Padres are heading in on the offensive side of things.
Infielders Everth Cabrera, Jedd Gyorko and Yonder Alonso have all taken a step forward this season and look to be key pieces for the long term. However, Chase Headley has been a huge disappointment, and the team still needs to add an impact run producer for its lineup to be anything more than league average.
Starting Lineup
1. SS Everth Cabrera
2. CF Alexi Amarista
3. 3B Chase Headley
4. LF Carlos Quentin
5. 1B Yonder Alonso
6. RF Will Venable
7. 2B Jedd Gyorko
8. C Nick Hundley
9. Pitcher
Bench
C Rene Rivera
1B/OF Mark Kotsay
IF/OF Logan Forsythe
IF/OF Jesus Guzman
OF Chris Denorfia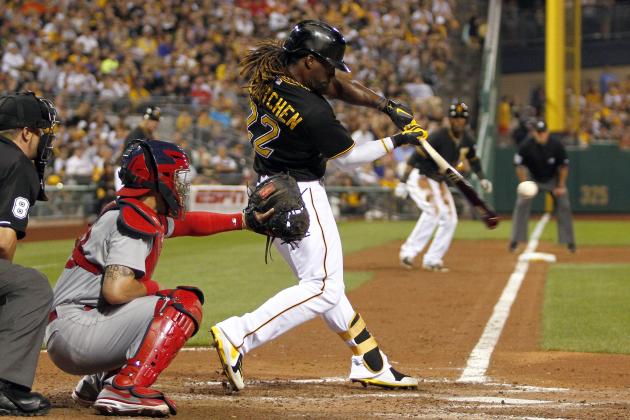 Justin K. Aller/Getty Images
CF Andrew McCutchen
Overview (.243/.310/.389, 3.89 RPG)
A year after watching Andrew McCutchen almost single-handedly carry the Pirates offensively through the first half of the season, the Pittsburgh offense has been much more well-balanced this season, as a number of players have stepped their game up to help the team contend.
Starling Marte was handed the everyday left field job and leadoff spot after a brief audition at the end of last season, and he's quickly emerged as a star. Meanwhile, streaky third baseman Pedro Alvarez has finally found some consistency this year and has a real shot at the NL home run title.
Starting Lineup
1. LF Starling Marte
2. RF Jose Tabata
3. CF Andrew McCutchen
4. 3B Pedro Alvarez
5. C Russell Martin
6. 1B Garrett Jones
7. 2B Neil Walker
8. SS Jordy Mercer
9. Pitcher
Bench
C Michael McKenry
1B Gaby Sanchez
IF Clint Barmes
IF/OF Josh Harrison
OF Alex Presley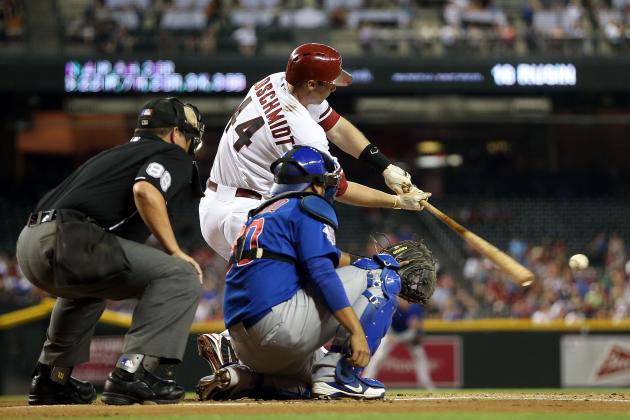 Christian Petersen/Getty Images
1B Paul Goldschmidt
Overview (.255/.319/.389, 4.16 RPG)
It was an offseason of change in Arizona, with Justin Upton and Chris Young both being dealt. Some expected the team to take a step back as a result, but they have remained a solid offensive group top to bottom, led by Paul Goldschmidt.
The 25-year-old Goldschmidt has quickly become one of the best all-around players in the National League and is a legitimate MVP candidate. On the flip side, catcher Miguel Montero has been terrible at the plate this year, and offseason pickup Martin Prado has been a major disappointment as well.
Starting Lineup
1. CF Adam Eaton
2. RF Gerardo Parra
3. 1B Paul Goldschmidt
4. 2B Aaron Hill
5. LF Jason Kubel
6. 3B Martin Prado
7. C Miguel Montero
8. SS Didi Gregorius
9. Pitcher
Bench
C Wil Nieves
1B/3B Eric Chavez
IF Cliff Pennington
OF A.J. Pollock
OF Cody Ross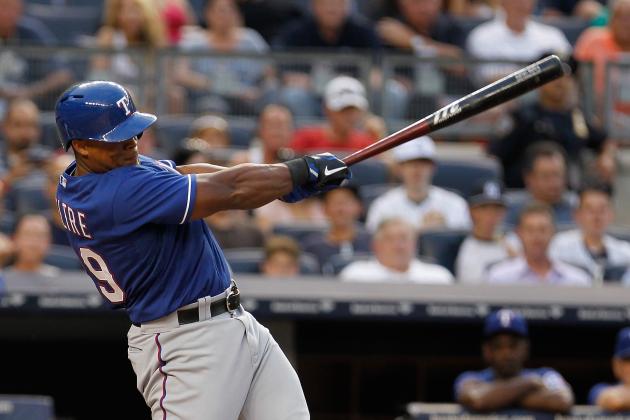 Mike Stobe/Getty Images
3B Adrian Beltre
Overview (.261/.322/.418, 4.25 RPG)
The Rangers lost a ton of offense in the offseason with the departures of Josh Hamilton, Mike Napoli and Michael Young, and many were quick to write them off heading into this season as a result.
While they have not been the same dominant offensive unit they were the past few seasons, it's been a productive group nonetheless. Veterans Adrian Beltre and Nelson Cruz have provided the bulk of the run production, while youngsters Jurickson Profar and Leonys Martin both look to have a bright future.
Starting Lineup
1. CF Leonys Martin
2. SS Elvis Andrus
3. 2B Ian Kinsler
4. 3B Adrian Beltre
5. C A.J. Pierzynski
6. RF Nelson Cruz
7. LF David Murphy
8. 1B Mitch Moreland
9. DH Jurickson Profar
Bench
C Geovany Soto
IF/OF Jeff Baker
OF Engel Beltre
OF Craig Gentry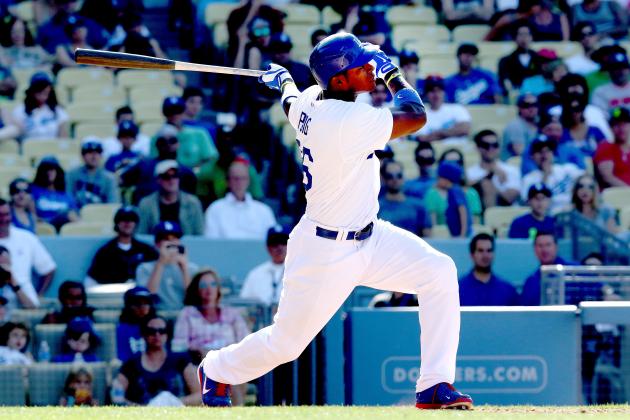 Stephen Dunn/Getty Images
RF Yasiel Puig
Overview (.265/.327/.396, 3.97 RPG)
For as much money as the Dodgers have invested in their roster, especially on the offensive side, anything short of a postseason trip and legitimate World Series contention is a disappointment.
After a terrible start, they've turned things around in a big way, and rookie spark plug Yasiel Puig has been a big reason for that. With Hanley Ramirez once again playing like a star, and enough firepower on the roster to beat all comers, they look like a dangerous team moving forward.
Starting Lineup
1. LF Carl Crawford
2. RF Yasiel Puig
3. 1B Adrian Gonzalez
4. SS Hanley Ramirez
5. CF Andre Ethier
6. 3B Juan Uribe
7. C A.J. Ellis
8. 2B Mark Ellis
9. Pitcher
Bench
C Tim Federowicz
1B/OF Scott Van Slyke
2B/OF Skip Schumaker
IF Nick Punto
IF/OF Jerry Hairston Jr.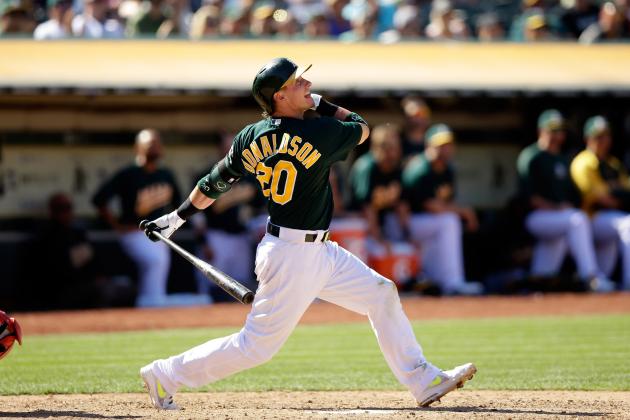 Ezra Shaw/Getty Images
3B Josh Donaldson
Overview (.243/.320/.393, 4.45 RPG)
The A's remain an unheralded group of young contributors and journeyman veterans, but they continue to put up runs in the process. Alberto Callaspo could wind up being a terrific pickup for the stretch run, as the team plays platoon matchups better than anyone. He could quickly take over the bulk of at-bats at second base.
Late-bloomer Josh Donaldson has been among the league's best run producers and may be the best hitter no one is talking about this year. On a player-by-player basis, the A's offense may not look like much, but as a collective unit it remains an asset to a team looking to make a serious postseason run.
Starting Lineup
1. CF Coco Crisp
2. DH Seth Smith
3. 3B Josh Donaldson
4. SS Jed Lowrie
5. LF Yoenis Cespedes
6. RF Josh Reddick
7. 1B Brandon Moss
8. C Derek Norris
9. 2B Eric Sogard
Bench
C/1B/OF Stephen Vogt
1B Nate Freiman
3B/2B Alberto Callaspo
OF Chris Young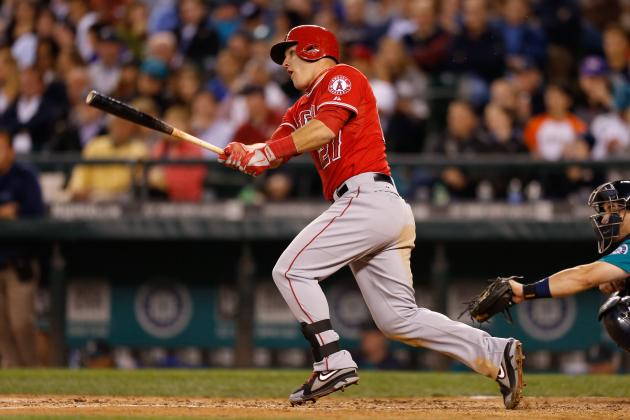 Otto Greule Jr/Getty Images
CF Mike Trout
Overview (.265/.329/.420, 4.53 RPG)
The Angels have been a huge disappointment this season, and high-priced stars Albert Pujols and Josh Hamilton have fallen well short of expectations, but the offense has not been the reason for the team's struggles.
Mike Trout remains one of the game's most exciting young stars, and the team has managed to put runs on the board despite its less-than-impressive record. There's plenty of potential for more moving forward, and this season is essentially a wash, but pitching needs to be the focus of the offseason if the team wants to reach expectations.
Starting Lineup
1. LF J.B. Shuck
2. SS Erick Aybar
3. CF Mike Trout
4. RF Josh Hamilton
5. 2B Howie Kendrick
6. 1B Mark Trumbo
7. C Hank Conger
8. DH Kole Calhoun
9. 3B Chris Nelson
Bench
C Chris Iannetta
IF Tommy Field
OF Collin Cowgill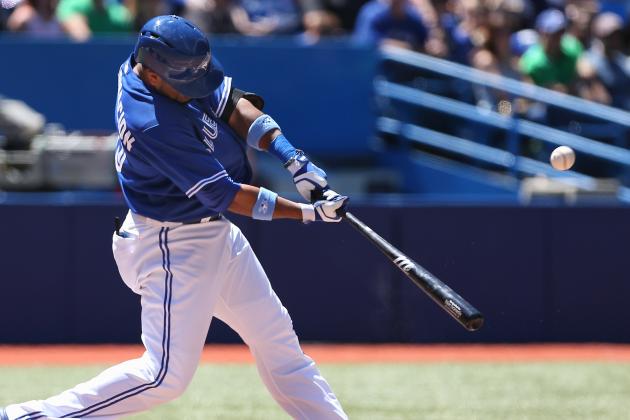 Tom Szczerbowski/Getty Images
1B Edwin Encarnacion
Overview (.253/.319/.421, 4.59 RPG)
While the Blue Jays as a whole have been disappointing this season, the offense has shown flashes of being absolutely dominant, led by sluggers Edwin Encarnacion and Jose Bautista.
A healthy Jose Reyes may have made a huge difference early on, and a healthy Brett Lawrie moving forward may finally allow the young infielder to reach his vast potential. There have been a myriad of reasons for the Blue Jays' disappointing performance, but the offense still looks like a plus moving forward.
Starting Lineup
1. SS Jose Reyes
2. LF Melky Cabrera
3. RF Jose Bautista
4. 1B Edwin Encarnacion
5. DH Adam Lind
6. CF Colby Rasmus
7. 2B Maicer Izturis
8. C J.P. Arencibia
9. 3B Brett Lawrie
Bench
C Josh Thole
IF/OF Emilio Bonifacio
IF/OF Mark DeRosa
OF Rajai Davis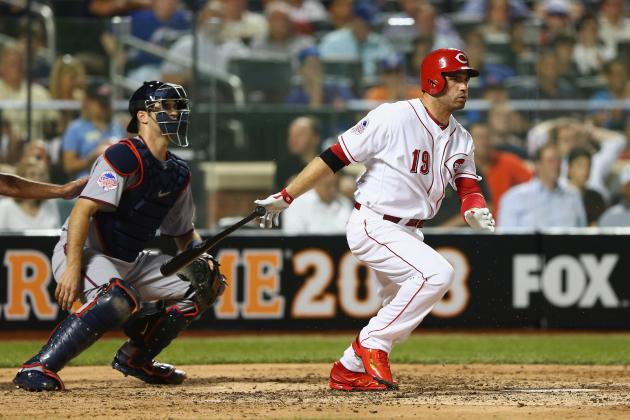 Elsa/Getty Images
1B Joey Votto
Overview (.251/.327/.395, 4.31 RPG)
Losing Ryan Ludwick gave the Reds a hole in left from day one, and they had to shuffle their lineup as a result, but the trio of Joey Votto, Brandon Phillips and Jay Bruce continues to be among the best in baseball.
Shin-Soo Choo has given Cincinnati the table-setter they needed atop the lineup, and while the Reds have not been quite as dominant at the plate as some expected, they remain legitimate contenders. Votto is among the best hitters in all of baseball, and Phillips has embraced the role of run producer in the middle of the lineup.
Starting Lineup
1. CF Shin-Soo Choo
2. LF Chris Heisey
3. 1B Joey Votto
4. 2B Brandon Phillips
5. RF Jay Bruce
6. 3B Todd Frazier
7. SS Zack Cozart
8. C Devin Mesoraco
9. Pitcher
Bench
C Corky Miller
1B/3B Jack Hannahan
IF Cesar Izturis
OF Xavier Paul
OF Derrick Robinson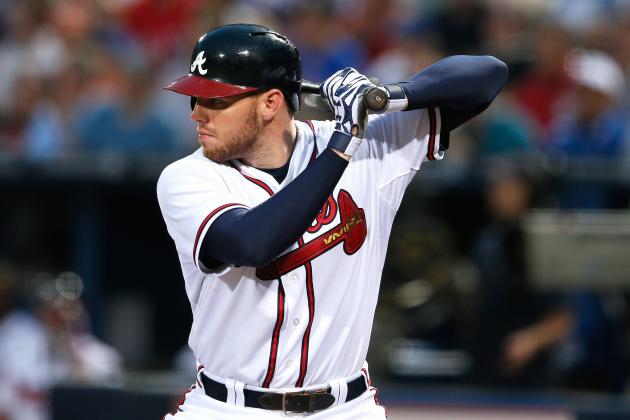 Kevin C. Cox/Getty Images
1B Freddie Freeman
Overview (.255/.327/.416, 4.53 RPG)
The offseason additions of Justin and B.J. Upton have been a huge flop, and the team's aggressive approach at the plate has led to an NL high in strikeouts as a group, but when they're playing well there are few lineups that can compare.
Third baseman Chris Johnson could legitimately win the NL batting title hitting in the bottom third of the lineup, and both Freddie Freeman and Evan Gattis have been dangerous bats for the team. Their approach can certainly be questioned, but the lineup continues to get results as the Braves continue to extend their lead in the NL East.
Starting Lineup
1. SS Andrelton Simmons
2. CF Jason Heyward
3. RF Justin Upton
4. 1B Freddie Freeman
5. C Brian McCann
6. LF Evan Gattis
7. 2B Dan Uggla
8. 3B Chris Johnson
9. Pitcher
Bench
C Gerald Laird
IF Paul Janish
OF Jose Constanza
OF Todd Cunningham
OF Joey Terdoslavich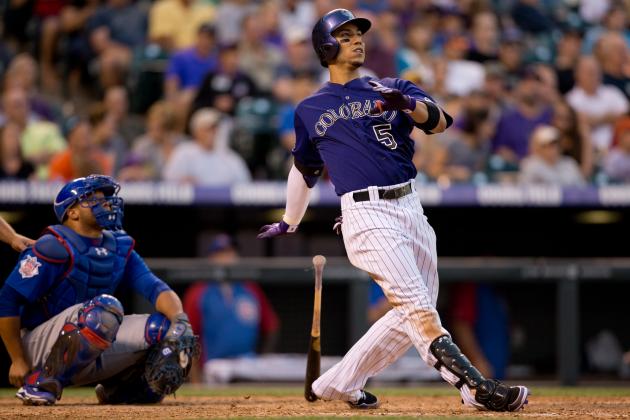 Justin Edmonds/Getty Images
LF Carlos Gonzalez
Overview (.263/.321/.421, 4.36 RPG)
The Rockies have the offensive firepower needed to win a division title, but they still don't have the pitching to make a sustained run at contention and have fallen off as a result.
Carlos Gonzalez and Troy Tulowitzki are legitimate superstars, and youngsters Wilin Rosario and Nolan Arenado have also emerged as plus contributors. The entire offensive core is either pre-arbitration eligible or locked up through next season, so if they can add some arms in the offseason, they could make a run at the NL West title in 2014.
Starting Lineup
1. CF Dexter Fowler
2. 2B DJ LeMahieu
3. LF Carlos Gonzalez
4. SS Troy Tulowitzki
5. RF Michael Cuddyer
6. 1B Todd Helton
7. C Wilin Rosario
8. 3B Nolan Arenado
9. Pitcher
Bench
C Yorvit Torrealba
IF Charlie Culberson
IF Jonathan Herrera
OF Charlie Blackmon
OF Corey Dickerson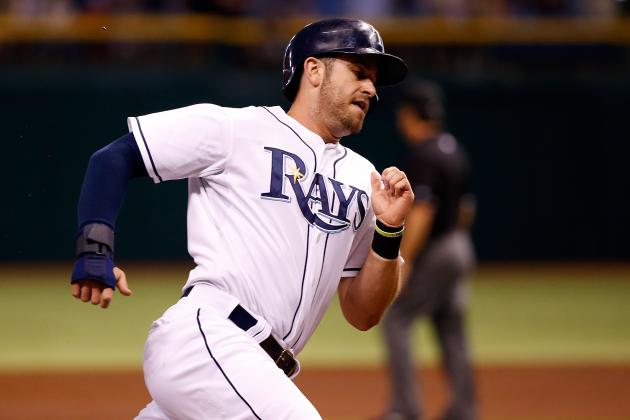 J. Meric/Getty Images
3B Evan Longoria
Overview (.262/.331/.419, 4.61 RPG)
Looking to upgrade their offense while staying within their budget constraints, the Rays added James Loney, Kelly Johnson, Yunel Escobar and top prospect Wil Myers in the offseason.
Those additions, along with a healthy Evan Longoria, have taken the Rays' offensive attack from the bottom of the AL rankings to one of the best in all of baseball. Myers looks like a serious stud moving forward, and he should emerge as the second marquee run producer the team has needed alongside Longoria.
Starting Lineup
1. CF Desmond Jennings
2. 2B Ben Zobrist
3. 3B Evan Longoria
4. 1B James Loney
5. DH Luke Scott
6. RF Wil Myers
7. LF Matt Joyce
8. C Jose Molina
9. SS Yunel Escobar
Bench
C Jose Lobaton
IF Sean Rodriguez
IF/OF Kelly Johnson
IF/OF Ryan Roberts
OF Sam Fuld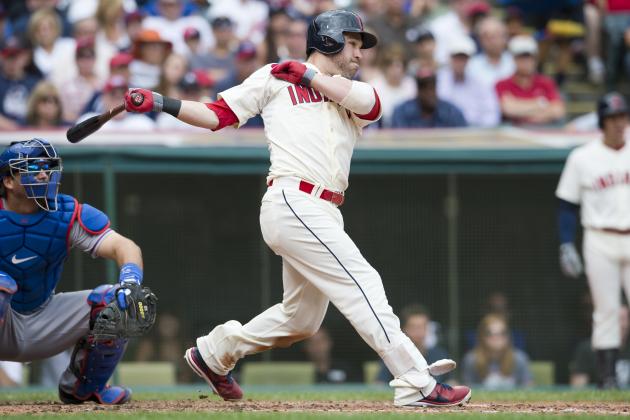 Jason Miller/Getty Images
2B Jason Kipnis
Overview (.259/.332/.419, 4.81 RPG)
After a surprisingly active offseason, the Indians offense has been fantastic in 2013. But in-house talents Carlos Santana and Jason Kipnis are the ones leading the way at the plate so far.
The bottom of the order remains inconsistent, and the team lacks a superstar talent in the middle of the order, but it has a good collection of veteran talent and should be able to make things interesting in the AL Central race.
Starting Lineup
1. CF Michael Bourn
2. SS Asdrubal Cabrera
3. 2B Jason Kipnis
4. 1B Nick Swisher
5. LF Michael Brantley
6. C Carlos Santana
7. DH Mark Reynolds
8. 3B Lonnie Chisenhall
9. RF Drew Stubbs
Bench
C/IF Yan Gomes
DH Jason Giambi
IF Mike Aviles
OF Ryan Raburn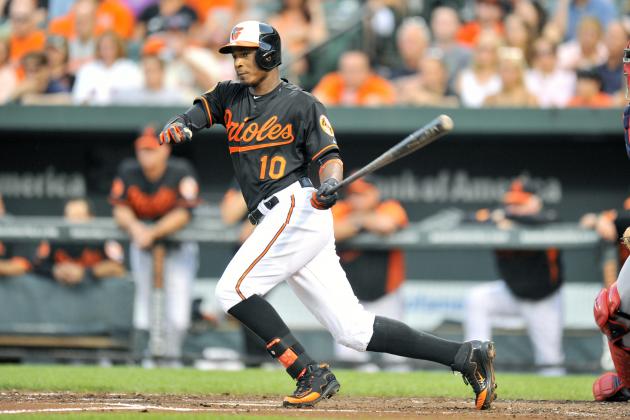 Mitchell Layton/Getty Images
CF Adam Jones
Overview (.265/.315/.440, 4.68 RPG)
The Orioles were one of the surprise teams of 2012, and they are once again in the thick of things in the AL playoff race. The team dealt for Bud Norris and Scott Feldman in an effort to bolster its starting rotation, and with a great lineup from top to bottom the Orioles could be a dangerous team in October.
The trio of Adam Jones, Chris Davis and Manny Machado are each among the best in the game at their respective positions right now, and if rookie Henry Urrutia can make a positive contribution at DH, they have no real hole on the offensive side of things.
Starting Lineup
1. LF Nate McLouth
2. 3B Manny Machado
3. RF Nick Markakis
4. CF Adam Jones
5. 1B Chris Davis
6. C Matt Wieters
7. SS J.J. Hardy
8. DH Henry Urrutia
9. 2B Brian Roberts
Bench
C Taylor Teagarden
1B/OF Steve Pearce
IF Alexi Casilla
IF/OF Ryan Flaherty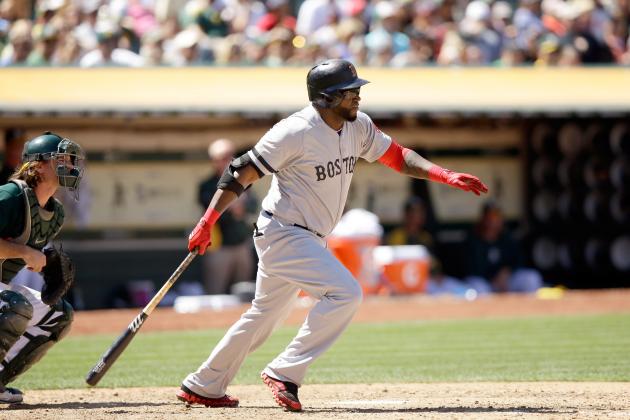 Ezra Shaw/Getty Images
DH David Ortiz
Overview (.273/.345/.438, 5.03 RPG)
After unloading payroll last August, the Red Sox were busy in the offseason with the additions of Mike Napoli and Shane Victorino, among others, helping to shore up the depleted offense. That has led to a complete 180 for the team, as it now looks to have a real shot at World Series contention.
The duo of David Ortiz and Dustin Pedroia remains the core of the offense, and both are still among the best bats in all of baseball. If Will Middlebrooks can return to the big leagues and make an impact at third and Stephen Drew can pick things up at shortstop, the team should score plenty of runs to back its pitching staff.
Starting Lineup
1. CF Jacoby Ellsbury
2. RF Shane Victorino
3. 2B Dustin Pedroia
4. DH David Ortiz
5. 1B Mike Napoli
6. LF Mike Carp
7. C Jarrod Saltalamacchia
8. SS Stephen Drew
9. 3B Brock Holt
Bench
C Ryan Lavarnway
IF/OF Brandon Snyder
OF Jonny Gomes
OF Daniel Nava
Dilip Vishwanat/Getty Images
1B Allen Craig
Overview (.273/.334/.405, 4.84 RPG)
Though they have slumped of late and don't have the highest-scoring offense in baseball, the Cardinals' .335 batting average with runners in scoring position earns them the top spot in the NL and the No. 2 spot overall in these rankings.
Shortstop Pete Kozma is below-average, and losing Yadier Molina to a knee injury is no doubt a blow to the lineup, but the Cardinals have as good an offensive core as anyone in baseball, led by RBI machine Allen Craig and breakout star Matt Carpenter.
Starting Lineup
1. 2B Matt Carpenter
2. RF Carlos Beltran
3. LF Matt Holliday
4. 1B Allen Craig
5. 3B David Freese
6. CF Jon Jay
7. SS Pete Kozma
8. C Tony Cruz
9. Pitcher
Bench
C Rob Johnson
1B Matt Adams
1B/OF Brock Peterson
IF Daniel Descalso
OF Adron Chambers
J. Meric/Getty Images
3B Miguel Cabrera
Overview (.281/.347/.439, 5.18 RPG)
While it's not quite the Cardinals' .335 mark, the Tigers do lead the AL with a .294 batting average with runners in scoring position, and they have been the highest-scoring offense in baseball so far this season.
The duo of Miguel Cabrera and Prince Fielder remains perhaps the best in all of baseball, and with Victor Martinez heating up and secondary pieces like Torii Hunter and Jhonny Peralta continuing to make a positive impact, the Tigers have plenty of punch to back their terrific starting rotation.
Starting Lineup
1. CF Austin Jackson
2. RF Torii Hunter
3. 3B Miguel Cabrera
4. 1B Prince Fielder
5. DH Victor Martinez
6. SS Jhonny Peralta
7. LF Andy Dirks
8. C Alex Avila
9. 2B Ramon Santiago
Bench
C Brayan Pena
SS Jose Iglesias
IF Herman Perez
IF/OF Don Kelly
IF/OF Matt Tuiasosopo