5 Young Italians Who Must Take Major Steps Forward in 2013-14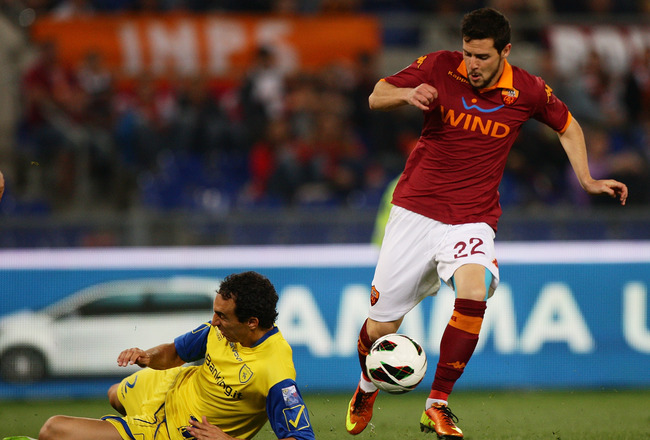 Paolo Bruno/Getty Images
Fans of Italian soccer have much to look forward to in the coming years. A bumper crop of young talent is on the verge of breaking out in a major way, giving the Italian national team a very bright future.
Some of those youngsters have broken out in the last year—Marco Verratti comes to mind. However, there is a large group of others who are right on the cusp, brimming with potential that is just about to be fully realized.
Here are five young Italians—coincidentally, all of them forwards—on the cusp of becoming studs, each at a pivotal point in their career. If they don't take a major step this year, they could be on the road to becoming disappointing busts.
Stephan El Shaarawy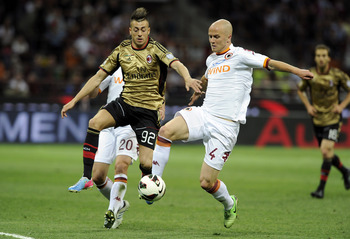 Claudio Villa/Getty Images
Stephan El Shaarawy had a meteoric rise last season. With Zlatan Ibrahimovic gone to Paris Saint-Germain, Il Faraone was being counted on to score goals for AC Milan.
The youngster responded in a way the team could never have hoped.
By the time Milan went in for the winter break, he had scored 14 times and had keyed the beginning of an epic comeback that saw Milan go from just shy of the relegation zone to the Champions League places. His performances were enough to garner him his first international cap, and left people drooling over the possibility of he and Mario Balotelli working together up front for Italy.
However, after the winter break, El Sha started to slow.
Having never played a full Serie A campaign, he wore down as the long season went on.
He scored a goal in the Derby della Madonnina and provided a smart assist in the first leg of the Champions League round of 16 tie with Barcelona, but scored only three times in all competitions—twice in Serie A, once in the Coppa Italia.
The newly arrived Mario Balotelli picked up the slack by going on an insane run of form after his transfer from Manchester City. However, for Milan to truly take the next step, Super Mario needs El Sha beside him at full force and looking like the dangerous pairing we saw in the November friendly against France.
El Shaarawy is a tremendous talent. His last major hurdle is to build his stamina and avoid the late-season breakdown that he endured in 2012-13. Once he does, he and Balotelli could become an unstoppable force for club and country.
Ciro Immobile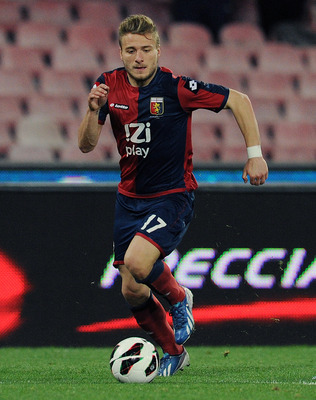 Giuseppe Bellini/Getty Images
Ciro Immobile wore No. 9 for the Italian U-21 squad at this summer's World Championships, starting four of five games for the Azzurrini, scoring one goal and notching two assists.
At club level, however, Immobile is yet to live up to the potential that he so clearly displays.
Immobile put himself on the map two seasons ago while on loan with Pescara, scoring 28 goals and being named Serie B player of the year. After Genoa bought half his rights from Juventus this past season, Immobile scored only five times in 33 games (21 of them starts).
Juve still owns half of his rights. The other half has since moved from Genoa to Torino.
Last year was Immobile's first full season in the top flight, so his lack of production can be understood to a certain degree. However, he needs to produce more than five goals this year if he is to become the elite player that the No. 9 jersey he wore this summer says he can be.
Lorenzo Insigne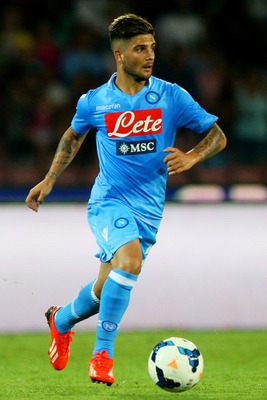 Paolo Bruno/Getty Images
It's a big year for Lorenzo Insigne.
Another of the loanees that helped Pescara to the Serie B title two seasons ago, Insigne came off the bench more often than he started last season for Walter Mazzarri's Napoli.
He got the majority of his goals as a sub, but was more of a supplier when he started. Between the league, the Europa League and the U-21 Euros, he notched 11 assists—seven of them came while starting up front.
Expected to replace Ezequiel Lavezzi upon his return from his Pescara loan, Insigne played well for his first season in top-tier play. Now, with a year of Serie A play under his belt, Insigne has the potential to re-form The Three Tenors with original member Marek Hamsik and new arrival Gonzalo Higuain.
It may be unrealistic to expect Insigne to score a prodigious amount of goals. He scored 18 times for Pescara and 19 the year before on loan at Foggia, but his coach at the time was Zdenek Zeman, whose damn-the-torpedoes attacking style inflates the goal totals of many of his players.
His versatility also allows managers to play him as an attacking midfielder, which would force his focus more on providing than finishing. His chances of playing further back could even increase if ESPN's report that Porto's Jackson Martinez is interested in a move to the San Paolo prove true.
Still, he has more than enough talent to displace Goran Pandev as Higuain's strike partner. If he does, he will be expected to make the jump from a supplier who scores the occasional goal to a true finisher. Nothing less will allow the Partenopei to overtake Juventus and take home a Scudetto come May.
Mattia Destro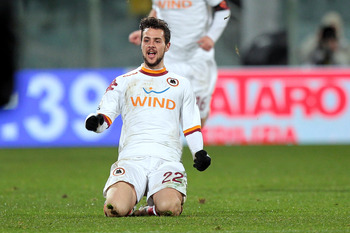 Gabriele Maltinti/Getty Images
The 2012-13 season was a lost one for Mattia Destro.
Signed from Genoa after a year of co-ownership between the Grifone and Siena, Destro was expected to combine with Pablo Osvaldo, Erik Lamela and Francesco Totti to form a potent Roma front line.
Unfortunately for the 22-year-old, injuries and ineffectiveness marred his play, and he only produced six goals in 21 league appearances (10 of them as a sub). In 26 games in all competitions, he only played a full 90 minutes on nine occasions and didn't play at all between January 23 and April 8.
He did fare better in the Coppa Italia, scoring five times in the five matches he played, but was as tentative as the rest of his team in the final against Lazio.
With Osvaldo on the outs following an altercation with former coach Aurelio Andreazzoli after the Coppa Italia final, the team could end up relying on the Italy international to be much more of a presence than he was a year ago.
Roma is widely seen as having one of the most talented rosters in Serie A, and Destro is a big part of that assertion. He will need to take the next step—and score far more goals—for him to take his career and his club to the next level, though.
Manolo Gabbiadini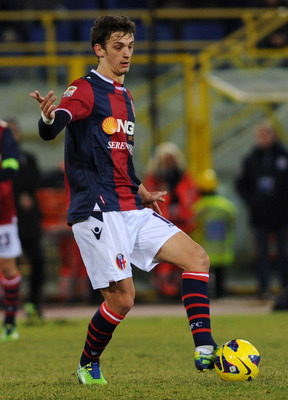 Giuseppe Bellini/Getty Images
Manolo Gabbiadini is one of the brightest young stars in the Italian league.
The 21-year-old led Italy in goals in qualifying for the U-21 Euros and scored twice in five appearances in the tournament proper in Israel.
He played 30 games on loan at Bologna last season, scoring six times in support of Alberto Gilardino.
Juventus bought half of his rights from Atalanta last year, while La Dea sold their half to Sampdoria this past season. Gabbiadini will be playing in the Luigi Ferraris this season.
His growth this year could go a long way to determining where his future lies. Carlos Tevez and Fernando Llorente have arrived at the Juventus Stadium to improve the team's moribund strike force, but their primes are limited. Gabbiadini could become a key figure in the team's future up front—if he takes the jump from young prospect to young stud.
Gabbiadini can become a key cog in a Juventus dynasty, but he needs to sharpen up his passing in front of goal and not be so wasteful in front of it—his shot conversion percentage was a paltry 12 percent a year ago.
Keep Reading