UCLA Football: Latest Musings in the Program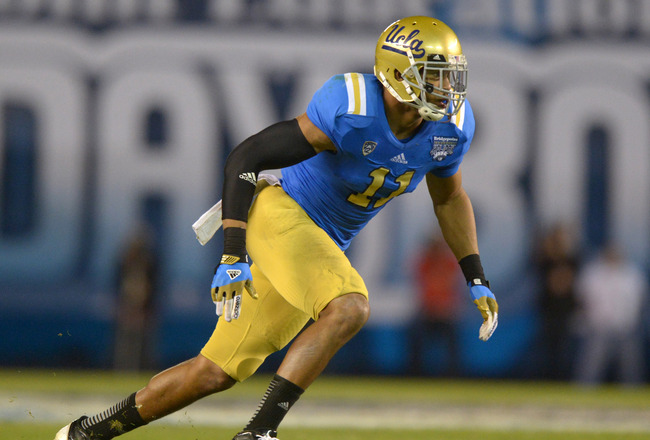 Anthony Barr on the prowl
USA TODAY Sports
It's that time again.
August is here, and the beginning of the college football season is officially upon us. For the UCLA Bruins, a month of preparation will ensue ahead of the season opener Aug. 31 against the Nevada Wolf Pack.
There's been a multitude of tidbits impacting the squad as of late. A majority of these nuggets have been positive in nature.
Here's a look at the latest musings of the UCLA Football program.
Review of Pac-12 Media Day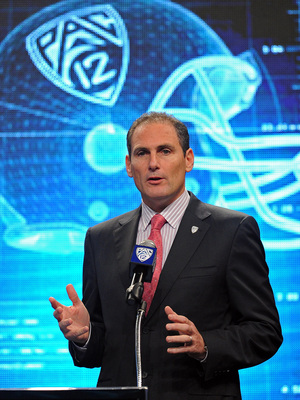 Commissioner Larry Scott at media day
Jayne Kamin-Oncea-USA TODAY Spor
The Pac-12 recently hosted its media day in Culver City, Calif. For the Bruins, Anthony Barr and Xavier Su'a-Filo came as the team representatives.
Both players, along with Coach Jim Mora, came off as very articulate and well-spoken. Barr in particular was engaging as a speaker—offering a bit of a zinger at the team across town.
The media also picked UCLA to win the Pac-12 South division. Below is the early preseason poll for the conference.
Pac-12 South:
1. UCLA
2. Arizona State
3. Southern Cal
4. Arizona
5. Utah
6. Colorado
Pac-12 North:
1. Oregon
2. Stanford
3. Oregon State
4. Washington
5. California
6. Washington State
UCLA Ranked 21st in Preseason USA Today Coaches' Poll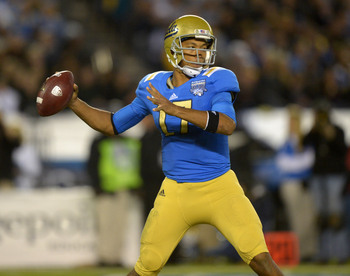 Quarterback Brett Hundley
USA TODAY Sports
In the first USA Today coaches' poll, the Bruins start the season ranked 21st in the nation.
If it were not for the blow-out loss to Baylor in the Holiday Bowl, the Bruins could've been ranked higher. However, the team does still face the prospect of replacing integral cogs from a year ago such as Johnathan Franklin, Datone Jones and Joe Fauria.
In all honesty, the current ranking sounds about right.
As for the rest of the conference, Oregon and Stanford are ranked third and fourth, respectively. Southern Cal comes in at No. 24, while Oregon State sneaks in with the final ranking in the top 25.
A New Commitment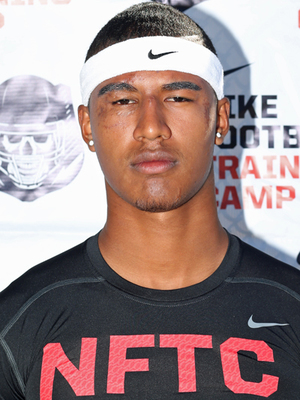 Ron Robinson per 247Sports
It's been a rough few weeks for the Bruins in regards to recruiting.
JUCO offensive linemen Jermaine Eluemunor and Dominick Jackson were both committed to UCLA at one time. Recently, however, they've rescinded those commitments in favor of attending Arkansas and Alabama, respectively.
In addition, offensive line target Demetrius Knox surprised some when he recently committed to Ohio State. It was thought that UCLA was sitting in a very good spot for Knox.
The Bruins did recently receive a bit of good news, as Corona Santiago safety Ron Robinson gave a verbal commitment.
At 6'2", 195 pounds, he's got good size. Robinson is physical at the line of scrimmage and can jam receivers with effectiveness. He also has the versatility to play any position in the secondary. Also of note is Robinson's academic prowess. He currently has a 4.28 GPA.
According to Justin Hopkins of 247Sports, Robinson was especially intrigued by the campus life and the bond he's made with the coaching staff.
The good news might not end this week. According to Greg Biggins of Scout.com, 3-star safety JoJo McIntosh will make his decision on Friday. He's narrowed his choices down to UCLA and Boise State.
EV Is Free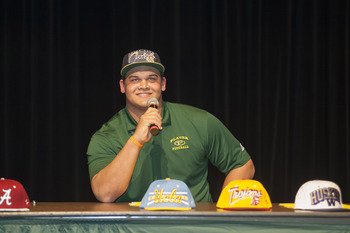 Eddie Vanderdoes is a Bruin
Ed Szczepanski-USA TODAY Sports
Yes UCLA fans, EV is free.
Eddie Vanderdoes was ruled eligible for this upcoming season. After signing with Notre Dame, Vanderdoes had a change of heart, deciding to leave for family reasons.
Initially, Vanderdoes was to sit out this year. He would ultimately lose a season of eligibility in the process. Due to an appeals process brought on by his family, the elite defensive tackle proved his case well enough to gain immediate eligibility.
With uncertainty around Owamagbe Odighizuwa's status for this season, Vanderdoes' granted eligibility was massive.
He's an elite talent, plain and simple. Vanderdoes can play any position on the defensive line. For the Bruins, he'll likely line up as a defensive end in their 3-4 scheme.
Start of Fall Camp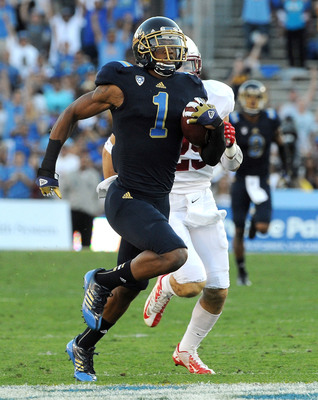 Shaq Evans making a plag against Stanford
Jayne Kamin-Oncea-USA TODAY Sports
The start of fall camp is quickly coming. On Wednesday, Aug. 7, the Bruins will take the field at Cal State San Bernardino.
The camp will run until August 17. From there, the team will return to Westwood.
Here is the fall camp schedule in its entirety.
Dietrich Riley Forced to Retire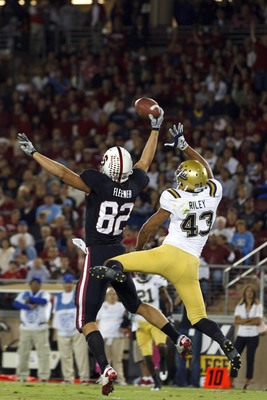 Riley making a play against Stanford
Jason O. Watson-USA TODAY Sports
Unfortunately for the squad, safety Dietrich Riley was forced to medically retire.
Riley suffered a nasty neck injury in 2011 against California. For the past two seasons, he's battled concerns over both his neck and shoulder.
He underwent surgery in 2011 to fuse two vertebrae. Expected to play a prominent role this season, he was unable to get final medical clearance.
Riley was one of the most experienced members of a thin secondary. His loss will not only be felt on the field, but also from a leadership standpoint as well.
Best of luck to Dietrich in the future.
Keep Reading

UCLA Football: Like this team?