6 SEC Teams in USA Today Coaches' Poll Means 1-Loss Champ Can Play for BCS Title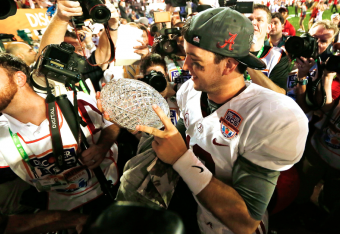 In college football, it isn't where you start; it's where you finish.
But starting in a good spot in the USA Today coaches' poll—which constitutes one-third of the BCS equation—is incredibly beneficial to where you end up.
With seven straight BCS National Championships under its belt, the SEC established itself as the premier conference in college football. That benefit of the doubt will be huge for all 14 teams, but especially the six that chimed in the preseason top 25 of the coaches' poll.
Alabama (No. 1), Georgia (5), Texas A&M (6), South Carolina (7), Florida (10) and LSU (13) all are in a great position. Not only do they receive the benefit of the doubt for being in the SEC, but they're already expected to be in the national title discussion.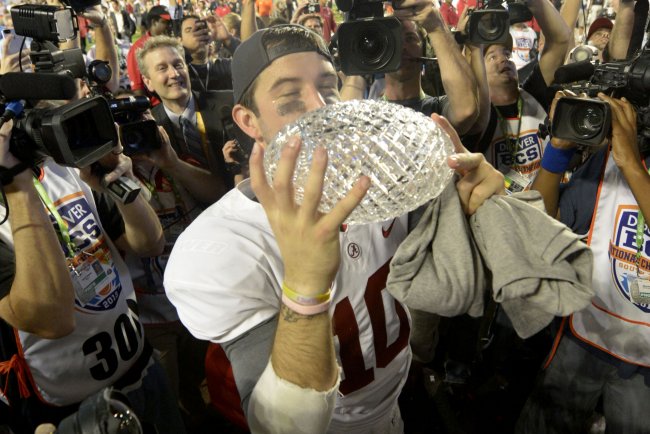 John David Mercer-USA TODAY Sports
Would Ole Miss, Vanderbilt, Auburn or any of the eight other SEC teams that are unranked receive the same benefit of the doubt?
It depends on the specific scenario, but any SEC team with one loss and an SEC championship on the resume would have quite an impressive resume against top 15 teams like Ohio State, Stanford, Oregon, Louisville, Notre Dame or Florida State if they go unblemished.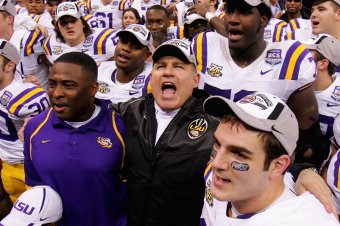 Streeter Lecka/Getty Images
Let's say, for instance, the debate for the BCS National Championship Game includes an undefeated Stanford (or Oregon), Ohio State and a one-loss SEC champion from the group of six in the preseason poll?
Sorry, Ohio State.
Even an SEC team from outside of that group of six would get the benefit of the doubt over the Buckeyes given the laughable Ohio State schedule that features three top 25 teams—all of which are ranked 17th or worse.
Sure, Alabama has only two ranked teams on its docket, but they're No. 6 Texas A&M and No. 13 LSU. The Tide would also likely face a top-10 team in the conference championship game, which is far less likely for Ohio State.
The only exceptions would be one-loss SEC champions Georgia or Florida, if that one loss comes to Clemson or Florida State, respectively.
If Clemson gets into position to play for the national title with a win over Georgia and South Carolina on the resume, it's going to be next-to-impossible for a one-loss SEC champ to jump the Tigers—especially if that team is Georgia. If there's an undefeated team out there from another conference—save for Louisville—Georgia will be left out in the cold.
Will a one-loss SEC champ make the BCS National Championship Game over an undefeated AQ conference champ?
Florida's end-of-the-season rivalry with Florida State could serve as a de facto BCS National Championship elimination game as well, but if the SEC plays out like it's expected, a one-loss Florida SEC champion would have a good case to earn a rematch with the Seminoles if that game was close during the first go 'round.
Rematch? That sound you hear is the rest of the country panicking.
The SEC is in a great position.
The benefit of the doubt earned from seven straight titles is a big reason why the conference landed six teams in the top 13.
For the SEC to lose it, it's going to take several duds on the national stage against nonconference foes. That won't happen this year, which means a one-loss SEC champ making the BCS National Championship Game is a realistic possibility.
Just like old times.
This article is
What is the duplicate article?
Why is this article offensive?
Where is this article plagiarized from?
Why is this article poorly edited?