Andrea Pirlo's Most Imperious Passes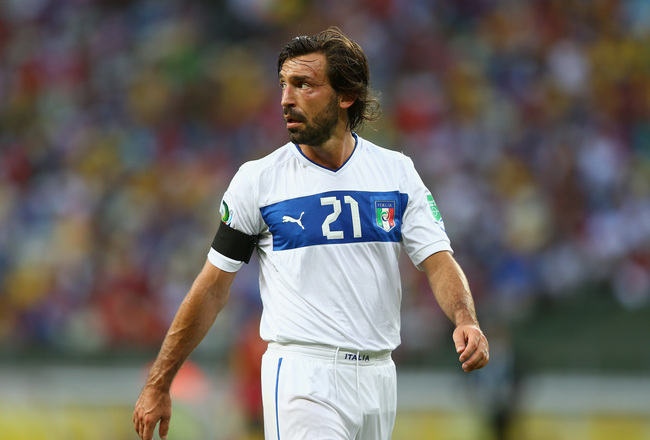 Clive Mason/Getty Images
Andrea Pirlo might be entering the last few years of a glittering career, but his ability to strike incredible passes of all variety has remained with him to this day.
The Azzurri international is one of the defining players at his position of the past 20 years. He will have left a vast legacy in Italian and European football by the way he has performed the role of the holding midfield player.
The 34-year-old is perhaps most famous for the type of pass that is referred to in Italy as the "cucchiao"—literally, the spoon.
Drawing pressure from the opposition, who press the space around him as soon as he receives the ball, Pirlo lifts an arcing pass high over the defensive line and into the space behind.
Here are some of his very best.
vs. Mexico (2013 Confederations Cup)
Pirlo, running away from goal and deep into midfield, was able to split the Mexican defense with a stunning pass.
Covering a distance of over 40 meters, the Italian added the perfect weight on the pass to release an onrushing Ignazio Abate into the space behind El Tri's back line to change the tempo of the game in a flash.
vs. Brazil (International Friendly)
Andrea Pirlo was robbed of one of the greatest assists in recent years here, with the linesman flagging for offside.
The maestro sent an astonishing ball toward his opponent's goal from just inside Brazil's half, but the ball swung viciously from right to left and dropped perfectly into the path of the onrushing Fabio Grosso.
Unfortunately for Pirlo, the joy was short lived, but this highlight shows the astounding imagination of the player.
vs. Parma (Serie A)
Here is a great example of Pirlo's famous cucchiao, which assists Claudio Marchisio in one of the regista's first games in the black and white of Juventus.
The commentators describe it as a masterpiece, and who am I to disagree? What vision.
vs. Bologna (Serie A)
Pirlo has shown he can execute the less glamorous passes with stunning precision, too.
Here he drilled a long-distance pass along the ground, with added pace, to split the Bologna defense and reach Mirko Vucinic for a wonderful goal.
vs. USA (International Friendly)
Pirlo has shown he can dictate the rhythm of a match by mixing up the range and pace of his passes.
Against the USA, he stretched the lineup by spraying passes to all parts of the pitch and picking the spaces that opened up as the opposition tired from pressing.
By waiting for that opportune moment, Pirlo's productivity has increased, which is one of the reasons why he is so highly valued.
Possessing every pass in the book is one thing—knowing exactly when to execute it is something that only the very best players can master.
Keep Reading

Juventus: Like this team?