Ranking the Best San Antonio Spurs in Franchise History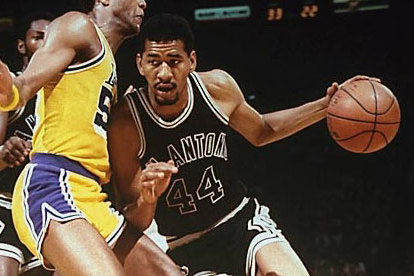 Where does George Gervin rank among the greatest Spurs of all time?
The San Antonio Spurs have been a very successful franchise in the ABA and the NBA for 40 seasons. In honor of the 40th anniversary of the Spurs, it's only suitable to rank the top players for the Spurs in their rich history.
The top 10 players in Spurs history will be ranked according to their personal success as a Spur (all-star appearance, statistics, etc.) as well as the amount of team success they brought to the Spurs (championships, playoff appearances, etc.). Players with longer Spurs tenures will also tend be ranked higher.
So how do past greats like David Robinson and George Gervin stack up with current stars Tim Duncan and Tony Parker? Read on to find out.
Honorable mentions: Artis Gilmore, Johnny Moore, Avery Johnson, Mike Mitchell
Note: All stats are from Basketball Reference, unless otherwise indicated.
Begin Slideshow

»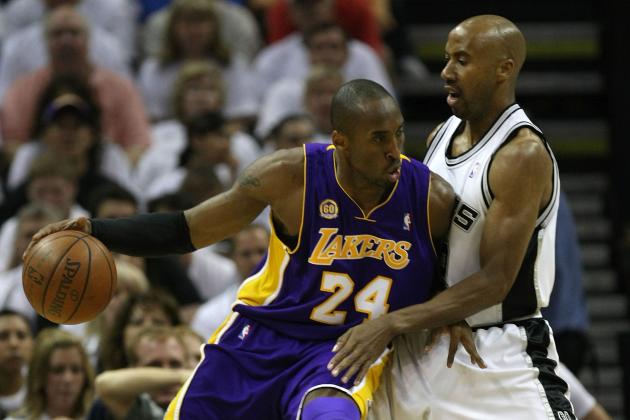 Stephen Dunn/Getty Images
Bruce Bowen was always up for guarding the opponent's best player.
Notable Spurs stats (with all-time rank): 661 three-pointers (2), 27.0 defensive win shares (5), 630 games played (8)
Bruce Bowen was never a star, and was never really close to being one. He had a very limited offensive game that almost exclusively consisted of a corner three-point shot.
But on defense, he was about as good as it gets.
Bowen was physical, aggressive and maybe even a little bit dirty sometimes (as YouTube shows), but he never was that way out of spite. Rather, it was part of his effort to get into his opponents' head, which almost always worked. He was able to guard almost every star in the NBA, from chasing around Steve Nash to contesting Dirk Nowitzki's fadeaway.
During his Spurs tenure, he made the NBA All-Defensive First Team five times and the All-Defensive Second Team twice, according to NBA.com.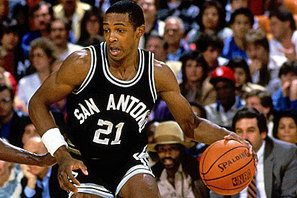 Alvin Robertson played with great versatility.
Notable Spurs stats (with all-time rank): 2.9 steals per game (1), 5.4 assists per game (6)
Alvin Robertson was only a Spur for the first five seasons of his 12-year career, but he made the most of them.
Perhaps his biggest accomplishment was becoming the second player in NBA history to record a quadruple-double in a game. On Feb. 18, 1986, Robertson went for 20 points, 11 rebounds, 10 assists and 10 steals in a regulation win over the Phoenix Suns, according to an ESPN article by LZ Granderson.
As his steal total from that game suggests, Robertson was a master thief. In the same season that he recorded the quadruple-double, he set the single-season NBA record for steals per game (3.67), a mark that still stands today.
Robertson's best season as a Spur came in 1987-88. In that season, he averaged 19.6 points per game, 6.1 rebounds per game, 6.8 assists per game and 3.0 steals per game. He also made his third and final All-Star appearance as a member of the Spurs.
James Silas was a member of the inaugural San Antonio Spurs team.
Notable Spurs stats (with all-time rank): 10,290 points (6), 2406 assists (8), 618 games (9)
If this list were based more heavily on nostalgia, James Silas would probably be ranked higher. He played on the very first Spurs team, and is the only player on this list who went through the franchise's transition from the Dallas Chapparrals to the San Antonio Spurs in 1973.
The 6'1" scoring point guard excelled in the ABA, especially in the 1975-76 season. Silas had 23.8 points per game, 4.0 rebounds per game, 5.4 assists per game and 1.8 steals per game that year, while making the ABA All-star Game.
Silas' nicknames were "Snake" and "Captain Late," for his slithery offensive moves and ability to come through in crunch time. However, he wasn't much of a defender.
His ranking also gets docked for his inability to carry over his ABA level of play to the NBA. Silas' NBA high for points per game in the NBA was just 17.7.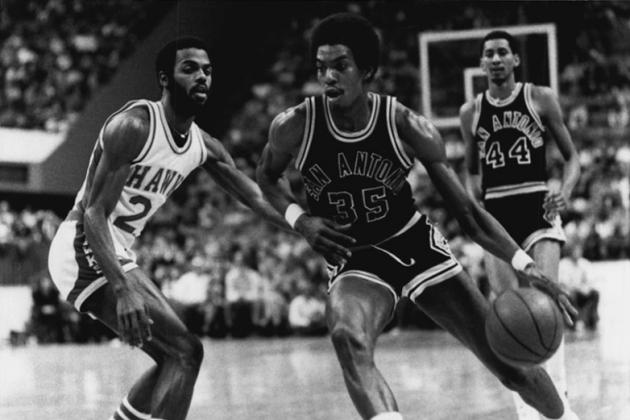 Larry Kenon (dribbling) formed a dynamic scoring duo with George Gervin (44) in the 1970s.
Notable Spurs stats (with all-time rank): 36.3 minutes per game (2), 20.7 points per game (3), 4114 total rebounds (4)
Larry Kenon, like James Silas, was one of the Spurs that made the transition from the ABA to the NBA in 1976. However, Kenon adjusted to the NBA game better than Silas did.
In his first season in the NBA, "Special K" scored 21.9 points per game, grabbed 11.3 rebounds per game, dished out 2.9 assists per game and grabbed 2.1 steals per game. The 6'9" Kenon would go on to reach a total of three All-Star games as a Spur, one in the ABA and two in the NBA.
Kenon teamed with George Gervin and became a lethal scoring duo for the Spurs in the late 1970s. In fact, the Spurs placed No. 1, No. 2, No. 1 and No. 1 in the NBA in scoring in their first four seasons in the NBA, largely because of Kenon and Gervin.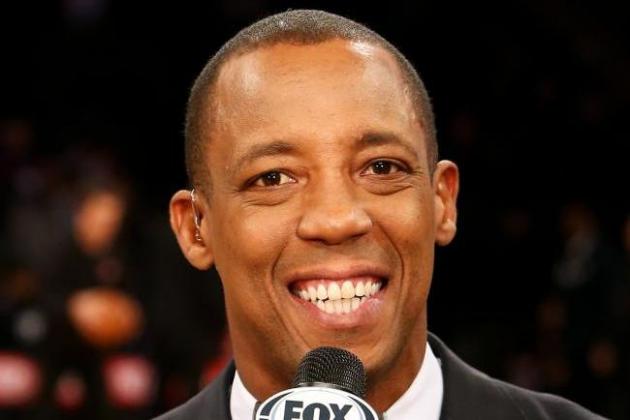 Tom Hauck/Getty Images
Sean Elliot now announces games for the Spurs on Fox Sports Southwest.
Notable Spurs stats (with all-time rank): 563 three-pointers (3), 669 games (6), 9,659 points (8)

Sean Elliott's legacy with the Spurs will forever be tied to one shot—the Memorial Day Miracle (video from YouTube), in which Elliott nailed a game-winning three against the Portland Trail Blazers in the 1999 Western Conference Finals. The Spurs had been down 18 earlier in the second half.
Part of what makes this shot (and his career) so amazing is that Elliott had battled focal glomerulosclerosis, a rare kidney disease, since 1992, according to the Spurs' official website. The article also mentioned that Elliott had a kidney transplant later in the summer of 1999. In March 2000, Elliott became the first NBA player to return from a major organ transplant surgery.
Talk about tough.
Elliott spent most of his career as David Robinson's wing sidekick on a successful Spurs team that couldn't get over the playoff hump. He finally won a championship in 1999 after Tim Duncan arrived.
He only reached 20 points per game in one season (1995-96), but he played strong defense and always had a good basketball IQ. Two All-Star appearances in 1993 and 1996 also highlight his resume.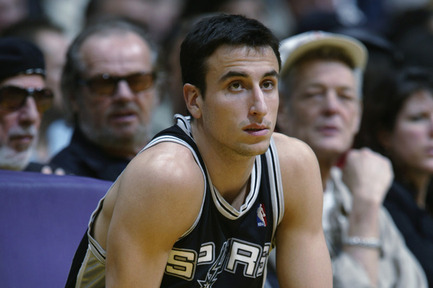 A young Manu Ginobili was one of the most underrated stars in the NBA.
Notable Spurs stats (with all-time rank): 1,093 three-pointers (1), 21.6 Player Efficiency Rating (4), 727 games (5), 10,819 points (5)
There is a big gap between Sean Elliott and Manu Ginobili for these two spots. Elliott, while very solid, was never quite the difference-maker Ginobili was.
Both players made two All-Star games, but there's no question that Ginobili would have made a few more had he played bigger minutes. In fact, Ginobili has played just 27.5 minutes per game during his career.
For that reason (not enough time on the court), Ginobili's trophy case is probably a lot more empty, in general, than it should be.
The Argentinian slasher somehow only won the Sixth Man of the Year Award once, losing to inferior players (at the time) such as Leandro Barbosa and Jamal Crawford in separate years. Injuries in other years kept him out of huge chunks of action, which hurt his candidacy. He also might have deserved the 2005 NBA Finals MVP, too. In those playoffs, Ginobili provided the Spurs with 20.8 points per game, 5.8 rebounds per game and 4.2 assists per game in only 33.6 minutes.
But for now, Ginobili will have to live with his three rings. Who knows, maybe he'll win another ring with the Spurs before he retires.
Oh, and forgive me for using such an old picture of Ginobili. I prefer to remember the good old days, before he was balding and when he was still one of the more athletic players in the league.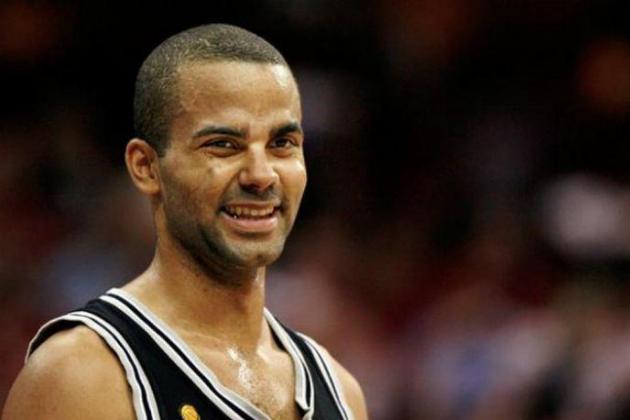 Tony Parker has transformed from a ball of energy to a confident, steady floor general.
Notable Spurs stats (with all-time rank): 5,247 assists (1), 14,917 points (4), 872 games (4)
Ginobili's younger teammate, Tony Parker, checks in at No. 4. It's hard to believe now, but Ginobili was actually a better player than Parker until a few years ago when the effects of age started setting in.
Thankfully for the Spurs, Parker has stepped his game up significantly to offset Ginobili's decline.
Parker is now one of the top point guards in the NBA, as his two consecutive All-NBA Second Team appearances show. The biggest factor in Parker's improvement has been his ability to hit the mid-range jump shot and work the pick-and-roll.
As a young player, Parker was a speedy little guy that got his points almost exclusively from driving and finishing in the lane, as this clip from Ankle Breakers Volume 2 shows (via YouTube). Now, he's become a well-rounded point guard that can drive the lane, hit jumpers and pass with the best of them.
And, oh yeah, he's also become the fourth-best player in Spurs history.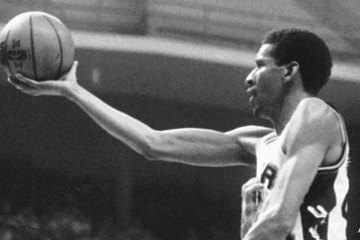 George Gervin's finger roll is one of the most famous signature moves in NBA history.
Notable Spurs stats (with all-time rank): 26.3 points per game (1), 23,602 points (2), 899 games (3)
The picture above is the perfect glimpse of George Gervin's career. Gervin had the softest touch on his finger roll in the game, and he certainly used it a lot.
"The Iceman" was his nickname, both for his ability to stay dry in his practice uniform (according to this YouTube clip) and his calm demeanor on the court. Rarely did Gervin lose his cool in any situation.
But boy, could this guy score.
Gervin led the NBA in scoring four times, topping out at 33.1 points per game in the 1979-80 season. His 6'7" frame was too much for the guards of his era to handle on the interior, while his quickness and outside touch made him impossible for bigger players to guard.
His two main weaknesses, though? Defense and a lack of team success. Gervin ranks only No. 6 in defensive win shares in Spurs history, despite being No. 3 in both games and minutes played. He also never played in an ABA or NBA Finals game with the Spurs.
Considering the two guys ahead of him, those two stats just aren't going to fly.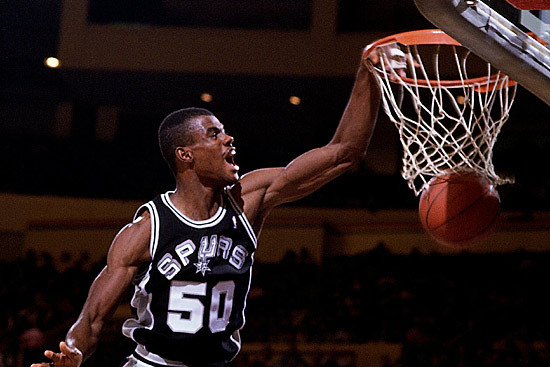 David Robinson was pretty much the prototypical franchise center.
Notable Spurs stats (with all-time rank): 26.2 Player Efficiency Rating (1), 1,388 steals (1), 2,954 blocks (1), 10,497 rebounds (2), 20,790 points (3)
David Robinson is the best regular-season Spur of all time. He led the NBA in scoring, rebounding and blocks in three separate seasons, something no other Spur has accomplished. His regular-season win shares per 48 minutes (0.250) easily beats everyone else.
"The Admiral" had the entire package for a center—great size, a chiseled build, supreme athleticism, good ball skills and defensive aptitude.
However, there was something missing with Robinson—he didn't have a killer instinct.
There weren't enough times where Robinson took over playoff games and willed the Spurs to win. In fact, his playoff PER was "only" 23.0, down from 26.2 in the regular season. You could say that playing in Michael Jordan's era prevented Robinson from ever winning a ring during his prime, but he never even made it out of the Western Conference.
That is, until Tim Duncan came along.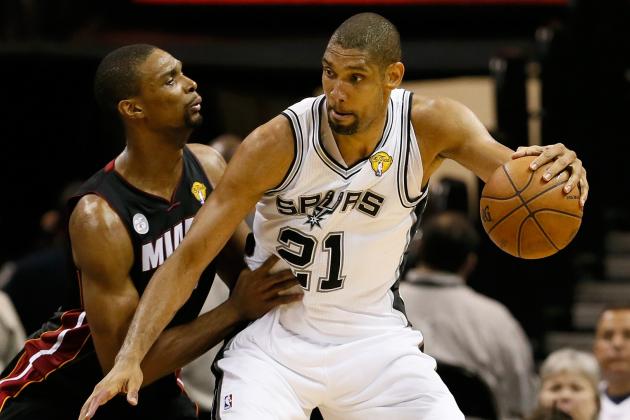 Kevin C. Cox/Getty Images
Tim Duncan, the quiet superstar, lifted the Spurs to new heights under his leadership.
Notable Spurs stats (with all-time rank): 1180 games (1), 184.2 win shares (1) 23,785 points (1), 13,219 rebounds (1), 3,612 assists (4)
It's only fitting that the longest-tenured San Antonio Spur ever, 37-year-old Tim Duncan, is No. 1 on this list.
"The Big Fundamental" might be the most consistent superstar in the history of the game. His Player Efficiency Rating has never dipped under 21.9 throughout his career, even in the past few years as Father Time has started knocking on the door.
And, unlike Robinson, Duncan actually stepped up his game in the playoffs. His 24.9 PER in the playoffs is slightly higher than his 24.7 regular-season PER. Considering the tough competition he faced in the Western Conference playoffs every year, this is very impressive.
The most impressive stat? Under Duncan's watch, no Spurs team has ever won less than 50 games in a single season (except for the lockout-shortened season of 1999, when the Spurs tied for the best record in the NBA).
I can't see Duncan letting that streak end, either.