Bayern Munich vs. Sao Paolo: 5 Things We Learned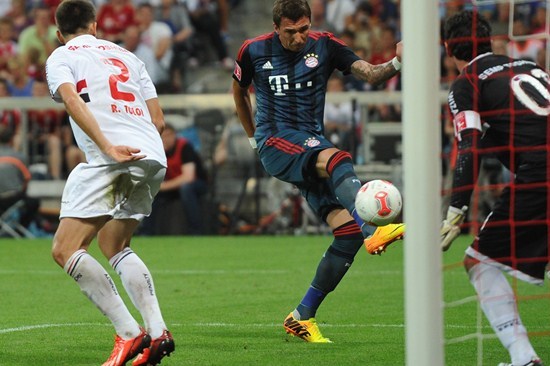 Image courtesy of FIFA.com
Bayern Munich kicked off their Audi Cup run of games on Wednesday night with an impressive 2-0 win over Brazilian side Sao Paulo at the Allianz Arena.
Fresh from a disappointing defeat to domestic rivals Borussia Dortmund in the DFL Supercup last week, Pep Guardiola's squad knuckled down and made a professional job of a hardworking and stubborn Sao Paulo side.
The Brazilians were able to hold off until half time but early in to the second half, a floated cross from Arjen Robben arrived from the right wing towards an isolated Mario Mandzukic at the back post, who calmly slotted the ball home for the opening goal.
Bayern continued their dominant pressure throughout the second half, and the second goal game not long from full time when an audacious Xheridan Shaqiri shot from outside the box curled off Sao Paulo's right hand post and landed right in the path of young substitute Mitchell Weiser, who casually knocked the ball in from a few feet out.
Sao Paulo had a late chance to regain some credit when referee Deniz Aytekin awarded the Brazilian club a penalty after Jerome Boateng pushed Silvinho over while chasing a crossed ball in the 87th minute. Yet goalkeeper Rogerio Ceni, the club's irregular set-piece taker, was unable to convert the opportunity when Manuel Neuer pushed the poor attempt on to the post to keep a clean sheet for the evening.
A comfortable 2-0 victory for the Bavarian champions.
Now click on 'Begin Slideshow' to see what five things we learned from the game.
Begin Slideshow

»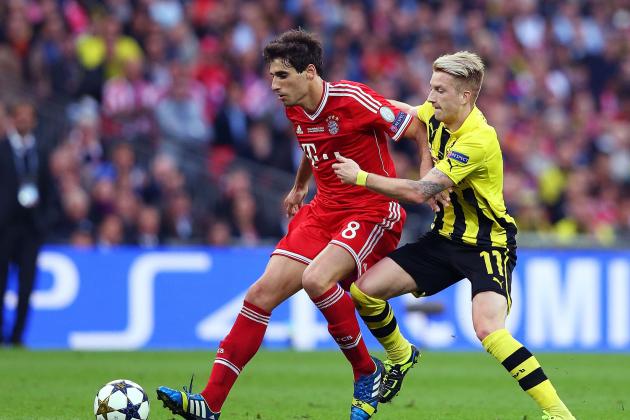 Alex Livesey/Getty Images

Throughout the transition from Jupp Heynkces to Pep Guardiola, Bayern Munich has been rife with speculation over just how Pep planned to alter all that Heynckes had worked so hard to build.
One player who stood in the middle of such speculation and rumour was Javi Martinez; the towering Basque player who played a vital role in Bayern's victories in the Bundesliga and Champions League last season from the center of midfielder alongside Bastian Schweinsteiger. Martinez may well be deployed as the new coach's central defender.
In the Spaniard's first start for Bayern Munich since Guardiola's arrival at the club, last night Martinez was clearly deployed as a central defender in a basic flat four formation, alongside his Brazilian colleague Dante.
This move does make sense when we consider that aside from Dante, Bayern are a little short when it comes to top quality central defenders, with the likes of Jerome Boateng and Daniel Van Buyten offering potential chinks in the Bavarian armor, whilst Holger Badstuber still recovers from his lengthy injury.
We also have the recent statement from Pep Guardiola, in response to persistent rumours linking his club with Chelsea defender David Luiz, stating that he was happy with the defenders at the club, and perhaps suggesting that he already had the perfect solution in the current Spanish midfielder.
Although not exactly a revolutionary move by Pep, it may come with it's fair share of potential criticism considering just how effective Martinez and Schweinsteiger were when partnered together in the middle of the park last season.
If the new coach is determined to re-deploy the once dominating midfielder in his new-look defence, then we'll surely know soon enough. Whether it turns out to be a good move will take a little longer to figure out.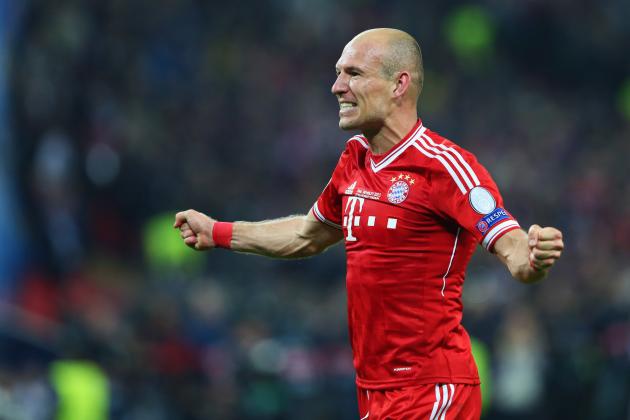 Alex Livesey/Getty Images

From one player who could well be in a completely different position from last season, to one who looks set to stay exactly where he is: Arjen Robben. The favoured Dutch winger, has been in fantastic form over the course of Bayern's preseason and a favoured member of Pep's new squad.
Heavily linked with a move out of the club when news of the Catalonian coach's imminent arrival was confirmed, Robben has slowly turned the opinions of fans and tabloid columnists alike with his stellar performances for the Munich side, while remaining ever-present in Guardiola's team.
One of the few standalone bright sparks in the Bayern side that fell to Dortmund last week, Pep will take note of Robben's increasingly notable ability to score big goals in big games when other members of the squad shy away.
In the current system, Pep seems content with still using Robben and Franck Ribery as his two wingers, and the future remains bright, or dark red, for this Senior member of the squad.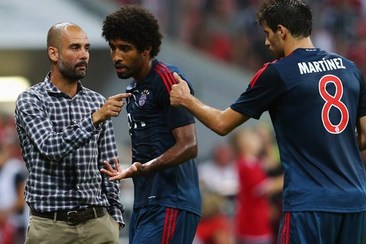 Image courtesy of FIFA.com
Like the players themselves, one of the main topics of debate and discussion surrounding Pep Guardiola's arrival at Bayern was which formation he would prefer to use. Whether it is a 3-4-3 that we often saw at Barcelona, a traditional 4-3-3 formation or the standard 4-2-3-1 tactic that brought such success to the club last season.
Yet, instead of some new-fangled formation with the power to revolutionise German football for the better, Guardiola has instead opted to continuously use a simple 4-1-4-1 tactic while playing out all but a few of this summer's preseason friendlies.
Within this set up, Pep has arrived at the conclusion that instead of playing a solitary number ten, with two holding midfielders behind him and a winger on either side, it would be more effective to play a single holding midfielder with four attacking players in front, which offer an array of constantly changing formations and roles amongst them.
Not to differ too much from the system that brought such success to his Barcelona side, the coach looks set to use this basic formation whilst also focusing on individual responsibilities and how each player performs on the pitch.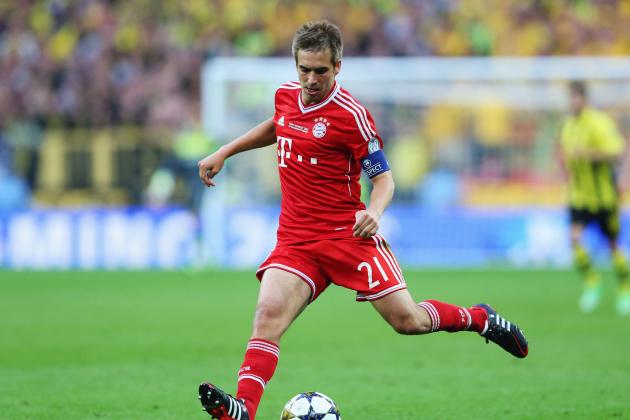 Alex Livesey/Getty Images

Another player who could find himself reinvented in Guardiola's new Bayern revolution is none other than club captain himself, Philipp Lahm, who has spent much of the summer playing in Pep's new 4-1-4-1 formation as a midfielder rather than his usual spot as right-back.
Admittedly, Guardiola did pull the German international back to full back in the first meaningful game of the season, against Dortmund in last weeks Super Cup. Yet the consistent deployments of Lahm in the central of midfield in most friendly matches, specifically against Barcelona were he seemed to thrive, suggests that the Catalonian coach is doing much more than simply using the defender as cover.
Lahm was of course incredibly prolific in his ability to create chances for the side last season, with 11 assists over the course of the last campaign. Guardiola may be tempted to acknowledge the full back's obvious ability to create goals by pushing him further up the pitch.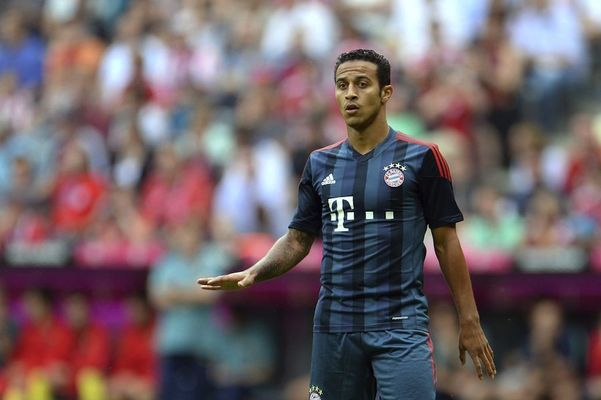 Image courtesy of ara.cat
One of the biggest surprises about last night's game wasn't the manner in which Sao Paulo's goalkeeper, Rogerio Ceni, stepped up to take a penalty or just how little the Bavarian champions had to do to win the match, but the glaring omission of Thiago Alcantara from not only the starting side but the entire match squad altogether.
The media obviously went in to overdrive making all kinds of suggestions, with the Daily Mail stating the Spaniard had been benched after Pep slapped him during the Super Cup against Dortmund, with no official reason coming from Pep Guardiola or the club.
In what was probably just a regular exercise to rotate the entire squad, Thiago's absence offered a clear insight in to just how strong this Bayern side is. For as the young Spaniard sat on the bench, in no more than a pair of jeans and a checked shirt, Bayern Munich continued on without him just as it would do for any other player in this squad. For within this Bavarian juggernaut nobody is irreplaceable.
With two or three players for every position, Pep and Bayern can afford to drop and cut players as they chose in the comfort of knowing that there will always be an alternative. Like Claudio Pizarro or Mario Mandzukic, Shaqiri or Ribery, and Boateng or Van Buyten, this strength in depth is Pep's luxury and is something that isn't likely to change as we approach the new season.