Under-the-Radar MLB Trade Deadline Deals That Will Pay Huge Dividends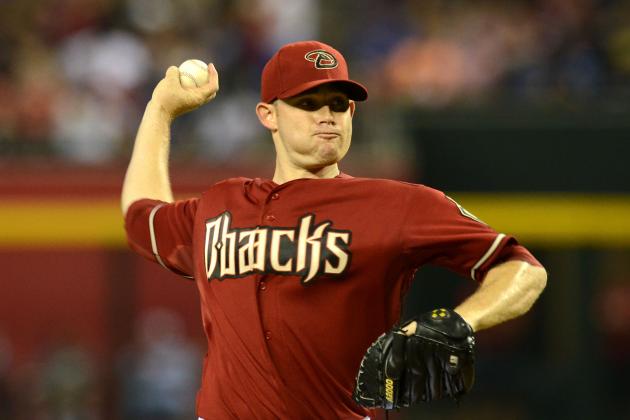 Norm Hall/Getty Images

With all the rumors behind us, we can start focusing on the future now that the MLB trade deadline has passed. Instead of focusing all our energy on the top deals, like Jake Peavy to Boston, we wanted to give credence to the trades that happened under the radar.
It is hard to have a deal be underrated since there is so much publicity and reporting surrounding the deadline, but some moves will get more publicity than others based on the markets involved and standing of the teams.
However, there were a few deals that surprised us and are worthy of praise through discussion of how much impact they will have, either immediately or in the future. Keep in mind that a list like this could easily expand before August 31 with the waiver deadline period figuring to be very busy as teams move in and out of contention.
Here are the moves that had us nodding in agreement and understanding exactly why they were made.
Note: All stats courtesy of FanGraphs and Baseball Reference unless otherwise noted. Trades courtesy of MLB.com.
Begin Slideshow

»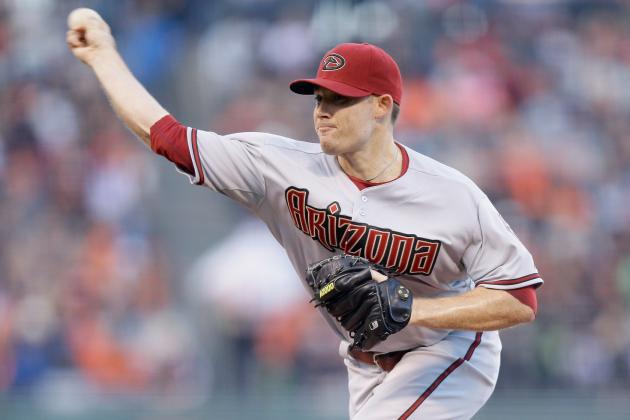 Ezra Shaw/Getty Images

Trade: Padres acquire RHP Ian Kennedy from Diamondbacks for LHP Joe Thatcher, RHP Matt Stites and 2014 competitive balance round B pick
It may be a bit of a stretch to call this an under-the-radar move because Kennedy is a fairly well-known commodity, but the fact he is going to San Diego might make some people tune out because the Padres aren't very relevant right now.
I understand this move, from a business perspective, for Arizona. The Diamondbacks have starting pitching depth in the big leagues with Wade Miley, Patrick Corbin, Randall Delgado, Trevor Cahill and Brandon McCarthy (the latter two are on the DL, but could return soon and are signed beyond 2013).
They also have young starters they can work into the rotation in the next year starting with Tyler Skaggs and Archie Bradley. Ian Kennedy has an ERA over 5.00, will likely get a raise next season in his second year of arbitration and has been a mess since finishing fourth in NL Cy Young voting two years ago.
However, for a team like the Padres, Kennedy is the perfect fit for the rotation. He is a pitcher with a straight fastball that can be elevated easily, as evidenced by the 46 home runs he has given up in 332.1 innings since the start of 2012. That kind of pitcher in Chase Field will get crushed, as we have seen this year.
However, put Kennedy in Petco Park, where fly balls go to die, and he can be a superficially good starter for the next two years and won't cost the Padres nearly as much money as it would to get a solid free-agent starter.
On top of that, all the Padres had to give up was a left-handed specialist (Joe Thatcher), an undersized reliever in Double-A who doesn't have an effective secondary pitch and a draft pick that will probably be in the 70-75 range, where you are not likely to find a big league player.
Kennedy will fit in nicely with a rotation that could be very good in 2014 with Andrew Cashner and Eric Stults.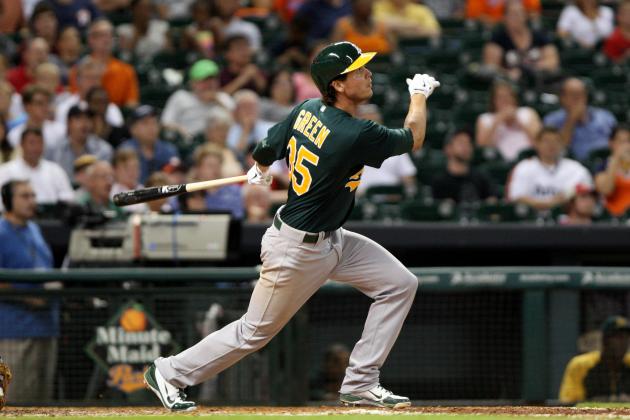 Troy Taormina-USA TODAY Sports

Trade: Angels acquire 2B Grant Green from Athletics for IF Alberto Callaspo
Green was a man without a future in Oakland. The team didn't know what to do with him because his defense at second base is below average and there are some questions about how high his offensive ceiling is.
But as a low-risk investment for the Angels, who will get six years of control and save a little money by trading Callaspo's contract, it was a move worth making.
I have always been a fan of Green's bat, though I am not naive enough to say that he is going to hit enough to be an above-average regular. There are limitations to his game, like the lack of over-the-fence pop, but Green does make up for it in other ways.
Green has a compact swing that allows him to spray line drives all over the field. He can go the other way. His approach is a little raw, as he can go up there hacking and needs to adjust to off-speed stuff, but there is bat speed that can play in the big leagues.
If Green can find a way to be serviceable at second base, his bat will play enough to make him an everyday starter on a playoff team. The Angels can give him a chance to play every day, which wasn't going to happen in Oakland with the A's trying to make another playoff run.
Callaspo does have some value as a hitter with a good approach and discipline at the plate, but he is a fringy defender wherever he plays (second, shortstop, third) with no power at all. The Angels can afford to trade that kind of player to get six years of Green.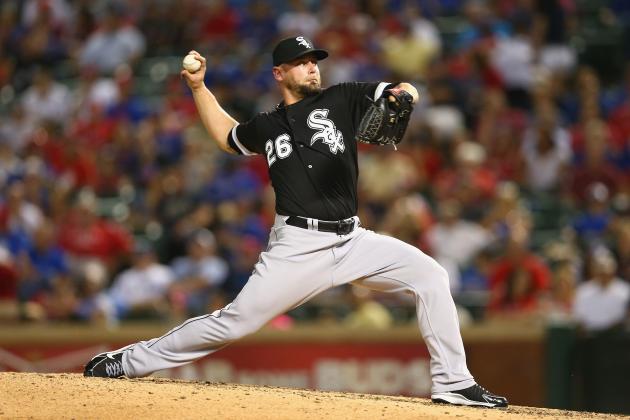 Ronald Martinez/Getty Images

Trade: Rays acquire RHP Jesse Crain from White Sox for player to be named or cash considerations
If Crain hadn't been on the disabled list for the last month, this trade would have gotten a lot more publicity than it did. What makes it such a great win for the Rays is just how little they gave up to make it happen.
The terms of the deal will likely hinge on how much Crain pitches for the Rays, so if he never throws a pitch for them, they may end up giving a small amount of cash.
Crain has been phenomenal when healthy this season, posting a 0.74 ERA and a 46-11 strikeout-to-walk ratio in 36.2 innings. No one would expect him to keep that pace up all year, but as a power fastball-slider pitcher, he can miss a ton of bats.
The Rays need help out of the bullpen, currently ranking 17th in reliever ERA and lacking depth after Alex Torres, Joel Peralta and Jamey Wright, but they aren't a team that can afford to pay big in prospects or dollars to get it.
That is why Crain is so perfect for them. The Rays are good enough to win a World Series without Crain, but if he comes back and pitches anywhere near the level he did pre-injury, that is just one more arm this team can throw at you in a short series.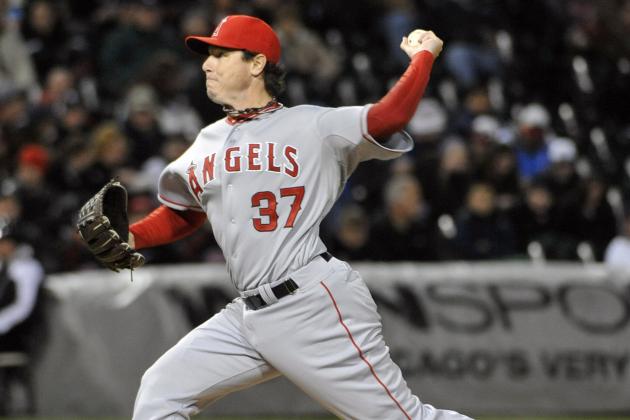 David Banks/Getty Images

Trade: Braves acquire LHP Scott Downs from Angels for RHP Cory Rasmus
It's a testament to how dull this deadline was that we are dissecting a lefty specialist, but it was a good move by the Braves to get Scott Downs for the stretch run while giving up a second-tier reliever with no clear future in the big leagues.
The strength of the Braves, as everyone knows, is in the bullpen. That group has the lowest ERA in baseball at 2.56 and ranks second in batting average against. But they did need a little more depth, which is exactly what Downs brings.
Keep in mind that the Braves lost some of their depth and versatility before the season when Jonny Venters went down with an injury, followed by Eric O'Flaherty's season-ending injury in May. They have replaced some of that depth with the likes of David Carpenter, Alex Wood and Luis Avilan.
Downs wasn't brought on to be a major piece to the puzzle. He just gives Fredi Gonzalez a little more flexibility against left-handed hitters, especially in a postseason series, where things get so micromanaged.
Lefties have hit just .192/.250/.212 off Downs this season. Suppose the Braves are playing the Dodgers in the playoffs and Adrian Gonzalez comes up late in the game with runners in scoring position. Now Fredi Gonzalez can turn to someone he knows has an overwhelming chance to record the out to keep his team in position to win.
It's not a huge deal, nor is the overall impact likely to be great, but in a big spot we will see what role Downs plays for the Braves.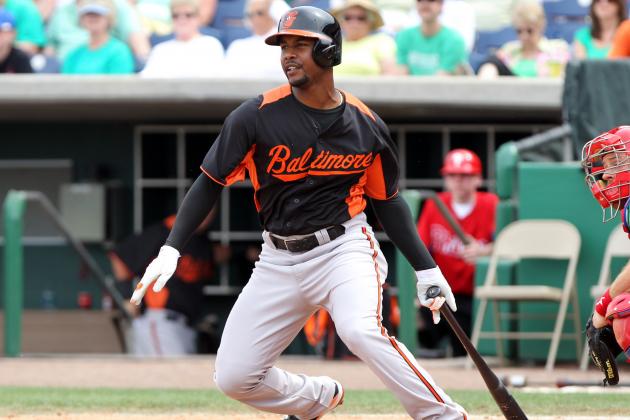 Kim Klement-USA TODAY Sports

Trade: Astros acquire OF L.J. Hoes, LHP Josh Hader and 2014 competitive balance round A draft pick from Orioles for RHP Bud Norris and international signing bonus money
Considering what we were hearing about the price for Bud Norris, the package the Astros wound up getting left a lot to be desired.
Norris isn't a great starter, though he could pitch at the back of a rotation for a good team. His fastball and slider are weapons that could be more valuable out of the bullpen, which is probably why teams weren't giving up more to get him even though he has two years of control left.
Hoes has some offensive tools with a good approach and contact rate, but he can't hit for power and projects as a left fielder, which doesn't do him any favors.
Ultimately, Hoes' role will probably wind up being as a backup or bench player. But for this current iteration of the Astros, he could play every day and find some level of success before the team's wave of prospects makes it to the big leagues.
Hader is a lefty reliever with a good fastball but little control and less command (42 walks in 85 innings this season).
However, while I wouldn't exactly say I like the deal, I ultimately am intrigued by it because of the draft pick. Next year's draft will be deeper than 2012 or 2013, and the Astros are getting the second pick in the first competitive balance round. For reference, that would have been the 35th overall pick this year.
In a deep draft, a pick that high will have some value. Obviously, we are years away from knowing whether that pick will turn out to be anything. But in terms of potential value, especially in a good draft, the Astros could realistically get a very good player.
If you want to talk baseball, feel free to hit me up on Twitter with questions or comments.