Re-Ranking All 30 MLB Rotations Post-MLB Trade Deadline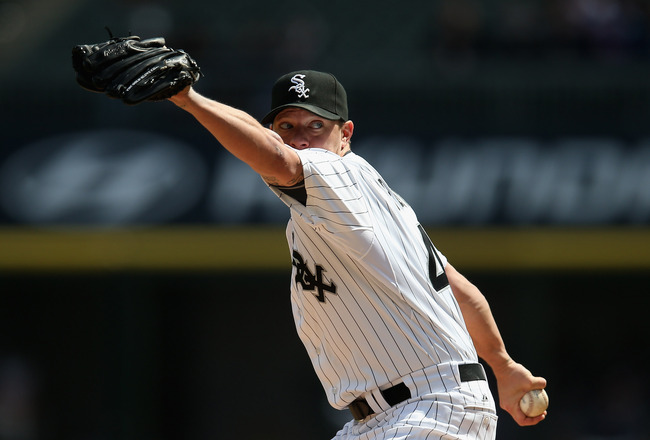 Jake Peavy is going to have to pitch a tad better to actually help the Boston Red Sox in 2013.
Jonathan Daniel/Getty Images
The 2013 non-waiver trade deadline has come and passed. A variety of notable players switched teams and will now either bolster their new squad or leave a glaring void on their old squad.
In regards to starting pitching, several big-name rotation fixtures switched teams. The Baltimore Orioles were the most active, acquiring both Scott Feldman and, more recently, Bud Norris to keep their playoffs hopes alive. Likewise, the ailing Texas Rangers nabbed former Chicago Cubs ace Matt Garza, who will be a free agent at the end of the season.
But perhaps the biggest pull—at least, in terms of headlines—was the Boston Red Sox acquisition of Jake Peavy. The 32-year-old Peavy was the biggest name on the market, despite enduring an off year thus far in 2013. Still, one could make a good case that Garza will help the Rangers more than Peavy will ever aid the Red Sox.
The post-deadline period is always a good time to assess what a team's ultimate fate will look like, and a great place to begin is by looking at the starting pitching.
Following is how all 30 MLB rotations rank out post-deadline.
All statistics (through July 30) courtesy of Baseball-Reference.com and FanGraphs.com.
30. Houston Astros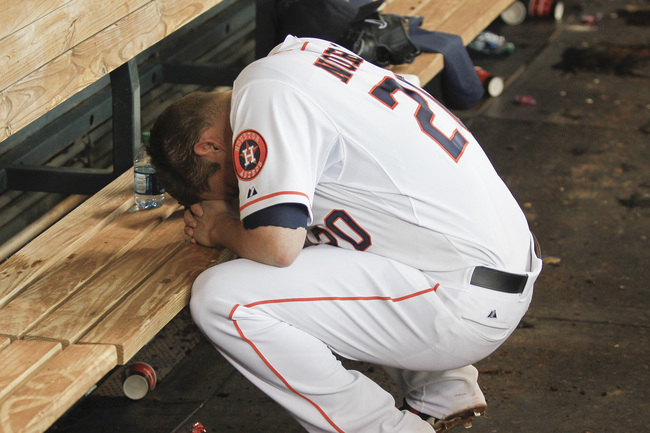 It's been a cringe-worthy season for the Houston Astros.
Bob Levey/Getty Images
Team ERA: 4.94
Team Fielding Independent Pitching (FIP): 4.86
The Houston Astros already sported the worst rotation in baseball before trading Bud Norris to Baltimore. So now the Astros will simply continue to possess the league's worst staff.
The likes of Lucas Harrell, Erik Bedard, Dallas Keuchel and Jordan Lyles have combined for a 4.78 ERA, 1.52 WHIP and 1.69 K/BB. The emergence of 23-year-old Jarred Cosart will help improve that dismal group of statistics, but he can only do so much.
29. San Diego Padres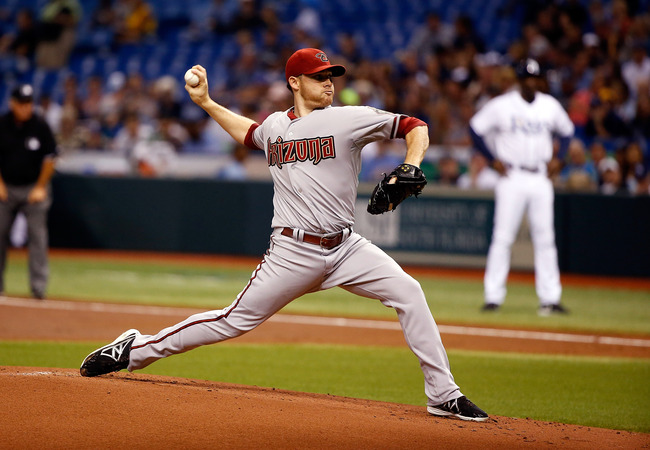 Ian Kennedy will look to rejuvenate his career in San Diego.
J. Meric/Getty Images
Team ERA: 4.18
Team FIP: 4.19
At nine games below .500 and in fourth place in the National League West, most people assumed the San Diego Padres would be sellers at the deadline. Instead, they bought low on starter Ian Kennedy.
The Padres acquired Kennedy on Wednesday for reliever Joe Thatcher, minor leaguer Matt Stites and a compensation draft pick. The 28-year-old Kennedy has been abysmal in 2013, posting a 5.23 ERA (versus park-adjusted 74 ERA+), 1.41 WHIP and 2.25 K/BB.
But Kennedy still has value, as he still has two years of arbitration left and is only two years removed from a 137 ERA+.
The Padres are hoping that Kennedy could perhaps join Andrew Cashner as the second part of a cheap rotation tandem for the next several years.
28. Milwaukee Brewers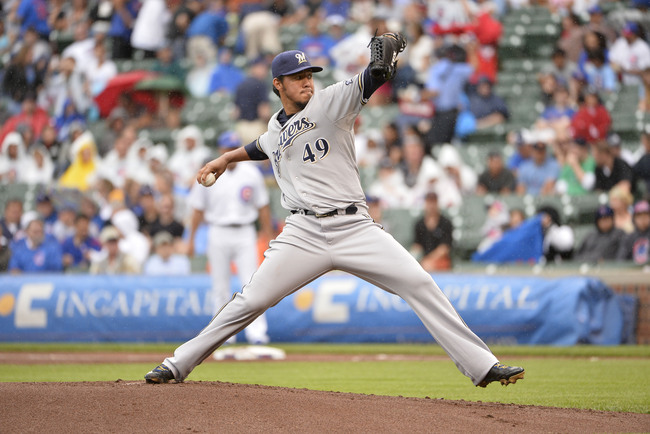 Where have you gone, Yovani Gallardo?
Brian Kersey/Getty Images
Team ERA: 4.03
Team FIP: 4.15
The Milwaukee Brewers have been one of the most disappointing teams in baseball this year. In addition to underperforming, franchise cornerstone Ryan Braun was recently caught front and center in the Biogenesis scandal and hit with a 65-game suspension.
Aside from Braun, the Brewers rotation, too, has been a debacle. Yovani Gallardo, who just two years ago was a Cy Young Award candidate, has posted a 4.91 ERA (versus park-adjusted 79 ERA+). Gallardo is now on the disabled list with a hamstring injury.
The lone bright spot in the rotation has been Kyle Lohse. Lohse, who signed with the Brewers in late March, has pitched to the tune of a 3.22 ERA (versus 121 ERA+), 1.13 WHIP and 4.00 K/BB.
Unfortunately, Lohse's worthy contributions have meant little to the lowly Brewers.
27. Minnesota Twins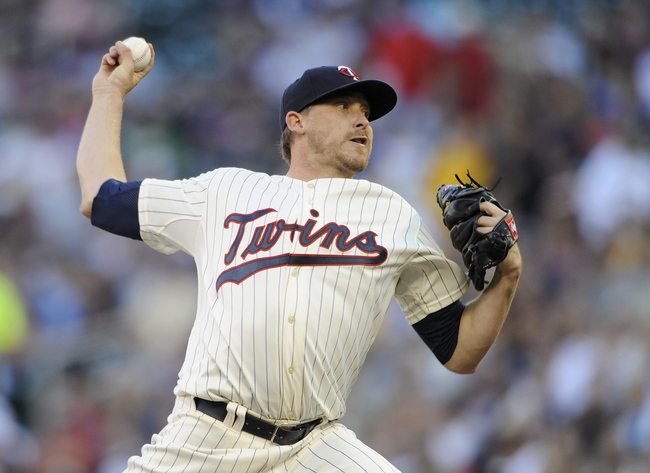 It's still a tad puzzling as to why the Minnesota Twins signed Kevin Correia to a two-year deal.
Hannah Foslien/Getty Images
Team ERA: 4.34
Team FIP: 4.17
When your best starting pitcher, statistically, has been Sam Deduno, you know your team is in trouble. Deduno has posted a park-adjusted 130 ERA+, but in only 76.1 innings thus far.
The Twins' three offseason acquisitions, Kevin Correia (90 ERA+), Mike Pelfrey (78 ERA+) and Vance Worley (57 ERA+) have all been disappointments, too. And while Worley could perhaps rebound to his 2011 self (127 ERA+ with Philadelphia), he has been working out the kinks in Triple-A Rochester since May.
26. Los Angeles Angels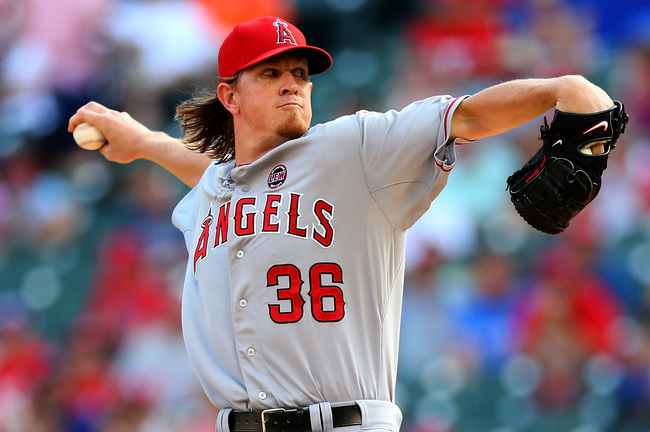 Keep doing your thing, Jered Weaver.
Ronald Martinez/Getty Images
Team ERA: 4.37
Team FIP: 4.07
Aside from Jered Weaver (park-adjusted 132 ERA+), the Los Angeles Angels rotation has been pathetic.
After handing C.J. Wilson a $77.5 million contract in 2011, the lefty has posted a pedestrian 103 ERA+. Considering Wilson owned a 142 ERA+ in his final two seasons with the Texas Rangers, the Angels can't be pleased with the pitcher's output.
The rest of the Angels staff is filled out by Joe Blanton (68 ERA+), Tommy Hanson (73 ERA+) and Jason Vargas (103 ERA+).
25. Toronto Blue Jays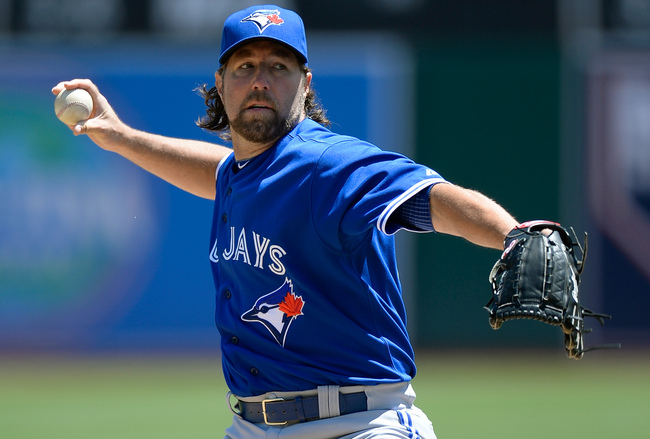 R.A. Dickey's knuckleball might still float like a butterfly, but it hasn't stung like a bee in 2013.
Thearon W. Henderson/Getty Images
Team ERA: 4.34
Team FIP: 4.42
The Toronto Blue Jays obtained the majority of their rotation this offseason from the New York Mets (R.A. Dickey) and Miami Marlins (Josh Johnson, Mark Buehrle). But to date, it hasn't worked out.
The trio of offseason acquisitions have combined for a 4.89 ERA, 1.35 WHIP and 2.50 K/BB.
Losing Brandon Morrow last week to a nerve injury for the season didn't help matters either, but the righty still only hurled a park-adjusted 74 ERA+ while he has been healthy this season.
The Blue Jays didn't bring any reinforcements at the trade deadline, so the team's bleak outlook continues to look, well, bleak.
24. Kansas City Royals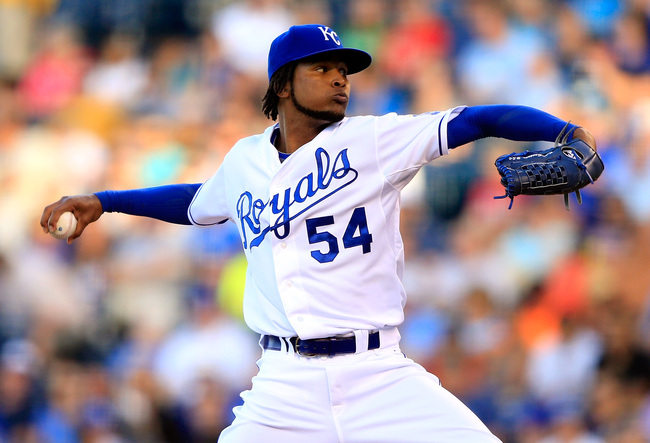 So far in 2013, Ervin Santana has made the Los Angeles Angels second-guess trading him in the offseason.
Jamie Squire/Getty Images
Team ERA: 3.64
Team FIP: 3.99
All eyes were on James Shields, as the Kansas City Royals traded the farm to acquire him from the Tampa Bay Rays in December. Shields has held up his part of the bargain, posting a park-adjusted 132 ERA+ (versus 3.09 ERA), but he hasn't been the Royals' best pitcher or offseason acquisition for that matter.
Instead, Ervin Santana has been the surprise ace for the Royals. The team acquired him for peanuts in the offseason, and they have been rewarded with a 135 ERA+ (versus 3.03 ERA) and 3.71 K/BB from the 30-year-old righty.
Yet, while Shields and Santana have been terrific, one can't say the same for Wade Davis (74 ERA+), Jeremy Guthrie (96 ERA+) and Luis Mendoza (79 ERA+).
23. Chicago Cubs
Travis Wood has emerged as the Chicago Cubs' best starting pitcher.
Thearon W. Henderson/Getty Images
Team ERA: 3.91
Team FIP: 3.99
The Chicago Cubs have been very public about their rebuilding intentions. Having dealt Scott Feldman and Matt Garza, the Cubs' second-half rotation will undoubtedly see a massive drop-off in production.
That said, at least the team still has Jeff Samardzija (park-adjusted 106 ERA+) and Travis Wood (142 ERA+) atop their rotation. And if Edwin Jackson can turn around his putrid season (85 ERA+), perhaps the rotation could exceed expectations.
22. San Francisco Giants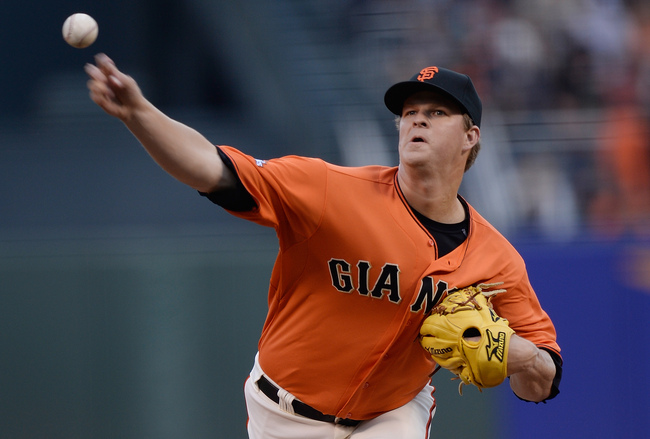 Matt Cain's horrendous 2013 season has been a complete mystery.
Thearon W. Henderson/Getty Images
Team ERA: 4.14
Team FIP: 3.81
The San Francisco Giants have gone from first to worst in just a year. The reigning World Series champs currently sit over 10 games below .500.
Their losing ways mostly falls upon the shoulders of bad starting pitching. With the exception of Madison Bumgarner (park-adjusted 121 ERA+), the rest of the Giants staff has struggled in 2013. Matt Cain (70 ERA+), Tim Lincecum (73 ERA+) and Barry Zito (66 ERA+) have all been below-average performers.
Granted, while the loss of Ryan Vogelsong to injury certainly hurt, the statistics speak for themselves.
21. Cleveland Indians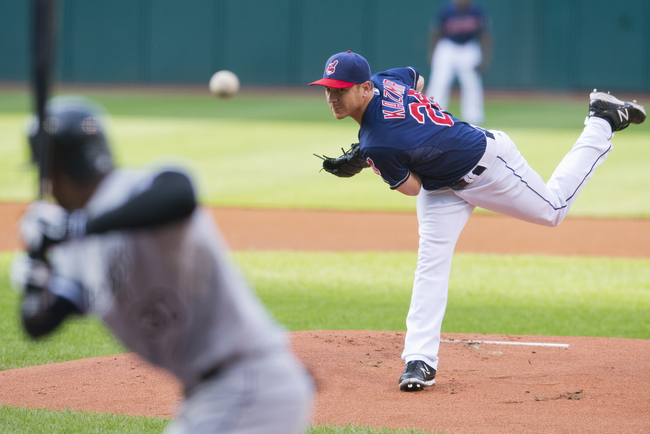 Scott Kazmir has revitalized his career in Cleveland.
Jason Miller/Getty Images
Team ERA: 4.07
Team FIP: 4.06
Few expected the Cleveland Indians to be contenders this year, but a large part of the team's success is due to its shockingly effective rotation. The Indians sport a rotation of Justin Masterson, Zach McAllister, Corey Kluber, Ubaldo Jimenez and Scott Kazmir.
With no ace in sight, though, the Tribe's fate seemed sealed.
Still, each of the above pitchers have outperformed most all expectations. Masterson leads the charge with a park-adjusted 111 ERA+, but it's really been the emergence of Kluber (102 ERA+) and Kazmir (93 ERA+) that has propelled the group.
The Indians might have gotten lucky with their Sandlot-esque rotation, but there are just far too many superior staffs in the league to rank the Tribe any higher than No. 21.
20. Baltimore Orioles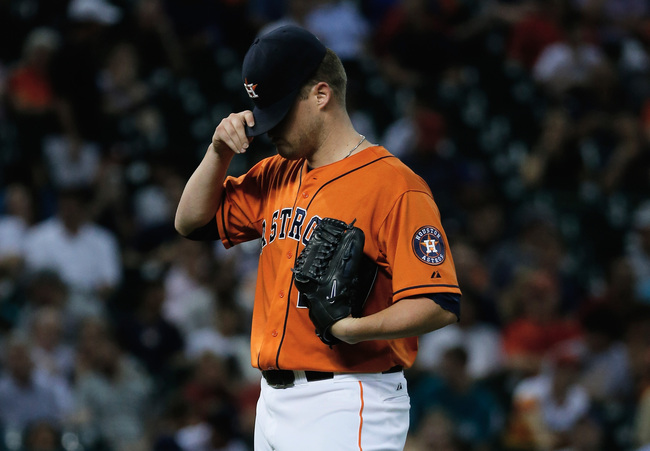 Will Bud Norris help the Baltimore Orioles win some games?
Scott Halleran/Getty Images
Team ERA: 4.30
Team FIP: 4.46
You have to give the third-place Baltimore Orioles some credit—they want to win. The Orioles have been busy in July, executing deals for starters Scott Feldman and Bud Norris.
Feldman hasn't been as advertised yet, posting just an 82 ERA+ with the O's despite a solid park-adjusted 115 ERA+ with Chicago. The team is hoping that Norris, acquired Wednesday, will be enough to overtake both the Boston Red Sox and Tampa Bay Rays in the AL East.
The Orioles, however, still lack a true ace that can put them into the next tier of arms.
19. Miami Marlins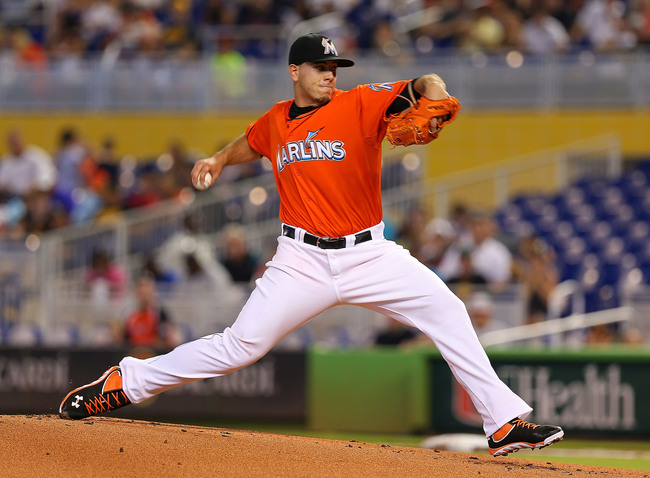 Jose Fernandez is only 20 years old.
Mike Ehrmann/Getty Images
Team ERA: 3.76
Team FIP: 3.70
The Miami Marlins dismantled most of their squad before the season but continued the rebuilding process by dealing Ricky Nolasco to Los Angeles Dodgers on July 6.
But while Nolasco might have been the veteran anchor, rookie Jose Fernandez has been the true ace. Fernandez owns a 2.71 ERA (versus park-adjusted 143 ERA+), 1.04 WHIP and 2.95 K/BB, and he has an even brighter future ahead of him.
Even Jacob Turner, whom the Marlins acquired from the Detroit Tigers in the Anibal Sanchez trade last season, has been the real deal. Turner has spun a 2.65 ERA (versus 147 ERA+), 1.19 WHIP and 1.96 K/BB over 71.1 innings.
The loss of Nolasco hurts the rotation, but the future of the Marlins staff looks exciting.
18. Philadelphia Phillies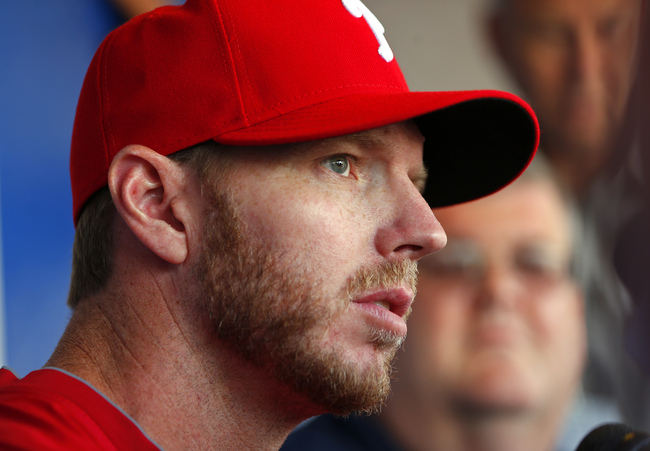 Roy Halladay: lost, but not forgotten.
Rich Schultz/Getty Images
Team ERA: 4.21
Team FIP: 3.94
Losing ace Roy Hallday in early May really hurt the Phillies. And even though Cliff Lee has done his part (park-adjusted 125 ERA+), Cole Hamels has not. Hamels has posted a mere 93 ERA+, which is his worst rate since 2009. The 29-year-old is also leading the league in losses (13).
Beyond Lee and Hamels, the Phillies haven't received much production. Kyle Kendrick (89 ERA+), Jonathan Pettibone (94 ERA+) and John Lannan (93 ERA+) have all been mediocre, but that should have been expected.
The great Phillies teams of recent memory were built from great rotations and the Phils have a ways to go before reaching that level once again.
17. Colorado Rockies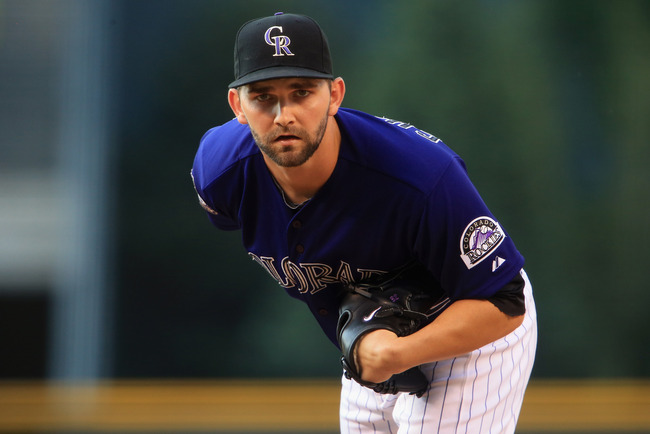 Yes, we're looking at you, Tyler Chatwood.
Doug Pensinger/Getty Images
Team ERA: 4.22
Team FIP: 3.83
There aren't a lot of big names in the Colorado Rockies rotation, but that doesn't mean they shouldn't get some respect. The likes of Jhoulys Chacin (park-adjusted 124 ERA+), Jorge De La Rosa (138 ERA+) and Tyler Chatwood (140 ERA+) have all pitched extremely well for the Rockies.
The poor pitching of Juan Nicasio (90 ERA+), Jon Garland (76 ERA+) and Jeff Francis (67 ERA+), however, has marred an otherwise solid rotation.
The Rockies don't stand much of a chance in the NL West, but it would have been interesting to see the team make some moves and acquire an anchor their trio of productive hurlers.
16. Oakland Athletics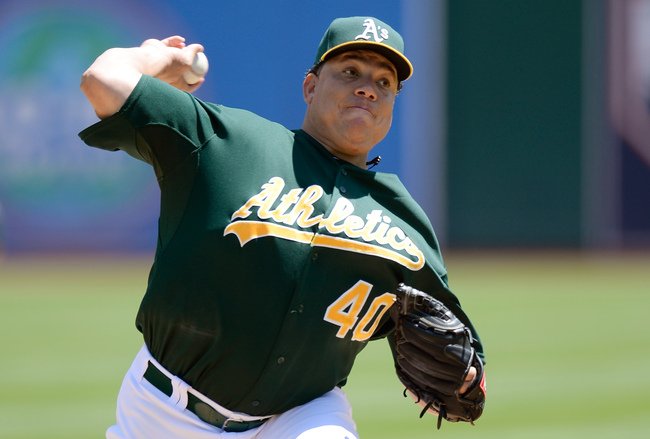 Even at age 40, Bartolo Colon is better than ever.
Thearon W. Henderson/Getty Images
Team ERA: 3.60
Team FIP: 3.88
The Oakland Athletics always just find a way to win, and when you get a consistently sterling performance out of veteran Bartolo Colon like they have, their reign atop the AL West makes some sense.
Colon, 40, has been one of the league's best pitchers this season, hurling a park-adjusted 153 ERA+ (versus 2.54 ERA). He hasn't struck out many hitters (4.9 K/9), but the righty's pinpoint control (1.1 BB/9) has been the key to his success.
The drop-off after Colon, however, is pretty stark. None of A.J. Griffin (99 ERA+), Tommy Milone (95 ERA+), Jarrod Parker (95 ERA+) or Dan Straily (88 ERA+) come close to Colon's production. In fact, one could say that besides Colon, the rest of the A's rotation is filled with a bunch of No. 4 and No. 5 starters.
15. Seattle Mariners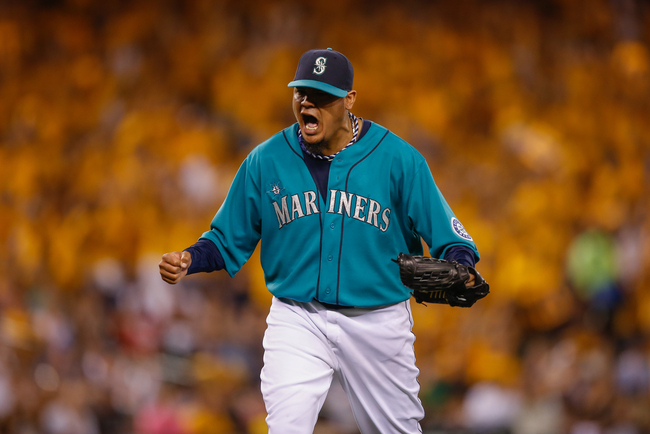 You'd be celebrating, too, if you had a park-adjusted 157 ERA+ like Felix Hernandez.
Otto Greule Jr/Getty Images
Team ERA: 4.19
Team FIP: 3.92
The Seattle Mariners have one of the most eclectic starting staffs in the majors. Despite boasting two of the best individual starters in Felix Hernandez (park-adjusted 157 ERA+) and Hisashi Iwakuma (133 ERA+), the team also possesses two of the league's worst in Aaron Harang (75 ERA+) and Joe Saunders (79 ERA+).
In many ways, the pair balance out each other, but unless the Mariners promote Taijian Walker, the team's rotation will stay in the middle of the pack.
14. New York Yankees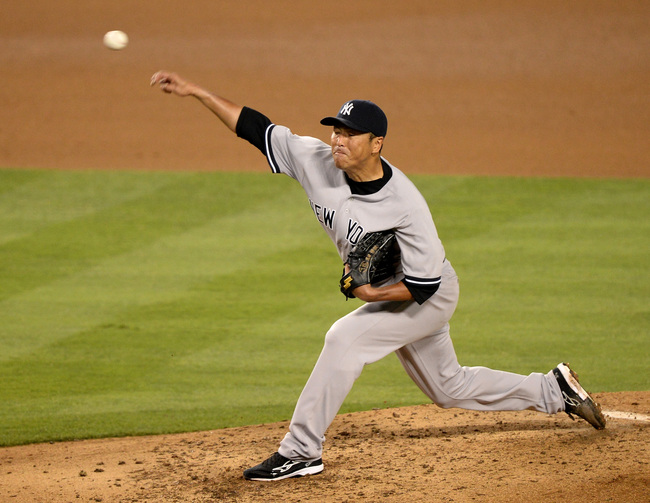 Hiroki Kuroda, not C.C. Sabathia, has been the New York Yankees' ace.
Harry How/Getty Images
Team ERA: 3.74
Team FIP: 3.80
Most of the New York Yankees roster has been decimated by injuries, but luckily, their starting pitchers have been pretty solid.
Even though CC Sabathia has struggled all year (park-adjusted 87 ERA+), Hiroki Kuroda (161 ERA+) has emerged as the Bombers' real ace. The team has also received some surprising success from Ivan Nova, who has spun a career best 119 ERA+.
With the exception of acquiring Alfonso Soriano, the Yankees were pretty quiet at deadline. Considering the decline of Sabathia and hittability of Phil Hughes (1.60 home runs per nine innings), the Yanks will likely miss the playoffs for just the second time since 1995.
13. Chicago White Sox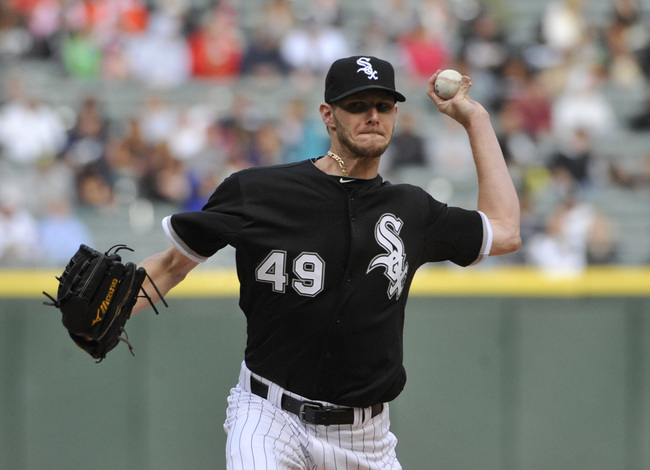 The Chicago White Sox might have traded Jake Peavy, but Chris Sale is their true ace.
David Banks/Getty Images
Team ERA: 3.95
Team FIP: 3.90
The Chicago White Sox belatedly raised the white flag at deadline this season. After weeks of speculation, the team finally dealt right-hander Jake Peavy to the Red Sox, netting three prospects in return.
Peavy, 32, has not looked like an ace in 2013, posting a 4.28 ERA (versus park-adjusted 100 ERA+), 1.13 WHIP and 4.47 K/BB. While he will certainly help the Red Sox, his departure might not dent the White Sox rotation as much as it may seem.
The White Sox still have Chris Sale (159 ERA+), Jose Quintana (121 ERA+), Hector Santiago (129 ERA+) and John Danks (94 ERA+) in tow. Perhaps if Brazilian rookie Andre Rienzo can post just average production and hold his own, the White Sox rotation might not lose too much ground.
12. Arizona Diamondbacks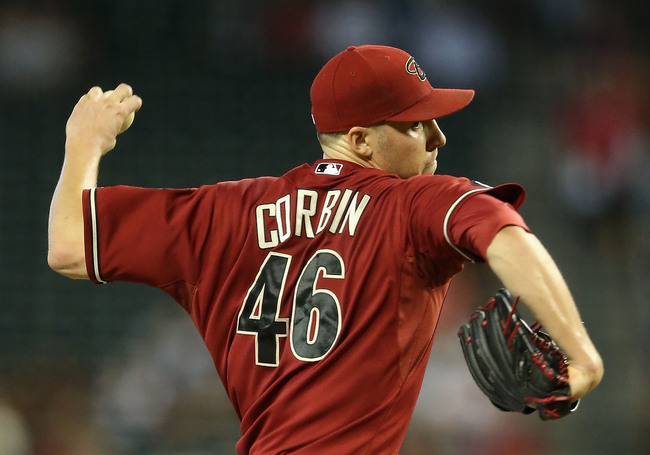 Patrick Corbin's park-adjusted 171 ERA+ is about as sexy as it gets.
Christian Petersen/Getty Images
Team ERA: 3.74
Team FIP: 3.95
Even though the Arizona Diamondbacks might have sold low on Ian Kennedy by essentially trading him for a left-handed specialist (Joe Thatcher), it's also indicative of the team's rotation depth.
With Brandon McCarthy and Trevor Cahill set to come off the disabled list soon, there was little room for Kennedy, who has struggled in 2013 (5.23 ERA versus park-adjusted 74 ERA+). In fact, subtracting Kennedy, despite his solid career track record, might statistically help the Snakes.
McCarthy and Cahill will now join Patrick Corbin (171 ERA+), Wade Miley (105 ERA+) and Randall Delgado (135 ERA+) in the near future, creating a more solid staff.
It's also worth noting that the Diamondbacks boast pitching prospects like Tyler Skaggs, Archie Bradley and Andrew Chafin, too.
11. New York Mets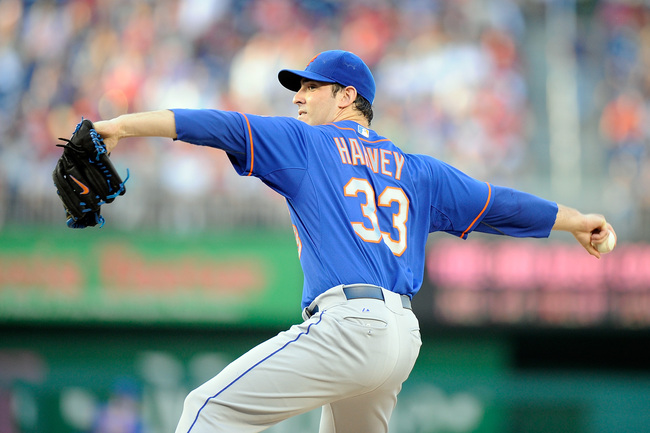 Matt Harvey is the best homegrown New York Mets pitcher since Dwight Gooden.
Greg Fiume/Getty Images
Team ERA: 3.85
Team FIP: 3.81
Say what you will about the New York Mets (and there's a lot to be said), but the team's rotation is fun to watch.
Matt Harvey has not only emerged as legitimate ace, but also as a top-three pitcher in baseball. The 24-year-old has posted a 2.11 ERA (versus park-adjusted 171 ERA+), 0.88 WHIP and 5.66 K/BB this season. Harvey leads the league in strikeouts (164) and K/9 (10.2), too.
Though still comparatively raw, Zack Wheeler, 24, has also shown glimpses of stardom. He has pitched to the tune of a 3.55 ERA (versus 103 ERA+), 1.33 WHIP and 1.57 K/BB.
Along with Dillon Gee (88 ERA+), Jeremy Hefner (86 ERA+) and now Jenrry Mejia (179 ERA+ over first two starts), the Mets rotation is actually pretty good.
10. Boston Red Sox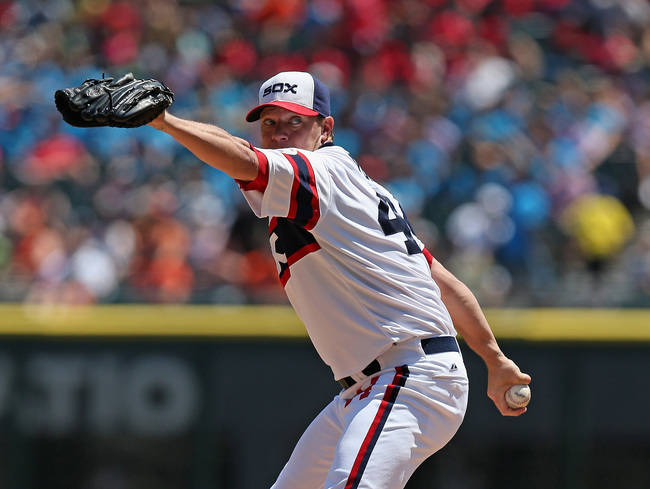 The Boston Red Sox won the Jake Peavy sweeptstakes, but will they win anything else?
Jonathan Daniel/Getty Images
Team ERA: 3.80
Team FIP: 3.96
The Boston Red Sox have to be pretty thrilled with John Lackey's performance. Lackey, who missed all of 2012 due to Tommy John surgery, has spun a 3.19 ERA (versus park-adjusted 132 ERA+), 1.18 WHIP and 4.25 K/BB this year.
But with stud Clay Buchholz on the disabled list for a still undetermined amount of time, the Red Sox felt the need to add another option and acquired Jake Peavy.
Peavy, 32, hasn't been particularly dominant this season, posting a park-adjusted 100 ERA+, but the Red Sox are banking on the former Cy Young Award winner to channel his former self in a winning environment.
9. Texas Rangers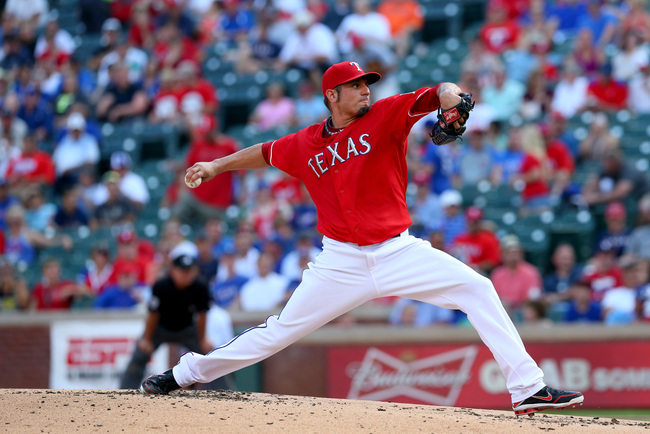 Matt Garza has been as advertised over his first two starts for the Texas Rangers.
Ronald Martinez/Getty Images
Team ERA: 3.78
Team FIP: 3.77
The Texas Rangers' only problem has been staying healthy, as the Rangers have seen Alexi Ogando, Yu Darvish, Matt Harrison, Neftali Feliz and Colby Lewis all spend a significant time on the disabled list.
Yet the Rangers have still managed to boast one of the league's finest rotations.
That label is only furthered by the acquisition of Matt Garza. Over his first two starts with Chicago, Garza has spun a 1.88 ERA and 3.67 K/BB.
As exciting as Garza's addition has been, the Rangers could also see the return of both Harrison and Lewis in the near future. Needless to say, a rotation of Darvish, Garza, Ogando, Harrison and Derek Holland would be a force.
8. Los Angeles Dodgers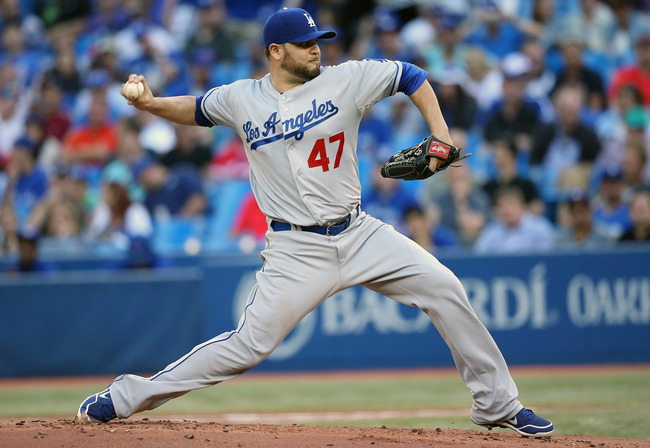 The Los Angeles Dodgers wasted little time in July to acquire Ricky Nolasco.
Tom Szczerbowski/Getty Images
Team ERA: 3.52
Team FIP: 3.64
A lot of people scorned the Los Angeles Dodgers this offseason when they continued pursuing starting pitching despite their depth at the position. Given the injuries and ineffectiveness to Josh Beckett, Chris Capuano, Aaron Harang, Chad Billingsley and even Zack Greinke, however, perhaps the Dodgers had good foresight.
The Dodgers' infatuation with starting pitching continued with their acquisition of Ricky Nolasco from Miami in early July.
Mostly due to their rotation of Clayton Kershaw, Hyun-jin Ryu, Greinke, Capuano and now Nolasco, the Dodgers are finally atop their division standings.
7. Tampa Bay Rays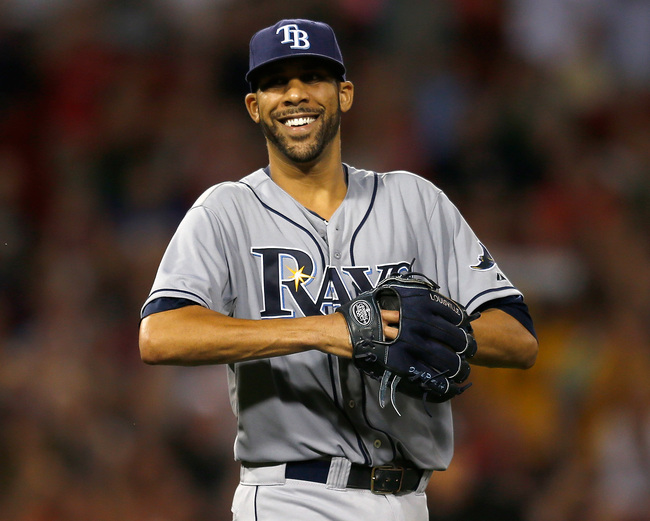 David Price has a lot to smile about lately.
Jim Rogash/Getty Images
Team ERA: 3.73
Team FIP: 3.71
After missing over a month, the Tampa Bay Rays got their ace pitcher David Price back from the DL. Since being activated, Price has thrown a 1.68 ERA and 35.0 K/BB. Yes, you read that correctly: just one walk since July 2.
Chris Archer has also quietly spun a dominant park-adjusted 161 ERA+ over 67.2 innings for the Rays this year. Archer, 24, still has some command issues (1.88 K/BB), but a team could do a lot worse with a bottom-of-the-rotation option.
With Alex Cobb on the mend after taking a line drive to the head in June and Matt Moore bound to return from left elbow soreness after just a couple missed starts, the Rays could ride their rotation into the playoffs.
6. Pittsburgh Pirates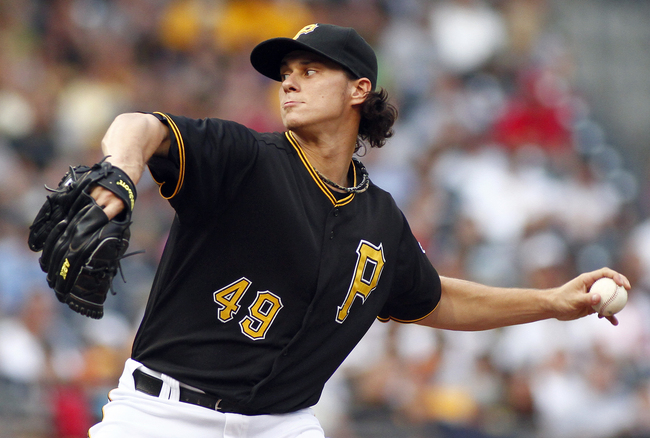 Jeff Locke has finally come into his own at age 25.
Justin K. Aller/Getty Images
Team ERA: 3.03
Team FIP: 3.65
The Pittsburgh Pirates are en route to their first playoff trip in more than two decades, and most of the Pirates' success has been due to the team's dominant rotation.
The Pirates have received surprising performances from both Jeff Locke (2.36 ERA versus park-adjusted 150 ERA+) and Francisco Liriano (2.16 ERA versus 164 ERA+), despite otherwise mediocre or inconsistent careers.
A.J. Burnett, at age 36, has also spun a career year, posting a 2.86 ERA (versus 124 ERA+), 1.21 WHIP and 2.81 K/BB. With top prospect Gerrit Cole (3.56 ERA versus 100 ERA+) and Wandy Rodriguez (currently on the disabled list) rounding out the rotation, the Pirates have a lot to be excited about in the second half.
5. Washington Nationals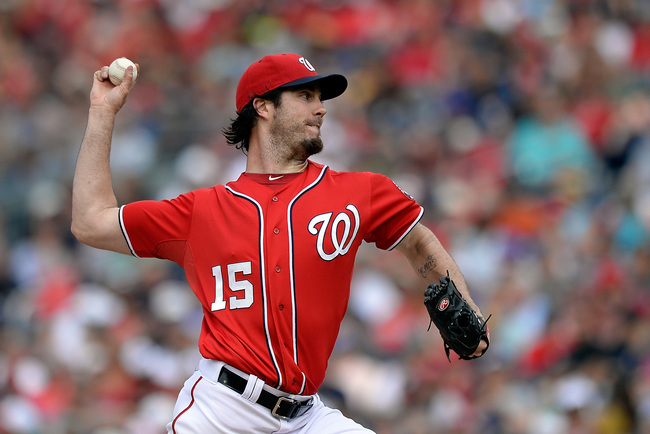 Dan Haren is far from the ace he's been over the course of his career.
Patrick McDermott/Getty Images
Team ERA: 3.69
Team FIP: 3.58
The Washington Nationals, in general, have underachieved this season, but their rotation has still been a bright spot. The Nats possess three legitimate aces in Stephen Strasburg (park-adjusted 125 ERA+), Gio Gonzalez (107 ERA+) and Jordan Zimmermann (119 ERA+)—even though none of them has pitched to their fullest abilities in 2013.
The true disappointment, however, has been veteran Dan Haren. Haren has posted a 69 ERA+ this season, which is 47 points below his career rate. To his credit, the 32-year-old has looked slightly better in the second half so far, posting a 3.13 ERA over his first four starts after the break.
If the Nationals can somehow motivate their rotation to pitch to their respective talent levels, the team could quickly become a playoff contender.
4. Atlanta Braves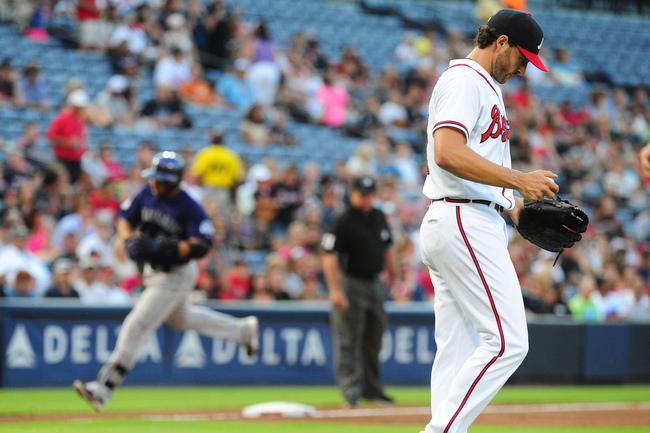 Brandon Beachy might need to make some adjustments, but he could replace Tim Hudson's production.
Scott Cunningham/Getty Images
Team ERA: 3.69
Team FIP: 3.58
The Atlanta Braves arguably boasted a top-five rotation until Tim Hudson broke his ankle on an unfortunate bang-bang play at first base. Hudson, 38, was in the midst of a solid but not spectacular season, posting a park-adjusted 97 ERA+ (versus 3.97 ERA).
But even with the loss of Hudson, the Braves still have Mike Minor (140 ERA+), Julio Teheran (125 ERA+), Kris Medlen (103 ERA+) and Paul Maholm (87 ERA+).
General manager Frank Wren decided against acquiring a starter at the deadline, perhaps because Brandon Beachy was set to be activated from the disabled list. Beachy, 26, posted a sensational 200 ERA+ over 81 innings in 2012 before succumbing to Tommy John surgery.
It's not unreasonable to think that Beachy could replace Hudson's production for the rest of the way in 2013.
3. St. Louis Cardinals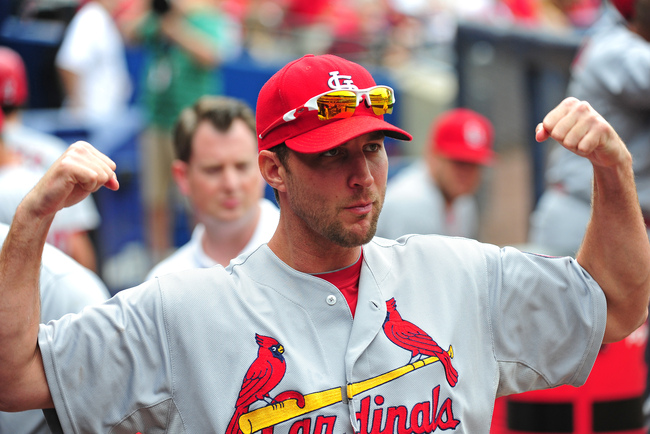 Adam Wainwright and his park-adjusted 141 ERA+ are all that is man.
Scott Cunningham/Getty Images
Team ERA: 3.43
Team FIP: 3.27
The St. Louis Cardinals had their name thrown around in the Jake Peavy sweepstakes, but the team didn't really need the former Chicago White Sox pitcher.
Adam Wainwright (2.61 ERA versus park-adjusted 141 ERA+), Lance Lynn (3.87 ERA versus 96 ERA+), Shelby Miller (2.79 ERA versus 133 ERA+) and even Jake Westbrook (3.18 ERA versus 116 ERA+) have all been main factors in the Cardinals' success in 2013.
Even though the Cardinals lost Jaime Garcia for the season, the team also has youngster Carlos Martinez waiting in the wings and veteran Chris Carpenter on a rehab assignment.
2. Cincinnati Reds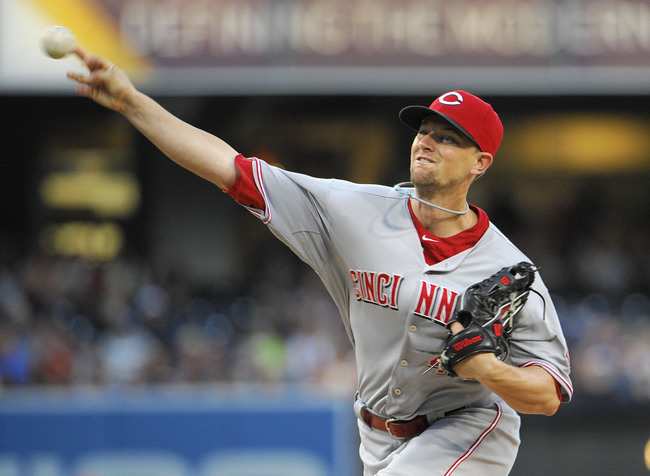 Mike Leake has been ace worthy in 2013.
Denis Poroy/Getty Images
Team ERA: 3.33
Team FIP: 3.63
One could easily make a case that the Cincinnati Reds rotation is better than the Detroit Tigers, based on pure depth. The Reds boast a rotation of Mat Latos, Homer Bailey, Mike Leake, Bronson Arroyo, Tony Cingrani and Johnny Cueto (currently on the disabled list).
Despite great seasons from the above starters, perhaps Leake has been the best of the bunch. The 25-year-old has posted a 2.59 ERA (versus park-adjusted 153 ERA+), 1.17 WHIP and 2.59 K/BB. In fact, Leake's 2013 ERA+ is 62 points higher than his 2012 rate.
Even if Cueto stays on the disabled list for an extended period of time, the Reds fortunately have the depth to stay competitive.
1. Detroit Tigers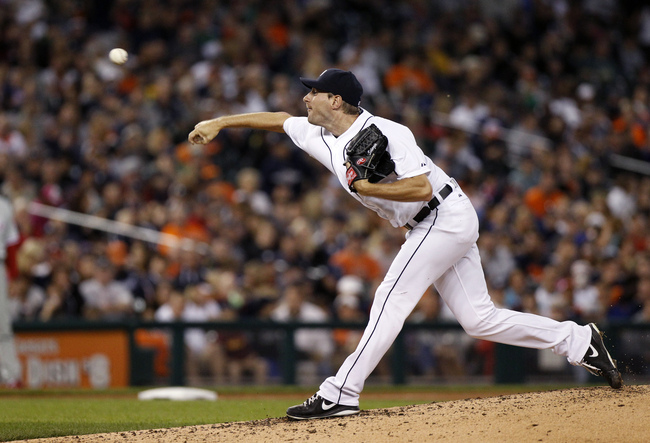 Max Scherzer has posted an incredible 15-1 record in 2013.
Duane Burleson/Getty Images
Team ERA: 3.72
Team FIP: 3.25
The Detroit Tigers didn't acquire a starting pitcher at the deadline, but perhaps the team didn't need to.
Even though Justin Verlander hasn't pitched like his 2012 self (park-adjusted 161 ERA+ in 2012 versus 107 ERA+ in 2013), Max Scherzer and Anibal Sanchez have emerged as a two-headed beast.
Scherzer and Sanchez have posted a 141 ERA+ and 164 ERA+, respectively. The 29-year-old Scherzer has even won an incredible 15 games (and only one personal loss).
The Tigers are also receiving help from their fourth starter too. Doug Fister, who was acquired in 2011, has even outdueled Verlander, hurling a 116 ERA+ and 4.33 K/BB.
With such a balanced rotation—and the prospect of Verlander returning to greatness in the second half—the Tigers have the best post-MLB trade deadline rotation.
Keep Reading