Bellator PPV: Will Anyone Actually Pay to See Rampage Jackson vs. Tito Ortiz?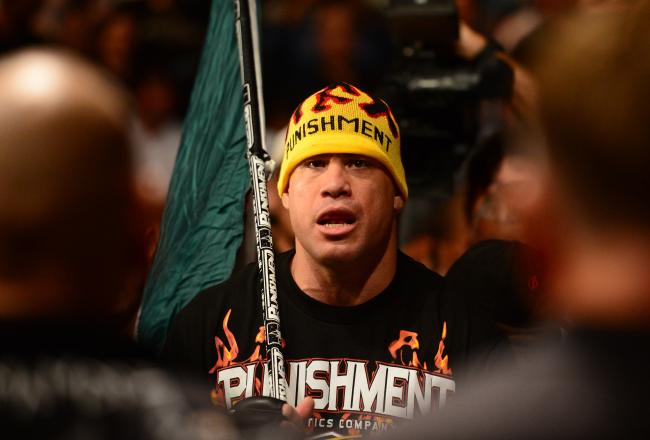 Mark J. Rebilas-USA TODAY Sports
Sometimes I feel that as fans we are tested to see how much we remember. Somewhere along the line, a fighter will make a name for himself and, regardless of how that fighter performs after a "signature win," we latch on to the star he once was.
There has never been somebody in MMA more evident of this than Tito Ortiz.
Ortiz has won just one fight since December of 2006 (1-7-1), but he remains a very popular figure in the sport because of the brand he created for himself between 2000 and 2002 when he rattled off five consecutive defenses of his UFC Light Heavyweight Championship.
It should be noted that although "The People's Champ" is in the midst of a stretch of futility, he has faced some of the better fighters in the division. His losses during his 1-7-1 stretch have been against:
Chuck

Liddell

Lyoto

Machida

Forrest Griffin (twice)
Matt Hamill

Rashad

Evans
Antonio Rogerio Nogueira
With that being said, we'd really have to go back about seven years to the Ken Shamrock days if we wanted to watch a complete fight from Ortiz. Let's face it, his win over Ryan Bader stemmed from a punch that Bader inexplicably ran into.
Ortiz's opponent for Bellator's first ever pay-per-view event on November 2 will be Quinton "Rampage" Jackson.
If Ortiz vs. Jackson is $29.95 or less, will you buy it?
We haven't seen the old Rampage for five years, not since he knocked out Wanderlei Silva at UFC 92. Somewhere between that fight and today Quinton lost the "Rampage" and simply became another fighter who's popularity was based on old fights and current theatrics.
Now these two men will come together in what fans hope will somewhat resemble how they fought a decade ago. Ortiz, now 38, and Jackson, 35, are no doubt going to be going back and forth with each other for the next three months in an effort to display tension and build the fight.
But will fans buy the fight?
I think so, but the price has to be right.
If Bellator thinks they are going to charge $54.95 for a HD broadcast of this fight, they are shooting themselves in the foot. They do, however, have an opportunity to launch themselves into the PPV market and show fans that they are an elite MMA organization that won't require you to drain the bank account in the same way the UFC does.
My opinion is that $19.95 is the perfect price for the event, although I'd expect to see something more along the lines of $39.95. Anywhere in between should still attract a solid number of viewers.
Any MMA fan or member of the media who have immediately scoffed at these two veterans headlining a PPV card will no doubt have an interest in this fight when the night arrives.
It happens all the time. If you need proof, just read all the negative articles and tweets about Ortiz vs. Jackson, then jump on Twitter the night of the fight and I guarantee those same people will be watching.
We just love the sport. Most either hate or love Ortiz, and the same goes for Jackson. There is no middle ground. As long as these two don't get hurt leading up to the fight, just seeing them in the cage together is something we'll probably remember down the road (for better or worse).
Are you going to tell me, as a fight fan, that you aren't the least bit interested in watching them? I don't believe you. You'll buckle and buy the fight just like the rest of us.
Joe Chacon is a MMA columnist for Bleacher Report and The MMA Corner. You can follow him on Twitter @JoeChacon.
This article is
What is the duplicate article?
Why is this article offensive?
Where is this article plagiarized from?
Why is this article poorly edited?