Examining the Green Bay Packers Without the Rose-Colored Glasses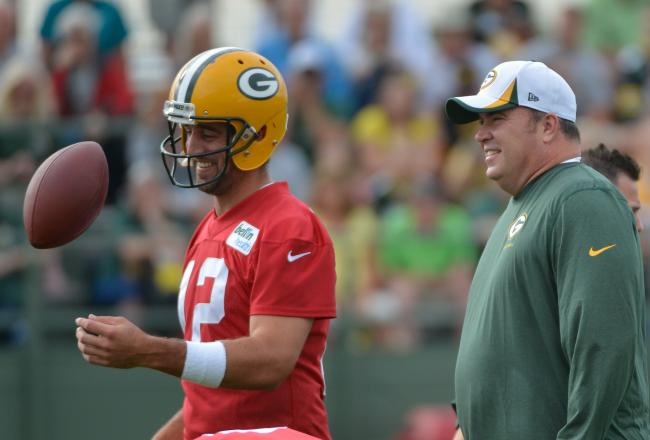 Benny Sieu-USA TODAY Sports
There's nothing better than Packer hype. Training camp is the universal signal for those that bleed green and gold to start pulling out all their Packer-branded gear for the upcoming season. A short-list that includes:
Long underwear
Blaze orange snowmobile suit
Beverage coozy
Cheese head
Deer antler attachments
There's something about the NFL in fall that just can't be replicated anywhere in the country except Wisconsin. It's almost as if each and every fan feels like they have a relative playing on the team.
If there's a more widely accepted cultural element in Wisconsin than the universal support of the Green Bay Packers I'd be hard-pressed to name it. Can you?
Case in point, my brother's family was visiting recently and his daughter mentioned that she knew the official flag of the state where they now live. Not to be outdone, my eight-year-old nephew said with a serious tone, "Oh yeah, well I know the state flag of Wisconsin. It's green and yellow and has a big 'G' on it."
He wasn't joking either, after numerous visits to Wisconsin that was the impression left upon him.
It's sentiments like these that make one realize just how deep the team's footprint is in the Dairy State and around the world, for that matter. Almost every significant population center on Earth has a Packer's bar.
Although I am as excited as the next fan about the upcoming season, I believe there are several potential areas of concern facing the team in 2013.
A large dose of reality isn't always easy to swallow during training camp, but it might be worthwhile to remove the rose-colored glasses for just a few minutes and consider some areas that must show improvement in order for the team to realistically hoist the Lombardi trophy at the end of the season.
Offensive Line Must Adjust Quickly
The Packers are experimenting with a well-documented effort to shore-up their offensive line. Essentially, they flip-flopped personnel from one side of the line to the other - placing their highest-rated players in the most critical positions.
Given the inconsistency the team has experienced on their offensive line since last winning the Super Bowl, this idea would appear to have considerable merit. The problem is that a transition such as this is never completely seamless. Although the Packers have legitimate existing talent on their offensive line, it seems unlikely that they will all instantly thrive in their new configuration.
Whether this group can steadily improve throughout the year will be a big question. If the unit works hard and is well-coached, there is a chance they could peak at the right time.
Safety Position Still Pedestrian
When the Packers won their most recent Super Bowls in 1996 and 2010, each of those teams possessed at least one premier player at the safety position. The Packers have not won a Super Bowl without an all-pro player in that role.
Given this history, it seems difficult to expect the Packers to win again without another high-caliber player emerging at safety. The injury to Nick Collins during his prime has likely already cost the Packers at least one title.
The question now is whether the team can develop or acquire a talent like Collins before the Rodgers era expires. The Packers extended the contract of Morgan Burnett prior to training camp this year and need him to step-up and play lights out in 2013.
There's no if-and-or-but about it. The Packers must have a stud quarterbacking their defensive backfield. Here's hoping that player is already on the roster.
Entire Defense Needs to Step Up
Insanity is often defined as doing the same thing repeatedly while expecting different results. The Packers defense was shredded last year in the playoffs against San Francisco, and since that time, the team has done little to upgrade the unit in terms of coaching staff or personnel. Given these realities, it seems difficult to believe the unit can achieve a top ranking in 2013.
Sure, the team grew through the draft and will also get their top pick from 2012 back from injury. However, it's rare that a team has more than one player from a new draft class that plays at an all-pro level during their first year in the league.
While it's possible Nick Perry will complement Clay Matthews extremely well at linebacker, the team has still not added a veteran presence at safety or on the defensive line. At least not any that can be counted on to make a devastating and immediate impact.
There's always the chance that the Packers' first-round pick this year, Datone Jones, could make a quick transition to the professional game. However, betting on first and second-year players to simultaneously dominate in a league as competitive as the NFL seems like a long-shot at best.
What Concerns You Most About the 2013 Packers?
Conclusions
With a re-shuffled offensive line and no real upgrades to a shaky 2012 defense, it's difficult to pick the Packers as top dogs in the NFC. The team will likely need a couple more years of development before it can truly compete for another title.
The key indicators to watch in 2013 will be the cleanliness of Aaron Rodgers' uniform and the team's ranking in total defense.
If the Packers can successfully protect their franchise quarterback and play better overall defense than last year, they can realistically claim another spot in the playoffs during 2013.
Beyond that, it's difficult to imagine the Packers winning the Super Bowl without extraordinary execution by an inexperienced roster.
The nice thing is that one can never fully count out the Packers. They proved that very clearly in 2010.
This article is
What is the duplicate article?
Why is this article offensive?
Where is this article plagiarized from?
Why is this article poorly edited?

Green Bay Packers: Like this team?