The International Champions Cup has lived up to its billing to this point, first with a thrilling inaugural match between Milan and Valencia last weekend and again with an Everton victory over Juventus in a 6-5 penalty shootout.
Both clubs had opportunities to put the match away, but it was Everton who capitalized in the shootout, propelled by tremendous play from keeper Tim Howard.
The first 45 minutes didn't yield any scoring, but the half wasn't short on action. With the first half in the books, both clubs had seen their share of opportunities, including a sixth-minute attempt from Everton that nearly resulted in an early shift in momentum, as detailed by Everton News Feed:
Disallowed goal for Everton Jagielka got a slight touch from a Pienaar free kick

— EvertonNewsFeed (@EvertonNewsFeed) August 1, 2013
The Toffees controlled much of the early action, but Juventus got back into the mix without much hesitation, seeing several big scoring opportunities of their own in the ensuing minutes.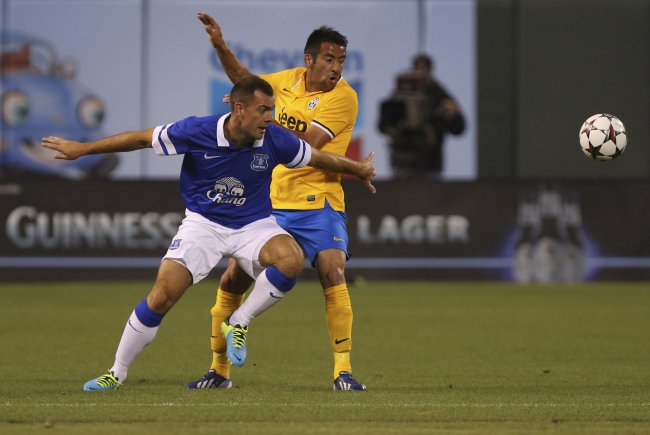 Kelley L Cox-USA TODAY Sports
As noted by Goal India, Juventus midfielder Luca Marrone had an absolutely beautiful chance go by the wayside in the 26th minute when his attempt went just wide of the post practically uncontested from about five yards out:
WHAT A MISS FROM MARRONE! I don't know how he's not put Juventus 1-0 here, as the midfielder has somehow missed #JUVENTUS vs #EFC

— Goal India (@Goal_India) August 1, 2013
Marrone blew the opportunity, but that attempt marked a jump-start for a much more aggressive Juventus attack. Arturo Vidal would also have a chance to break the scoreless tie in the 31st minute but just missed the mark on what would have been a terrific scoring strike, per Goal India:
Vidal goes close! This would have been a special goal. #JUVENTUS vs #EVE

— Goal India (@Goal_India) August 1, 2013
The Chilean met the ball first-time with his left foot, sending a volley just wide of the right-hand post. What an effort. #JUVENTUS vs #EFC

— Goal India (@Goal_India) August 1, 2013
But for as many opportunities as the Blues had in the opening frame, Everton still seemed very much in control of the match, and their Twitter feed was quick to point that out:
HT 0-0 A decent half from the blues with Everton having the better chances with John Stones hitting the post

— EvertonNewsFeed (@EvertonNewsFeed) August 1, 2013
John Stones' last-minute attempt was a fitting end to the first 45. As was the case throughout the half, Stones came up just short, but he punctuated an extremely aggressive bit of play from a club playing as if the regular season had already arrived.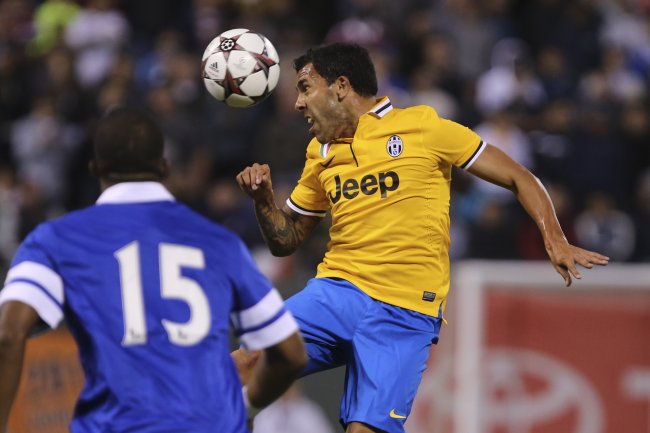 Kelley L Cox-USA TODAY Sports
Everton picked up in the second half where they left off, this time with a Kevin Mirallas attempt following a quick move to break through Juventus' back line. Marco Storari came up with a big save, but the Toffees were doing everything in their power to remain in control of the match.
Juventus nearly evened the score on a free kick in the 57th minute, as noted by the tournament's official Twitter feed, but it was Everton who would break the deadlock with a 1-0 lead just a few minutes later:
57' - A free kick for Juventus in a dangerous position and...WHAT A SAVE! Tim Howard blocks Vidal's blast, and it's still 0-0! #ICC2013

— Int Champions Cup (@IntChampionsCup) August 1, 2013
As detailed by Everton's Twitter account, Mirallas got another chance in the 61st minute, and Storari wasn't so lucky in his second effort to shut down the 25-year-old striker:
GOAL! Tremendous from Mirallas as he cuts in from the right, beats his man and fires home on 61 mins. Great baseball celebration as well.

— Official Everton (@Everton) August 1, 2013
Juventus' Twitter feed didn't treat the goal with the same enthusiasm:
#JuveEverton 0-1 (Mirallas)

— JuventusFC (@juventusfc) August 1, 2013
Juventus weren't prepared to let Everton run away with their 1-0 lead, however. As noted by Italian FIGC, Juventus created a couple of tremendous chances in the ensuing minutes, including a Carlos Tevez effort that nearly found its mark in the 70th minute:
Two great chances for juventus. Still don't know how Llorente didn't tap it into the net.

— ItalianFIGC (@GliAzzurriNews) August 1, 2013
69' - A scramble inside the Everton box forces Tim Howard into a point-blank save, preserving the Toffees' 1-0 lead! #ICC2013

— Int Champions Cup (@IntChampionsCup) August 1, 2013
But Everton keeper Tim Howard played a tremendous match in front of his countrymen, and his brilliance in the closing minutes of the match was one of the biggest reasons for the Toffees' ability to hang on against an aggressive Juventus attack following their go-ahead goal, via Everton News Feed:
77) Tim Howard makes a row of great saves to keep Everton in the lead

— EvertonNewsFeed (@EvertonNewsFeed) August 1, 2013
Howard's luck ran dry in the 80th minute, however, as Juventus got the goal they desperately needed. Midfielder Kwadwo Asamoah provided the heroic strike—a stinger from range that found the inside of the net past a helpless Howard, per the club's Twitter account and International Champions Cup:
GOAL! #JuveEverton 1-1. @Asabob20 pounces on a stray ball outside the area and rifles in an unstoppable strike that flies into the corner!

— JuventusFC (@juventusfc) August 1, 2013
A miscue in the box by Everton sets up Asamoah for a left footed strike that swerves into the net. 1-1 with 10 minutes left! #ICC2013

— Int Champions Cup (@IntChampionsCup) August 1, 2013
Asamoah's late goal was enough to send the match to a penalty shootout, as dictated by ICC rules. There would be no extra time to decide the match—only a 6-5 shootout period in Everton's favor.
AND HOWARD SAVES IT! EVERTON WINS THE MATCH ON PENALTIES! #ICC2013

— Int Champions Cup (@IntChampionsCup) August 1, 2013
Juventus had some tremendous chances to come out ahead (including a miss by Leon Osman to open the shootout), but they were never able to slam the door shut. Howard's impressive play paired with a couple poor Juventus attempts was enough to boost the Toffees to a narrow opening-round victory and a chance to play either Real Madrid or the Los Angeles Galaxy in the semifinals, per the ICC's official Twitter feed:
Everton advances to the winner's semi-final, beating Juventus 6-5 on PKs! They will face the winner of Real Madrid vs. LA Galaxy. #ICC2013

— Int Champions Cup (@IntChampionsCup) August 1, 2013
Juventus will face the loser of the Real Madrid/LA Galaxy match in Los Angeles on 8/3. #ICC2013

— Int Champions Cup (@IntChampionsCup) August 1, 2013
Regardless of the outcome, fans of both teams were treated to an exceptional match Wednesday night. The ICC may simply be a tune-up for the league season, but Juventus and Everton both played with intensity and focus in a hard-fought affair.
Everton Grades
Player
Grade
Tim Howard
A-
John Stones
A

Phil Jagielka

C+

Sylvain

Distin
C

Leighton

Baines
B

Kevin Mirallas

A
Darron Gibson
B-
Seamus Coleman
B

Marouane

Fellaini
C

Steven Pienaar

C+

Victor Anichebe

C
Juventus Grades
Player
Grade

Marco Storari

B+

Angelo Ogbonna

C

Luca Marrone

C

Federico

Peluso
C

Stephan

Lichtsteiner
C+
Arturo Vidal
B

Kwadwo

Asamoah
A

Mauricio Isla

B-

Paolo

De

Ceglie

C

Carlos

Tevez
B-

Fernando

Llorente
C
Tim Howard, A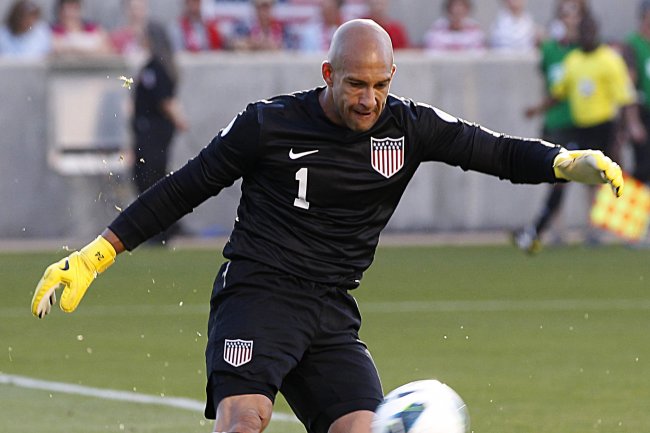 George Frey/Getty Images
Playing in front of his home crowd, Howard came out focused and prepared for a tough matchup against a quality opponent. And as expected, the veteran keeper played a tremendous match.
Asamoah's late-match goal was nearly impossible to stop, but Howard was otherwise spectacular, especially in the penalty shootout. Juventus missed some opportunities, but it was Howard who provided the heroics late in the match for Everton.
John Stones, A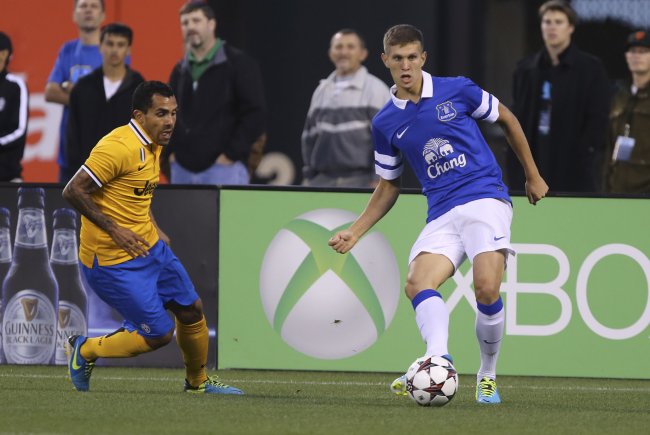 Kelley L Cox-USA TODAY Sports
John Stones proved with his performance Wednesday night that he is capable of hanging with tough competition, even at 19.
The defender was a key component to Everton's win, keeping Juventus' attack at bay for much of the match. Stones even showed some striking prowess at the end of the first frame with a clanger off the post, and while he didn't net a goal in regulation, he did find the net in the 6-5 shootout period and gave Everton an additional spark to pull through.
Marco Storari, B+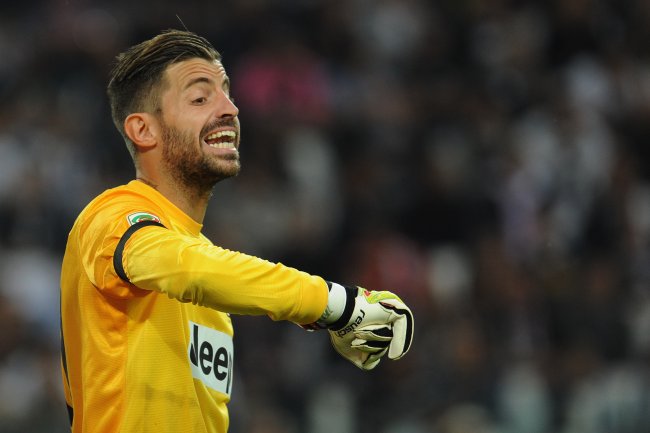 Valerio Pennicino/Getty Images
Storari can't be faulted for Juventus' failures Wednesday night. The keeper was terrific for most of the match, and he did his best to keep his club in contention when the contest went to penalties.
Mirallas' 60th-minute goal would have been extremely difficult to stop as the winger earned his goal. But apart from that strike and the six he let by in penalties, Storari did his job and gave his side a chance to close things out. Unfortunately, Juventus' strikers were unable to do the same.
Kwadwo Asamoah, A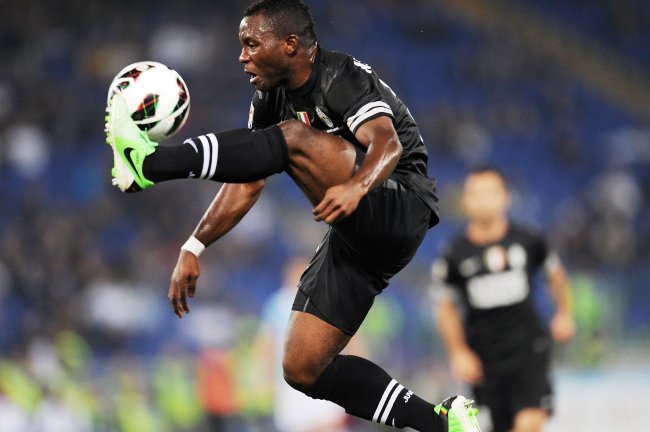 Giuseppe Bellini/Getty Images
It will be tough to find a better goal in this tournament than Asamoah's 80th-minute equalizer. The midfielder missed some opportunities, but that goal and his scoring effort in the penalty shootout were enough to warrant a top mark.
At 24, Asamoah has displayed plenty of potential. Juventus may not have come away with a victory in the opening round of the International Champions Cup, but they did get a good look at some bright young talent capable of having a big impact this season.