Ranking the 10 Best Games of the 2013 Stanley Cup Playoffs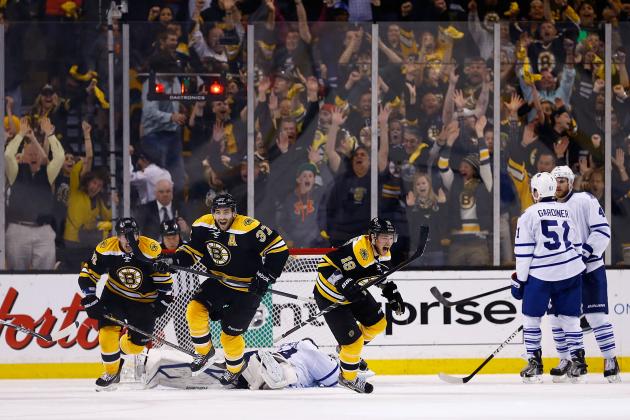 Jared Wickerham/Getty Images

Nostalgia is the epitome of a hockey fan's summer.
As the daily temperature climbs towards triple digits and the rest of the sports world fusses about baseball and golf, NHL fanatics spend their time reminiscing about the real excitement of May and June.
It's hard to imagine that the 2013 Stanley Cup Playoffs ended more than month ago, yet it's true. With a near-record 27 overtime games and perhaps the best Cup Finals in history, this spring's postseason truly carried a larger-than-life aura.
Many of the season's greatest moments will live on in the history books for years to come.
The Bruins' Game 7 comeback, Jean-Gabriel's lost-tooth goal, Andrew Shaw's triple-overtime deflection goal and the Blackhawks' two goals in 17 seconds.
Which matches from the 2013 NHL playoffs will, years from now, still feel like they just happened the previous day? An evocative, heart-pounding countdown of the 10 best games from this year's Stanley Cup Playoffs (with complete game highlights) falls on the coming slides.
Begin Slideshow

»
Sixty-one shots had been fired on opposing goaltenders Braden Holtby and Henrik Lundqvist in 67 minutes of hockey.
The Verizon Center scoreboard still read 0-0.
Then a four-minute shift by Rangers defenseman Ryan McDonagh led to a delay-of-game penalty that will live in infamy for decades.
And the Capitals, outshooting the Blueshirts 8-0 in overtime with eight relentless minutes of pressure, put the lid on one of the most exciting 1-0 contests in NHL history.
A quiet and downright disengaged Honda Center crowd solemnly watched Ryan Getzlaf scramble for the puck alongside the boards with 12 minutes remaining in a 4-1 rout.
Then Getzlaf curled towards the goalmouth, backhanded the puck past a shielded Jimmy Howard and suddenly made the game not such a rout anymore.
The Ducks' three-goal third-period rally was one of the best of the playoffs, but the sheer drama of the final minute of regulation was what made this game so memorable.
Although Gustav Nyqvist bailed out the Red Wings with an early overtime game-winning tally, Anaheim's comeback stole the show in our minds.
Brent Seabrook's Game 7 overtime goal did more than complete the Blackhawks' three-game comeback against bitter rival Detroit.
It also dug referee Stephen Walkom out of a dark and ugly Windy City doghouse.
Had the Red Wings scored and eliminated the Blackhawks in the extra period, Niklas Hjalmarsson's phantom goal in the closing minutes would've gone down as one of the most controversial Game 7 finishes in NHL history.
As it eventually finished, the night was still a wholly memorable one. But, this way, it falls only No. 8 on our list.
One-hundred-and-twelve minutes and eight seconds.
One-hundred-and-seventeen shots.
Seven goals.
One marathon of a lifetime.
While Game 1 of the Cup Finals wasn't the prettiest on the ice, its sheer length makes it impossible to leave off any compilation of the spring's most memorable nights.
With three minutes remaining on the clock, the San Jose Sharks held a 3-2 lead in the Staples Center, seeking to end L.A.'s home winning streak and evening their in-state series at one game apiece.
Then Brad Stuart tripped Tyler Toffoli.
Then Marc-Edouard Vlasic took a costly delay of game penalty.
Then Dustin Brown scored on a rebound.
Then Trevor Lewis jammed home a loose puck.
And the Kings walked out 4-3 winners in one of the most dramatic and unheralded finishes of the postseason.
What might've changed had Mike Zibanejad's goal with 8:05 remaining been called off for a kicking motion?
Or if Kyle Turris had circled around the net normally with 23 seconds remaining rather than throwing the puck into the crease?
Or if Carey Price hadn't been injured on a meaningless after-the-horn shot?
The Senators' decidedly strange 3-2 comeback victory in Game 4 was filled with uncertainties—yet it captured the desperation and frantic energy of the 2013 playoffs perhaps better than any other game outside the Finals.
Remember when, just five days before he hoisted the Stanley Cup, the hockey world was abuzz over Corey Crawford's glove-side weakness?
This game was where that entire saga began.
And, to an extent, where it ended.
In a series dominated by defense and goaltending, Game 4 was a refreshingly thrilling back-and-forth shootout.
After rallying back from 1-0, 3-1, 4-2 and 5-4 deficits, the Bruins seemed assured of another overtime victory to pull within one game of the league title. They had played an absolutely fantastic game in the offensive zone.
But, yet again, Brent Seabrook had another clutch slap shot up his sleeve.
Every time Patrick Kane scored on this balmy Saturday night, it seemed like he put the Blackhawks home free to the Cup Finals.
In the end, it took three goals and a flurry of underused hats to finally do the trick.
Kane's hat-trick goal at 11:40 of double overtime at last ended a game that, had Mike Richards not deflected Anze Kopitar's shot into the back of the net with 10 seconds to play, could've finished hours earlier.
Nonetheless, it's probably safe to say that 99 percent of the hockey universe didn't really mind adding almost two extra periods to this thrilling, edge-of-your-seat dogfight.
Bryan Bickell. Dave Bolland. Two goals. In 17 seconds.
For the Stanley Cup.
Could it possibly have been any better?
Twenty years from now, this game could easily define a generation of hockey fans in two of North America's biggest markets.
In terms of importance, the Bruins' first-round series with the Maple Leafs didn't hold a candle to the Bruins' Cup Final series with the Blackhawks, which was certainly incredibly exciting in its own right.
Two or three decades down the road, though, few will talk about the Cup Final's Game 6 like they'll talk about this 63-degree Monday in Boston—May 13, 2013.
They'll talk about The Comeback. They'll talk about the Boston Miracle. They'll talk about the Night of Bergeron.
They'll talk about this game.
And only this game.