A yearly staple of player movement, pennant-changing risks and rampant excitement across the entire sport, the 2013 MLB non-waiver trade deadline finally passed at 4 p.m. ET on Wednesday.
Only you wouldn't have known it without looking at the calendar. While there were plenty of rumors and innuendo passed along over the past few days and weeks, this year's deadline was more notable for the moves that didn't happen than the ones that did.
The Philadelphia Phillies kept their entire roster. The New York Yankees did nothing in the last few days to make a late surge for an American League playoff spot. Across the league, sellers weren't selling and buyers weren't offering enough to make teams on the fence think twice. Perhaps the best descriptive quote of the day's activity and the overall feeling of the deadline came from San Francisco Giants general manager Brian Sabean, who spoke with the San Francisco Chronicle's Henry Schulman:
Sabean said he's pleased to stand pat. Nobody came close with offers for Pence, Lincecum Lopez. Said offers were "embarrassing."

— Henry Schulman (@hankschulman) July 31, 2013
Although there weren't many moves—or many substantial offers from what we can gather—that only means the reaction was heightened around those deals that did get done. The day may have been a disappointment for fans hoping for a fantasy draft-like feel, but the lack of trades allowed for analysis, depth and even the occasional snarky comment.
OK, Twitter was full of mostly just snarky comments. But regardless, let's take a look around baseball's biggest day of player movement, checking in on the afternoon's most notable social media movements.
Red Sox Start Deadline by Landing Peavy While Everyone Sleeps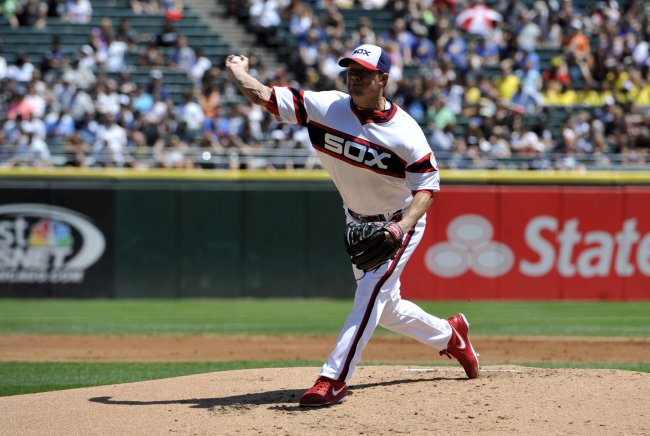 David Banks-USA TODAY Sports
While the deal didn't technically get done on deadline day, we're going to give the Boston Red Sox acquisition of Jake Peavy an honorary pass into the discussion. After all, Boston's Twitter account didn't officially announce the seven-player, three-team deal until 11:55 p.m. ET:
It's official: #RedSox acquire RHPs Jake Peavy and Brayan Villarreal, send Jose Iglesias to Tigers in 3-team, 7-player deal.

— Boston Red Sox (@RedSox) July 31, 2013
The Red Sox landed Peavy from the Chicago White Sox in the deal, sending breakout infielder Jose Iglesias to Detroit and three prospects (flamethrower Francelis Montas, right-handed pitcher J.B. Wendelken and infielder Cleuluis Rondon) to the South Side.
ESPN Stats & Info had a great stat on Peavy, which had to make Boston fans feel better about losing Iglesias:
Jake Peavy to the Red Sox. Peavy's 6.2 WAR since start of 2012 is more than any other Red Sox starter.

— ESPN Stats & Info (@ESPNStatsInfo) July 31, 2013
Only for ESPN's Buster Olney to twist the knife a bit:
When Iglesias signed with the Red Sox, the NYY scouting report on him even then was: Best hands in baseball since Omar Vizquel.

— Buster Olney (@Buster_ESPN) July 31, 2013
On the bright side, not all of Boston's top prospects found themselves headed elsewhere. Red Sox minor league stud Jackie Bradley was pulled last Tuesday night amid the trade rumors, leaving fans everywhere worried he was the principal in the Peavy deal. Grantland's Bill Barnwell was likely pleased:
Really hope the Red Sox took Jackie Bradley out of that game as a total red herring.

— Bill Barnwell (@billbarnwell) July 31, 2013
Either way, losing Iglesias stings. Not only did he garner Omar Vizquel comparisons, he also filled a potential long-term shortstop answer for the Red Sox—one they've struggled to find an answer to in recent years. Danny Knobler of CBS Sports noted that many scouts were quick to declare Detroit a major winner for landing the 23-year-old infielder:
TIgers made deal without knowing for sure they lose Peralta. Felt that Iglesias is long-term answer. Also felt he could play 2B if needed.

— Danny Knobler (@DannyKnoblerCBS) July 31, 2013
One AL East scout: Tigers made best deal so far by getting Iglesias.

— Danny Knobler (@DannyKnoblerCBS) July 31, 2013
Padres Take a Flier on Ian Kennedy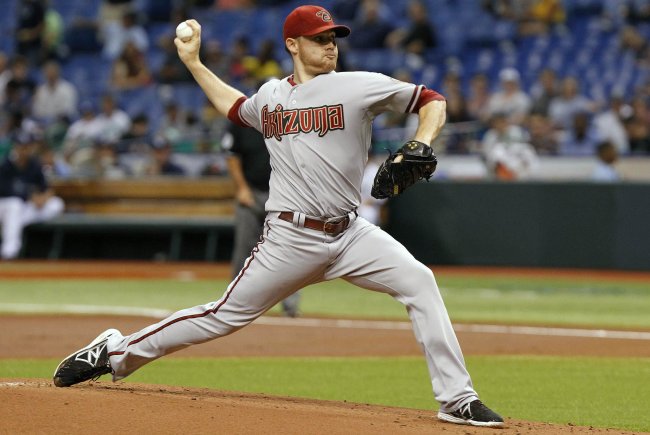 Kim Klement-USA TODAY Sports
A year ago at this time, Ian Kennedy's name being on the trade block may have caused as much fervor as Peavy's. The 28-year-old righty was 16th among all pitchers with a combined 7.9 WAR from 2011 through 2012, putting him just a notch above a certain player whose socks switched colors late Tuesday night.
However, Kennedy's effectiveness took a downward spiral in 2013. He's 3-8 on the season with a 5.28 ERA and 1.42 WHIP, all of which ranked him among the bottom-feeders in the Arizona Diamondbacks' rotation. So it was understandable that Arizona moved quickly to send him elsewhere—even if it was to a team inside its division.
Corey Brock of MLB.com was the first to note Kennedy was traded to the San Diego Padres in exchange for left-handed reliever Joe Thatcher, Double-A righty Matt Stites and a future draft choice:
The #Padres deal with the #Dbacks: Get RHP Ian Kennedy for LHP Joe Thatcher, RHP Matt Stites (Double-A) and a draft pick (comp B).

— Corey Brock (@FollowThePadres) July 31, 2013
While some were skeptical about the Padres' line of thought—they're not contending this year—Grantland's Jonah Keri thought it was a worthwhile chance to take:
Like the gamble. RT @FollowThePadres #Padres-#Dbacks deal: RHP Ian Kennedy for LHP Joe Thatcher, RHP Matt Stites (Double-A) & pick (comp B).

— Jonah Keri (@jonahkeri) July 31, 2013
Bleacher Report's Zach Rymer co-signed that sentiment, noting a return to form for Kennedy could be possible in 2014:
Ian Kennedy to the Padres, eh? That might matter next year.

— Zachary D. Rymer (@zachrymer) July 31, 2013
How about a little political humor to go with your trade deadline stew? Peter Botte of the New York Daily News has that for you in spades, though we doubt he'll ever get his wish:
Still hoping that Ian Kennedy ends up in a rotation one day with Lee-Harvey-Oswalt and Adam Warren.

— Peter Botte (@PeterBotte) July 31, 2013
Meanwhile, the underrated portion of the trade deadline is the effect these swaps have in the locker room. Arizona pitcher Daniel Hudson has been Kennedy's teammate for each of his seasons with the D'Backs and sent out a melancholic picture to express his disappointment:
#lockerbuddiesforlife pic.twitter.com/IE2jhSmW3H

— Daniel Hudson (@DHuddy41) July 31, 2013
Orioles Land Bud Norris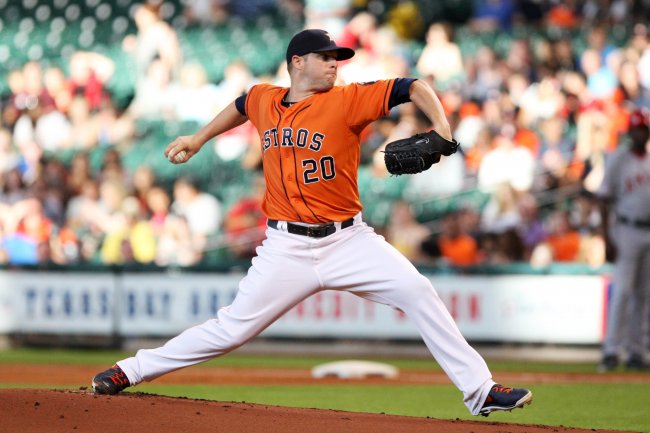 Troy Taormina-USA TODAY Sports
Once it became clear the Philadelphia Phillies weren't parting ways with Cliff Lee, the Houston Astros were instantly in pole position. They had Bud Norris dangling on the open market as the top available pitcher, with plenty of teams needing help in the rotation.
Unsurprisingly, the Baltimore Orioles became an obvious landing spot. They are 26th in team ERA heading into Wednesday night's action, and they needed an upgrade to keep the final AL wild-card spot. So Houston and Baltimore worked tirelessly throughout the day to consummate a deal, with word finally coming down with about an hour to go that Norris would be headed to Maryland.
Dan Connolly of the Baltimore Sun was the first to come through with details of the deal:
The Orioles are sending LJ Hoes and Josh Hader and their comp pick in 204 for Bud Norris

— Dan Connolly (@danconnollysun) July 31, 2013
Norris superficially looks like a good pickup. He's 6-9 on the season but has a 3.93 ERA, a rate that his FIP backs up. Unfortunately for the Orioles, they'll be asking him to pitch outside of Houston—something ESPN Stats & Info points out he's struggled to do:
Bud Norris reportedly headed to the Orioles. Norris is 5-17 with a 6.62 ERA away from Houston over the last 2 seasons (8-5, 2.35 at HOU).

— ESPN Stats & Info (@ESPNStatsInfo) July 31, 2013
Hoes, meanwhile, will be making his professional debut against Baltimore. Steve Melewski of MASNSports.com noted that the 23-year-old outfielder felt weird about already playing his former team:
LJ Hoes just told reporters how strange it will be to play vs O's tonite but excited 4 opportuniy.

— Steve Melewski (@masnSteve) July 31, 2013
Soo...That's It?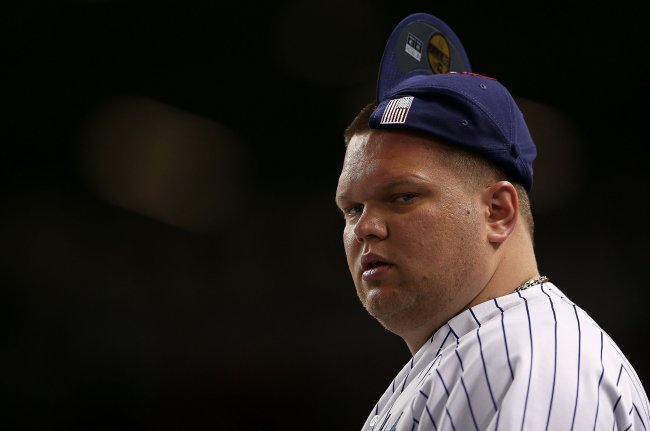 Mike Ehrmann/Getty Images
Do you all realize why we snuck Peavy in under the wire now? While July 31 was expected by most to be more quiet than most years, few expected almost complete silence throughout the day.
Then again, the deadline is never quite over at exactly 4 p.m. When Jayson Stark of ESPN reported a last-minute trade had come through the wire and it involved the Los Angeles Dodgers, some folks thought salvation was on the way.
I'm told at least one trade was completed before the deadline. Stay tuned

— Jayson Stark (@jaysonst) July 31, 2013
Nope. Los Angeles and Minnesota agreed on a deal for catcher Drew Butera, a 29-year-old career .182 hitter who has exactly three at-bats for the Twins this season:
Just to tie up loose ends, Dodgers got Drew Butera for player to be named later.

— Jayson Stark (@jaysonst) July 31, 2013
That deal may be the perfect microcosm of what was a completely shrug-worthy Wednesday afternoon. As one would expect, the Twitter hounds were out in full force to mock a deadline that could have passed as your average run-of-the-mill hump day:
In summing up #MLB trade deadline activity, a Shakespearean theme comes to mind..."Much Ado About Nothing"

— Bleacher Report (@BR_MLB) July 31, 2013
cool trade deadline everybody http://t.co/ffZSr3wvFT

— Lana Berry (@Lana) July 31, 2013
Today's trade deadline is as exciting as a bunch of middle-aged men in khakis making phone calls.

— SportsPickle (@sportspickle) July 31, 2013
Big day in Major League Baseball- the fake trade deadline is today. It's the precursor to the inevitable blockbuster deal in late August.

— Steve Kerr (@SteveKerrTNT) July 31, 2013
To make next year's trade deadline more interesting, Bud Selig has proposed to award the winner home field advantage in the World Series.

— Bay Area Sports Guy (@BASportsGuy) July 31, 2013
Ranking the Top 0 MLB Deadline Day Deals: 0.) - - - - -

— DJ Gallo (@DJGalloESPN) July 31, 2013
And with that folks, your MLB trade deadline has come to pass. Overall it was a day filled with excitement, rapid player movement and—oh never mind. You all are smarter than that. I'm going to take a nap.
Follow Tyler Conway on Twitter: