Re-Ranking the Top 10 Point Guards in the NBA, Post-Free Agency Edition
USA TODAY Sports

Who doesn't love point guards?
Between the depth of the position and the fact that they usually have the ball in their hands, it's simply the best of the five spots in the lineup.
How do I know it's a deep position? Why else would I feel bad about not mentioning players even after listing out the top 10 and three honorable mentions?
There are more stars at point guard than any of the other four starting spots in a typical rotation, and tons of young players are gunning for the established studs that comprise the top of the rankings.
In fact, eight of the spots in my most recent countdown of the league's top 20 players were filled with 1-guards. There were four apiece for centers and small forwards, while shooting guard and power forward lagged behind with three and one, respectively.
Now that free agency is all but wrapped up and even Brandon Jennings has found a home, let's take a look at how the leaderboard unfolds at the NBA's most glamorous position.
Note: All stats, unless otherwise indicated, come from Basketball-Reference.
Begin Slideshow

»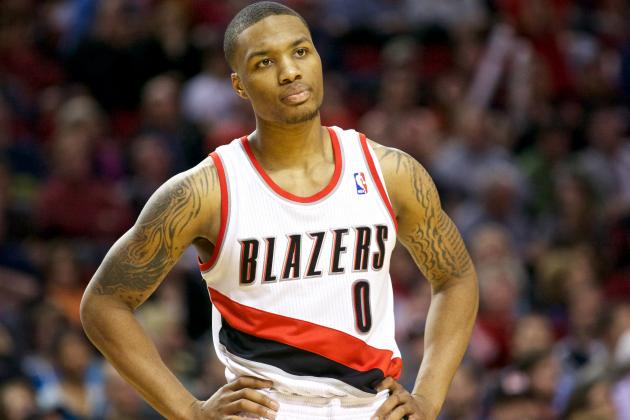 Jaime Valdez-USA TODAY Sports

Mike Conley, Memphis Grizzlies
The Grizz floor general used the postseason to make a name for himself when he held his own against both Chris Paul and Tony Parker, but he's still not quite enough of a consistent offensive threat to work his way into the top 10.
While the other guys here are featured players, Conley is just another cog in a deep Memphis starting lineup, one that draws enough attention to make him look better than he should.
Ty Lawson, Denver Nuggets
While Ty Lawson is ridiculously speedy with the ball in his hands, he doesn't have the defensive presence to make it into the top 10 quite yet. Lawson is still improving on both ends of the court, but he has yet to take a firm step into the realm of stars.
The Nuggets allowed 4.2 more points per 100 possessions in 2012-13 when the North Carolina product was on the court.
Damian Lillard, Portland Trail Blazers
Our reigning Rookie of the Year should be thrilled to already find himself in the honorable mentions. If his career follows a normal trajectory, he'll be part of the top 10 with no questions asked by the end of the 2013-14 season.
However, Lillard has to be able to navigate pick-and-rolls on defense first. Right now, I'm not even sure that he can recognize one. According to Synergy Sports (subscription required), the former Weber State standout allowed 0.81 points per possession guarding PnR ball-handlers, ranking him 138th in the league.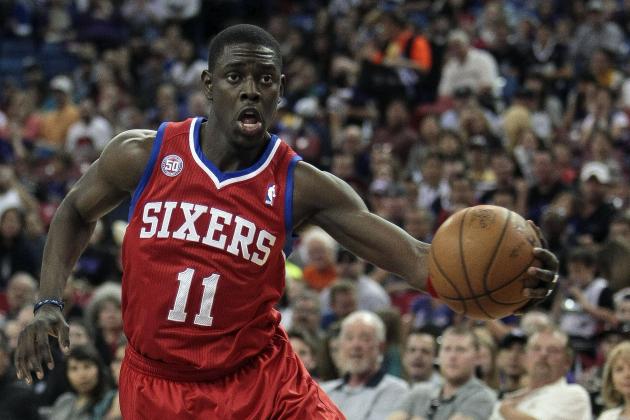 Kelley L Cox-USA TODAY Sports

Team: New Orleans Pelicans
Age: 23
2012-13 Per-Game Stats: 17.7 points, 4.2 rebounds, 8.0 assists, 1.6 steals, 0.4 blocks, 16.7 PER
Jrue Holiday used the first half of his breakout campaign to prove that he was a bona fide All-Star, but he wilted under the pressure as the season progressed. It's an understandable development for a 23-year-old floor general who was playing in the featured role for the first time.
The Philadelphia 76ers simply couldn't surround him with enough offensive talent, and the mounting pressure was too much for this young stud to bear. His middle name isn't Atlas, after all.
It's Randall.
Things will change with the New Orleans Pelicans, even if that middle name remains the same.
The new-look squad is set to feature a new uniform, a new logo, a new name and plenty of exciting players. Between Tyreke Evans, Eric Gordon, Anthony Davis and Ryan Anderson, there are quite a few guys ready to provide Holiday with some consistent offensive support.
Don't be fooled by those final per-game stats you see up above. They're filled with a decline that was caused by too much responsibility, not a regression to the mean.
Holiday will use the 2013-14 campaign to prove that, and then some.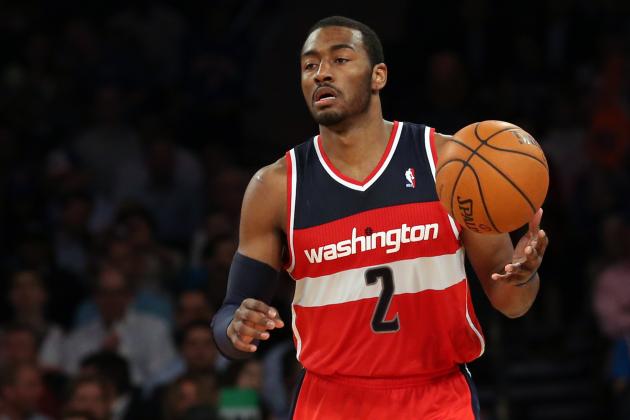 Anthony Gruppuso-USA TODAY Sport

Team: Washington Wizards
Age: 22
2012-13 Per-Game Stats: 18.5 points, 4.0 rebounds, 7.6 assists, 1.3 steals, 0.8 blocks, 20.8 PER
Washington played like the Generals before John Wall returned to the lineup. But then he made his season debut, and the team suddenly started looking like the Wizards once more.
Wall's presence made all the difference, and that's the best testament possible to his greatness at the point guard position.
The Kentucky product is a dynamic offensive player, exploding to the basket with remarkable frequency and still keeping his head up high so that he can find any open teammates. He's one of the few players truly capable of averaging 20 points and 10 assists per game, something that only nine guys in NBA history have ever done.
Deron Williams is the most recent addition to the club, but Wall should be the next.
However, he'll need to develop a jumper in order to do so. That's still the biggest hole in this young floor general's game, and he won't command enough respect from defenses until he convinces them that they can't just sag off him and disrupt the passing lanes.
Wall still has a lot to prove, even after signing an extension that, as reported by The Washington Post's Michael Lee, is worth $80 million over five years. He's trending toward the top five, but he's got a good bit of work left before he reaches that lofty status.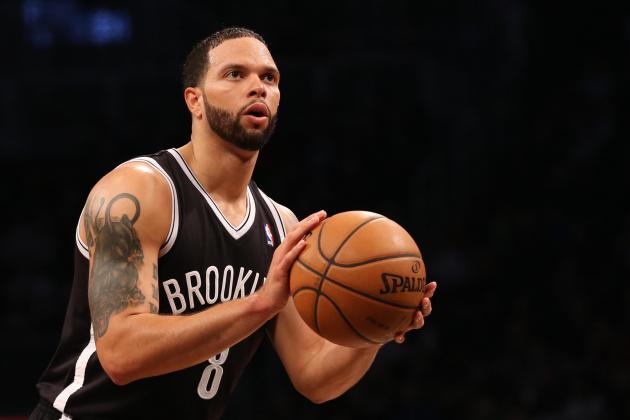 Anthony Gruppuso-USA TODAY Sport

Team: Brooklyn Nets
Age: 29
2012-13 Per-Game Stats: 18.9 points, 3.0 rebounds, 7.7 assists, 1.0 steals, 0.4 blocks, 20.3 PER
John Wall and Deron Williams have remarkably similar stats from the last season, but D-Will's are rather deceptive. While Wall had the luxury of returning in media res and capitalizing on the building fatigue of his opponents, Williams didn't hit his stride until the All-Star break gave him time to recover from his nagging injuries.
After the break, the 29-year-old averaged 22.9 points, 2.5 rebounds, 8.0 assists, 1.1 steals and 0.3 blocks per game while upping his field-goal percentage to 48.1 percent. Those are numbers that Wall can't touch...yet.
Any guesses how many times the Washington Wizards point guard recorded 23 points and eight assists or better?
Just six times.
And those are the numbers that Williams nearly averaged after the break.
Wizards fans, let's hold off a bit before calling for Wall to ascend into the truly elite tier of point guards, one that begins with Williams and contains only eight players. He'll get there eventually, but "eventually" is not today.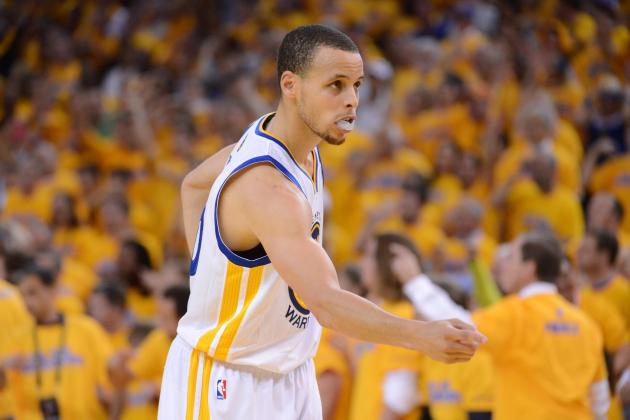 Kyle Terada-USA TODAY Sports

Team: Golden State Warriors
Age: 25
2012-13 Per-Game Stats: 22.9 points, 4.0 rebounds, 6.9 assists, 1.6 steals, 0.2 blocks, 21.3 PER
Stephen Curry's per-game numbers aren't that much more impressive than those of second-half Deron Williams, but it's all about efficiency here.
The sharpshooter's 45.1 percent shooting from the field isn't what does the trick. It's his remarkable effectiveness from behind the three-point arc.
Curry shoots and makes from downtown with such alarming frequency that he's become one of the most efficient scorers in basketball, posting a true shooting percentage of 58.9. That's almost good enough to work into the top 20 players in the NBA, a leaderboard largely comprised of big men who only take shots right around the basket.
He also does this while creating his own shots. Even when he played alongside another floor general like Jarrett Jack, Curry still found shots off the bounce quite impressively.
Only 60.2 percent of his three-pointers were assisted, an astoundingly low figure for someone who just set the single-season record for made triples (272). Now that he's playing alongside Andre Iguodala, he's only going to get more efficient.
Here's hoping the new record was written in pencil, because it's about to be erased and replaced by an even higher figure.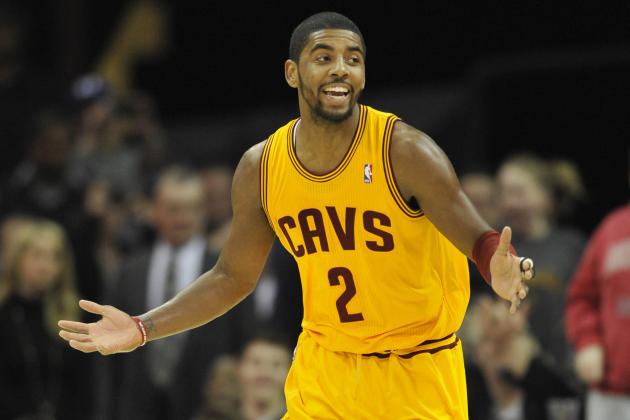 USA TODAY Sports

Team: Cleveland Cavaliers
Age: 21
2012-13 Per-Game Stats: 22.5 points, 3.7 rebounds, 5.9 assists, 1.5 steals, 0.4 blocks, 21.4 PER
Kyrie Irving is an offensive force, one capable of becoming the very best point producer in the Association. Seeing him average something like 28 points and eight assists per game is by no means out of the question.
Not many players boast league-best handles and a deadly jumper at the age of 21.
Irving is the first player in these rankings that truly has the potential to rise to the No. 1 spot in the rankings. All he has to do is figure out how to play defense, which shouldn't be all that problematic for such a quick, athletically gifted player. He just has to commit on that end first.
According to Synergy Sports (subscription required), the Duke product allowed 0.85 points per possession in 2012-13, which ranked him 149th in the league. That's not what you want from your franchise player, and it negates some of Irving's immense offensive value.
The only area in which he excelled was when he followed his man around a screen. Everywhere else—isolation, pick-and-roll ball-handlers, spot-up shooters, post-up situations—he struggled quite a bit.
Irving's potential is limited only by his ability to become an excellent, or even replacement-level, defender.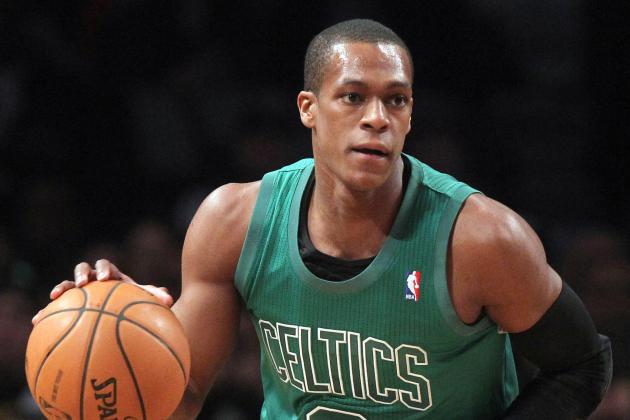 USA TODAY Sports

Team: Boston Celtics
Age: 27
2012-13 Per-Game Stats: 13.7 points, 5.6 rebounds, 11.1 assists, 1.8 steals, 0.2 blocks, 18.1 PER
Now we take another step up in the rankings.
The bottom five point guards could very well work their way up into this tier, but Rajon Rondo kicks off the list of established superstars. He's the first of the five point guards who are all but guaranteed spots on All-Star teams and consideration for the All-NBA squads.
Even though Rondo is returning from a torn ACL, you should still have that much confidence in his ability to excel.
What differentiates Rondo from the bottom five is his ability to contribute at an elite level on both ends of the court. Remember those Synergy numbers from Irving's slide? They pale in comparison to the 0.77 points per possession Rondo allowed before his injury.
That was good enough for the Boston Celtics floor general to rank No. 39 among all qualified players. He was utterly dominant guarding pick-and-roll ball-handlers and spot-up shooters, holding them to respective field-goal percentages of 38.9 and 32.4.
There's only one question still looming for this 27-year-old 1-guard: How will his offense fare without other stars in the lineup?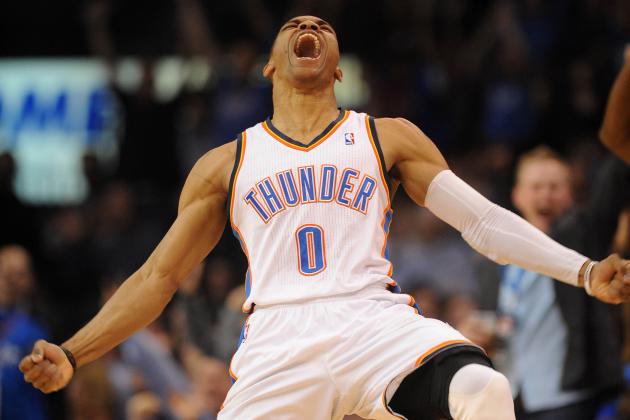 Mark D. Smith-USA TODAY Sports

Team: Oklahoma City Thunder
Age: 24
2012-13 Per-Game Stats: 23.2 points, 5.2 rebounds, 7.4 assists, 1.8 steals, 0.3 blocks, 23.9 PER
Remember when Peyton Manning was no longer the quarterback for the Indianapolis Colts and we were suddenly clued in to just how valuable he was? Sometimes the best thing for determining contributions is an absence, and such was the case for Russell Westbrook and the Oklahoma City Thunder.
Take a look at how the team fared with and without him in the lineup, both during the regular season and the postseason:
Offense (Points per 100 possessions scored)


Defense (points per 100 possessions allowed)


With
Without
With
Without
Regular Season
113.7
108.4
103.0
101.2
Postseason
112.2
104.5
89.4
107.2
It's hard to deny the ridiculous offensive impact that Westbrook had on the Thunder, poor shot selection and all. His defense also improved throughout the year, and he finished the season holding opposing point guards to a 14.5 PER, according to 82games.com.
The other key when talking about Westbrook is that he hasn't reached his ceiling yet. He's still getting better each and every year, primarily by improving his skills as a facilitator and cutting back on his turnovers.
If you watch video of his assists, you can clearly see that the difficulty level of his completed passes is only growing, and it isn't fazing the athletic UCLA product in the slightest. He's still transitioning from his role as a shooting guard for the Bruins, and that's allowing him to continue improving this far into his professional career.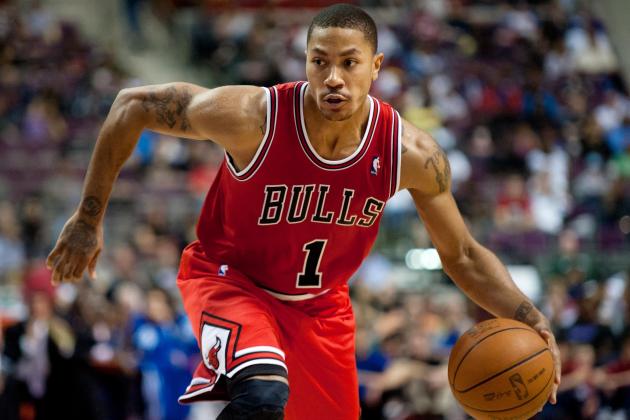 Tim Fuller-USA TODAY Sports

Team: Chicago Bulls
Age: 24
2012-13 Per-Game Stats: N/A
Derrick Rose may have just sat out for an entire season, a decision that grew increasingly controversial as the postseason wore on, but that doesn't make him any less of an elite point guard.
Once he returns from the torn ACL, Rose will pick up exactly where he left off: as a bona fide superstar and true contender for the point guard crown.
To be fair, this is the most subjective ranking contained in this article. While we have recent numbers to work with for the other players, all I can deal with here are two capital letters and a slash.
If you wanted to rank Rose one spot higher, I'm fine with that. The same goes if you want to move him down below Rondo, as long as you have legitimate reasoning. However, that's the extent of the window, as Rose simply must fall between No. 5 and No. 2.
He isn't the best in the league right now, but he's still part of the truly elite class.
There was a legitimate debate about whether Rose was the top point guard in the league during his last healthy season, and there will be once more once he returns to form. Just not in the meantime.
I for one can't wait to see him throw down his first dunk that makes it to SportsCenter. Well, SportsCenter's "Top 10." Rose's first dunk will inevitably be discussed ad nauseum even if it isn't anything special.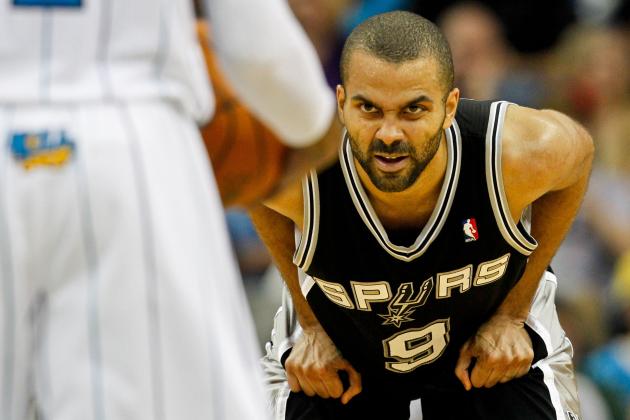 Derick E. Hingle-USA TODAY Sports

Team: San Antonio Spurs
Age: 31
2012-13 Per-Game Stats: 20.3 points, 3.0 rebounds, 7.6 assists, 0.8 steals, 0.1 blocks, 23.0 PER
Tony Parker will turn 32 years old during the 2013-14 season, and that's the age that elite point guards sometimes take a step back. Hopefully he won't pull a Kevin Johnson and just flat-out retire, but it's not impossible that we could have just seen the last truly great season from the French floor general.
I'm not going to believe in that trend, though, as Parker has seemed like he's only improving over the last few seasons. If it weren't for his ankle injury, he might have hung around in the MVP race before eventually ceding the title to LeBron James.
Parker's offensive game is pretty well known, but what often gets overlooked is his solid defensive play. The San Antonio Spurs aren't markedly better at stopping their opponents when Parker is on the court, but that's more a credit to the Gregg Popovich system than a debit from the point guard's legacy.
According to 82games.com, Parker held opposing point guards to a 13.1 PER in 2012-13. That's a solid number, though by no means an elite one. But here's where that system comes up again.
Parker isn't asked to be an elite individual stopper because the whole defensive concept is based around team play. He's required to play help defense whenever possible, even if it comes at the expense of leaving his own man.
And just as he does on offense, Parker fits into the system perfectly.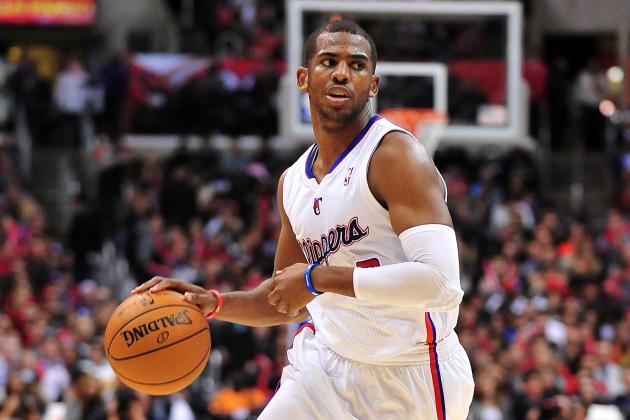 Gary A. Vasquez-USA TODAY Sports

Team: Los Angeles Clippers
Age: 28
2012-13 Per-Game Stats: 16.9 points, 3.7 rebounds, 9.7 assists, 2.4 steals, 0.1 blocks, 26.4 PER
Unless we're talking about blocking shots, Chris Paul does it well.
And he's even improving in that area after posting a career-high 10 rejections. That's probably a fluke more than anything else, though.
Paul is still the class of the position, and he'll remain in that spot until there's an argument against him other than the nonsensical "he hasn't won anything" one.
You can't poke holes in his offense, as he's one of the few threats to post 20 points and 10 assists on any given night while shooting 50 percent from the field. Paul did that eight times in 2012-13; the rest of the NBA's point guards did so 73 times.
It's tough to find flaws in his defense as well, as CP3 is both an elite thief and a great preventer of points.
He's the complete package at point guard, and he's still right in the middle of his prime.