The Michigan Wolverines enter the upcoming college football season with a chip on their shoulder, as the team didn't make as much noise as it would've liked a year ago.
Michigan was dealt a tough hand to begin last season, as it was forced to face Alabama in the opening week. The Crimson Tide—who would go on to win the national championship later in the season—crushed the Wolverines by 27 points. Michigan responded with back-to-back victories but then fell to Notre Dame.
How many games will Michigan win this year?
Michigan got hot after losing two of its first four games of the season. The Wolverines went on a three-game win streak and then won three of their next four matchups. They came into their regular-season finale with an 8-3 record, trying to ruin hopes of an undefeated season for Ohio State. That, however, didn't happen.
The Buckeyes took down their rivals with a 26-21 victory. Michigan would earn a spot in the Outback Bowl but would drop its second game in a row. South Carolina defeated Michigan 33-28 to win the bowl game, sending the Wolverines home with their fifth loss of the year. Winning just eight games wasn't too impressive considering the team won 11 in 2011.
Michigan's schedule for 2013 shouldn't be as difficult as last year's, but it certainly won't be a walk in the park either. There are a few big matchups scheduled throughout the year where the Wolverines will need to be flawless in order to come away with a victory. Here are the three toughest games of the season for Michigan.
2013 Michigan Wolverines Schedule

| | | |
| --- | --- | --- |
| Date | Opponent | Time |
| Saturday, August 31 | vs. Central Michigan | 3:30 p.m. ET |
| Saturday, September 7 | vs. Notre Dame | 8 p.m. ET |
| Saturday, September 14 | vs. Akron | 12 p.m. ET |
| Saturday, September 21 | at Connecticut | TBD |
| Saturday, October 5 | vs. Minnesota | 3:30 p.m. ET |
| Saturday, October 12 | at Penn State | 5 p.m. ET |
| Saturday, October 19 | vs. Indiana | 3:30 p.m. ET |
| Saturday, November 2 | at Michigan State | TBD |
| Saturday, November 9 | vs. Nebraska | TBD |
| Saturday, November 16 | at Northwestern | TBD |
| Saturday, November 23 | at Iowa | TBD |
| Saturday, November 30 | vs. Ohio State | TBD |
Schedule courtesy of ESPN
3. Saturday, November 9 vs. Nebraska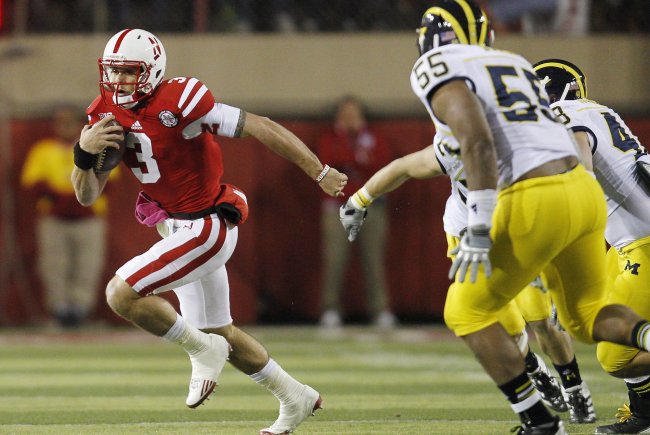 Bruce Thorson-USA TODAY Sports
Nebraska's defense was outstanding against Michigan on October 27 of last season. The Cornhuskers held the Wolverines to nine points, which was the second fewest the team put on the board all year long. Michigan didn't play well on defense, as it allowed Nebraska to score 23 points.
Michigan's biggest problem was limiting the agile Nebraska players to short yardage on run plays. Taylor Martinez, a scrambling quarterback, ran for 58 yards on 14 attempts. Ameer Abdullah finished the game with 101 yards and a touchdown on 24 carries. The Wolverines giving up 160 yards on the ground was unacceptable.
Denard Robinson leaving the game in the first half with an injury hurt the team's chances of winning in Lincoln, but if the defense would've been better, there's a chance Michigan wins the game. If the Wolverines can hold Nebraska to around 100 yards on the ground, Michigan should be able to come away with a win at home in 2013.
2. Saturday, September 7 vs. Notre Dame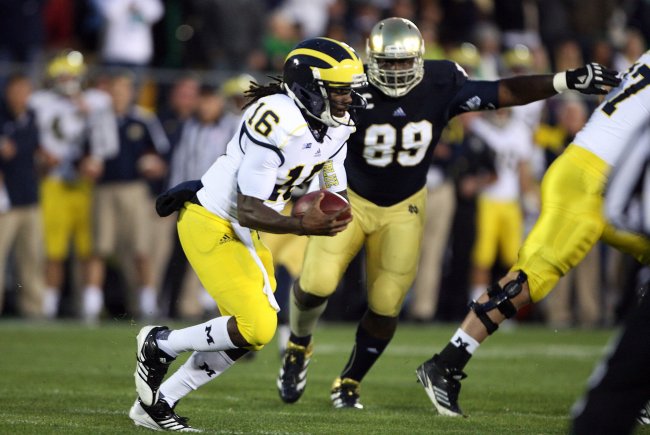 Brian Spurlock-USA TODAY Sports
Notre Dame had a fantastic season a year ago, but it couldn't defeat Alabama in the national championship game. The Fighting Irish should be back in the national championship game mix again this time around, but the Wolverines can make a dent in their opposition's chances with a big home victory.
When the two teams met last season, Robinson just couldn't get into the end zone. He threw for 138 yards and ran for 90, but he couldn't score a touchdown—and neither could anyone else on Michigan. Notre Dame's defense was very impressive, but the same couldn't be said about the offense, which only scored 13 points.
Sure, the Fighting Irish won the game 13-6, but it really could've gone either way. The matchup was close last year, and it should be just as big of a nail-biter this time around. Notre Dame's defense likely won't be as good as it was last season, meaning Michigan should have a couple of good opportunities to put points on the board.
1. Saturday, November 30 vs. Ohio State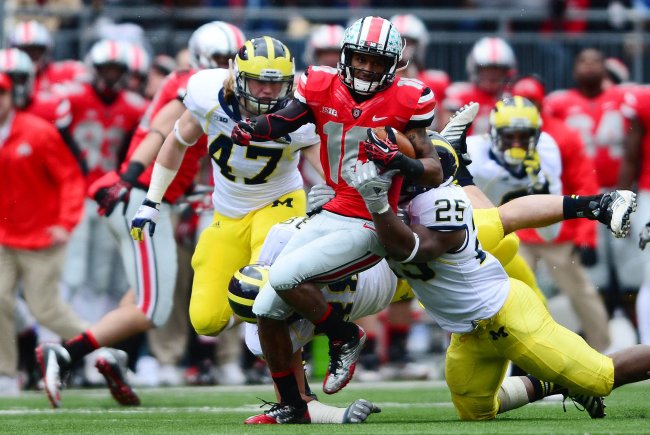 Andrew Weber-USA TODAY Sports
The Wolverines will attempt to avenge their loss to the Buckeyes from 2012 in the final week of the upcoming season. The game could determine which BCS bowl—if any—each of the two historic programs head to. Both teams will likely enter the regular-season finale with impressive records.
Ohio State is expected to be one of the top teams in the country this season, and it could be the lone team with the talent to take down Alabama. Michigan might not enter the season finale as the favorites but should be able to upset the Buckeyes in what figures to be a wild game—the game has averaged 49 total points in the last five matchups.
Devin Gardner, who was a receiver and a quarterback in 2012, will have plenty of opportunities to warm up for this game, as it's the marquee matchup of the year for the team. Even if the Wolverines weren't in a position to head to a BCS bowl game, the program would still love to ruin things for their Big Ten foes.
All statistics and information were obtained via ESPN unless otherwise noted.