In response to a recent article I wrote about USC Trojan head coach Lane Kiffin's decision to continue calling plays for the offense in 2013, I was accused by some of being on Kiffin's payroll because I had the temerity to suggest that it was his prerogative to do so since it was his job on the line.
Despite the silly nature of those accusations, it set me to wondering why some Kiffin naysayers are so concerned about this portion of his duties, so I went back and reviewed the nature of those complaints.
While many of the comments of those who would prefer that Kiffin relinquish his play-calling duties were quite nebulous—and others were simply bias-driven venom—a few offered Kiffin's affection for the passing game (and the way he prosecutes this portion of the offense) as their primary concern.
It is for these fans I offer the following with the sincere hope I ease their worried minds.
You see, the Kiffin of the past will not be the one you recognize in 2013 when it comes to running the offense.
Prior editions of the pass-happy Kiffin offense always featured a veteran quarterback, the last being four-year starter Matt Barkley.
This year, he will not have the benefit of that proven commodity with the aforementioned Barkley now plying his trade in the NFL.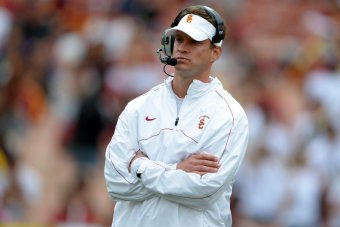 USA TODAY Sports
Instead, a three-quarterback race will continue in the fall with the victor emerging as a neophyte starter under any circumstances as only Max Wittek has any starting experience, and that consisted of only two games, both with mixed results.
Because of this, Kiffin will rely on a running game that, while somewhat unproven in its own right, still features a very talented stable of running backs led by senior Silas Redd.
Also, the head coach will look to a fairly experienced offensive line that—despite questions of its own—has the potential to be very good, especially if left tackle Aundrey Walker finally lives up to expectations.
To feed the offensive line—and to give his quarterback time to mature—Kiffin will need to pound the rock, at least early on.
Establishing a strong running game will be paramount to any offensive success USC hopes to achieve this year, and Kiffin knows that.
To that end, look for a decidedly different offense from Lane Kiffin this year: one that mixes in the occasional pass to keep the defense honest while exploiting a strong ground game for the most part.
Of course, it will be the hope for Kiffin that his offense eventually develops to the point that the pass takes on more of a featured role, but that comes with experience and the confidence needed to call the number of his quarterback.
In the meantime, look for a steady diet of running plays to start the season, and the quarterback's growth will dictate any deviation from that game plan.
So you see, Kiffin haters, there really is no need to fret about the pass-happy nature of the head coach.
All of which will give you more time to complain about his new-found love of the running game.