Colorado Rockies: Grades for Each Player in July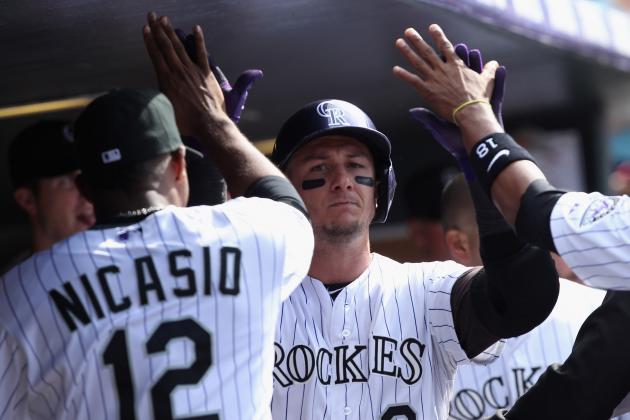 Doug Pensinger/Getty Images
The Rockies enter August looking to get back to winning baseball.
Since the Midsummer Classic, the Colorado Rockies have seen their season virtually slip through the fingers of a lackluster pitching staff and uncharacteristically flat offense.
Experiments like third baseman Nolan Arenado and Corey Dickerson have lost their luster, and a bullpen that once ranked in the top 10 in baseball now ranks in the bottom third in ERA.
The Rockies have collectively lost the spark in July. Seven teams in the National League have scored more than 100 runs in the month of July. The Rockies, who managed to score the second-most runs in the NL in June, have posted just 88 runs this month, mirroring teams like Houston, Minnesota and Miami in terms of offensive production.
The Colorado pitching staff has been on a steady decline since the beginning of June and has cost the team wins, even when the offense puts up five-plus runs of support at times. The staff has posted a 4.62 ERA this month, ranking it 27th in ERA for July.
However, this is a team with enough talent at the dish to make a late-season run.
Here are the grades for each Rockies player in July.
Begin Slideshow

»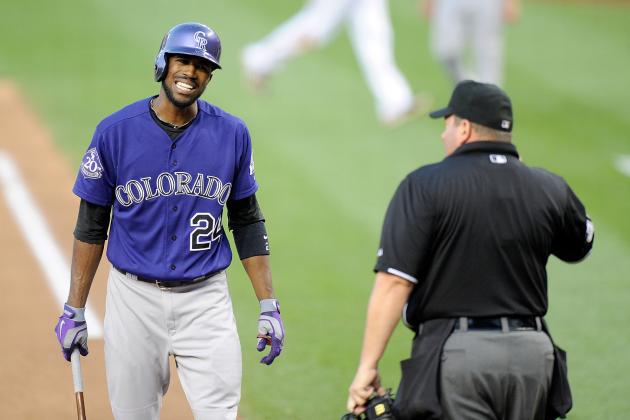 Greg Fiume/Getty Images

Before suffering a right wrist sprain in late June, Dexter Fowler was batting a respectable .291 with an OBP of .390.
In July, Fowler's numbers have immensely declined. The 27-year-old center fielder is striking out more than ever and looking uncomfortable at the plate.
That being said, his meager 10 hits this month have resulted in eight runs and five RBI. He's been clutch at times and has even pieced together a few hit streaks.
Still, overall, Fowler is batting .167 this month.
While he's played a solid center field since being activated from the disabled list, he continues to struggle offensively.
Grade: D+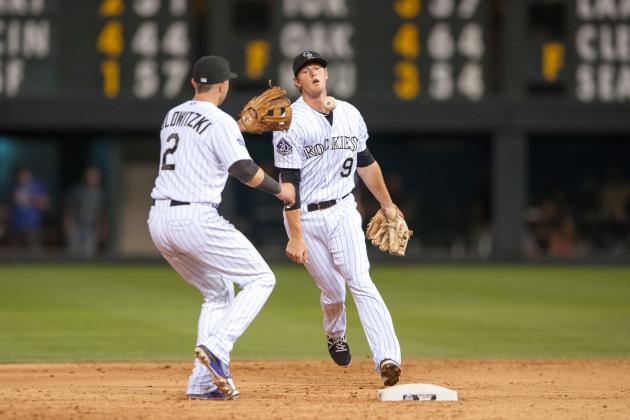 Dustin Bradford/Getty Images

DJ LeMahieu is arguably the most overlooked player on the Rockies roster—not only this month, but throughout the 2013 season.
It begins with his defense. LeMahieu, who played shortstop throughout high school, has adjusted nicely to second base, making the Troy Tulowitzki-LeMahieu double play combination one of the better in the league.
"He's a guy I like in that two-hole because he can hit the ball to the right side of the field. He's going to make contact," manager Walt Weiss said, per Thomas Harding and Ian McCue of MLB.com.
While batting a mediocre .258 this month, four of his six RBI this month have come in games decided by three runs or less.
LeMahieu does have 16 strikeouts in July and just three walks. If Dante Bichette can work with him to improve his patience at the plate and get that OBP up, he should be able to remain on the roster and contribute offensively for the remainder of the season.
At this point, he's a better option at second than his counterpart, Josh Rutledge.
Grade: C+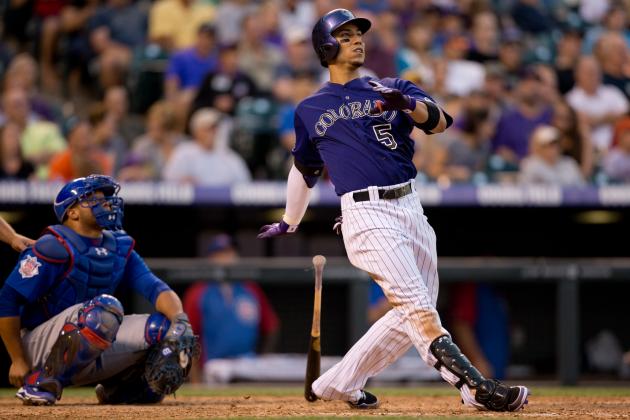 Justin Edmonds/Getty Images

All-Star outfielder Carlos Gonzalez is caulking to the Rockies' slowly sinking ship. With most players on the roster underachieving this month, Gonzalez is the sole reason they remain in third in an unexceptional NL West.
He is batting .343 in July, including a 5-for-5 performance in the first game of the current series against the Braves. He's even getting it done on the basepaths, with six bags swiped this month.
There's little doubt the Rockies' 27-year-old left fielder is one of the premier players in the game. He's keeping his team on the brink of contention.
Look for Gonzalez to maintain his hot bat, because if he doesn't, the Rockies have no chance at a .500 record, much less a playoff berth.
Grade: A
Doug Pensinger/Getty Images

Troy Tulowitzki began the season looking like a sure MVP candidate, posting a .347 average and appearing among the top three in the league in nearly every offensive category.
Then, the Rockies shortstop found himself in a familiar place: the disabled list, this time with a broken rib.
Since his activation July 11, Tulowitzki is batting .241 with three homers and eight RBI. Frankly, he's human again.
With just four walks and 15 strikeouts this month, No. 2 is swinging at way too many balls outside of the zone and not working the counts like he did prior to his injury.
Eventually, Tulo will find his groove and serve as more of a threat batting behind Gonzalez.
Grade: C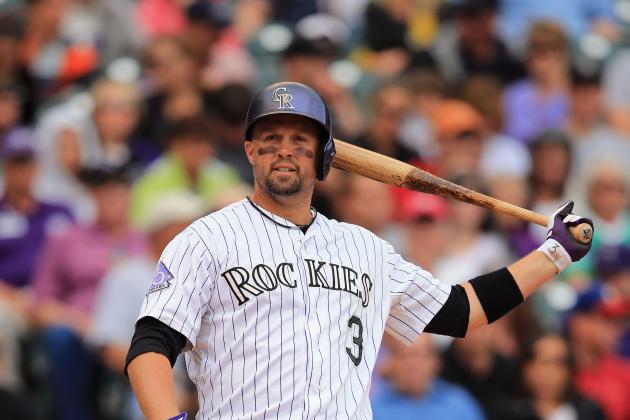 Doug Pensinger/Getty Images

When the Rockies signed Michael Cuddyer in 2011, they were expecting a consistent hitter and slick fielder to supplement Gonzalez and Fowler in the outfield.
Instead, the veteran outfielder has proven to be one of the best signings in baseball, batting .331 with 17 homers and 62 RBI this year.
While he's cooled down significantly in July, he's still outplaying expectations, hitting .293 with three homers and a team-leading 14 RBI.
The Rockies' chances of making the playoffs are slim, but Cuddyer gave fans a show in this year's Home Run Derby. It may not count for much, but for a fanbase that hasn't seen the playoffs since 2009, it's significant.
Grade: A-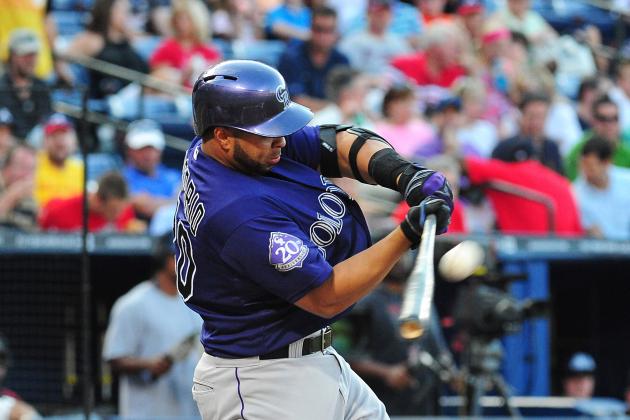 Scott Cunningham/Getty Images

Rockies backstop Wilin Rosario has been the backbone of the offense and a viable bat in the back half of the lineup this month.
Rosario is hitting .288 in July with 11 RBI. He's locked in at the dish and coming up with some clutch hits down the stretch.
While the pitching staff has been flustered in July, he has improved his defense considerably and is looking mobile behind the plate.
Coming off a productive June, Rosario has carried his consistency into July.
Grade: B+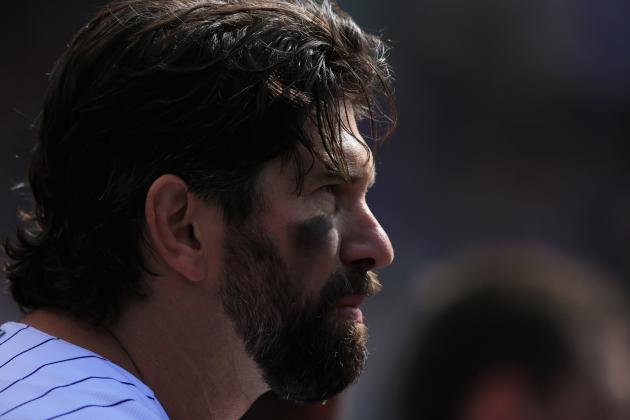 Doug Pensinger/Getty Images

Just when you think Todd Helton looks depleted, he proves that he's still the Rockies' best and most productive option at first base. This month, Helton is batting a cool .308 with seven RBI. He's remained fairly consistent over the course of July and is even hitting well on the road.
Like most of this team, though, the hits aren't coming with runners in scoring position this month, and it's taking a toll on the runs column.
At age 39, there's no guarantee Helton will carry his hot hitting into August. With retirement rumors lingering, it would be nice to see the face of the franchise have a solid last two months.
Grade: B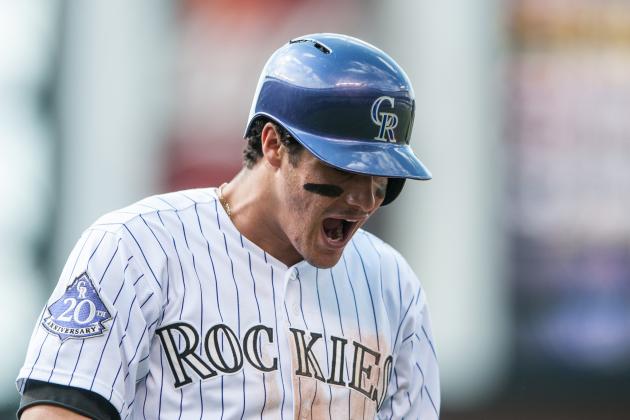 Dustin Bradford/Getty Images

After a solid June offensively, Nolan Arenado hasn't done much with the bat in July. However, he's getting it done at third, flashing his leather almost daily.
The future of the franchise is batting .221 with two homers and 11 RBI this month. The poor average is just a matter of hitting the ball to the wrong place at the wrong time. He's making contact, looking relaxed in the box and keeping his strikeouts to a minimum.
The Rockies' top prospect is simply going through a stint of bad luck this month and will surely pick it up in August.
Grade: C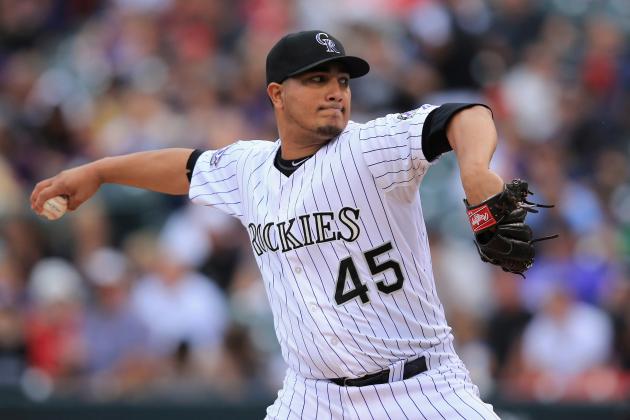 Doug Pensinger/Getty Images

It's been another solid month for Jhoulys Chacin on the mound. The Rockies ace went 2-2 with a 3.41 ERA in five starts and kept the walks to a minimum.
Chacin has developed more confidence in his slider this year, which has hitters' knees buckling.
The problem for Chacin this month was his inability to keep his pitch count low. Facing below average lineups in San Diego, Miami and a Ryan Braun-less Milwaukee, he recorded 94-plus pitches in each of his starts, pitching no more than seven innings.
Don't get me wrong, four out of his five starts this month were quality. But if he can control his fastball just a bit more, Weiss can work him into the eighth and save his overworked bullpen some innings.
Grade: B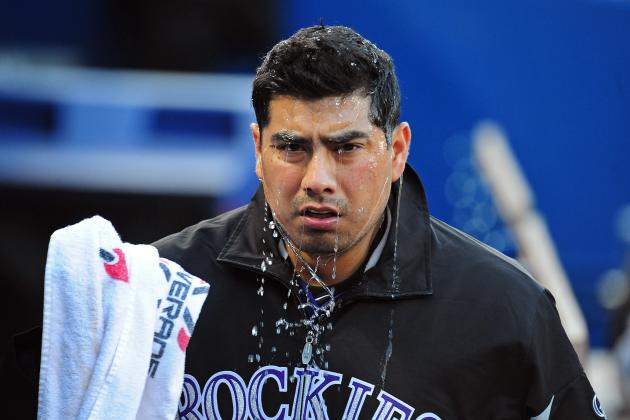 Scott Cunningham/Getty Images

Similar to Chacin, Jorge De La Rosa has been unable to pitch more than six innings in any of his starts this month, despite pitching well. That's put a lot of late-game pressure on the bullpen, which has looked inept for most of this month.
In July, De La Rosa went 2-1 with a 3.62 ERA. In his last start against Atlanta, he had one of his poorer starts on the year, administering eight runs (five earned) in five innings pitched.
The Rockies southpaw needs to put his last start behind him to have a mentally clean slate heading into August.
Grade: B-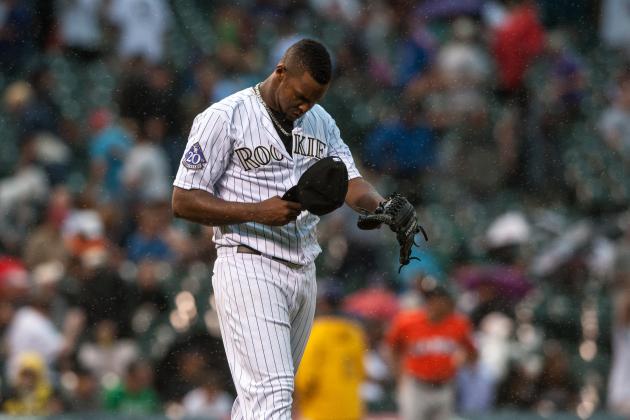 Dustin Bradford/Getty Images

Believe it or not, in a month where the Rockies went 10-15, Juan Nicasio had some of his best outings of the season.
After a horrible June, in which he posted an ERA well over six, Nicasio settled down in July with a 2-1 record and a 3.52 ERA.
In Tuesday's start against Atlanta, the Braves' offense ripped into Nicasio's fastball and hanging slider, as he allowed eight earned in four innings. But other than Tuesday's start against one of the best teams in baseball, he's beginning to locate his pitches and maintain a calm demeanor on the mound.
Grade: B-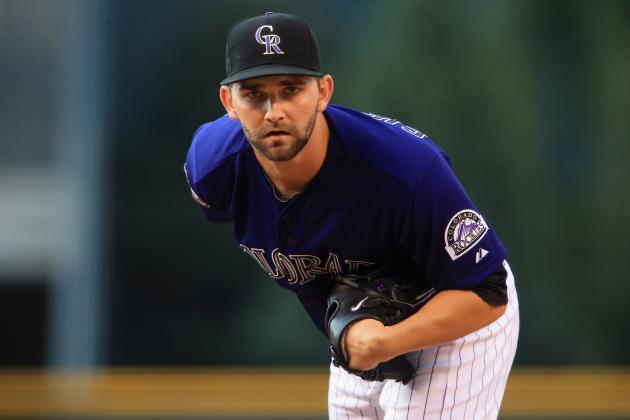 Doug Pensinger/Getty Images

Tyler Chatwood has been the story of the year for the Rockies rotation this season. With a 7-3 record and a 2.48 ERA, he is pitching with confidence and keeping the ball in the park.
This month, he's 3-2 with a 3.03 ERA and 22 strikeouts in 32.2 innings. The ERA is higher than other months, but his strikeout total is double his June total.
Chatwood is also quietly one of the best road pitchers in baseball, with a 1.23 ERA in six starts.
Look for the poised 23-year-old to carry his hot pitching into August.
Grade: B+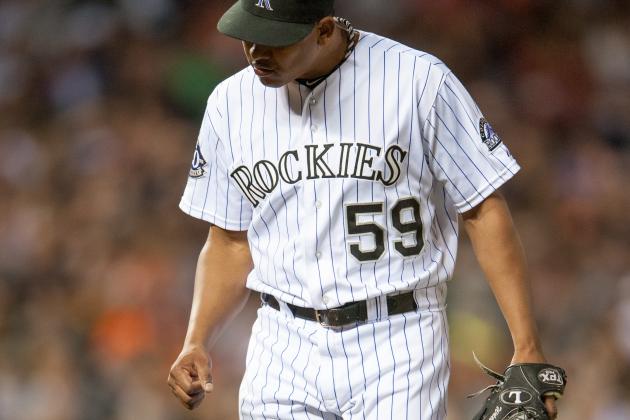 Dustin Bradford/Getty Images

Over the last month, the Rockies bullpen has been, without question, one of the worst in baseball.
Only two relievers, Matt Belisle and Rex Brothers, were able to post ERAs under four. Belisle, who's been the best reliever for the Rockies this season, has a 3.27 ERA this month. Even his numbers are nothing special.
Fact is, Edgmer Escalona, Adam Ottavino and Wilton Lopez all have cringeworthy ERAs and have been overworked due to the starters' inability to pitch deep into games.
With virtually no other options, if the starting pitching is floating around 95 pitches in the sixth or seventh, Weiss needs to send the starter back out. It's the only way these arms are going to get any sort of rest.
With the recent promotion of Jeff Francis and no major moves at the trade deadline, it looks like the Rockies bullpen is in for a very long two months.
Grade: F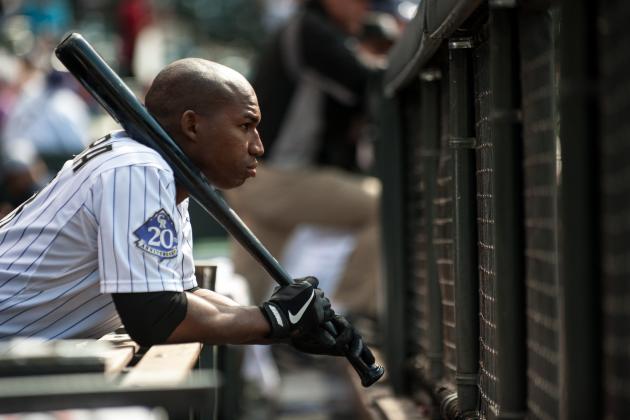 Dustin Bradford/Getty Images

While not the deepest of dugouts, the Rockies bench has gotten it done this season with situational hitting and unprecedented defense.
Charlie Blackmon, who's gotten the most playing time off the bench in July, is batting a respectable .250. He's strung together some spot starts and is looking good in the outfield.
Same goes for Jonathan Herrera. He's had a few shaky moments at short, but overall, he's playing a solid middle infield. This month, he's been a little quiet with the bat, hitting just .222.
Recent recall Charlie Culberson should provide the bench with a little more pop.
Grade: C
Follow me on Twitter: @cucch22