Hopefully Matt Garza hasn't unpacked yet.
There's a chance that the right-hander, whom the Texas Rangers acquired less than 10 days ago, could be on the move again. Ken Rosenthal of Fox Sports reported on Tuesday that the Rangers would listen on any of their players, and on Wednesday, they clarified to say that even Garza was available:
Remember yesterday when @jonmorosi and I said that virtually all of the #Rangers were in play? List includes the newly acquired Matt Garza.

— Ken Rosenthal (@Ken_Rosenthal) July 31, 2013
Garza made 11 starts for the Chicago Cubs this season before getting traded to Texas. In those starts, he went 6-1 with a 3.17 ERA in 71 innings of work. The Rangers added him because of a lack of depth and strength in the team's starting rotation. He's made two starts with the Rangers since the deal.
But Texas still needs to add a bat before Major League Baseball's July 31 trade deadline, which ends at 4 p.m. ET. It seems likely that Nelson Cruz is going to be suspended by the league for his involvement in the Biogenesis scandal, but Joel Sherman of the New York Post reports the outfielder could appeal it.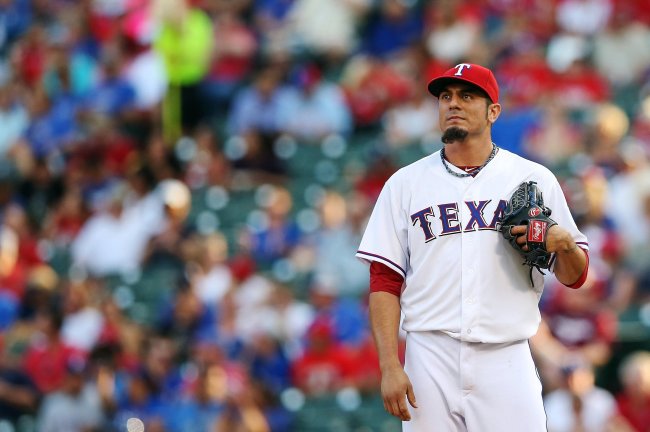 Kevin Jairaj-USA TODAY Sports
If Cruz decides to accept his punishment and sit out for what will likely be 50 games, the Rangers will lose a huge part of their offense. Texas is already fading in the AL West and can't allow Oakland to increase its division lead. The Rangers are five games behind the A's entering Wednesday.
Rosenthal notes that adding offense is the team's priority, which is why it isn't too crazy to see that the team could quickly part ways with Garza:
On #Rangers: They are exploring multiple avenues, aggressively trying to get more offense. Not unusual for them to make creative proposals.

— Ken Rosenthal (@Ken_Rosenthal) July 31, 2013
The Rangers may need to include Garza in a deal—along with a few other stars—if the team intends to land one of the biggest bats in the game. Danny Knobler of CBS Sports reports that Texas keeps calling Toronto about the availability of Edwin Encarnacion and Jose Bautista. Either would certainly improve the offense.
As we continue to monitor Garza's status with the Rangers, here is a look at some of the other rumors regarding a few stars as the deadline nears.
Bud Norris, Houston Astros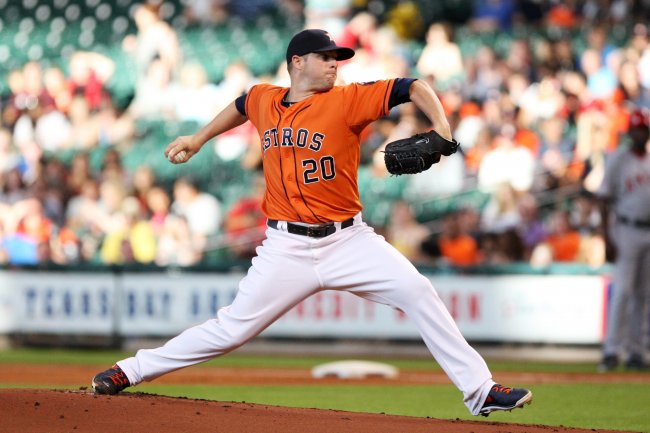 Troy Taormina-USA TODAY Sports
With Jake Peavy off the market, it appears that Bud Norris is the guy everyone is trying to get their hands on before 4 p.m. ET. Jeff Passan of Yahoo! Sports reports that there are at least four teams interested in landing the right-hander and notes that the 28-year-old will likely have a new team by the end of the day:
Latest on Bud Norris: Atlanta has jumped into foray. Baltimore, Pittsburgh and Arizona still possibilities. General sense: He'll be dealt.

— Jeff Passan (@JeffPassan) July 31, 2013
Norris is 6-9 through 21 starts for the Astros this season. He has a 3.39 ERA through 126 inning of work and would be a nice addition for any of the four contending organizations mentioned by Passan. It's unclear if the Braves are truly interested in the righty, though, as Rosenthal disagrees with what Passan had to say:
Sources: #Braves are not on Bud Norris. Never have been.

— Ken Rosenthal (@Ken_Rosenthal) July 31, 2013
The Braves have enough starting pitching where they don't really need to acquire another arm before the deadline. The team's internal options should be able to hold down the fort without Tim Hudson for the remainder of the season. But Atlanta could make a deal if it still isn't satisfied.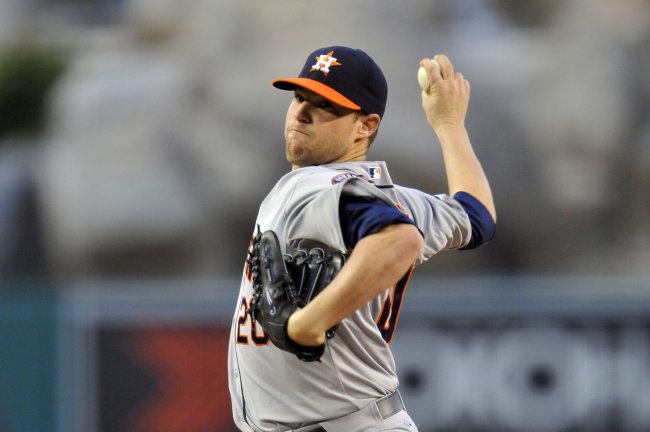 Gary A. Vasquez-USA TODAY Sports
Baltimore may feel pressure to land another starting pitcher—having just traded for Scott Feldman from Chicago—after Boston acquired Peavy on Tuesday. The Orioles are five games back of the Rays in the AL West and 4.5 games behind the second-place Red Sox. Baltimore may need an additional boost to its rotation.
Pittsburgh and Arizona are both in highly competitive races for the top spot in their respective divisions. The Diamondbacks definitely need a starter more than the Pirates. Patrick Corbin and Wade Miley are the only two healthy starters on the team with at least 10 appearances who have an ERA below 4.00.
Mike Morse, Seattle Mariners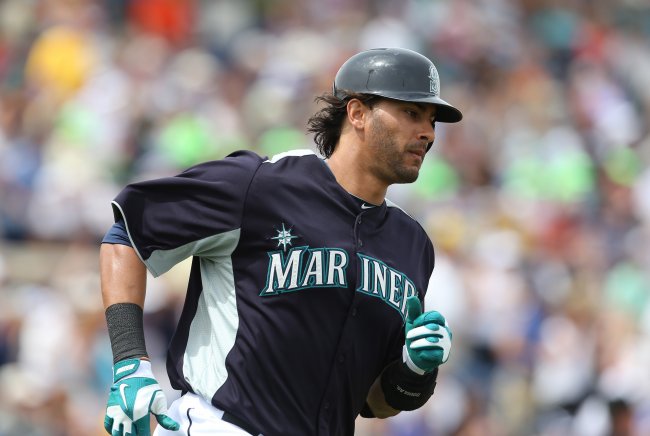 Mark J. Rebilas-USA TODAY Sports
Mike Morse hasn't made the best first impression with the Mariners this season, as he's been injured and failed to produce more often than not. Through 57 games, the outfielder is hitting .246/.307/.445 with 11 home runs and 23 RBI. Sherman reports that he is very available:
Mike Morse very available. #Yankees liked in offseason when #Nationals were moving him, but told no serious talks with #Mariners at present

— Joel Sherman (@Joelsherman1) July 30, 2013
It wouldn't make sense for the Yankees to try to acquire Morse any longer, as the team recently got Alfonso Soriano from the Cubs and Curtis Granderson should be back with New York in the coming weeks. There just wouldn't be a spot for Morse with the Bronx Bombers, unless they were looking to use him in a bench role.
It's unclear if any team is interested in taking Morse off Seattle's hands, but one would presume that the Orioles would be an ideal destination. He has a lot of power—75 home runs in last four seasons—and could serve as the team's designated hitter and backup outfielder for the remainder of the season.
All statistics in this article were obtained via FanGraphs unless otherwise noted and are current through July 30. All injury information was obtained via Baseball Prospectus and all contract information was obtained via Cot's Contracts.