Early Observations from Cincinnati Bengals Training Camp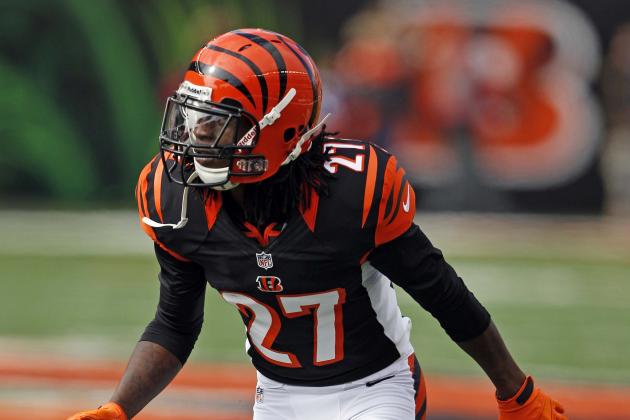 Frank Victores-USA TODAY Sports

It's a weird thought to know that the NFL preseason has already approached training camp. More to the point—the first preseason game is a week away!
With training camp in full swing, it is crunch time for a lot of the players in Cincinnati. There are only 53 slots on the NFL roster, about half of which (if not more) are basically guaranteed already. That means some guys need to bring it.
Six days into camp, what observations can we draw?
Begin Slideshow

»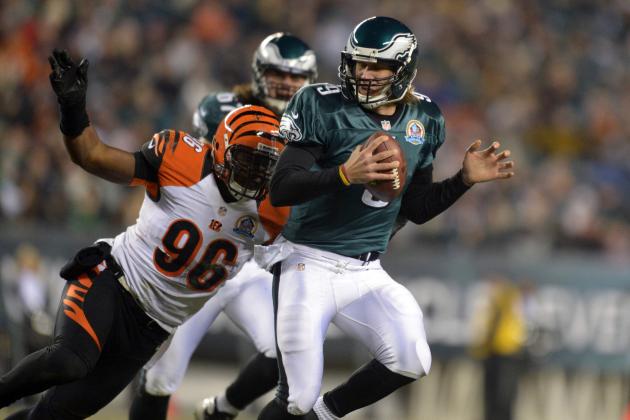 USA TODAY Sports

It just seems like Carlos Dunlap can't avoid the injury bug. After an injury-riddled 2011 and 2012, it doesn't seem as though he's going to catch a break anytime soon.
Dunlap, the Bengals' starting defensive end, suffered a concussion during Monday's activities, and ESPN's Adam Schefter reported he was "out for now."
Bengals DE Carlos Dunlap is not practicing right now due to a concussion he suffered earlier in the week. He is out for now.

— Adam Schefter (@AdamSchefter) July 31, 2013
No time table has been set for his return at this point, though I've found no speculation he'll miss Week 1 which is a good thing.
Additionally, second-year nose tackle Brandon Thompson has a sprained knee and is expected to miss a few weeks dealing with it. Thompson was considered a steal in last season's NFL draft, and the thought was that he and fellow sophomore Devon Still would receive more time this season.
Left tackle Andrew Whitworth has now missed the majority of the week, but that is likely due to offseason surgery. He isn't expected to miss playing time.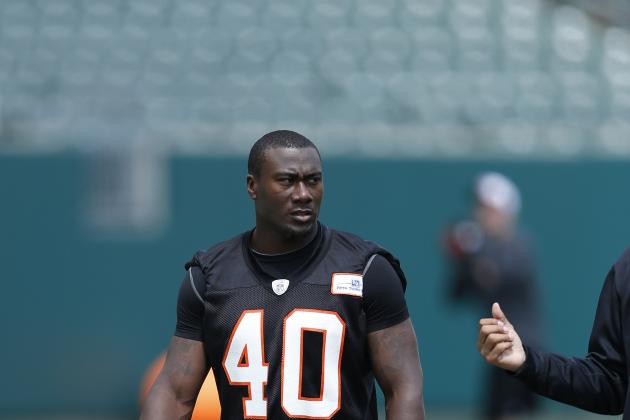 Joe Robbins/Getty Images

According to Brennen Warner on Cincy Jungle, Taylor Mays, George Iloka and rookie Shawn Williams are receiving first-team reps and doing well.
Following the 2012 season, it seemed that one of the biggest needs on the board for the Bengals was a safety next to Reggie Nelson. Matt Elam and Kenny Vaccaro were the early first-round favorites, but Cincinnati opted for the "best available" routine.
Thus, Williams was brought in and seemed to be the early favorite to take the reins from the ever-incapable Taylor Mays. Mays, a former hard-hitting USC Trojan, has not been able to translate his stellar college play to the NFL field, mostly due to an inability to read quarterbacks and coverage.
Iloka, meanwhile, has been a bit of a no-name on the team but is doing well towards receiving some incredible playing time in 2013. With three guys performing well enough to be the starting strong safety, the competition is on.
The preseason will be a huge indicator of who wins the battle.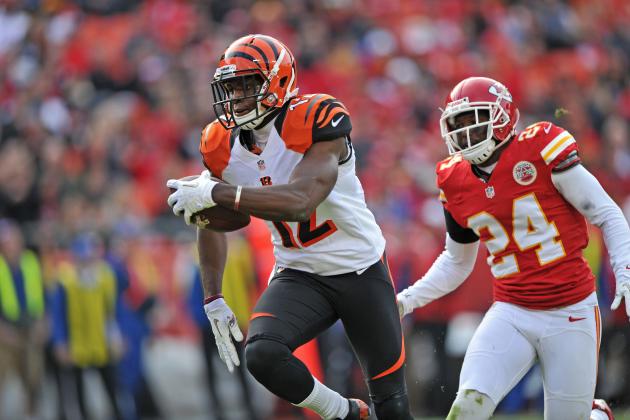 Peter Aiken/Getty Images

Preliminary training camp performances seem to be circling around receiver Mohamed Sanu, who is benefiting greatly from A.J. Green's current absence in camp.
Sanu, who has long been thought to be the team's No.2 receiver opposite Green, has been catching passes from Andy Dalton and over-matching the Bengals' defense over the last six days. I don't think anyone anticipated a superstar to emerge out of Sanu, but his performance so far indicates that he just may be that.
There have also been sightings of him lining up in the backfield—he's a triple-threat guy (keep in mind that he threw a touchdown last year).
Bob Levey/Getty Images

Exactly what a guy like Dalton should be doing.
Andy Dalton has proven over the last couple years that he, for the most part, has no business trying to launch the ball down the field. He's not a long-ball thrower.
Now, Dalton is doing well focusing on the short-field passes to guys like Andrew Hawkins and his two tight ends, Jermaine Gresham and Tyler Eifert.
They may not be the most exciting plays, but they will be the most effective in the Queen City.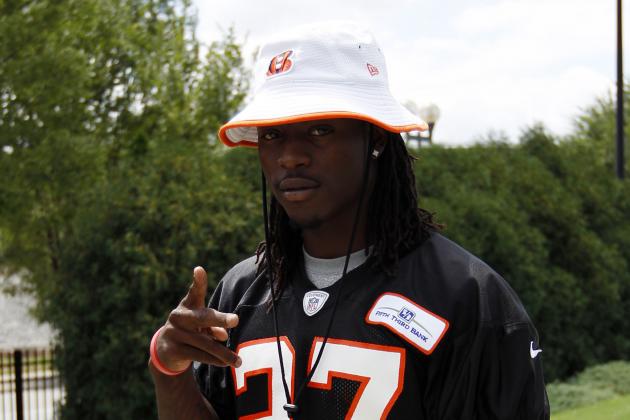 Frank Victores-USA TODAY Sports

Unfortunately for Dre Kirkpatrick, his injuries during his rookie season have set him back quite a bit—he hasn't been taking snaps with the first-team defense.
However, he has been great in his time on the field, and he seems more driven than ever to succeed at the NFL level.
Kirkpatrick, the 17th overall pick in the 2012 NFL draft, only saw the field in a handful of games during his rookie season, and most of that was simply on special teams. He is now intercepting and breaking up passes during camp and doing everything he can to prove to Mike Zimmer he's ready.
Will he start Week 1? I'm not sure, but it seems he's going to give 110 percent to try.