Sri Lanka vs. South Africa: Scores and Innings Recaps for Fifth ODI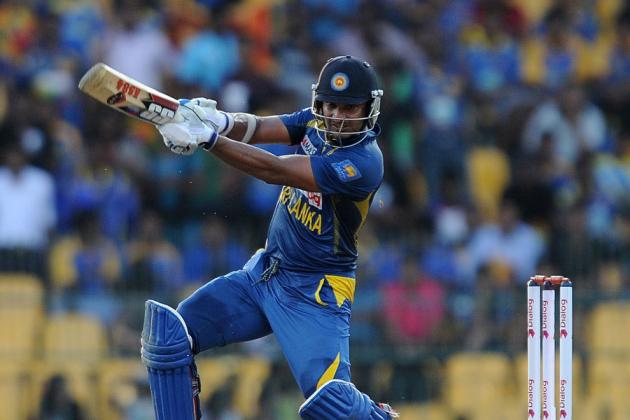 AFP/Getty
South Africa and Sri Lanka clashed in the last of five ODIs in Colombo, with the home side already 3-1 ahead.
The Proteas could not prevent a series loss, but they did have the chance to show their young team had learned some lessons in unfamiliar conditions in the subcontinent, and salvage some pride.
Here's how the game unfolded.
Begin Slideshow

»
Getty/AFP
Sri Lanka won the final match by a handsome 128-run margin.
Here's the scorecard, as recorded by the ICC:
Sri Lanka 307-4 (50 overs)
T Dilshan 99(110) - b R McLaren
K Perera 9(16) - c de Kock b Morkel
L Thirimanne 68(93) - c Duminy b Phangiso
K Sangakkara 75(45) - not out
A Mathews 23(22) - c Miller b Tsotsobe
T Perera 17(14) - not out
Bowling
M Morkel 10-0-78-1
L Tsotsobe 10-2-52-1
R McLaren 10-0-47-1
F Berhadien 4-0-28-0
JP Duminy 7-0-46-0
A Phangiso 9-0-48-1
South Africa 179 all out (43.5 overs)
Q de Kock 27(21) - b S Senanayake
H Amla 18(28) - lbw Senanayake
JP Duminy 15(14) - lbw T Dilshan
F du Plessis 6(13) - c Sangakkara b T Perera
AB de Villiers 51(51) - c A Mathews b A Mendis
F Berhadien 1(22) - c A Mathews b S Lakmal
D Miller 0(2) - c K Sangakkara b S Lakmal
R McLaren 29(73) - c A Mathews b A Mendis
M Morkel 0(4) - b A Mendis
A Phangiso 18(28) - not out
L Tsotsobe 3(7) - b S Lakmal
Bowling
S Lakmal 5.5-0-24-3
A Mathews 4-0-32-0
S Senanayake 10-2-29-2
T Dilshan 10-0-41-1
T Perera 5-1-17-1
A Mendis 9-2-36-3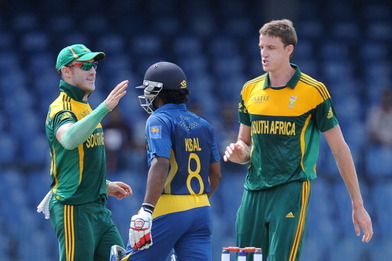 Getty/AFP
Sri Lanka's captain Angelo Mathews won the toss and opted to bat first.
It was a day/night match in Colombo, and with dew on the grass often a factor late in the evening in the subcontinent, it was a natural choice.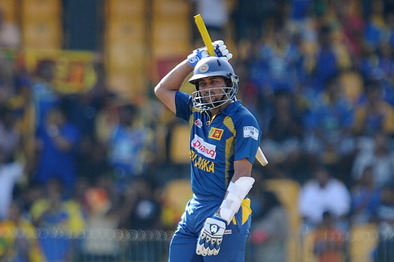 Getty/AFP
Sri Lanka batsman Tillakaratne Dilshan laid the perfect foundation to the innings.
He batted fluently with the patient Lahiru Thirimanne (68), only to fall agonisingly short of a century—bowled by Ryan McLaren on 99.
That meant that he came within a whisker of back-to-back centuries, according to ESPN Cricinfo:
Dilshan falls within a run of consecutive 100s against South Africa. SL set for a big score. 257/4 in the 46th. http://t.co/zPoIAqQ2DG

— ESPNcricinfo (@ESPNcricinfo) July 31, 2013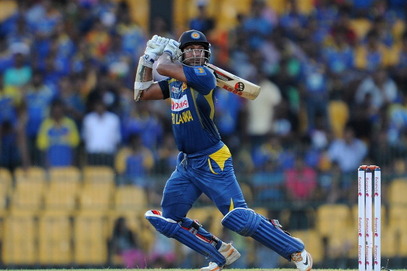 Getty/AFP
When Dilshan fell, Sri Lanka could easily have lost their momentum. Instead, Kumar Sangakkara stole the show with a wonderful 45-ball innings.
He stroked 75 unbeaten runs to up the run rate in the final overs, stroking 12 fours and no sixes.
This took Sri Lanka's final score from their 50 overs to 307-4, but some still thought it would be a close match.
Sri Lankan commentator Russel Arnold tweeted from the ground that it looked like an even contest at halfway:
Had a look at pitch during break...looked very good....I think we are in for a super evening! !!!

— Russel Arnold (@RusselArnold69) July 31, 2013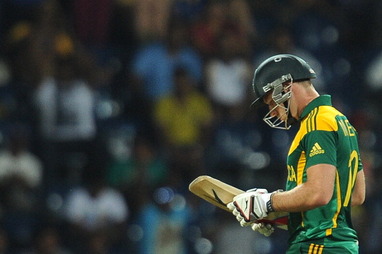 Getty/AFP
South Africa's Quinton de Kock made a bright start to the chase, scoring 27 from 21 balls. However, once he departed—out to the first ball he faced from spinner SMSM Senanayake—the innings falls apart.
One batsman after another fell to leave the game all but over, with the tourists 85-6.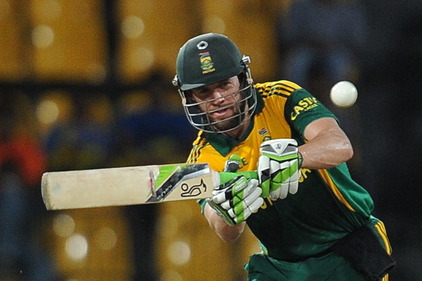 Getty/AFP
AB de Villiers, the South Africa captain, led a resistance of sorts with a spirited half-century.
He found support from all-rounder Ryan McLaren, but the run rate was increasing all the time.
When de Villiers got out for 51, trying to hit over the top and instead offering a catch to opposite number Angelo Mathews, the game was effectively over.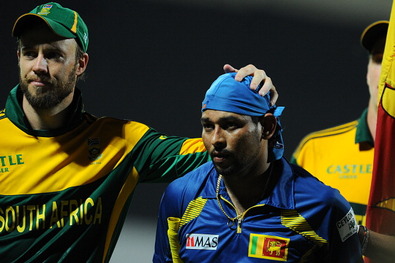 Getty/AFP
A 4-1 defeat for South Africa does not bode well for a team who have now slid down to fifth in the ODI rankings.
They are without some of their most experienced players, though whether the likes of Graeme Smith and Jacques Kallis could have turned their fortunes around is hard to know.
Perhaps most telling, though, was the absence of lead bowler Dale Steyn, without whom the attack is less than secure.
Sri Lanka look comfortable and confident, especially in home conditions, although they still lean heavily on veterans Tillakaratne Dilshan and Kumar Sangakkara.
The teams now meet in a best-of-three T20 series starting on Friday.