UFC: Predicting Each Division's Next Champion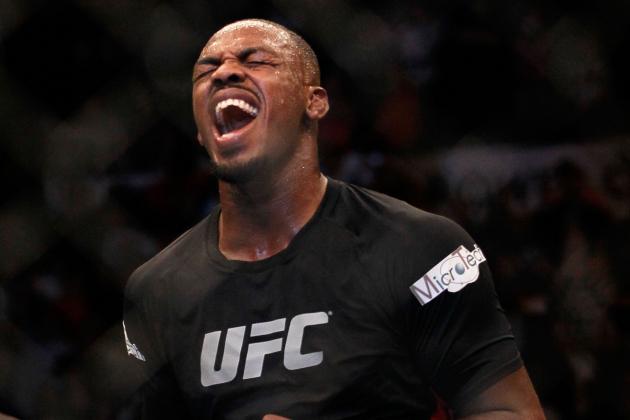 Kevin C. Cox/Getty Images

Beginning this weekend at UFC 163 when Jose Aldo defends his featherweight title against Chan Sung Jung, the UFC will embark on a run of a period of just over three months where we have five UFC champions scheduled to defend their belts.
Some of those champions will defend their belt successfully, some will not.
What will follow is a complete list of every UFC division's next champion.
Begin Slideshow

»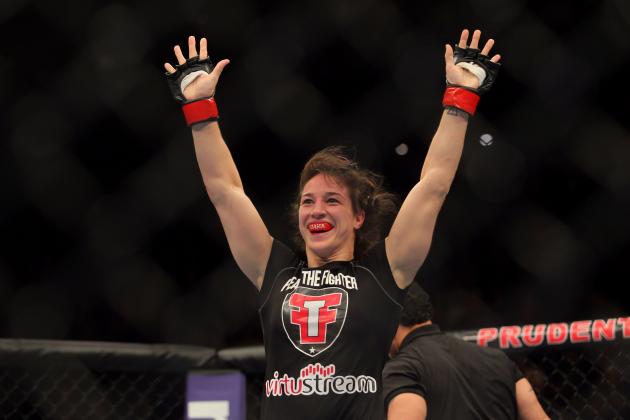 Brad Penner-USA TODAY Sports

Ronda Rousey, the current Queen of the bantamweight division has rolled through every opponent she's faced in the first round.

In fact, Rousey has been so impressive that many people don't believe there is a woman on the planet at 135 pounds who she won't leave writhing in pain with a dislocated elbow, inside of five minutes.
However, if there is anyone capable of beating the United States first female Olympic medalist in Judo, it would be the United States first female Olympic medalist in freestyle wrestling.
McMann is an incredibly powerful wrestler who has used her technique and power to amass a record of 7-0 in her professional MMA career.
McMann has a difficult fight ahead of her with the former Strikeforce women's champion Sarah Kaufman.
However, McMann is sure to employ her superior ground game en route to securing a win in that fight.
Depending on the wishes of the UFC and the recovery of Cat Zingano from a knee injury that forced her out of the championship bout she earned with Rousey after stopping Miesha Tate earlier in 2013, McMann may fight one more time before getting her shot against Rousey in late 2014.
Regardless of the way the schedule plays out, when Rousey's incredible run does end, it will be because of Sara McMann.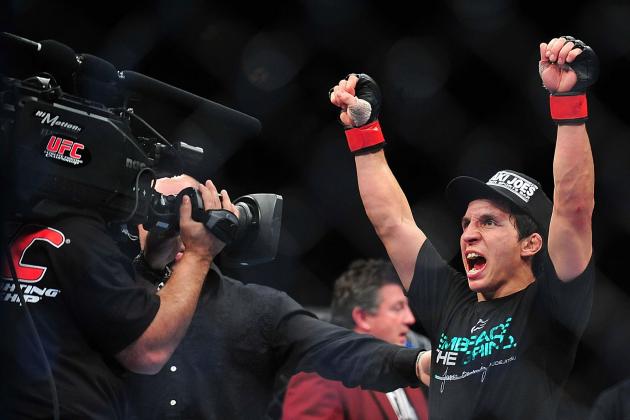 Gary A. Vasquez-USA TODAY Sports

Some people might say that Benavidez can't beat current flyweight champion Demetrious Johnson.
These people will probably cite the fact that Johnson earned a split decision victory over Benavidez just last September when the two fought for the inaugural flyweight division championship.
These people are wrong.
While Johnson has been very impressive in his two title defenses, the fact remains that Benavidez did not come close to fighting his best fight in their first meeting.
The flyweight division is the thinnest division in the UFC, which has never been more evident than by John Moraga, who went from fighting on the Facebook portion of a UFC card in one fight, to the main event title fight at the UFC on Fox 8 in his next fight.
It's this thinness within the ranks that will allow Benavidez, with a win in his upcoming fight with Jussier Da Silva, to secure the rematch with Johnson.
It's in this rematch that Benavidez will assert himself as the divisions best and most complete fighter.
It's in this rematch that Benavidez will become the next flyweight champion.
Jason da Silva-USA TODAY Sports

Who is the current bantamweight champion?
Is it Dominick Cruz? Cruz is the official titleholder. It's also been nearly two years since Cruz has been inside the Octagon.
Is it Renan Barao? Barao is the current interim bantamweight title holder.
Don't worry, I'll answer this question for you. The answer should be Barao.
Cruz was a great champion. However, to be champion you have to defend your belt. I'm sorry that he's gone through the issues that he has with his knee. I am sympathetic, but at some point enough has to be enough.
Regardless, one day Cruz will be back in the Octagon. I'm unsure of when that day will come, though. What I am sure of is, when that day arrives, Cruz will be unable to beat Barao or Alcantara.
The reason that I include Alcantara is because if he has the opportunity to fight Barao between now and Cruz's return, Cruz will be facing the new bantamweight title holder Yuri Alcantara.
Many people might be unfamiliar with Alcantara, but they need only wait until August 17 when Alcantara uses his explosive athleticism and finishing skills to beat perennial contender Urijah Faber.
On August 18, everyone will know what I already do: Yuri Alcantara will be, at some point in the near future, the UFC bantamweight champion.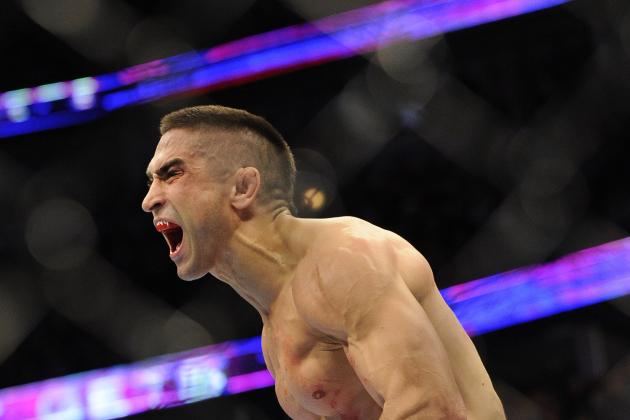 David Banks-USA TODAY Sports

Jose Aldo has reigned over the 145 pound division, first of the WEC and, now, of the UFC for a very long time.

Aldo has ruled his nearly eight year unbeaten streak with iron fists and knees.
Aldo is currently set to face fan favorite Chan Sung Jung, who was inexplicably tabbed to fight Aldo as a late replacement after Anthony Pettis was forced to withdraw due to injury.
Jung poses no real threat to Aldo.
In fact, most of the featherweights on the planet pose no real threat to Aldo.
One featherweight that does represent a clear and present danger to Aldo is Ricardo Lamas.
Lamas is the type of fighter that brings the violence whenever he steps into the cage. He has finished three out of his last four fights, including a particularly brutal stoppage over Eric Koch, who many believe would have earned a title fight opportunity had he beaten Lamas.
Lamas also owns six decision wins in his pro career and looking fresh in while doing so. Granted he's never fought into the championship rounds at this level, it stands to reason his cardio will sustain.
Aldo, on the other hand, despite having gone the five round distance in three of his last four fights, has never looked exactly comfortable during the latter rounds.
I believe that when these two eventually meet, Lamas will use his abilities to survive the initial onslaught and will eventually score a late finish via TKO.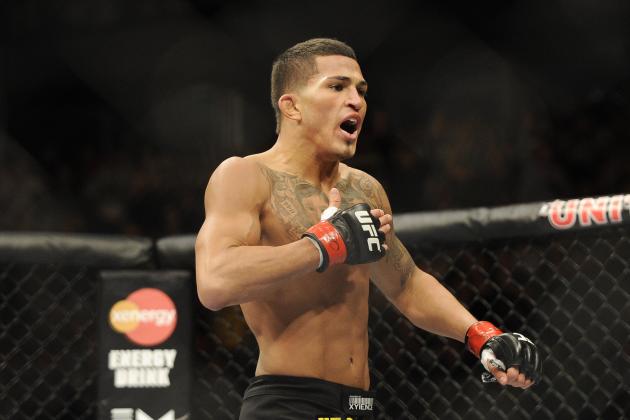 David Banks-USA TODAY Sports

The current lightweight champion, Benson Henderson, has successfully defended his title three times.
Henderson will not defend the title a fourth time, however.
On August 31st, Anthony "Showtime" Pettis, in front of his home crowd in Milwaukee, Wisconsin will do what Anthony Pettis does.
That is, he'll stay true to his nickname and put on a show, just as he did the first time these two fought when they were both with the WEC.
It was during this first fight that Pettis unveiled his famous "Showtime Kick".

Some will say it was that spectacular piece of athleticism that stole the fight and swayed the scoring in Pettis' favor.
Whether that's true or not, of Henderson's three title defenses, two have been very close decision wins.
It's not wise to fight a close decision with Anthony Pettis this time around given his ability to steal the show.
Unfortunately for Henderson, his skills just don't quite translate to a dominating win in this fight, which leads me to believe this will be the fight where Henderson finally comes up short on the judge's scorecards.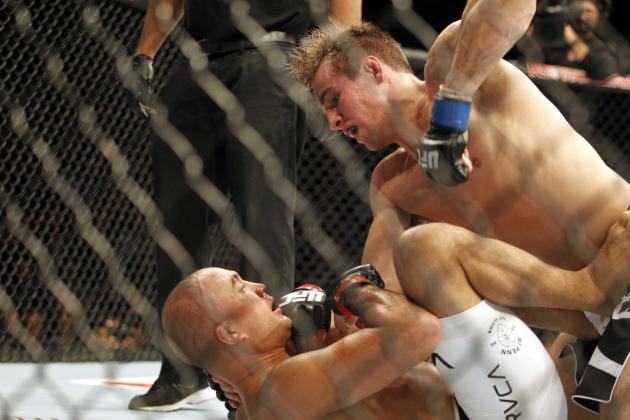 Joe Nicholson-USA TODAY Sports

Will he or won't he?
That question obviously speaks to whether or not MacDonald will fight his friend and training partner Georges St. Pierre.
The reason this question is pertinent is, contrary to what many people believe, GSP will earn yet another decision win when he uses his technical striking advantage to dispatch of Johny Hendricks.
So, back to the original question. I have no idea what will happen between these two. I'm not sure if anyone knows.
Some say MacDonald wants to be the 170 pound champion and will fight anyone to attain this goal.
Some say he'd rather move to Middleweight than punch his good buddy in the face.
I say none of this matters.
If MacDonald fights GSP, he will beat him.

MacDonald will use his physical tools and gifts to control a fight with St. Pierre.
Some have said Damian Maia "Fitched" Jon Fitch.
Well, if these two come to blows, MacDonald will "GSP" St. Pierre.
That is, MacDonald, much like in his recent fight with Jake Ellenberger, will use his jab to keep St. Pierre on the outside and systematically pick him apart.
If the two hold firm to their public statements that they are unwilling to fight one another then MacDonald will bide his time either at 170 pounds, beating up other contenders, or by making a name for himself at 185 pounds.
In either scenario, I just don't see anyone at welterweight who can beat St. Pierre. So after a few more defenses, St. Pierre could potentially abdicate his throne. This would clear the way for MacDonald to win a fight at 170 pounds and take his rightful spot atop the class.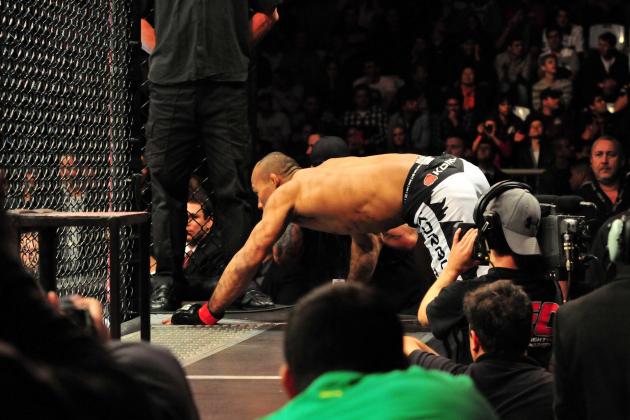 Jason da Silva-USA TODAY Sports

The newly minted middleweight champion Chris Weidman is scheduled to fight Anderson Silva on December 28th.
I have no reason to expect that fight will go much differently than their first encounter—save for the theatrics that Silva employed during that tilt.
Yes, Silva will tone down the antics this time and will give the appearance that he's taking Weidman for what he is, a very dangerous man.
Despite this, Weidman is still the prototype for beating Silva.
Weidman will not score another spectacular knock out, but he will finish the greatest of all time on the ground by either TKO or submission.
Sometime in 2014, Weidman will face Jacare who will prove to be the first opponent that Weidman can't conquer.
Jacare is a brilliant Brazillian Jiu Jitsu practitioner. It can be argued that he's MMA's best BJJ specialist.
While Weidman is a very strong, very solid grappler with good submission offensive and defensive submission skills, he's not on the level of Jacare.
The thing with Jacare is he's not as one dimensional as many would have you believe. His stand up has been evolving and improving making him that much more dangerous. While I don't expect him to knock Weidman out, his stand up will be enough to land some shots and defend until he takes "The All American" down.
Once on the ground, Jacare will live up to the meaning of his name. Jacare will be in his natural habitat which will spell the beginning of the end for Weidman.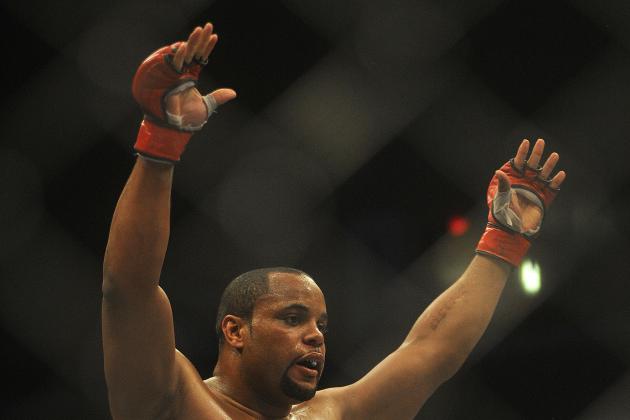 USA TODAY Sports

I know that, at this very moment, Jon Jones has a title fight scheduled with Alexander Gustafsson. I'm not concerned with Jones coming out on the short end in this fight. I believe this fight will go precisely how the rest of Jones' fights have gone. Jones will win in complete and utter domination.
I'm also aware that Daniel Cormier currently has a fight scheduled at heavyweight with Roy Nelson. Cormier though, has been clear with his thoughts that he would like to beat Nelson, then bypass the line of light heavyweight contenders waiting for their opportunity at Jones.
If Cormier beats Nelson at UFC 166, I believe his wish will be granted for an immediate title shot. If Cormier loses, I believe that he will need to win at least one fight before he's given a shot at Jones.
If this scenario plays out, I believe Jones will face Glover Teixeira. As much as I like Teixeira as a fighter, and as good a chance as I believe he has at beating Jones, I'm just not so sure it will happen.
So it's a matter of when, not if, Cormier and Jones do battle.

Whenever that time comes, Jones will find himself in a position he hasn't found himself before. He'll be facing a more accomplished, stronger wrestler who has taken shots from heavyweights and eaten every one of them.
For the first time in his career Jones will find himself on his back.
Cormier will use his power and technique to control Jones for 25 minutes because, yes, this fight will likely go the distance, but Cormier, at the end, will have his hand raised after winning a clear unanimous decision.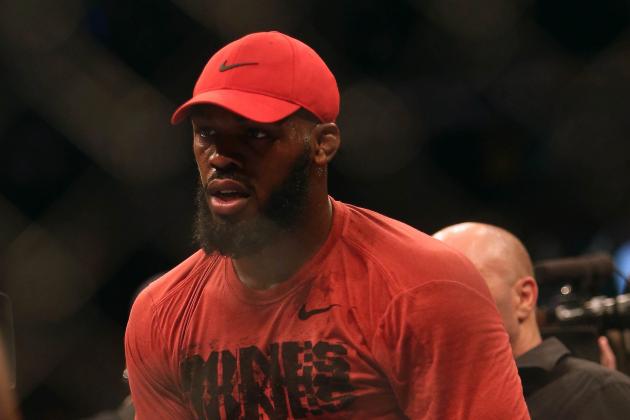 Tom Szczerbowski-USA TODAY Sports

Many people believe the jump from light heavyweight to heavyweight is inevitable for the man I consider to be the current pound-for-pound king.
Blessed with incredible athleticism and physical gifts, Jones has run through the UFC's 205-pound division.
I believe that the current heavyweight champion, Cain Velasquez, has a very firm grip and, short of another one-punch-knockout by Junior Dos Santos in their upcoming bout at UFC 166, there isn't another heavyweight that can push the champ or get lucky enough to land the one big shot that can put Velasquez's lights out.
No, when Velasquez finally loses and relinquishes control of the belt, it will be at the hands of another heavyweight with a style similar to his.
Jones is that man. They would both be on the slightly smaller side of the heavyweight spectrum. Both men have the stamina to fight and push the pace for five rounds. Both men share a very strong wrestling base.
The difference would be the same as it is in all of Jones' fights. He would use his length and superior athleticism to frustrate and eventually defeat Velasquez.