Seahawks vs 49ers: Who Has the Edge at Every Position After Early Injuries?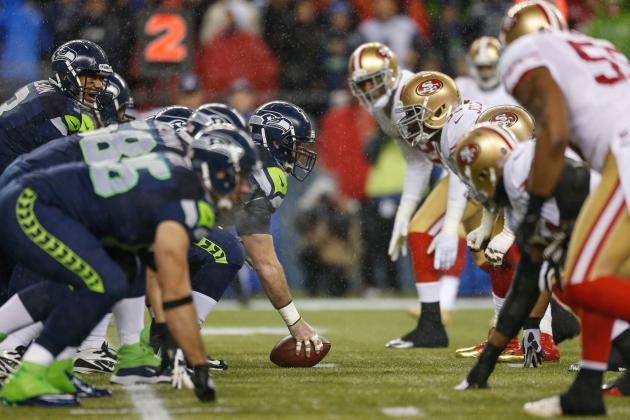 Otto Greule Jr/Getty Images

The arms race that engulfed the Seattle Seahawks and San Francisco 49ers this offseason has taken a few early injury hits ahead of the 2013 season.
Arguably the most anticipated rivalry in all of football for at least this coming season, the Seahawks and 49ers made splash move after splash move this summer in preparation for what looks like the game's best divisional race. But injuries have taken their early toll.
The 49ers were dealt their biggest blow when top receiver Michael Crabtree tore his Achilles tendon in May. He needed surgery and will now miss a significant chunk of next season.
The Seahawks know San Francisco's pain. Newly acquired receiver Percy Harvin, expected by most to tilt the scales Seattle's way in the NFC West, needs surgery to repair a partial tear in his hip labrum. He'll now miss most, if not all, of 2013.
Two significant injuries won't tarnish the rivalry these two teams have quickly built, but the losses of Crabtree and Harvin do put the "Best in the West" argument back into the spotlight.
In the following slides, we'll breakdown which team has the edge at each position—taking early injuries into consideration—as the 49ers and Seahawks prepare for the 2013 season.
Begin Slideshow

»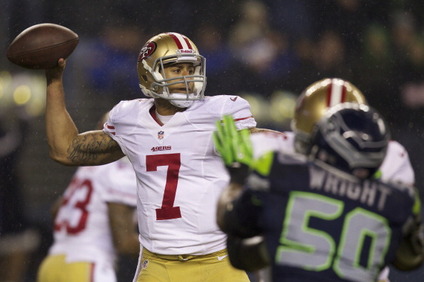 Stephen Brashear/Getty Images

What's not to like about Colin Kaepernick or Russell Wilson, the two quarterbacks that make up this rivalry?
Kaepernick, in his first year starting for the 49ers, became arguably the game's most dangerous pass-run quarterback in the game, while also leading San Francisco to the doorstep of a Lombardi Trophy. Over 16 games (including the postseason), Kaepernick combined for nearly 3,300 yards and 22 touchdowns (14 passing).
Wilson, who won the Seahawks starting job as a third-round rookie, took his time getting comfortable in the Seattle offense before transforming into a more athletic version of Drew Brees late in the season. Powered by 100.0-plus passer ratings in seven of his final 10 regular-season starts, Wilson finished his rookie season with 30 total touchdowns and nearly 3,600 yards.
Edge: Push
These are two of the NFL's up-and-coming young quarterbacks, complete with everything a franchise desires at the game's most important position. There's no sense in nit-picking one to find a small edge for the other.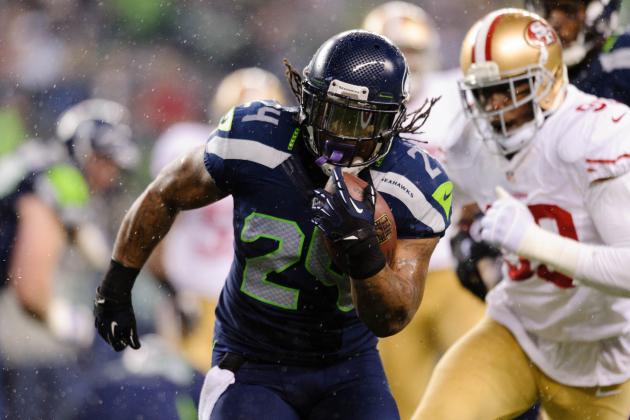 Steven Bisig-USA TODAY Sports

While both the Seahawks and 49ers are controlled by a top young quarterback, each offense relies heavily upon running games headlined by deep, talented ball carriers.
Seahawks running back Marshawn Lynch has rushed for over 1,200 yards in each of the last two seasons, including a 1,590-yard season in 2012. Few backs break more tackles or impose as much physical damage on defenses.
Behind Lynch, Seattle can feel very comfortable with second-year back Robert Turbin (354 yards in 2012) and talented rookie Christine Michael, who the Seahawks used a second-round pick on in April.
The 49ers aren't far behind.
Starter Frank Gore is one of the game's most reliable backs, having rushed for over 1,000 yards in six of the last seven seasons. Top backup Kendall Hunter is returning from Achilles surgery, but he's a versatile and explosive option behind Gore. Jitterbug LaMichael James has game-breaking speed and change-of-direction skills.
And we can't forget about Marcus Lattimore, who is recovering from a catastrophic knee injury but might possess the most raw talent at the position of any running back in the 2013 rookie class.
Edge: Seahawks
Seattle gets the nod based mostly on Lynch, who is the best running back on either roster. The depth for the Seahawks behind him is also strong. But Seattle's edge might only last for 2013; once Lattimore becomes a real part of this equation, everything changes.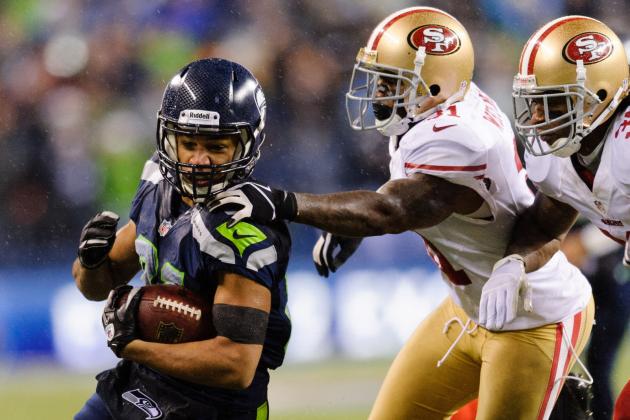 Steven Bisig-USA TODAY Sports

Injuries have changed everything about this position in both San Francisco and Seattle.
The 49ers were banking on Michael Crabtree, who broke out with 85 catches and nine scores last season, to continue his evolution as the team's No. 1 receiver, even after acquiring Anquan Boldin from the Baltimore Ravens.
Now, it's Boldin and a lot of question marks.
A.J. Jenkins is a former first-round pick, but he's yet to embrace his opportunity. Quinton Patton is an intriguing rookie, but can the 49ers rely on a fourth-round pick to be a major contributor? Even veteran Mario Manningham is returning from knee surgery.
The Seahawks suddenly have question marks, too.
Percy Harvin may not play in 2013, and No. 1 receiver Sidney Rice is in Europe for treatment on his knee (per NFL.com), although he's not expected to miss any regular-season time.
Unlike the 49ers, Seattle has proven depth.
Golden Tate has breakout season written all over him, and Doug Baldwin has 80 catches since entering the league as an undrafted free agent in 2011. Seattle can make do without Harvin, and possibly Rice, at least in the short term.
Edge: Seahawks
Without injuries, this might be a dead heat. But losing Crabtree is a much bigger deal to the 49ers than Harvin's loss is to the Seahawks, which gives Seattle a slight edge.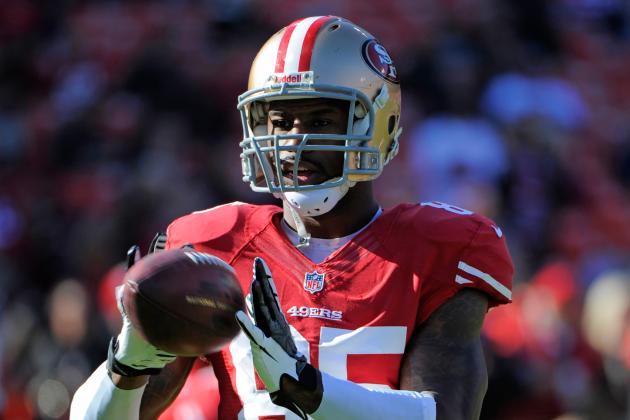 Kyle Terada-USA TODAY Sports

Zach Miller caught 38 passes for three scores for the Seahawks last season, but losing Anthony McCoy to an Achilles injury hurt Seattle's depth at tight end. The team now has six players in camp competing to be the top backup.
The 49ers are set at tight end, even after losing trusted veteran Delanie Walker to free agency. Vernon Davis is an elite player at the position, and his chemistry development with Colin Kaepernick in the playoffs is an encouraging sign for the 2013 season.
Also, don't sleep on Vance McDonald, who the 49ers drafted in the second round this April. He could be a versatile weapon, especially as an athletic receiver in the slot.
Edge: 49ers
Davis makes this an easy call, and McDonald is miles ahead of any backup the Seahawks have on their tight end depth chart.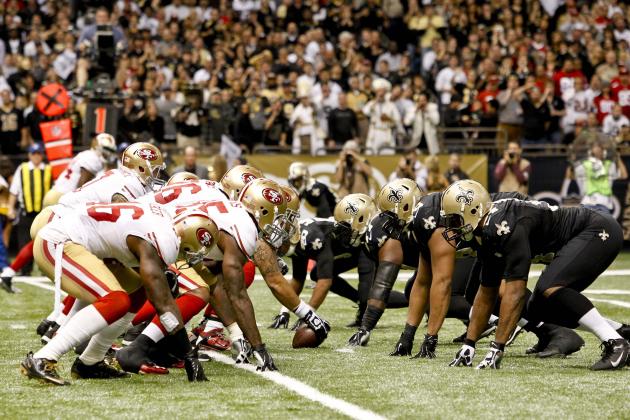 Derick E. Hingle-USA TODAY Sports

The Seahawks have a vastly upgraded offensive line, anchored mostly by left tackle Russell Okung and center Max Unger. Any team that can rush for 2,500 yards in a season, like Seattle did in 2012, can block at the point of attack.
But is there any question which team is better up front on offense?
The 49ers boast All-Pros at left tackle (Joe Staley) and left guard (Mike Iupati), plus one of the game's top right tackles (Anthony Davis). Jonathan Goodwin and Alex Boone are both underrated players at their position. This is a complete offensive line, from left to right.
Edge: 49ers
San Francisco has the best offensive line in football, and by a wide margin. The Seahawks are improving up front, but there's no comparison here.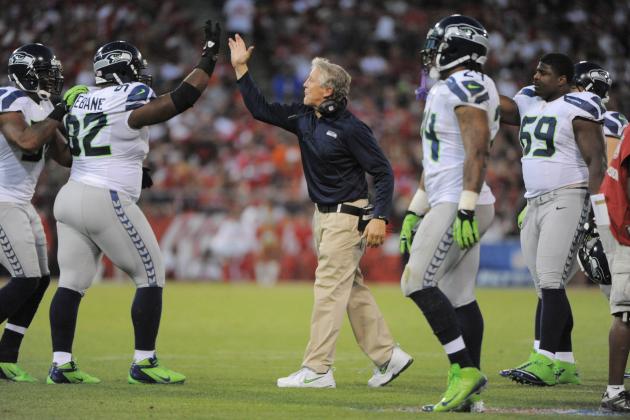 Kyle Terada-USA TODAY Sports

The two defensive lines are hard to compare given each team plays a different style of defense. But in terms of strictly talent, the two sides are very comparable.
In free agency, the Seahawks added Cliff Avril and Michael Bennett to a line that already includes Chris Clemons, Bruce Irvin, Brandon Mebane and Red Bryant. Seattle then stole the strong and tough Jesse Williams in the NFL draft, before adding former Arizona Cardinal O'Brien Schofield off waivers this week. Overall, it's a strong unit that should be very good at pressuring the quarterback.
The 49ers did their own reload job this offseason, finding Glenn Dorsey in free agency while also adding talented first-year players Tank Carradine and Lawrence Okoye. All-Pro Justin Smith and Ray McDonald remain the starting anchors.
Edge: Push
Both teams made big additions to already solid units. While the 49ers were likely ahead of the Seahawks along the defensive front to start last season, Seattle has clearly closed the gap. Both lines are championship worthy.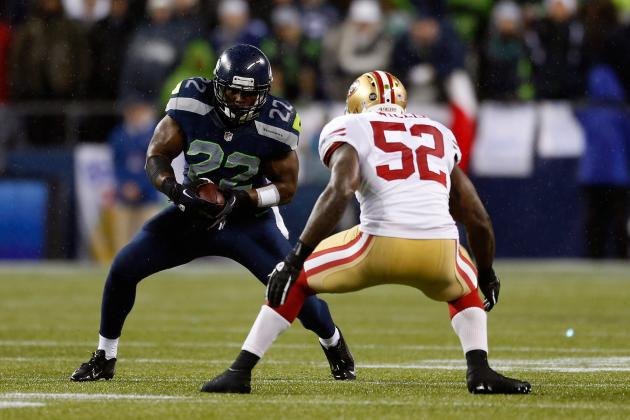 Otto Greule Jr/Getty Images

There's a lot to like about Seattle youngsters Bobby Wagner and K.J. Wright, and the idea of playing athletic defensive end Bruce Irvin as a standup rusher is intriguing.
However, the Seahawks have a ways to go before they catch the 49ers in the linebacking department.
The unit in San Francisco has three All-Pros (Patrick Willis, NaVarro Bowman and Aldon Smith), and a fourth who is perfect in his role on the strong side (Ahmad Brooks). Willis and Bowman are the best inside combination in the NFL in some time, while Smith tallied 19.5 sacks in his second season.
The only question for the 49ers might be depth, especially inside. But rookie Corey Lemonier can rush the passer off the edge, and Parys Haralson is another solid backup.
Edge: 49ers
The trio of Willis, Bowman and Smith have very few rivals in the NFL in terms of production and respect. Seattle's duo of Wagner and Wright is certainly up-and-coming, but few would argue against what San Francisco offers at linebacker.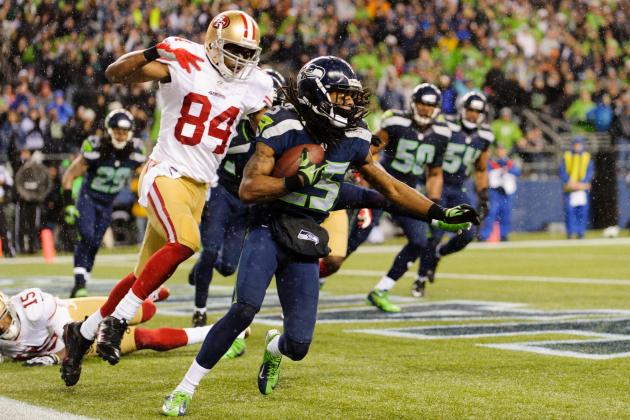 Steven Bisig-USA TODAY Sports

If the 49ers can get the pre-Philadelphia Eagles version of Nnamdi Asomugha in 2013, this might be a closer race. A combination of Asomugha, Carlos Rogers, Tarell Brown and Chris Culliver would make cornerback a deep position in San Francisco.
However, there's too much talent at the top of Seattle's depth chart to even consider this a close call right now.
Richard Sherman has a legitimate case to be the game's top corner, while Brandon Browner is the kind of tall, physical player that the position is now demanding. Add in Antoine Winfield, one of the best slot cover men in the NFL and a sure tackler, and you get maybe the best trio of corners in football.
Edge: Seahawks
If there's a weakness in the 49ers defense, it might come at corner. That's not the case in Seattle, where Sherman, Browner and Winfield are a stud trio.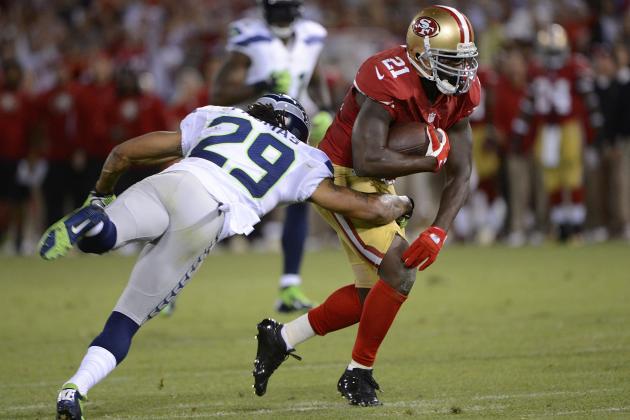 Thearon W. Henderson/Getty Images

A year ago, both the 49ers and Seahawks could have put in a claim for possessing the game's best safety combo. That might still be the case in 2013, but one team now has a young question mark.
Out in San Francisco is former All-Pro Dashon Goldson, who signed a lucrative free-agent deal with the Tampa Bay Buccaneers. In is Eric Reid, a first-round safety from LSU. Can the rookie fill the hole left by Goldson in his first NFL season?
The Seahawks have no such worries.
Seattle returns both Earl Thomas, a two-time Pro Bowler, and Kam Chancellor, who was named to the Pro Bowl in 2011. The pair are a perfect combiation of athleticism and physicality for the Seahawks' attacking defense.
Edge: Seahawks
If Reid becomes a real player in his rookie season, the 49ers will be on equal ground with the Seahawks at the safety position. But until we know that for sure, Seattle is the safer bet. Thomas and Chancellor should only get better with another year playing next to each other.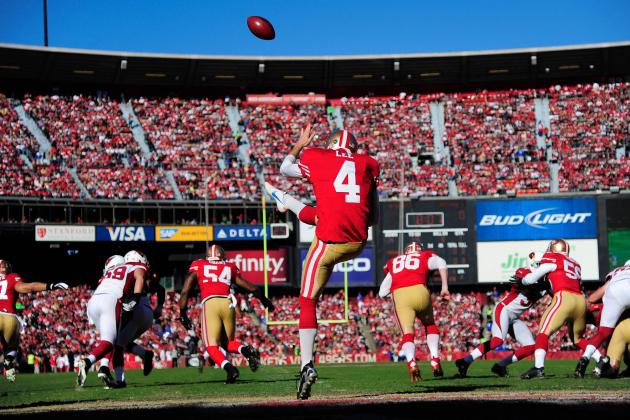 Kyle Terada-USA TODAY Sports

Comparing the specialists of the two teams is an exercise in splitting hairs.
On one hand, the Seahawks have two very reliable and steadfast options in punter Jon Ryan and kicker Steven Hauschka. Neither are elite at their respective positions, but the Seahawks don't have to worry about losing a game because of the duo.
The 49ers, however, are on the other end of spectrum.
While punter Andy Lee is one of the best in the business, the team is starting over at kicker with veteran Phil Dawson. David Akers failed miserably for San Francisco in 2012, missing 13 kicks over 42 tries. Dawson would appear to be much more reliable (29 of 31 last season in Cleveland).
In terms of returning, the Seahawks were dealt a tough blow with the loss of Percy Harvin. In San Francisco, the 49ers can feel confident in LaMichael James and Kyle Williams on both punts and kicks.
Edge: 49ers
A difficult call, but adding Dawson this offseason puts the 49ers slightly ahead of Seattle. He should steady the team's kicking woes. And it's very possible this could have went to a push had Harvin not gotten hurt. He changes everything in the kicking game.