Analysis of Arsenal's Offloaded Deadwood This Summer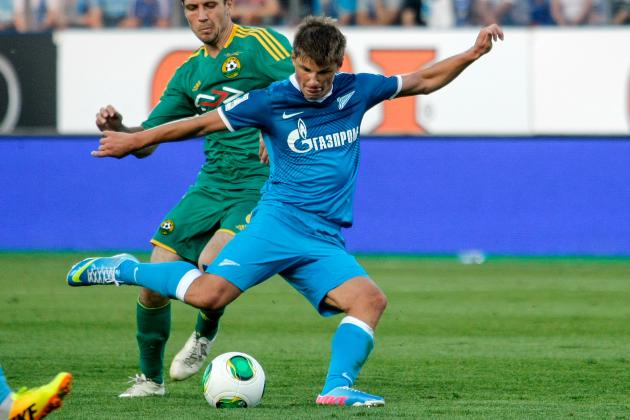 Epsilon/Getty Images
Andrey Arshavin has gone back home for a third spell with Zenit
Many Arsenal fans won't be happy with how the transfer market has panned out so far, but one thing is certain—the Arsenal hierarchy has been very busy offloading their deadwood.
In the course of the 2012-13 campaign, Arsenal had some players that worked their skins off and produced the goods on a weekly basis, even if it wasn't enough to end the club's everlasting trophy drought.
In goal, Wojciech Szczesny had the lion's share of game time but Lukasz Fabianski had a rare stint in goal that was highly productive. The defense was manned by Per Mertesacker on a regular basis but while Bacary Sagna and Thomas Vermaelen struggled for fitness and form, the performances of Laurent Koscielny, Carl Jenkinson and of course, the intense battle between Kieran Gibbs and Nacho Monreal were worth commending.
The midfield had an interesting outlook with injuries robbing the club of the services of Jack Wilshere and Abou Diaby but while Mikel Arteta was a standout performer all season long, Rosicky's renaissance and Aaron Ramsey's late season flourish were heartwarming to say the least.
Santi Cazorla, however, was in a realm of his own.
In attack, Lukas Podolski and Olivier Giroud had to combine to fill van Persie's scoring boots (there was still some space in the boots though). While the likes of Gervinho and the Ox failed to impress, Theo Walcott's goalscoring form was a vast improvement in more ways than one.
At the end of the 2012-13 campaign, Arsenal would look back on the season with shame, bearing in mind that they were ousted from two winnable domestic cup competitions by lower opposition that would've been defeated any other day.
Even if they could take some solace with the Champions League exit in the hands of the eventual winners, the Premier League campaign turned out to be another topsy-turvy adventure that just saw the Gunners sniff at the final Champions League spot on the last day of the season.
After accessing the squad, Arsene Wenger and his negotiating chums got busy and many of these players have new employers.
Here's an overview of Arsenal's offloaded deadwood this summer.
Begin Slideshow

»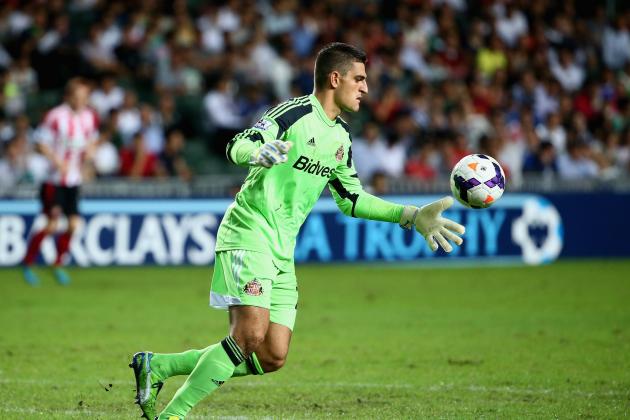 Robert Cianflone/Getty Images

In 13 appearances for Arsenal last season, Vito Mannone managed two clean sheets against Stoke and Liverpool.
He deputized when Wojciech Szczesny suffered an ankle injury, and on the Pole's return to full fitness, Mannone was sent back to the bench and never managed to get his footing till the season ended.
He has had his fair share of heroics, as in the Fulham game a few seasons ago when he put up a five-star performance, but he has never convinced me that he actually has what it takes to command a starting berth in an ambitious club like Arsenal.
With Simon Mignolet departing Sunderland for greener pastures in Anfield, Paolo di Canio's punt for Mannone is a highly welcome move, and he can thrive in a club like Sunderland where he won't be under any pressure to deliver.
But when I remember di Canio's antics last season, I believe that Mannone will have to really step up.
Deadwood Offloading Conclusion
With Wojciech Szczesny and Lukasz Fabianski clearly ahead of Mannone in the pecking order, selling Mannone to Sunderland was a very good move for both the player and the club.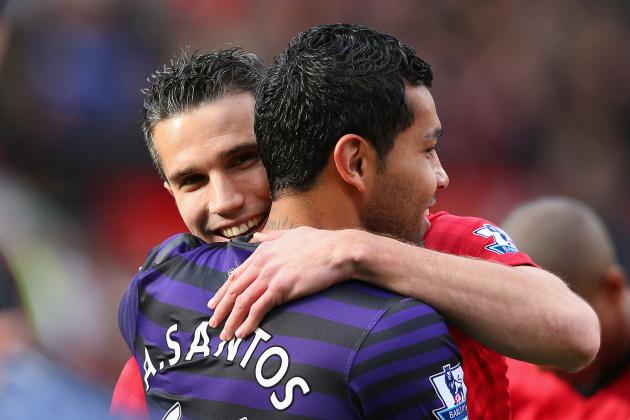 Alex Livesey/Getty Images

When Andre Santos joined the club in 2011 along with a plethora of "panic signings" Arsenal made after that humiliating defeat in the hands of Manchester United, he looked a decent buy.
He offered what Arsenal had lacked in the days of Gael Clichy—an attacking outlet on the left flank. His goals against Olympiakos, Chelsea and West Brom came in vital moments and he enjoyed a good first season by his standards.
Last season, things went awry for the Brazilian and his performances on the pitch fell short.
His poor positional awareness and dismal defending cost his team in the games against Schalke (home), Manchester United (away), Liverpool (home) and Brighton (away), bringing him into the bad books of Arsenal fans.
Then of course, there was the halftime shirt swap with Robin van Persie that prompted the fans to ask for his head on a shiny plate.
After another bad showing against Liverpool, the manager went to the transfer window when Gibbs suffered an injury, clearly indicating that he had no further plans for Santos in his team.
He was shipped to Gremio but the club didn't have the financial capabilities to seal a permanent deal. After grumbling upon his return to London, he reached an agreement with Arsenal to terminate his contract.
Andre Santos is currently basking in the Brazilian Sun, and he won't be missed.
Deadwood Offloading Conclusion

With Kieran Gibbs injured on the tail end of the January transfer window, Arsenal didn't think twice before swooping for Nacho Monreal. That speaks volumes.
For those who don't know, Sebastien Squillaci is the real Man of Steel.
The French bloke arrived at the shores of London with an amazing trophy haul from his days in France and Spain, and the experience that meant he was supposed to be a mentor to the younger defenders in the squad.
He turned out to be the right-footed version of Mikael Silvestre.
He even lived up to the Legendary No. 18 own-goal billing by heading the ball into his own net when Arsenal played Wigan in the last game of 2010. Pascal Cygan (No. 18) did it in his time and Silvestre (No. 18) was the quickest of them all with an own goal on his debut.
Seeing Squillaci wear the Red and White sends chills down my spine most times, because you can never predict the next calamity he's about to make. To the delight of Arsenal fans worldwide, the Man of Steel's contract expired and Arsenal wasted no time in rolling the red carpet out of the main gate of the Emirates.
At least, there's a Daily Planet in the island of Corsica so Squillaci will be doing two jobs—playing for SC Bastia while wearing the Superman outfit inside his jersey.
When there is trouble in the town, Squillaci will leave the pitch and save the day, because when he's on the pitch, he's as good as someone who's off it.
Deadwood Offloading Conclusion
Despite his vast experience, he's behind Per Mertesacker, Laurent Koscielny, Thomas Vermaelen, Ignasi Miquel and even Johan Djourou's spirit that's in the club while his body plays in Hamburg. If he signed a new deal, there would have been a riot in London Colney.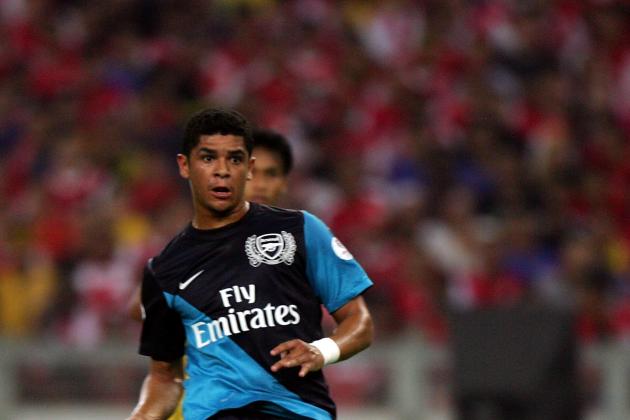 Stanley Chou/Getty Images

Denilson was part of the Brazil Under-20 side that won the South American Championships, and was labeled the next best thing in Brazil, so he was snapped up for £3.4m from Sao Paulo in 2006.
With World Cup winner Gilberto Silva, Mathieu Flamini, Alex Song and Lassana Diarra all in the squad, Denilson had to settle for Carling Cup starts, but as the years went by, Denilson found himself available for first-team action.
He took his chance in the 2008-09 season, because he was the Gunner with the highest amount of appearances that season (51 games).
Jack Wilshere's emergence in the 2010-11 season limited the Brazilian to Cup matches and substitute appearances in the Premier League, but Denilson was a shadow of the player that was quite impressive a few seasons ago.
After Arsenal played Fulham at the end of that campaign, the Brazilian told the world that he was a frustrated figure at the club and was going to leave.
Arsenal negotiated a loan move for the bloke to his native Brazil, and after a spell with Sao Paulo, they failed to match the Gunner's evaluation for the player and another loan move came into fruition. With the Brazilian outfit failing to meet Arsenal's demands again, the player took things to his hands, and like Andre Santos, his contract was terminated.
Now he's back with Sao Paulo after joining as a free agent. Sly foxes, the lot of them.
Deadwood Offloading Conclusion
Instead of trying to fight for his place with Jack Wilshere and Aaron Ramsey, this Brazilian brought out a white flag and chickened out. Good riddance.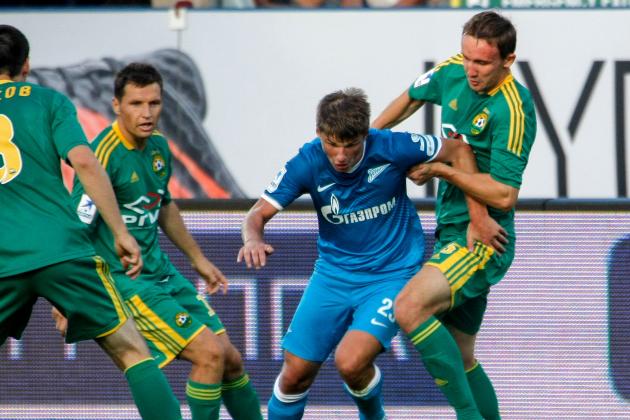 Epsilon/Getty Images

After an extremely disappointing 2012-13 campaign, Arshavin's time with Arsenal is up as the club chose not to renew his contract. He was reduced to spending a lot of time in the dugout, and when he came on he looked rather uninterested.
He was impressive in the Capital One Cup last season and his only significant Premier League moments include his late cross into the box that led to the goal against Queens Park Rangers, and the penalty he won against Fulham.
In what became his final appearance for the club, Arsene Wenger summoned him with 15 minutes left to play when the Gunners visited Stamford Bridge. With the Gunners trailing, they needed inspiration from anywhere but when the ball came to Arshavin's path, he was found wanting.
Some say that he was played out of position, others say that he was lackadaisical. I say that he's a technically proficient player who began his career at the club like a house on fire but plummeted into mediocrity due to his lethargy and lack of work ethic.
Deadwood Offloading Conclusion

Arshavin's movement was excellent, and after what we'd seen from him at Anfield and the boost he gave our season after his signing, there was no doubt in my mind that arsenal signed a really talented footballer. Unfortunately, talent only gets you so far. Arsenal paid a big transfer fee and big wages, and got nothing close to value for money. - Arseblog