Fantasy Football 2013: 5 Backup Running Back Sleepers
Elsa/Getty Images
One of the more widely held beliefs about the 2013 fantasy football season is that running back will be the hardest position to fill since there isn't a lot of depth.
It is believed that if you miss out on running backs early on, chances are you will struggle to find adequate starters in the later rounds. That makes finding some running back sleepers even more important than it has been in years past.
Often with running backs, it's not so much about talent that produces a good fantasy football season. Rather, it is the team around them and the opportunities they get to succeed that usually determines their ultimate success.
If an offense can provide enough opportunities for the running back, it makes sense that they'd want to rotate the backup in so the starter can stay fresh. Other teams don't have a starter they trust in every situation, which leads to more of a committee approach.
Those situations create fantasy value for backup running backs, but often times, those guys go overlooked and slip in the draft.
The following five backup running backs are in the perfect situation to contribute to both their real team and any fantasy football squad that takes a chance on them with a late-round flier in 2013.
All stats are from ESPN.com, unless otherwise noted, and scoring is based off of ESPN's standard fantasy scoring system.
Danny Woodhead, San Diego Chargers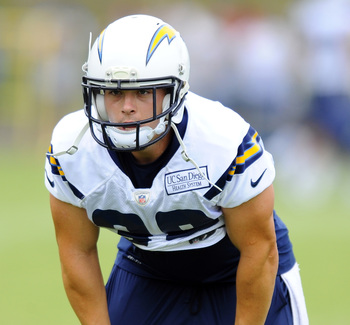 Christopher Hanewinckel-USA TODA
Danny Woodhead has always been an interesting fantasy running back.
He never got enough rushing attempts to be a great fantasy player when he was with the New England Patriots. But when his rushing stats were combined with his receiving totals, he managed to be a decent value in both the 2010 and 2012 NFL seasons.
In New England, Woodhead was never going to be a major part of an offense that liked to spread the ball around and had talents like Wes Welker and Rob Gronkowski to focus on. That might not be the case with his new team, though.
Woodhead moved on to the San Diego Chargers this offseason, and their offense could use a guy with Woodhead's skills. They throw a lot of screen passes, which definitely helps his value as a pass-catching running back.
If the offense gets back on track after a down year, Woodhead should have plenty of chances to contribute.
But more importantly, the starting running back for the Chargers is Ryan Mathews. Mathews has missed 10 games in his first three seasons in the NFL, and he has been severely limited in others.
It's a safe bet that Mathews will miss some time this year, and when he does, there really isn't another running back on the Chargers' roster that can challenge Woodhead. Even if Mathews is healthy, the Chargers would probably feel safer limiting his carries to keep him fresh and uninjured.
Woodhead has never had an opportunity like this to shine, so it's difficult to know if he can run with it. But he has a low floor, especially in point-per-reception leagues, and the upside is there if he can reach it.
That's a good formula for a late-round sleeper.
Andre Brown, New York Giants
Rich Schultz/Getty Images
Andre Brown is in an intriguing situation this season.
The Giants have moved on from former starting running back Ahmad Bradshaw, leaving last year's first-round pick David Wilson to fill his shoes—at least until Wilson fumbles away his chance of being the starter.
Giants coach Tom Coughlin is known for benching players that cannot take care of the ball as well as running backs that can't pass block, which are two areas David Wilson has a history of needing to improve.
If he can't improve them fast enough, he'll lose carries to Andre Brown. And even if Wilson does improve in those areas, Brown should still get the short-yardage looks.
The highlight of last season for Brown was pretty impressive, as he scored eight touchdowns in only 10 games, while Wilson finished the year with just four scores. Furthermore, Brown's yards per carry average of 5.3 beat Wilson's average of 5.0, and he also had 385 rushing yards compared to Wilson's 358.
That production suggests that this could end up looking more like a running-back-by-committee, even if Wilson has the breakout year that many are predicting for him.
The Giants have a good offense, so even if Brown is limited to just short yardage and red zone carries, he'll have value.
But if Wilson doesn't develop, Brown has a chance of becoming a major part of this offense, if he can stay healthy.
Bernard Pierce, Baltimore Ravens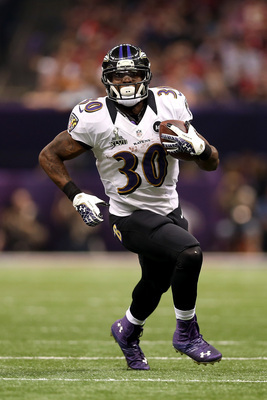 Christian Petersen/Getty Images
Bernard Pierce doesn't have much chance of becoming the starter for the Baltimore Ravens, as the team's best offensive player is already running back Ray Rice.
Rice is a complete running back who is also a good receiver out of the backfield, and at this stage of his career, Pierce cannot really compete with that.
But he doesn't have to, because there are plenty of touches to go around for both players. The Ravens offense looks like it's going to need to lean on Ray Rice even more this year since they've lost receiver Anquan Boldin and tight end Dennis Pitta.
That doesn't sound great for Pierce's value, but the Ravens can't afford to overwork Rice. If they lose Rice to some sort of injury, their offense is going to be significantly worse. Still, as a rookie backup to a healthy Rice last season, Pierce had 108 carries for 532 yards.
If his role expands—and it should given that the Raven's passing game looks like it's taken a step back—there's no reason that he shouldn't improve upon his statistics across the board. The Ravens have a strong running attack, and Pierce showed last year that he could take advantage of it by posting a solid yards per carry average of 4.9
Pierce is a big guy, and he got bigger this off season, so it's a safe bet that he'll manage more than just one touchdown this year.
And if Rice was to miss any time, Pierce would have a legitimate chance at being a top fantasy running back in his absence.
Fred Jackson, Buffalo Bills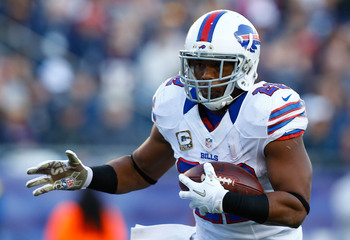 Jared Wickerham/Getty Images
It was only two seasons ago that Buffalo Bills running back Fred Jackson was on pace to be a top-five fantasy running back before his season was derailed by injury.
Last year, he entered the season as the starter before more injuries and the emergence of C.J. Spiller contributed to one of the worst seasons of his career.
Spiller will be the feature back this year, but as of yet, he hasn't been a guy who's been given a high volume of carries, and his style of play doesn't seem like that would be what's best for him. Spiller is quick, can make people miss and is a deadly receiving weapon, but he's no power back.
The Bills are going to experience rough quarterback play this year, regardless of who wins the quarterback battle between Kevin Kolb and rookie EJ Manuel. Needless to say, they're going to need to be a run-heavy offense if they want to succeed.
Jackson and Spiller could work well as a one-two punch, and if Jackson can secure the short-yardage carries, he should have plenty of work to make him valuable.
Jackson has a history as a great fantasy running back, and although his situation has changed, it hasn't been as drastic of a change as his ADP this year would suggest.
He's worth a late-round pick due to the chance that he can recapture his previous fantasy magic.
Bryce Brown, Philadelphia Eagles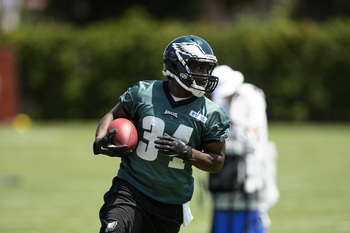 Howard Smith-USA TODAY Sports
Philadelphia Eagles running back Bryce Brown became a fantasy stud for two weeks last season after starter LeSean McCoy went down with a concussion.
In those two games, Brown rushed for 347 yards and scored four touchdowns—not bad for a seventh-round pick.
Brown has all the talent to become a star running back, but he needs to continue keeping his head on straight and fix his ball security problems for that to happen.
With the Eagles expected to run an up-tempo offense focused on running the ball, there should be plenty of carries for both McCoy and Brown in 2013. They'll both benefit from a healthier offensive line and the addition of super-athletic rookie offensive lineman Lane Johnson, who will help immensely when they get the ball in space.
The quarterback situation in Philadelphia is, to say the least, uncertain. But no matter who starts under center, this isn't going to be an elite passing offense. If Brown can take a step forward in his development this year, it's entirely possible that he'll be the second-best offensive skill player on the Eagles behind McCoy.
If Brown can secure an increase in carries, he'll put up numbers that could make him a decent flex option or even a second running back for any fantasy football team.
And since McCoy has missed at least one game in every year for the past three years, it's a safe bet that Brown will have the starting job for at least one week this season, which would make him a must start running back.
At the very worst, anyone who drafts McCoy should hedge their bet by handcuffing Brown, but his value goes far beyond just being a handcuff
Keep Reading