As spectacular as Jadeveon Clowney will be this season, the impenetrable barrier standing between him and the Heisman may prove to be the one obstacle he can't knock down or run around.
That's not to say he won't meet all Heisman criteria on a curious checklist that seems to change year to year, but history is working against him. At this point, history is the only thing capable of stopping a 270-pound man who clocks in faster than your running back.
If Clowney ends up coming up just short of the award, however, it won't be for lack of buzz. It's been building since January 1, when Vincent Smith's helmet was sent soaring into orbit and a defensive end donning a quarterback's number effortlessly scooped up a loose football with one hand, as if there was a hidden magnetic attraction at work.
"The Hit" was coined from the tackle that shook your television—a vague, but somehow, flawless illustration of what transpired because no further description is required. There is only one, and it will not be duplicated.
Oh, come on. One more time can't hurt. And then one more after that. And then one more after that. And...
It has since won an ESPY, been viewed on YouTube more than the most popular viral cat videos, received the proper GIF Photoshop treatment (which remains one of the Internet's finest works) and been at the epicenter of debate over one of college football's boldest rule changes.
This unmistakable moment jump-started a Heisman movement before last season concluded, one that has forced oddsmakers to completely rework their betting odds to account for this sentiment.
The online sportsbook Bovada.lv listed the South Carolina defensive end at 14/1 to win the award when it posted odds back in January. Now, months and hundreds of thousands of viewings of "The Hit" later, Clowney's odds have nearly been cut in half. He is listed at 15/2 (h/t Kegs 'N Eggs), uncharted land for a defensive player. In fact, few defenders have ever even made the board.
Perhaps more staggering than the dramatic surge, Clowney is listed behind only Texas A&M quarterback Johnny Manziel and Ohio State quarterback Braxton Miller on the odds board. That's it; everyone else is looking up at him.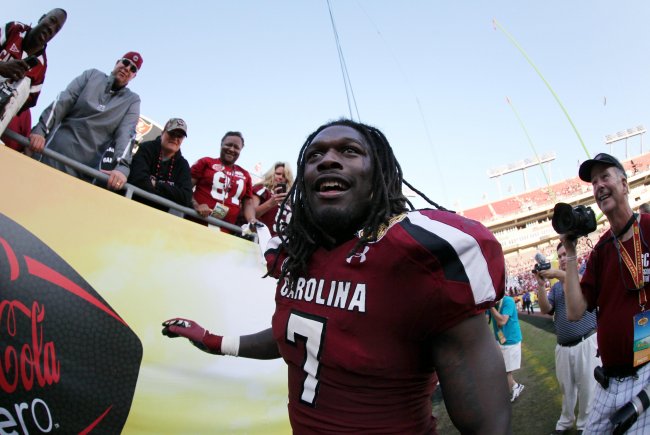 Kim Klement-USA TODAY Sports
The problem? Almost all defensive players are crossed off Heisman ballots before the season begins, and a perfect season will be necessary for this to translate into anything more than preseason hype. The Heisman Trust would undoubtedly refute this, but the recent results speak volumes.
If you're not a quarterback, good luck. And if you're a defensive player, luck won't be enough.
Nebraska's Ndamukong Suh did his best to bull-rush the award following his superb 2009 season, capped off with a night Texas quarterback Colt McCoy would like to have erased from his memory. Still, his efforts were not enough, and he finished fourth in the voting. His team's four losses certainly didn't help, but Suh's season was deserving.
Last season, Notre Dame linebacker Manti Te'o pushed defenders playing his position closer to the podium than they have ever been. He did so with numbers that didn't jump off the stat sheet, but the team's undefeated regular season propelled him to a second-place finish.
For Clowney to emerge victorious, he'll need a combination of the two: a resume ripe with individual and team success. Unfortunately, neither will be easy.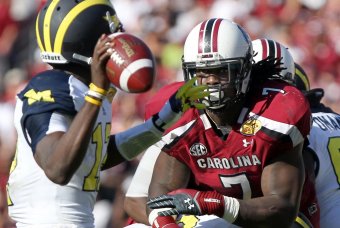 Kim Klement-USA TODAY Sports
Facing double- and triple-teams on nearly every play, Clowney will still have to post numbers, despite being the worst-kept secret in college football. His influence on these plays will undoubtedly free up other players in the South Carolina front seven—something voters hopefully notice—but sacks and other tangible statistics won't come easy.
More than stats, however, South Carolina must approach perfection, and this is where it becomes difficult for all players—both offensive and defensive—to win the award.
South Carolina's schedule isn't as daunting as other SEC teams, but it wouldn't be qualified as a cakewalk, either. The Gamecocks open with North Carolina and will travel to Athens to play Georgia in Week 2. The importance of this game in relation to the SEC—and more specifically the SEC East—cannot be overstated, and Clowney's Heisman hopes will take a dramatic rise or fall based off the early results.
Late in the season, South Carolina will play Florida and then close out the regular season with Clemson a few weeks later. This creates an opportunity to make a final impression on voters, but these are also very losable—potentially Heisman-derailing—games.
Can Jadeveon Clowney win the Heisman?
For Clowney to be in the running, South Carolina must win the SEC East. With Georgia serving as its main competition, it won't be easy. But nothing ever is in the SEC.
Playing for more than himself or his team, Clowney is playing for an entire side of the football that has been slighted for decades. A Heisman win could help alter the dynamic of the award, giving other talented and worthy defenders consideration that has been impossible to generate.
Clowney has helped create this momentum through his super play, the play, and also the talk of his ridiculous abilities, whether that be his rumored 40 time that rivals most NFL running backs or the worst-kept secret that he will be the No. 1 pick in next year's NFL draft.
But even with the stars aligning for a dream season, a season that could single-handedly carry defensive players into the conversation, his winning the Heisman remains an unlikely occurrence. Ultimately, the deck is stacked against him, and so is history. Just ask Suh and the countless others who were left off simply because of where they lined up.
If there was ever someone fit to tear down a barrier that has withstood the test of time, this is the player.
Clowney Comin'.