The Top 10 Fantasy Defenses for 2013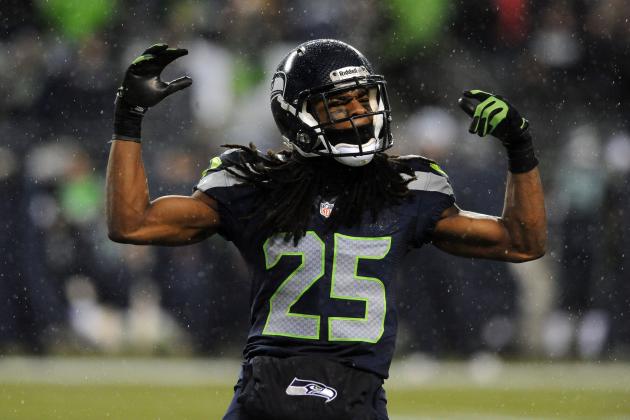 Steve Dykes/Getty Images

There's one motto I and many others follow at every fantasy football draft—wait on your defense and kicker. Each year, someone dramatically overpays for a kicker, and every year I just groan and wonder why they have been so brazen.
Still, there's eventually a time and place to select a defense, of course, and you want to make sure you nail that pick. On some weeks, a good fantasy defense can win you a matchup. Just as often, a poor defense can fail to score you any points and cost you a winnable contest.
But fear not, my fellow fantasy nuts, for I've compiled my top fantasy defenses this season. With this list, you'll know exactly which units are worth keeping an eye on come the draft.
(Note: All fantasy rankings from last season are from ESPN standard-scoring leagues.)
Begin Slideshow

»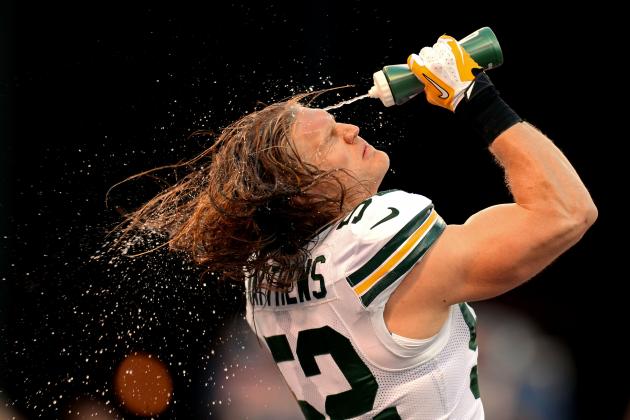 Thearon W. Henderson/Getty Images

Dallas Cowboys
There is talent here. Hopefully the switch to a 4-3 defense will help, with DeMarcus Ware and Anthony Spencer turned loose off the edge. This would be an excellent backup defense or a nice pickup in deeper leagues if you wait to draft a D/ST.
Green Bay Packers
With 47 sacks a year ago, the Packers continue to get after the quarterback. That will likely lead to more turnovers this season, as the team managed just 23 a year ago.
Tampa Bay Buccaneers
The additions of Dashon Goldson and Darrelle Revis and the continued evolution of Mark Barron and Johnthan Banks could turn the league's worst pass defense into one of the best. Of course, the pass rush will need to improve as well, as the team managed just 27 sacks a year ago. Still, this is an intriguing unit and one worth a speculative pick for your backup defense.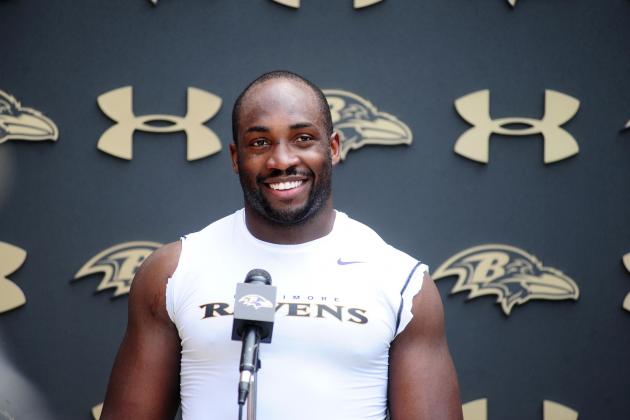 Evan Habeeb-USA TODAY Sports

Gone: Ray Lewis, Paul Kruger, Ed Reed, Dannell Ellerbe and Bernard Pollard.
Added: Elvis Dumervil (who is much better than Kruger), Chris Canty, Michael Huff and rookies Arthur Brown and Matt Elam.
Returning From Injury: Ladarius Webb (who will dramatically improve pass defense).
Still Around: Haloti Ngata and Terrell Suggs (the two most important players on this defense in the past several seasons, not Lewis and Reed), Jameel McClain and Arthur Jones.
Conclusion: The Baltimore Ravens should be just fine on defense. Like the Steelers, this team has a way of finding new talents on the defensive side of the ball. Expect more sacks with a healthy Suggs pairing with Dumervil, plus young players like Brown and Elam ready to make an impact.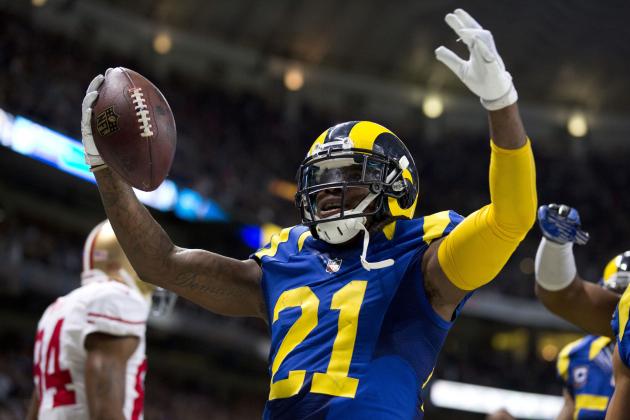 David Welker/Getty Images

Janoris Jenkins. Cortland Finnigan. Chris Long. Robert Quinn. James Laurinaitis. This is a stacked defense, folks, and if youngsters like Michael Brockers and Alec Ogletree utilize their immense potential, this could be one of the best units in the NFL, period.
Don't forget, the St. Louis Rams finished ninth in fantasy points a season ago, so my ranking here isn't exactly going out on a limb, I know. And with nine weeks of seven fantasy points or more, they were consistent, too.
They'll get after the quarterback, Jenkins should only improve (he had four interceptions, three interceptions returned for a touchdown and a fumble recovery) and Jeff Fisher will keep coaching them up. The Rams are a smart investment if you wait on your defense.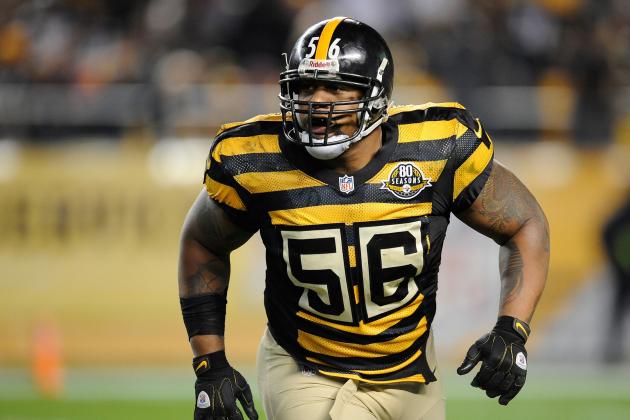 Joe Sargent/Getty Images

I know, I know, the Pittsburgh Steelers' defense is old. And James Harrison and Casey Hampton are gone. And safety Troy Polamalu is injury prone. And they finished 12th in fantasy points last season.
But this is still a very good defense that gave up the fewest yards (275.8) and sixth-fewest points (19.6) per game in the NFL.
LaMarr Woodley is supposedly in shape, and he'll need to have a big season. So too will rookie Jarvis Jones, who could prove to be a real beast immediately. And let's be honest—no team is better at turning up defensive studs quite like the Steelers.
Expect a fantasy bounce-back for the Steel Curtain.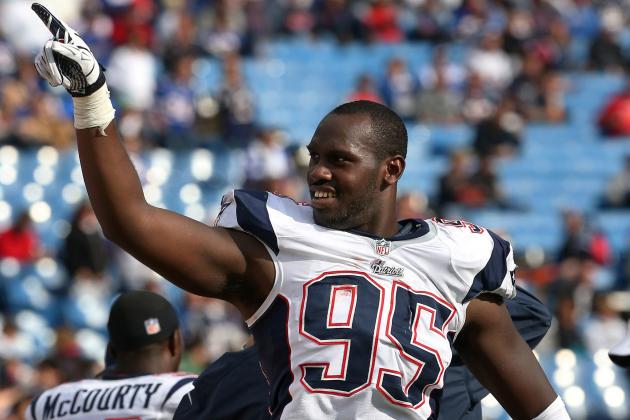 Tom Szczerbowski/Getty Images

You may think of Tom Brady and a dangerous passing attack when the New England Patriots come to mind, but Bill Belichick has rebuilt the defense. The Patriots were sixth in fantasy points, second in takeaways (41) and tied for ninth in points allowed per game (20.1) last season.
And with a lot of turnover on offense, the defense may have to, gasp, actually carry the team at times this season. Who saw that one coming?
They should be up to the task. Belichick has built a strong defense through the draft, and if the offense continues to run out to early leads—allowing the front seven to pin back its ears against an opponent's passing game—this unit could be even better than last year.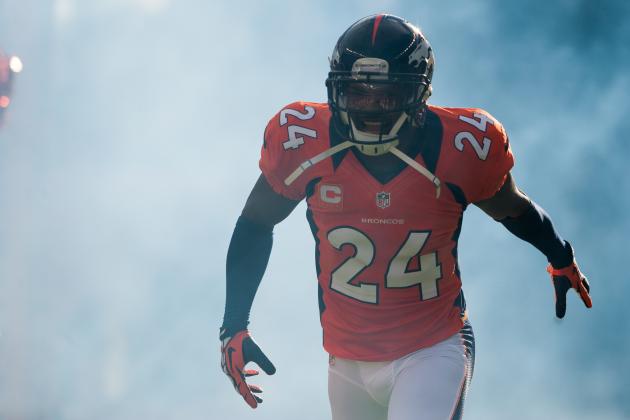 Dustin Bradford/Getty Images

If you want to know why I have the Denver Broncos outside of the top five—a unit that finished second in fantasy points last year—look no further than Von Miller's four-game suspension to start the season.
Yes, that was the difference between the Broncos being a top-five defense and dropping to No. 6 in my opinion.
We're talking about a player who had 18.5 sacks (the Broncos had 52 as a team, meaning Miller accounted for 35.5 percent of the team's sacks), six forced fumbles and a touchdown last season. And with Elvis Dumervil gone—that's 11 more sacks gone, all because of a fax machine—the Broncos would be without much of a pass rush for one-fourth of the NFL season.
Then again, if Miller's suspension is overturned—a possibility, it turns out—my ranking will change. The Broncos were insanely consistent last year, scoring at least eight fantasy points 12 times, and with the exception of Dumervil are largely the same squad from last year.
Keep an eye on Miller's suspension. One way or another, this is still a top-six unit.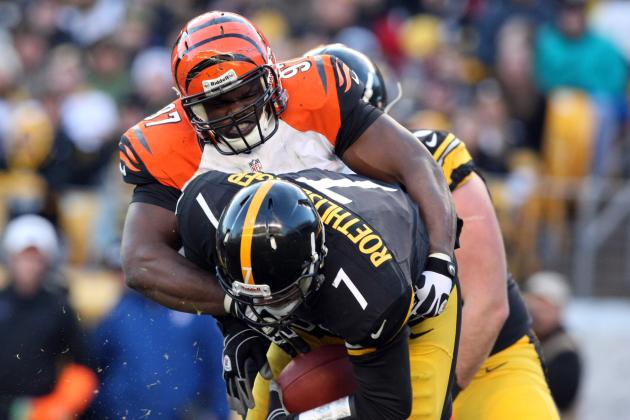 USA TODAY Sports

I love this defense. The Cincy defense finished fourth in fantasy points a year ago, third in the NFL with 51 sacks and finished the season with eight straight weeks of at least seven or more fantasy points.
In seven of those weeks, the Bengals reached double-digit points, and for the season scored at least seven points 11 times.
This is a pretty young unit that should only get better in 2013. Do not sleep on the Bengals.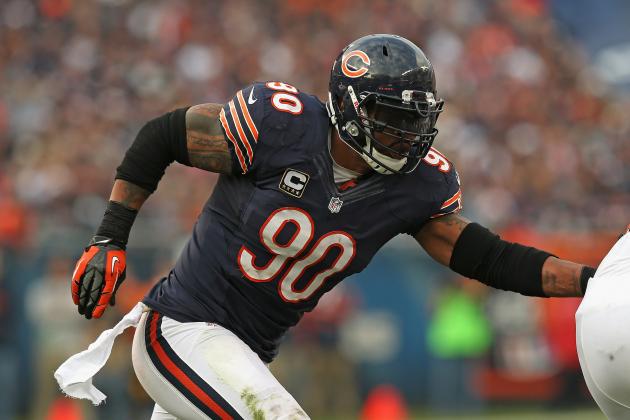 Jonathan Daniel/Getty Images

Not only did the Chicago Bears lead the NFL with 44 takeaways last season, but only the New England Patriots had 40 or more takeaways on the year (41). Add in 10 defensive touchdowns, and you can see how this unit ran away with the Most Valuable Fantasy Defense award last year.
But are those numbers sustainable?
Probably not. While Tim Jennings and Charles Tillman remain beasts against the pass, defensive minds Lovie Smith and Rod Marinelli are gone, as is Brian Urlacher. The Bears will be cycling in some new players at linebacker—rookie Jon Bostic, veteran D.J. Williams—so it's possible there will be an early adjustment period.
This unit still has plenty of ball hawks, but it might be smart to somewhat temper your expectations. They'll be a top-five unit, but expecting them to again be fantasy's defensive MVP is probably pushing it.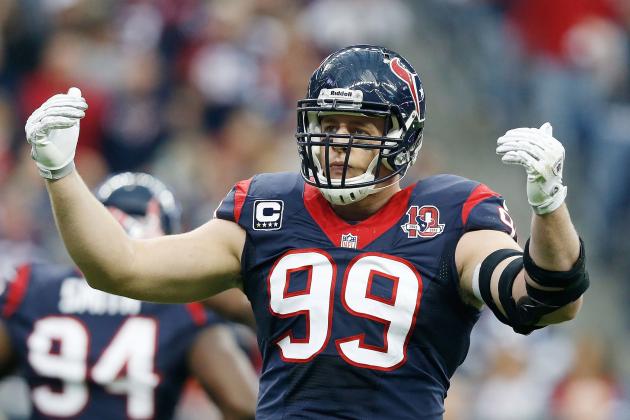 Scott Halleran/Getty Images

The Houston Texans' defense was very hit-or-miss for fantasy owners last season. Eight times, the unit was good for double-digit fantasy points. And five times, the defense scored just three points or fewer.
Tthe Texans had 44 sacks last season, led by J.J. Watt (20.5 sacks, four forced fumbles, 16 pass deflections), who made the Incredible Hulk look like Gumby. Not surprisingly, the Texans finished seventh in fantasy points.
With a talented core in place, the return of Brian Cushing and the signing of Ed Reed—who had four interceptions, three fumble recoveries and a touchdown last season, mind you—this defense should be very good to fantasy owners.
And hopefully a bit more consistent.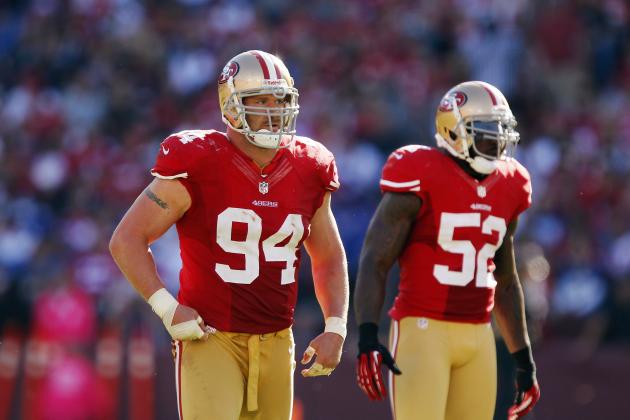 Brian Bahr/Getty Images

The San Francisco 49ers have a great defense, but really just had a good fantasy defense last year. The unit was eighth in fantasy points, tied for ninth in sacks (41) and tied for 14th in takeaways (25).
So why are they No. 2 on this list?
Because they're so darn safe, that's why. Because they held opponents to 294.4 yards per game, third best in the NFL, and 17.1 points per game, second in the NFL. And they really have no major weaknesses.
In other words, they'll pretty consistently get your team points. The 49ers were good for at least five fantasy points 11 times last season and hit double-digit fantasy points seven times. If you like reliability, this is your defense.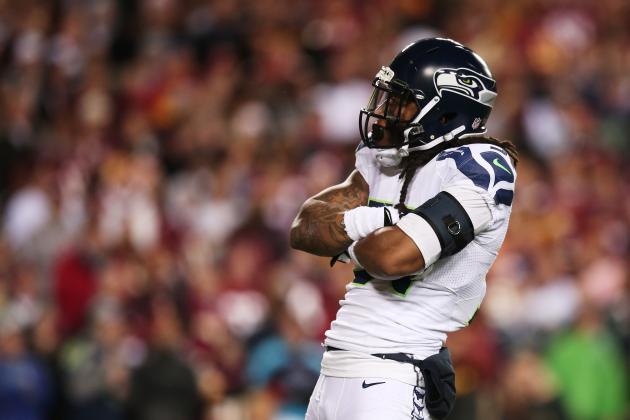 Win McNamee/Getty Images

The Seattle Seahawks finished third in fantasy points for a defense last season. The unit allowed the fourth fewest yards (306.2) and fewest points (15.3) per game in the NFL. Seattle's 31 turnovers forced was tied for fourth in the league.
Oh, and the the Seahawks added Cliff Avril and Michael Bennett this offseason, who combined for 18.5 sacks last year.
Yeah, Seattle's defense is going to be nasty. Again. Without question, this squad should be the first one off the board at your draft.