The MLB trade market is picking up steam after a sluggish approach to the July 31 deadline. With several deals having already been completed, the final hours before Wednesday's 4 p.m. ET deadline promise to be full of movement.
Perhaps the biggest domino yet to fall came tumbling down on Tuesday night as the Chicago White Sox reached a deal to send right-hander Jake Peavy to the Boston Red Sox in a three-team trade, according to a club tweet by the White Sox:
The @WhiteSox sent pitcher @JakePeavy_44 to the @RedSox as part of the trade.

— Chicago White Sox (@whitesox) July 31, 2013
Peavy headlined a list of several solid pitching targets, some of which we'll examine.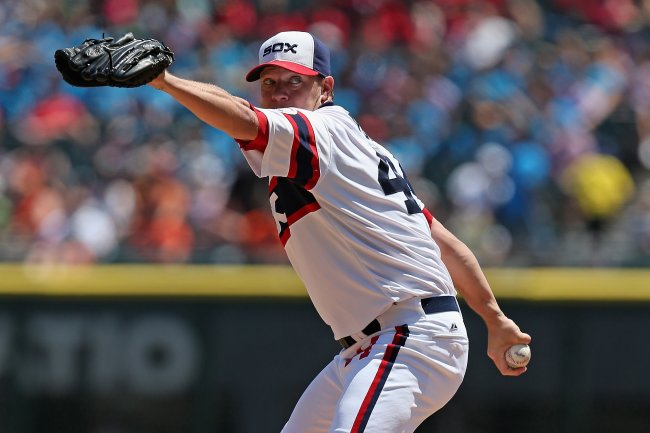 Jonathan Daniel/Getty Images
The White Sox may not be done selling, either. With outfielder Alex Rios potentially on the trading block, a handful of teams may be in contention to acquire him by Wednesday night.
Let's take a look at the latest rumors involving Rios and a couple top pitching targets potentially on the move.
Alex Rios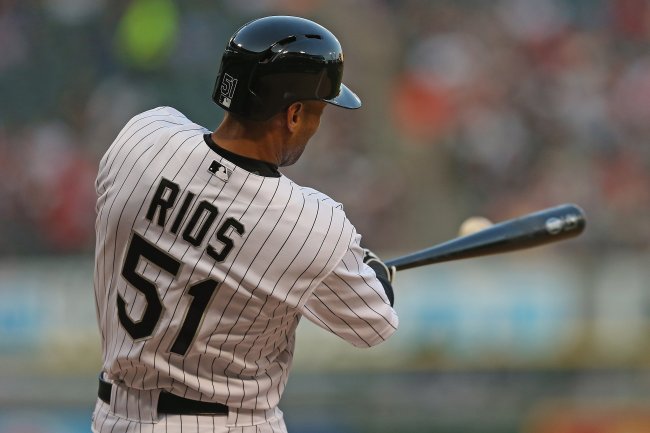 Jonathan Daniel/Getty Images
Rios' eventual destination is hard to lock down right now. The Pittsburgh Pirates were rumored to be close to a deal, per David Kaplan of CSNChicago.com, but according to MLB.com's Scott Merkin, that deal has "lost steam":
Sounds like White Sox and Pirates are getting close on a deal for Alex Rios. Cash being worked on. Not sure if they can find a middle ground

— David Kaplan (@thekapman) July 30, 2013
Heard on a couple of fronts that Pirates' interest in Rios has lost steam

— Scott Merkin (@scottmerkin) July 30, 2013
With the rumors of a move to Pittsburgh losing ground, talk of another potential destination is starting to gain some footing.
According to Merkin, the New York Yankees have a "renewed interest" interest in acquiring Rios, despite the no-trade clause in his contract which includes New York.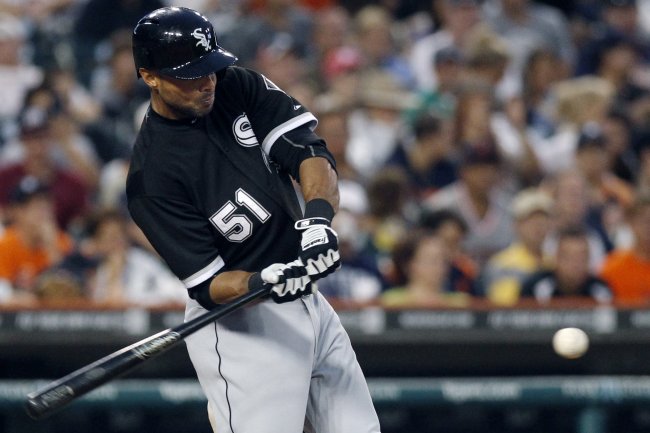 Duane Burleson/Getty Images
As Buster Olney of ESPN.com pointed out, the Yankees probably don't need to pursue another outfielder with Aflonso Soriano in the fold and Curtis Granderson preparing to return from injury:
For those asking: The Yankees are not interested in Alex Rios now. They got Soriano last week, will soon get back Granderson.

— Buster Olney (@Buster_ESPN) July 30, 2013
To make matters worse, Rios left Chicago's game against the Cleveland Indians on Tuesday night with a foot injury, via a tweet from ESPNMLB:
White Sox OF Rios leaves with foot injury: The Chicago White Sox's bad luck with injuries continued Tuesday as... http://t.co/8IxMI70eYj

— espnmlb (@espnmlb) July 31, 2013
In other words, Rios' future is still very much up in the air. Given the volume of rumors already circulating and the lack of a true front-runner in the chase, this situation may take some time to fully develop.
Cliff Lee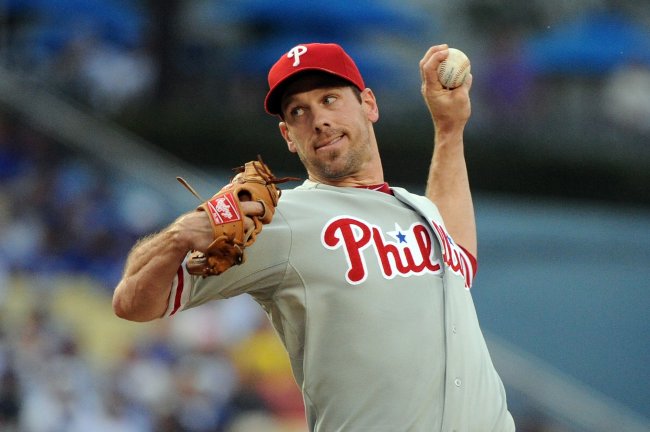 Lisa Blumenfeld/Getty Images
The Philadelphia Phillies have been adamant that ace lefty Cliff Lee isn't on the trading block, per Scott Miller of CBSSports.com, but that hasn't stopped teams from showing interest in the former NL Cy Young Award-winner.
Amaro on MLB Network: says can see Chase Utley in Phillies uniform for rest of career. Hopes same for Cliff Lee.

— Scott Miller (@ScottMCBS) July 30, 2013
According to Jim Bowden of ESPN.com, the Boston Red Sox were at least interested in Lee prior to dealing for Peavy:
Red Sox are no longer involved in trade discussions with Cliff Lee according to source #NotHappening

— JIM BOWDEN (@JimBowdenESPNxm) July 31, 2013
With a contract of more than $70 million and a general manager not sold on dealing him, it's hard to envision a scenario in which Lee is actually dealt before the deadline, especially with perhaps his biggest suitor already having withdrawn from the discussion.
At this point, nothing significant has surfaced regarding other teams showing serious interest in Lee. Unless something unexpected happens Wednesday, it looks like Lee will remain in Philadelphia.
Bud Norris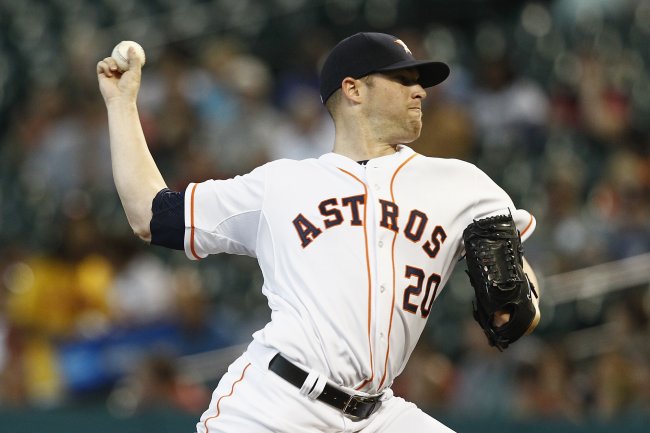 Bob Levey/Getty Images
Houston Astros starter Bud Norris has been one of the hottest names on the trade market recently and with Peavy set to join Boston, he may be the next pitcher to find a new home.
The Pirates look to be closing in on a deal for the right-hander, per Jeff Passan of Yahoo! Sports.com:
Sources: Bud Norris very likely to be dealt today, and Pittsburgh could be landing spot. Package built around Tyler Glasnow makes sense.

— Jeff Passan (@JeffPassan) July 30, 2013
While Norris wasn't dealt on Tuesday, Houston still has some time to find a trade partner before the deadline. Along with Pittsburgh, the Baltimore Orioles are also said to be in the mix, via Jon Heyman of CBSSports.com:
bud norris was scratched for start vs. orioles. interestingly, orioles are 1 of teams in mix for him.

— Jon Heyman (@JonHeymanCBS) July 30, 2013
Passan also mentioned the Arizona Diamondbacks as a potential suitor:
Arizona remains in play on Bud Norris, as do Pittsburgh and Baltimore. Teams involved expect him to be moved before deadline.

— Jeff Passan (@JeffPassan) July 31, 2013
As is the case with Rios, speculation involving Norris doesn't seem to be tied down to one particular team despite the overwhelming speculation involving the righty in the days leading up to the deadline.
Houston may be holding out for the right package, and the longer the situation plays out, the more likely the Astros are to get what they want. At the moment, however, the situation seems to be at a standstill.