Urban Meyer isn't letting Ohio State's past disciplinary issues resurface ahead of the 2013 season. In the case of starting running back Carlos Hyde, that means a short suspension following allegations that he assaulted a woman in a bar on July 20.
UPDATE: Wednesday, July 31, at 11:20 a.m. ET by Brandon Galvin
ESPN's Brett McMurphy has the latest from Meyer on Hyde:
Urban Meyer: "Our players are taught to walk away, (Hyde's) punishment was because he didn't walk away"

— Brett McMurphy (@McMurphyESPN) July 31, 2013
Urban Meyer on Hyde: "If criminal charges would have been filed he would have been dismissed from team"

— Brett McMurphy (@McMurphyESPN) July 31, 2013
---End of update---
---Original Text---
Per Tom Dienhart of the Big Ten Network, the head coach has suspended Hyde for at least the first three games of the season:
Carlos Hyde suspended for at least the first three games of 2013, says Urban Meyer. He must fulfill obligations to be reinstated after that.

— Tom Dienhart (@BTNTomDienhart) July 31, 2013
Austin Ward of ESPN added Meyer's reasoning for the suspension and noted that Hyde will have some requirements to meet before rejoining the team:
Meyer cites conduct "not representative of this football program or this university." Has requirements to meet before cleared to return.

— Austin Ward (@AWardESPN) July 31, 2013
Hyde was listed as a person of interest following an alleged assault on a female victim at a downtown bar on July 20. Following news of the incident, Hyde was reportedly dismissed from the team, though it was later revealed that Ohio State would be holding off on its decision pending further investigation.
Per ESPN, the case against Hyde was dismissed as the victim "did not wish to pursue charges."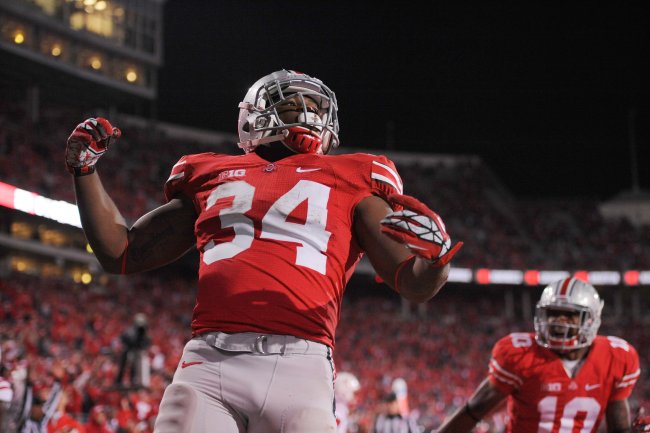 Jamie Sabau/Getty Images
Hyde enters the 2013 season shouldering lofty expectations after a phenomenal 2012 campaign in the Buckeyes backfield. In 185 carries last year, the 242-pound tailback rumbled for 970 yards and 17 touchdowns, rounding out an Ohio State offense that dominated the Big Ten schedule.
Without Hyde in the mix for the first three games, Ohio State will have to rely on a stable of young backups to shoulder the rushing offense alongside potential Heisman candidate Braxton Miller under center.
Ohio State is scheduled to take on Buffalo, San Diego State and California in its first three contests of the season.