Ranking the 10 NHL Players Most Difficult to Defend Against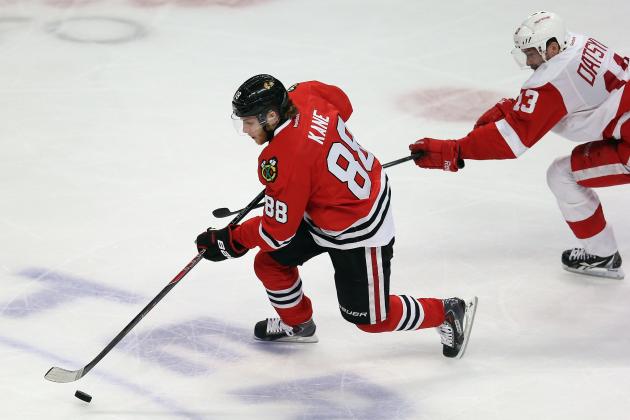 Jonathan Daniel/Getty Images
Patrick Kane may give Pavel Datsyuk a challenge, but the Detroit pivot generates his own share of threats on offense.
In the heat of hockey action, there are few moments more stimulating for one party and more tense for the other than when an elite puck-carrier puts himself between the opposing defenders and opposing goaltender.
Generally speaking, the purpose of defense is to minimize the quality of a scoring chance and shot attempt by keeping oneself between the attacker and one's cage.
The forwards with the most exceptional skill sets and senses are those who are most inclined to disrupt that endeavor. When they do, they elevate the likelihood of setting up a scoring play, polishing one off or drawing a desperate penalty on the adversary.
When they do not outright circumvent the defending skaters, top strikers can still come through with quick entry to the slot and a swift, spot-on release while sparing no one a moment to prepare. Some may also combine their gifts with grit and simply overpower defensemen or centers to pick up and bury a rebound.
The top NHL players with one or more of these productive propensities are as follows.
Begin Slideshow

»
One half, Henrik Sedin, is a crafty playmaker who will move the puck around as long he needs to.
The other half, Daniel Sedin, is a slick skater who will give his twin brother the green light to end his tour of the puck and hand things over to him to finish the play.
That is how it ordinarily works, anyway. As a result, there have been no shortage of quick tap-tap, pass-goal plays executed by the Sedins at the expense of unprepared defenders.
Occasionally, though, there are times when they must travel a greater distance, but Daniel can accelerate enough to soak in a pass from another zone and bury the biscuit at the other end.
Rick Nash has been a New York Ranger for barely more than half of a regular, full-length NHL season. Yet already, the league's official YouTube archives have given three of his highlight-reel plays with the Blueshirts the "power move" label.
That's not even including the embedded example, when he stole the attention of the backchecking Boston Bruins and the subsequent analysis as he fed eventual goal-scorer Carl Hagelin.
When it comes to scoring goals from (or around) the porch of the net, Anaheim's Corey Perry is easily one of, if not the single most prolific producer in the present day.
It would not be a stretch to assume that more than half of Perry's entries in the goal column come from within the immediate vicinity of the crease. That is a testament to how flustering he is for defenders who are tasked with fending off players like him who have a bloodhound's nose for the net.
Either through a quick, yet calculated pass or an opportunistic shuffle with the puck when there is time, Claude Giroux has set up a copious supply of Philadelphia Flyer goals by outwitting any or all of the opponent's defensive fortress.
On top of that, he has drawn particular renown for drawing penalties. Sporting News writer Jesse Spector touched upon Giroux's knack for that during the 2011-12 season when he noted that the Philadelphia captain is "one of the better players in the game at drawing penalties."
More recently, behindthenet.ca figured out that Giroux tied Jordin Tootoo for sixth in the league in terms of penalties drawn per game in the 2013 campaign.
Of the 13 skaters who drew more than 1.3 per night, only Giroux coupled that with a scoring output of a point per night or better.
Taylor Hall is a prominent part of Giroux's company among those who can claim credit for their share of scoring plays and for putting his team on the power play.
Although his 2010-11 and 2011-12 seasons were relatively limited, he was in the top 10 in opposing penalties drawn among those who appeared in at least 60 games (per behindthenet.ca).
In 2012-13, he drew a not-so-shabby 1.5 infractions on the adversary every 60 minutes. The rest of the time, he was winning battles and regularly flaunting his passing proficiency, and occasionally his own finish―all to a fruitful effect.
Two key items that have kept up Pavel Datsyuk's value even as he hits the halfway mark of his 30s are addressed among the "assets" of his scouting report by The Hockey News.
One is that he "plays a very patient game with the puck" and the other is his label as "a stickhandling magician."
Not only can that translate to a nifty spread of goals and assists (for what it's worth, he had a 15-34-49 scoring log in 47 games this past season), it can also make at least a small contribution to his top-notch takeaway total.
Granted, takeaways are more of a defensive stat, but when they happen in the offensive zone, that means the opposition failed to complete its transition out of defensive mode.
So far, Marian Gaborik has played only 12 games and tallied three goals as a Blue Jacket. Of those three strikes, though, the two that came on Columbus ice reiterated the magnetic pull open ice seems to have on him when a counterattack unfolds.
Audiences in the Ohio capital can expect plenty more of the same. After all, it is not much different from what Gaborik treated Wild and Rangers fans to on a regular basis.
If not for Kari Lehtonen, Gaborik could have had a fourth strike for the Jackets before they had their 2013 spring cleaning.
Regardless of uniform, it would have been the umpteenth product of Gaborik's speed and opportunism, which when coupled make him one of the NHL's most dangerously elusive strikers.
It does not matter if it's an even-strength swarm, a protracted power play puck tour around the zone, a spontaneous odd-man rush or a penalty shot. Patrick Kane simply baffles backcheckers, blueliners and backstoppers alike with his rapid back-and-forth when the puck is in his grasp.
His speed and maneuverability tend not to help anyone's cause outside of those sporting a Chicago Blackhawks crest.
When he uses enough of it to induce the wrong move by any given opposing player, he instantaneously elevates his odds of setting up and/or polishing off a scoring play.
In the latter half of Chicago's run to the Cup this past season, Kane emboldened his offensive persona with a 7-3-10 scoring log in 11 games.
Of those 10 points, five apiece came against the Los Angeles Kings and the Boston Bruins, two of the league's most certifiably stingy brigades.
When one revisits all of his league-high 32 goals from 2012-13, one needs to wonder how anyone can do anything to avert damage when Alex Ovechkin's blade meets the biscuit.
At times, it seems as if the puck is in his possession for a maximum of a millisecond before its non-negotiable ride to the net.
That is not to say that Ovechkin is a one-dimensional attacker, though. He can skate and stickhandle and use his physical might to make a play if need be, too.
In addition, the aforementioned behindthenet.ca tells us that Ovechkin is another skillful master in the art of drawing. In 2012-13, an opponent fouled the Capitals captain 1.5 times per night, a slight uptick from the irreproachable 1.2 of 2011-12 and identical to his 2010-11 output.
It is just a tad scary to think about what more Steven Stamkos could do if his Tampa Bay Lightning were to shore up their defense and afford him even more time in the attacking zone.
There are times when Stamkos uses his quickness to separate himself from opposing bodies and put himself in a favorable shooting position. There are times when he stands back and unleashes a rapid slapper that sears through a forest of backcheckers.
There are times when he runs into congestion in the depths of the attacking zone, only to shake it off en route to a productive play. There are sequences of a similar nature when he single-handedly upgrades a delayed penalty to a goal.
Then there are those plays that unfold over multiple zones and culminate with commentators remarking that Stamkos "appeared out of nowhere."
Already, through the first five seasons of his career, those inclinations have been good for two Rocket Richard Trophies. He nearly had a third in 2012-13, finishing second in goal-scoring to Ovechkin with 29.
Even so, he did diversify his variety of output by translating his flair to 28 assists in 48 outings. Had this been a full-length season, he would have been on pace for a career-high 48 helpers and he would have matched his career high of 97 points set in 2011-12.
And again, this was all while playing on a Tampa team that, evidenced by its goals- and shots-against, gave the other team as much in its own end as it took in the other.
As you will find in the embedded video, NHL Network analyst Kevin Weekes underlined multiple aspects of Sidney Crosby that, more often than not, make him a hassle for Penguins opponents.
As Weekes stated in the segment that aired in the middle of the 2012-13 season, Crosby tends to "create gaps all over the ice" with his hustle. Weekes added that the Pittsburgh pivot's otherworldly passing means that defenders need to "be able to think the game at the same pace and tempo as he does."
Granted, the final aspect Weekes touched upon, namely Crosby's clutch performance, might not seem so credible right now in the wake of this past spring's playoff letdown.
However, when Crosby is as hot as he normally is, he percolates a gale-force onslaught of offense, generating and sustaining momentum for himself and his colleagues.
Look no further than the first two rounds of the 2013 tournament, which had Crosby setting up an overtime goal with both a drawn penalty and power-play assist in one series and scoring a hat trick in the other.