The Atlanta Braves already found the relief arm they were looking for, but they may not be done searching for pitching prior to Wednesday's trade deadline.
As noted by the team's official Twitter account, the Braves dealt right-hander Cory Rasmus to the Los Angeles Angels for lefty reliever Scott Downs on Monday:
The Braves have acquired LHP Scott Downs from the Angels in exchange for right-handed pitcher Cory Rasmus.

— Atlanta Braves (@Braves) July 29, 2013
Downs has been tremendous this season (1.76 ERA in 44 appearances), but the Braves could use another arm after losing starter Tim Hudson (8-7, 3.97 ERA) to a season-ending ankle injury last week, per Kipp Adams of ESPN:
Done for year RT @SportsCenter: THIS JUST IN: Tim Hudson's gruesome injury vs Mets is a fractured right ankle. (via @Braves)

— Kipp Adams (@KippLAdams) July 25, 2013
To replace Hudson, general manager Frank Wren has a short list of targets capable of taking his spot. But as he told Carroll Rogers of The Atlanta Journal-Constitution, the market is a little thin this year:
I've had years where I've had two legal pages written out of names of potential trade possibilities. This year I've got half a page of teams and names that really fit for us, so it's a small number. The payroll is not going to be the issue for us; it's going to be the talent we have to give up. It's also understanding how much of an upgrade a particular player is for us. It's a thin market. Are there pitchers out there that would make us better? Yes. The number of them is pretty low.
Still, Wren will be doing everything he can to find some extra help on the trade market, and Rogers suggested several potential options the Braves may be exploring.
Jake Peavy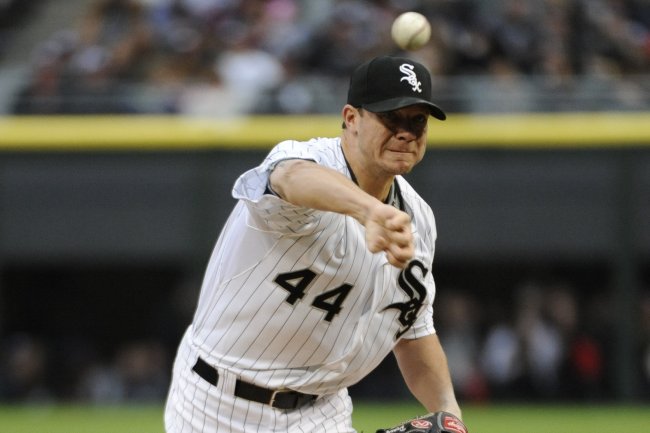 David Banks/Getty Images
Rogers believes Chicago White Sox right-hander Jake Peavy is at the top of Wren's wish list, and it would make sense for the Braves to pursue a deal to acquire him.
As reported by Dan Plesac of the MLB Network, Peavy has been scratched from his Tuesday evening start, and the Braves are said to be an interested party:
#Whitesox scratch Jake Peavy from tonight's start in Cleve. Trade rumors swirling around the Jakester. Dbacks,Redsox and Braves interested.

— Dan Plesac (@Plesac19) July 30, 2013
That Peavy isn't pitching Tuesday comes as no surprise. The White Sox don't want to risk losing him to injury amidst trade negotiations, and he's sure to bring back a hefty return should they decide to deal him before Wednesday's deadline.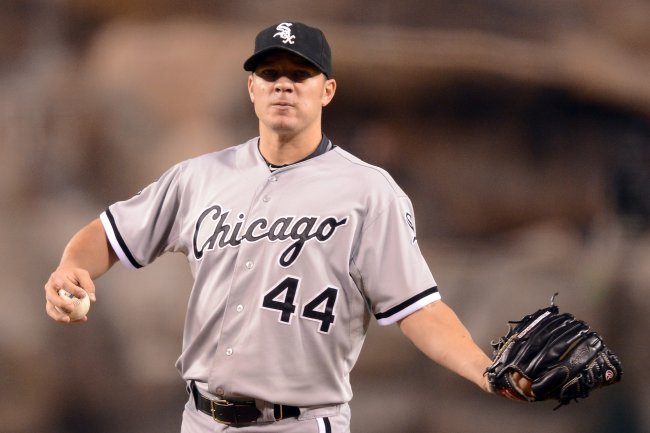 Harry How/Getty Images
Several teams are said to be interested in the 32-year-old hurler, and the Braves will likely be looking at some stiff competition as the deadline draws near. If Wren is being cautious about what he gives up in return, Atlanta may have a hard time topping offers from teams like the Arizona Diamondbacks and Boston Red Sox.
Kyle Lohse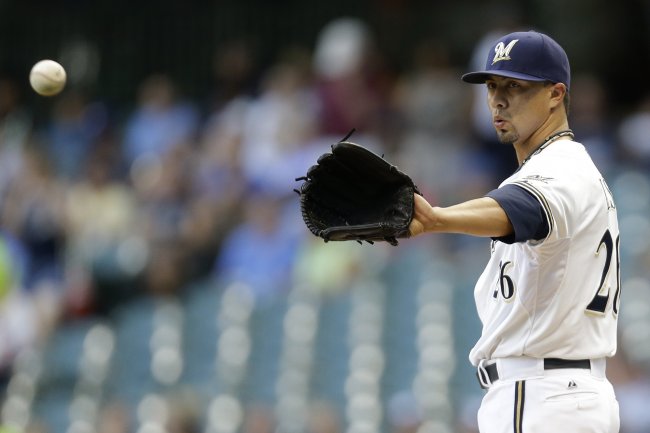 Mike McGinnis/Getty Images
As noted by Rogers, the Braves have scouted Milwaukee Brewers starter Kyle Lohse, who has been absolutely terrific since the middle of June and would be a tremendous replacement for Hudson.
Since June 9, Lohse has posted a 6-1 record and currently boasts a 7-7 record with a 3.22 ERA. The Brewers probably won't be looking to buy before the deadline, but it also seems they may not be looking to sell.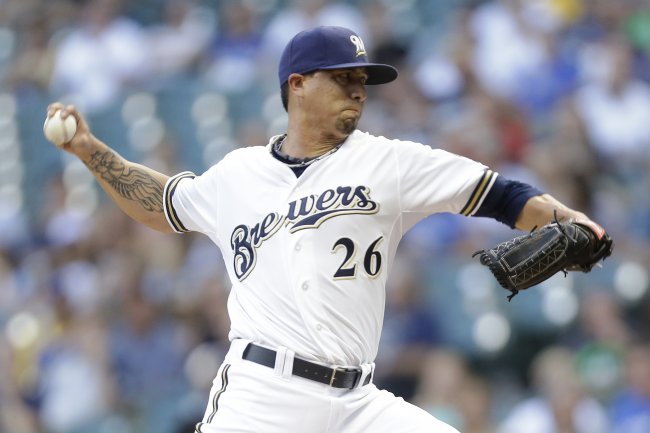 Mike McGinnis/Getty Images
Per Brewers beat writer Tom Haudricourt, Milwaukee general manager Doug Melvin has no interest in trading Lohse:
#Brewers general manager Doug Melvin says he has no intention of trading Kyle Lohse, Yovani Gallardo or Nori Aoki. http://t.co/9R0zdTyGTt

— Tom (@Haudricourt) July 30, 2013
Still, general managers never want to seem eager to deal their best assets. It's hard to believe Melvin won't part with Lohse if a suitor presents a tempting offer.
Again, the Braves probably aren't looking to deal the kind of young talent Milwaukee would likely want in return, but with the way Lohse has been pitching lately, they may have to at least consider it.
Bud Norris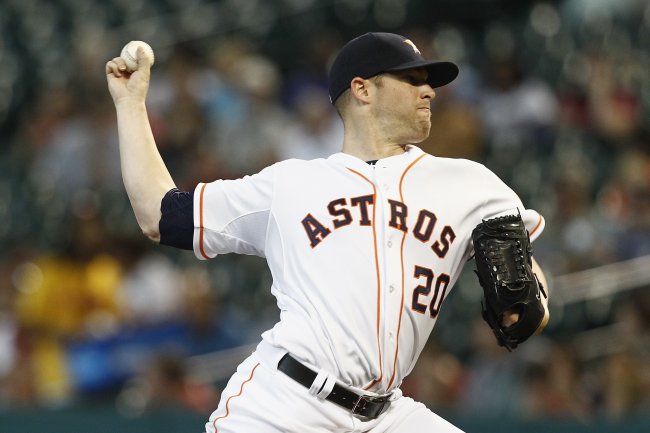 Bob Levey/Getty Images
According to Jon Morosi, the Braves are actively pursuing Houston Astros starter Bud Norris:
Sources: #Braves among teams actively pursuing #Astros starter Bud Norris. @FOXSportsLive

— Jon Morosi (@jonmorosi) July 26, 2013
While that's certainly positive news, Atlanta isn't the only party interested in the 28-year-old righty.
As Major League Baseball reported Tuesday, at least three teams are said to be in the mix for Norris, and the Pittsburgh Pirates are also a likely suitor, per Jeff Passan of Yahoo! Sports:
Source tells @brianmctaggart that @Orioles are 1 of 3 teams going hard after #Astros RHP @BudNorris20: http://t.co/3PKSmdljWR #TradeDeadline

— MLB (@MLB) July 30, 2013
Sources: Bud Norris very likely to be dealt today, and Pittsburgh could be landing spot. Package built around Tyler Glasnow makes sense.

— Jeff Passan (@JeffPassan) July 30, 2013
As is the case with Peavy, Norris has been one of the hottest names on the trade market of late. If the Braves want him, they'll have to toss out a strong offer to acquire him.
On one hand, no trade target seems a likely candidate to join Atlanta before Wednesday. On the other hand, it only takes one big domino to fall to shake up the entire trade market.
Should Atlanta miss out on players like Peavy and Norris, the market may open up with a little more breathing room for Wren to strike a deal.