With the July 31 MLB trade deadline just a day away, the time is now for the biggest names that have been floating through the rumor mill to be dealt.
More and more teams are reportedly becoming involved in the arms race as they prepare to make a run at the playoffs this season.
With names like Jake Peavy, Cliff Lee and Hunter Pence all rumored to be wearing different jerseys in the near future, there's sure to be a competitive market for each. However, their respective teams will have to decide if they really want to part with their proven commodities in favor of young prospects.
Here's a look at the latest on Peavy, Lee and Pence with a predicted destination for each.
Peavy Scratched from Start; Red Sox, D-Backs among Interested Teams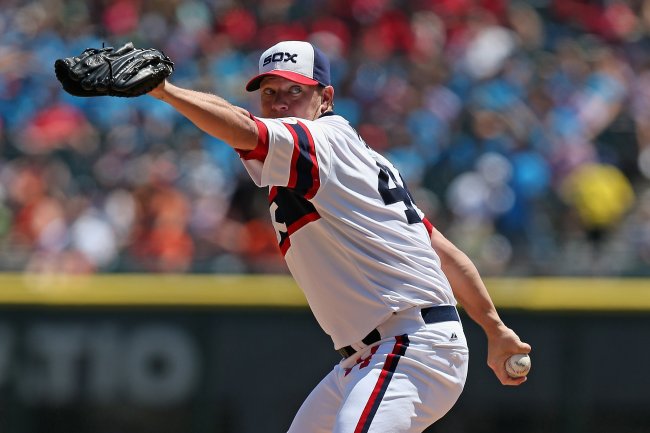 Jonathan Daniel/Getty Images
As if there weren't enough indications that the White Sox were trading Peavy, Tom Withers of the Associated Press reports that the 32-year-old has been scratched from his start against the Indians on Tuesday.
#WhiteSox say Jake Peavy's start pushed back til tomorrow. No trade at this point.

— Tom Withers (@twithersAP) July 30, 2013
Peavy's start will be pushed to Wednesday in the event that he's not traded, but that just doesn't seem likely at this point. According to Sean McAdam of Comcast Sports Net, up to four teams are interested in acquiring the ace and the team is lowering its asking price.
Despite interest from 4 teams - Red Sox, A's, D'backs, Cards - sense is White Sox are coming down on Peavy asking price. #RedSoxTalk

— Sean McAdam (@Sean_McAdam) July 30, 2013
Despite previous reports, including this one from Bob Nightengale of USA Today, that the Arizona Diamondbacks were no longer interested in Peavy, Gordon Edes of ESPN Boston has since reported that the Diamondbacks are now the favorite to land him:
Source: Arizona emerges as front runner for Peavy

— Gordon Edes (@GordonEdes) July 30, 2013
With Brandon McCarthy and Trevor Cahill set to return to the mound, the Diamondbacks should have added incentive to bring on Peavy. As CBS Boston points out, Arizona GM Kevin Towers should be familiar with Peavy, since he drafted him in 1999 with the San Diego Padres.
A rotation featuring McCarthy, Cahill and Peavy, who has an ERA of 4.28 and a record of 8-4 with the fledgling White Sox this year, would be a huge boost to their quest to make up 2.5 games in the NL West.
Prediction: Arizona Diamondbacks
Boston Red Sox Eyeing Lee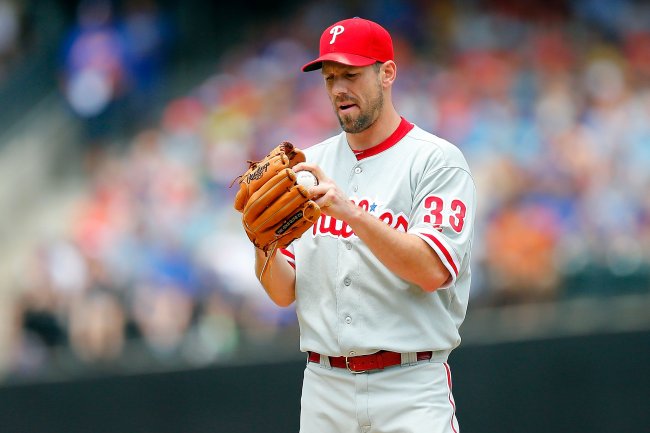 Jim McIsaac/Getty Images
Sporting an ERA of 3.05 and record of 10-4 on the 49-56 Phillies, Lee is one of the best starting pitchers available on the market.
Engaged in an intense three-way race between the Tampa Bay Rays and New York Yankees, the Boston Red Sox are in need of an ace to give themselves a leg up on the competition to close out the year.
According to Jon Morosi of Fox Sports, Lee could be just the man the Red Sox are looking to add at the deadline.
Sources: Red Sox remain engaged in talks for multiple pitchers, including Cliff Lee and Jake Peavy.

— Jon Morosi (@jonmorosi) July 29, 2013
Jon Heyman of CBS Sports reports that the Braves, Cardinals, Orioles and Athletics are all teams that are interested in adding top-flight pitchers. However, the Red Sox appear to have about 10 prospects at their disposal to include in the deal.
With the Red Sox's history of spending to win and plenty of prospects to deal, they have to be the favorites to land the lefty.
Prediction: Boston Red Sox
Reds, Yankees Inquire About Pence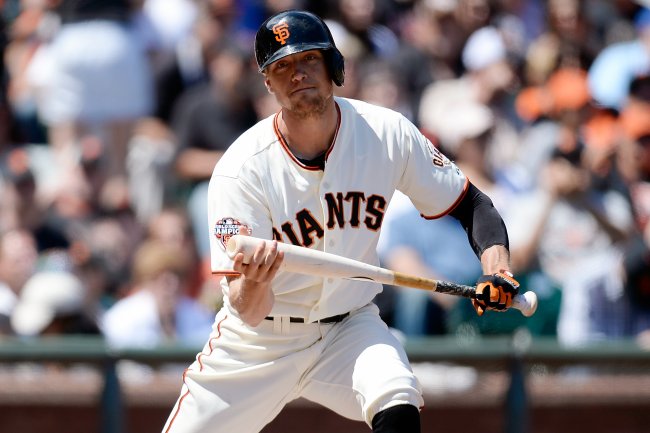 Thearon W. Henderson/Getty Images
The San Francisco Giants acquired Hunter Pence at the trade deadline last season and he ended up being an instrumental part of their World Series run. Now, it appears there are teams that would like to see if he can help out with another postseason push.
According to Heyman, the Cincinnati Reds and New York Yankees have both looked into bringing the outfielder into the fold.
yankees, as well as reds, checked in on hunter pence. http://t.co/rX9iFEbt3w

— Jon Heyman (@JonHeymanCBS) July 30, 2013
Both clubs could certainly use him. He's hitting .277 with 14 home runs and 51 RBI this season and brings a lot to the table defensively in the outfield. He's also a great presence in the clubhouse.
As Heyman points out, the Rangers and Pirates have also shown interest in Pence. However, the Giants have a high price tag on him. Alex Rios and Nate Schierholtz are the top outfielders on the market.
Of all the potential trade targets floating around right now, Pence seems like one of the most likely to stay put. The Giants might be asking too much for a player that is not one of the best available at his position.
Prediction: San Francisco Giants