Pics from Bellator Fighting Championship Week 6 by Jacob Powers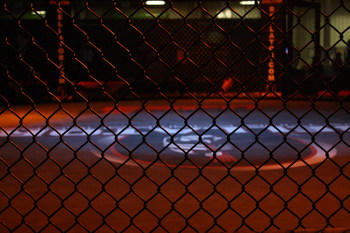 This Friday i was able to attend a great show in Robstown, TX. I had press credentials along with my best friend Jacob Powers who took the pics. He used a Canon EOS Rebel XS with a standard EFS 18-55mm zone lense. It was an eye opening experience and i had a blast there. Trust me when I say we were pumped for it.
I'd like to thank Joe Doran for the Press credentials to the event and all of the wonderful people who work with Bellator Fighting Championship. And now here are some cageside pictures of the event
Straight Right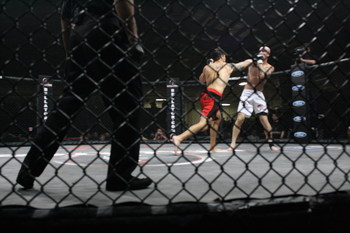 Chris Spicer who was a late replacement for the event lands a great Right hand to Bubba McDaniels. Spicer had to lose 20+ pounds in 2 days to make weight and ultimately lost but gave all he had.
Choked Out
Although Spicer was a game fighter, Bubba McDaniels ended the fight with a textbook rear naked choke. The hold was so tight Spicer was out before he could tap.
going for a ride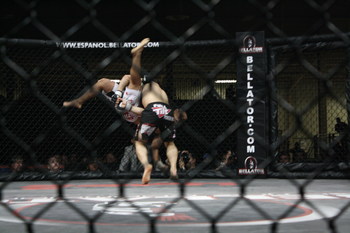 Dustin Phillips takes Jose Santibanez for a ride early in the first round.
KNEE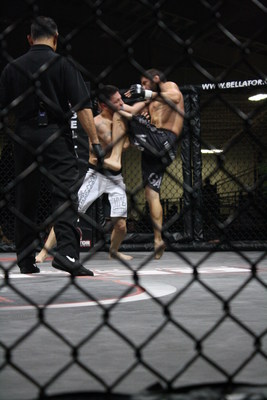 Roberto Vargas with a great knee to Daniel Pineda.
Celebration: Capoeria Style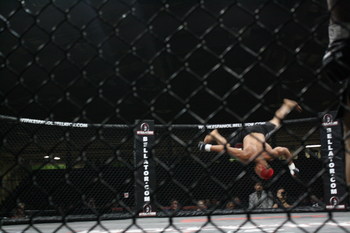 Team Nogueria fighter Luis "Baboon" Palomino celebrates with some nice Capoeria moves. And you gotta love the hair.
Rubber Guard
Estevan Payan showing his knowledge of the rubber guard. Although he lost to a now famous spinning back fist to Yahir Reyes, Payan put on a good performance thought out the fight.
Soto is for real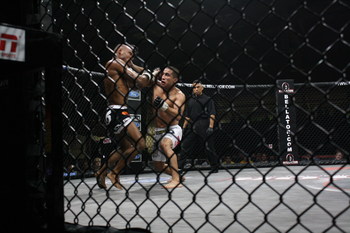 Wilson Reis was handsdown the favorite to win the 145 tourney but Joe "The Hammer" Soto had different plans this night. Personally I think Soto can win the whole thing and is a force in the 145 division. Can someone say WEC.
Closing it out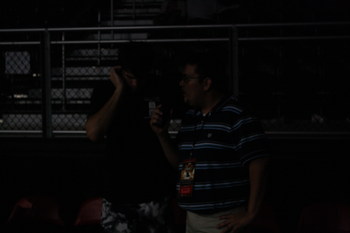 I you can make it out, that is me interviewing Chris Spicer. Sorry for the darkness of the pic. Jacob did have the flash going at the time.
Of the 1000 or so pics Jacob took I was so far able to narrow it down to 80 which i may be putting on mine and Jacob's facebook.
I hope you enjoyed
Keep Reading