North Carolina isn't exactly blessed with a cast of proven veterans heading into the 2013-14 season. No player at UNC has more than a year of starting experience. Even worse, Roy Williams only has three true wings at his disposal.
That includes P.J. Hairston, who just got nailed with an indefinite suspension.
Where do the Tar Heels go from here?
Coach Williams will have to implement Plan B, which entails a lot of position juggling, given the severe lack of depth on the wing. There is a reason they call it "Plan B."
It isn't exactly the optimal scenario.
Before P.J. Hairston's summer went south, he was expected to start at small forward alongside Leslie McDonald at shooting guard. Both players have the size and ability to play either position, though, giving Roy a little flexibility.
Point guards Marcus Paige and Nate Britt were also in the plans to see some reps at the 2 in relief. And, of course, to take advantage of a dual-point guard set in the transition game.
Now, Coach Williams will be forced to use that scheme more often than originally anticipated.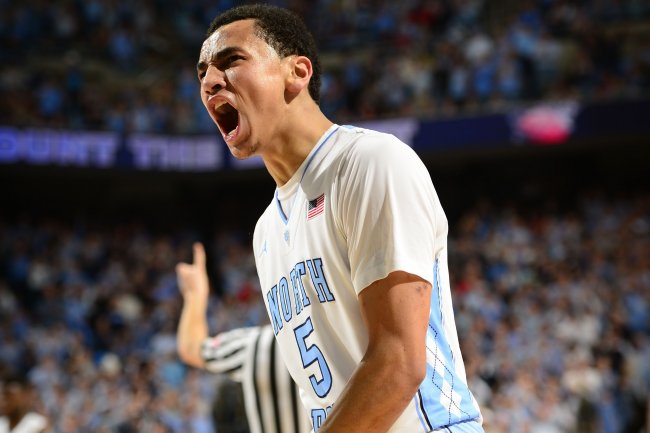 Bob Donnan-USA TODAY Sports
It's a good thing Paige improved on his perimeter shooting and built a little confidence down the final stretch of his freshman season. He was 20-of-45 behind the arc in his last 12 games.
It wasn't out of nowhere, either. He was a shooter in high school that happened to hit a wall as a freshman. The same thing happened to Hairston.
Then he went on to shoot 39.6 percent as a sophomore.
Where the Tar Heels will be hurting the most is size in this situation. Paige is listed at 6'0" while Britt stands at 6'1". And both players will head into the season weighing around 170 pounds.
That doesn't appear favorable in either direction. However, it isn't much different than last season's backcourt with Dexter Strickland at the 2, sans the experience.
The Tar Heels might actually be OK with this lineup, but Paige will definitely have to come out shooting. There will be no time for a sophomore slump.
Small forward is where it starts to get troublesome.
Typically, Williams will still have a solid shooter at the 3. Reggie Bullock and Harrison Barnes were the last two full-time starters.
Until Hairston comes back—if he even does—Coach Williams' only option for a true small forward is J.P. Tokoto, who was just 1-of-11 from downtown as a freshman. Tokoto was somewhat reliable from about 17 feet, but there wasn't much hope beyond that range.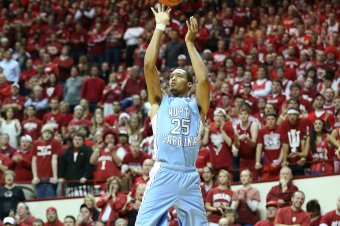 Andy Lyons/Getty Images
A glaring issue was his vertical alignment. He was either spreading his legs or leaning back.
You can get by with that on short jumpers, but he has to stay balanced to drop the three-ball.
Assistant coach and marksman Hubert Davis can easily work out those kinks this summer. But it remains to be seen if Tokoto can drain it from deep.
That could be a problem.
On the bright side, Tokoto was one of the better defenders on the squad as a freshman last season. He was also extremely active on the glass, and was able to spark momentum with a few monstrous put-backs.
Williams could have a couple other worthy options he could pull from the post, though. There is no lack of depth or talent there.
Sophomore Brice Johnson is the first player that comes to mind. He has been forced to play small forward in pickup games due to the influx of posts.
Johnson actually seems to prefer it this way, per Inside Carolina.
I can space out more now instead of staying in the post because that's not really my game. I can post up every once in a while, but it's just not my game. I'd rather set a screen, roll off it and make a jump shot or roll to the basket and dunk it.
This is from the guy that earned the nickname "Easy B" for his turnaround jumpers. If that's "not his game," Carolina fans should be looking forward to watching this kid in space.
Freshman Isaiah Hicks is a similar player, and could also possibly help cover the 3. He isn't a fantastic shooter yet, but he's another guy that can give the Tar Heels some activity points like Tokoto.
He may have better handles than the other guys, too. He's pretty impressive on the move.
Hicks would also be a big help with blocks and rebounds. He averaged 5.6 blocks per game as a senior in high school, and surely everyone has heard about his 30-30 performance in the state championship.
Can UNC Contend for an ACC Title Without Hairston?
Roy Williams may not be blessed with depth on the wing this season, but he is fortunate to have players versatile enough to switch roles and fill the gaps.
The gap Hairston left is no small crack, though. It's a gaping hole, devoid of the fire, physicality, experience and raw scoring ability Hairston brings to the hardwood every night.
This team will not be the same without him, however long that may be.
But if these young Tar Heels develop well over the summer, Ol' Roy could pull off some serious magic in 2013-14. The ground may be shaky in Chapel Hill, but I wouldn't count this team out just yet.