New York Mets Grades for Every Player in July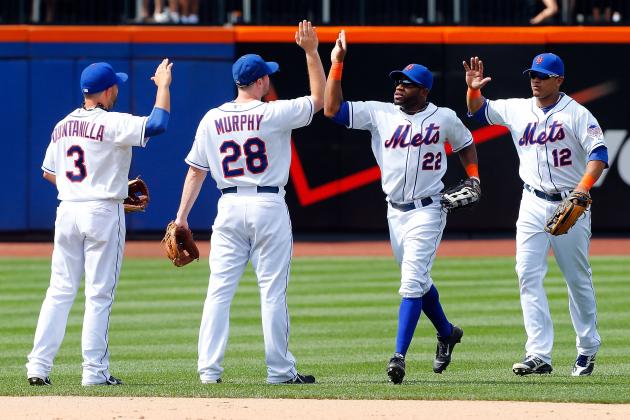 Jim McIsaac/Getty Images

In July, the New York Mets enjoyed their first winning month of the season by going 15-11 heading into tonight's contest with the Marlins. The Mets improved their overall record to 48-56, but remain a distant hopeful to secure their first playoff berth since 2006.
More realistically, the Mets are shooting for their first season of .500 ball since 2008, which could be accomplished with a stretch run that matches July's season-best production.
The Mets are hitting .263 as a team in July, sixth-best in the majors, and a far cry from their collective .238 average this season. The Mets have also scored 126 runs this month, second-best in the National League behind the Braves.
Meanwhile, the pitching staff compiled a 3.22 ERA as a team this month, which comes to sixth-best in MLB. Suddenly, the Mets have glut of young arms, including Matt Harvey and Zack Wheeler, that could make the team a contender next season.
Here are the July grades for each Mets player currently on the 25-man roster.
Begin Slideshow

»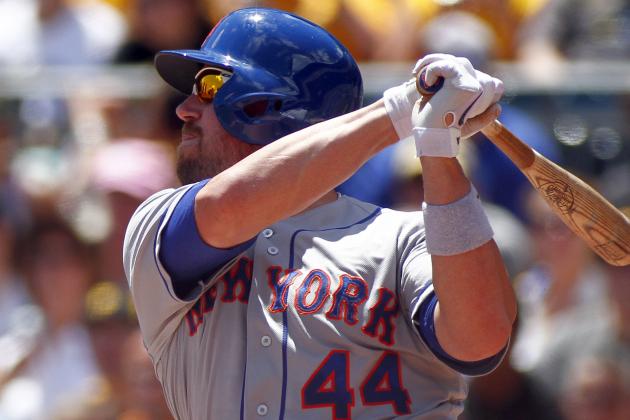 Justin K. Aller/Getty Images

Buck posted a strong month of July to end an extended hitting slump that saw his average dip to .208 at the end of June. Buck had a scorching hot April, but struggled mightily in the following two months. In fact, nine of Buck's 14 home runs came during April.
Buck has managed to turn it around in July with a strong .270 average. He hit just one home run, but drove in 14 runs to mark his second most productive month behind April.
July Grade: B+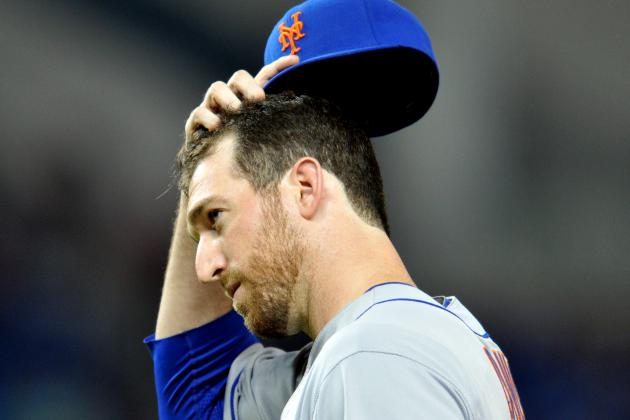 Steve Mitchell/Getty Images

After being sent to Triple-A Las Vegas to fix his swing, Davis was recalled in early July just days before the All-Star break.
Unfortunately, it's been more of the same for Davis following his return. In 56 at-bats in July, Davis hit .232 with just one home run. For the season, Davis' average stands below the Mendoza Line at .176.
The pressure continues to mount for Davis as Josh Satin impresses each time he takes the field. Time is running out for Davis to turn his season around.
July Grade: D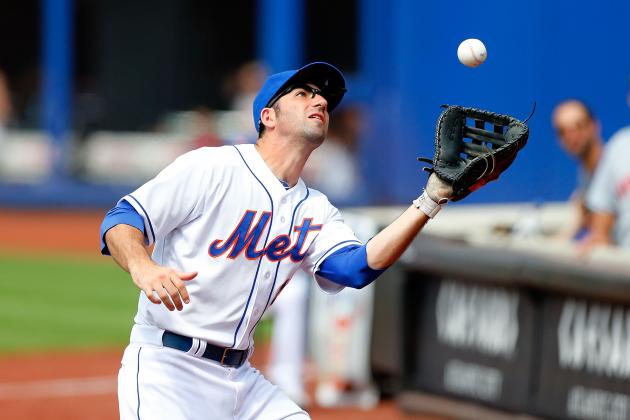 Jim McIsaac/Getty Images

All Satin does is continue to hit and reach base each time he's entered into the starting lineup. You might call him the anti-Ike.
Terry Collins has deployed a platoon at first base with Satin getting the call against left-handed pitchers. In 52 at-bats, Satin hit .269/.397/.442 with one home run and four RBI.
For the season, Satin's impressive .892 OPS compares favorable to Davis' .548 mark. Davis will continue to get at-bats, but the Mets must seriously consider whether Satin can man first base full-time next season.

July Grade: B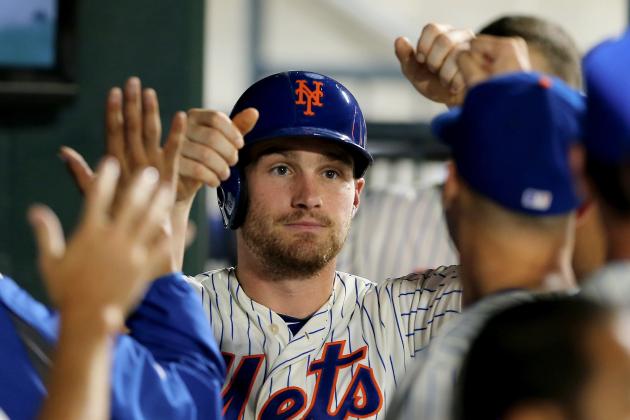 Elsa/Getty Images

Murphy began the month mired in a hitting slump, but broke out during the second half of July.
In 26 games, Murphy hit three home runs and drove in 20 runs hitting in front of David Wright in the two-hole. Murphy also saw his average jump from .275 to .284, thanks in part to a stretch of 11 hits in 17 at-bats.
Murphy continues to play a solid second base, and provide consistency with his bat. There's no reason to expect the Mets to replace Murphy this offseason.
July Grade: A-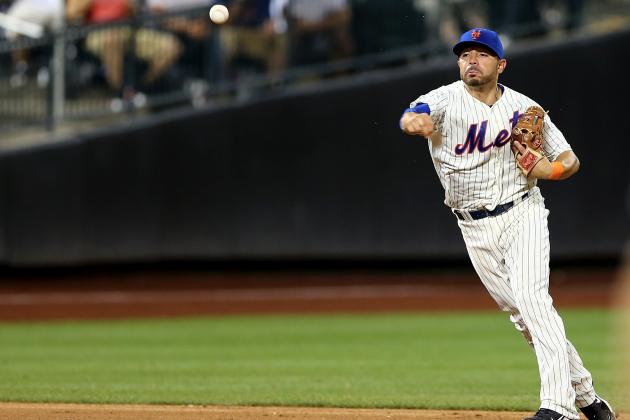 Elsa/Getty Images

Quintanilla has struggled at the plate, but has provided the Mets strong defensive play up the middle. The 31-year-old journeyman made just three errors in July, two of which came in against the Phillies on July 19, in nearly 100 chances.
Quintanilla is hitting just .227/.322/.414 this season, but his strong glove has earned him the starting spot over Ruben Tejada.
July Grade: C+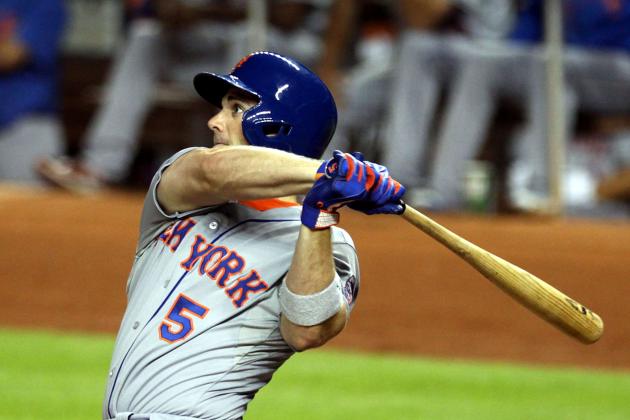 Marc Serota/Getty Images

Wright has been Mr. Consistent since signing an eight-year, $138 million contract extension this past offseason. July was no different.
Wright has been one of New York's main catalysts during their recent hot streak. In 102 at-bats, Wright hit .314 with three home runs and 11 RBI.
The Mets' captain failed to get a hit in just four games this month and had as many walks (14) as strikeouts.
The Mets everyday lineup is filled with question marks, but the three spot remains secure in the hands of David Wright.
July Grade: A-
Justin K. Aller/Getty Images

Since his acquisition in mid-June, EY Jr. has given the Mets their best option in the leadoff spot. After a hot start to his Mets career, the 28-year-old left fielder tapered off in the second half of July.
Despite hitting just .260 this month, Young Jr. led MLB by stealing 14 bases. He scored 17 runs in 24 games, and has proven to be a capable leadoff hitter in his short stint with the Mets.
July Grade: B+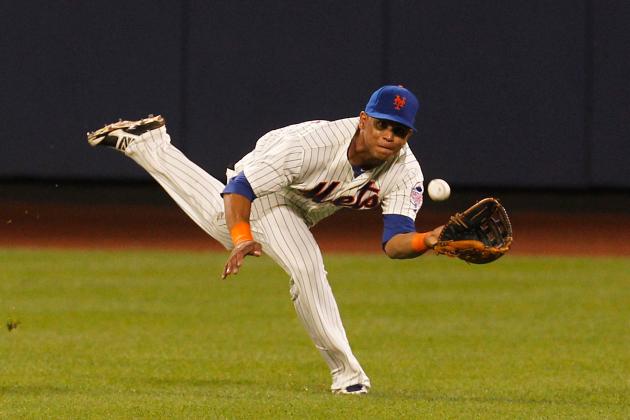 Mike Stobe/Getty Images

Juan Lagares earned National League Player of the Week honors from for his play from July 15-21. During that week, Lagares hit .700 including a 7-of-10 stretch in three games against the Phillies.
The 24-year-old Dominican has taken over the role as the Mets everyday center fielder while Kirk Niewenhuis was optioned to Triple-A Las Vegas.
In 62 at-bats, Lagares hit .339/.382/. 500 with four home runs and 11 RBI through July 30. Lagares raised his season average from .221 to .275.
The next two months will afford New York's front office an opportunity to evaluate whether Lagares should their center fielder next season. If not, the Mets are likely to pursue one in free agency.
July Grade: A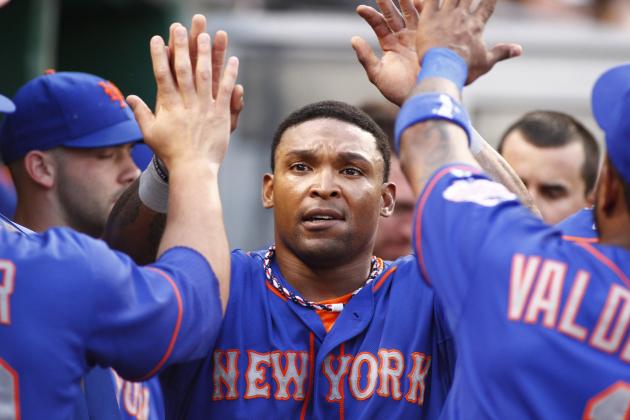 Justin K. Aller/Getty Images

July has been the best month during the best season of 35-year-old Marlon Byrd's career.
In 26 games, Byrd hit five homers and tallied 20 RBI to go with a .327 average. He's currently the Mets leader in both home runs (17) and RBI (60) and stands just three homers away from his career-high.
Byrd would make a great addition for a contending team, but the Mets have decided not trade him in fear of sacrificing "2013 competitiveness." Byrd is currently signed to a one-year, $700,000 contract and is unlikely the to return to the Mets as a result.
July Grade: A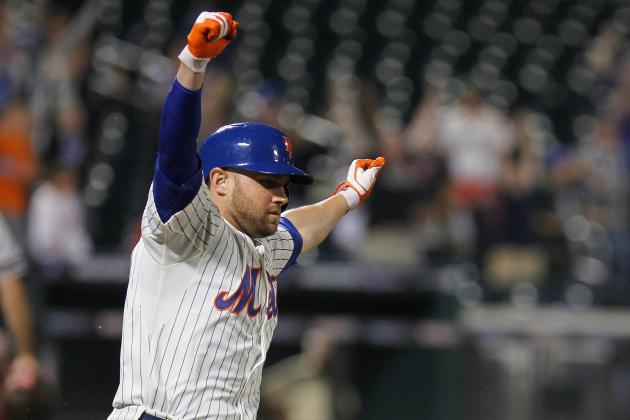 Mike Stobe/Getty Images

Brown has performed well in limited appearances for the Mets this season, but hasn't earned extended playing time. As a right-handed bat off the bench, Brown tallied eight hits in 33 at-bats in July. Brown is likely to be the odd man out and optioned to Triple-A when Lucas Duda returns from the disabled list in August.
July Grade: C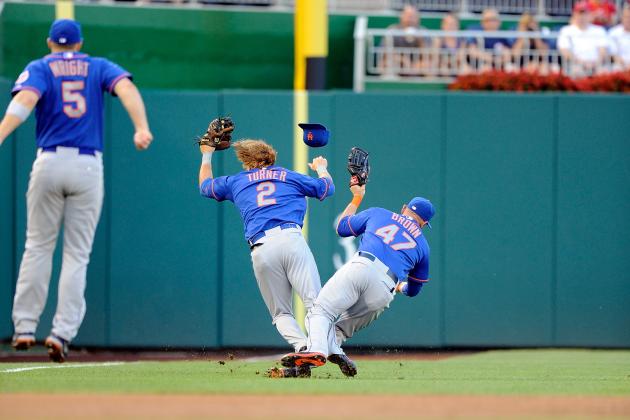 Greg Fiume/Getty Images

Turner returned from the disabled list on July 18, and has two hits in just nine at-bats since. Turner missed over a month of action due to an intercostal strain and has had trouble staying on the field.
He's hitting .260 in just 104 at-bats this season. Turner will get more at-bats if he starts to hit, but first needs to stay healthy.
July Grade: Incomplete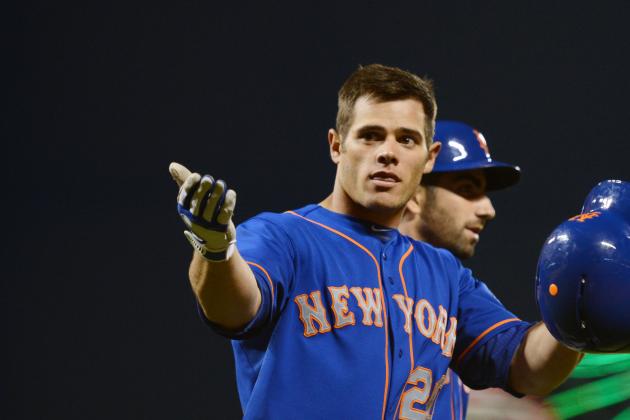 Kyle Terada-USA TODAY Sports

Recker has proven to be a capable backup for John Buck, but just hasn't provided enough offense to command additional starts.
In July, Recker had eight hits in 46 at-bats in limited playing time. For the season, Recker is hitting just .172 in 92 at-bats, but has shown some pop with five home runs.
At this point, Recker can expect to start next season in Triple-A with catching prospects Travis d'Arnaud and Juan Centeno awaiting promotion in the minors.
July Grade: C-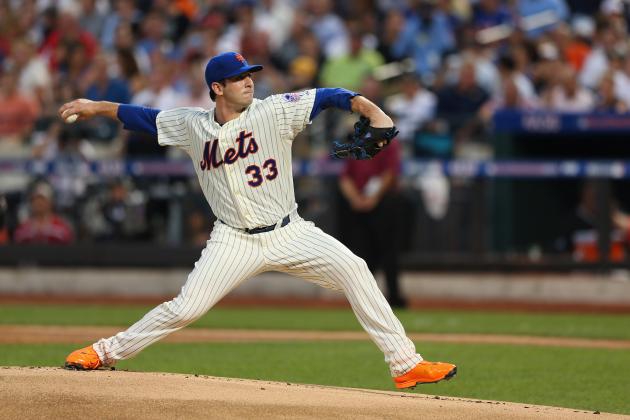 Mike Ehrmann/Getty Images

Prior to the All-Star break, Harvey suffered through a rough stretch of two starts in which he allowed eight earned runs in 13 innings pitched. On July 3, Harvey endured his worst start of the season by allowing five earned runs in six innings against the Diamondbacks.
Harvey took the ball for the National League in the All-Star Game at Citi Field and hasn't allowed an earned run since. He threw two innings during the All-Star Game, allowing just one hit and striking out three batters.
Following the All-Star break, Harvey returned to the Cy Young caliber form he's shown throughout his first full season. In two starts, Harvey surrendered just nine base runners and no earned runs in 15 innings pitched.
On July 21, Harvey threw seven shutout innings against the Phillies, including 10 strikeouts, to secure his eighth win of the season.
How good has Harvey been this season? Despite his dominant conclusion to the month, Harvey's ERA actually went up from 2.00 to 2.11 in July.
Harvey might only have to 10 starts left to make this season, according to Jorge Castillo of NJ.com, so enjoy them while they last, Mets fans.
July Grade: B+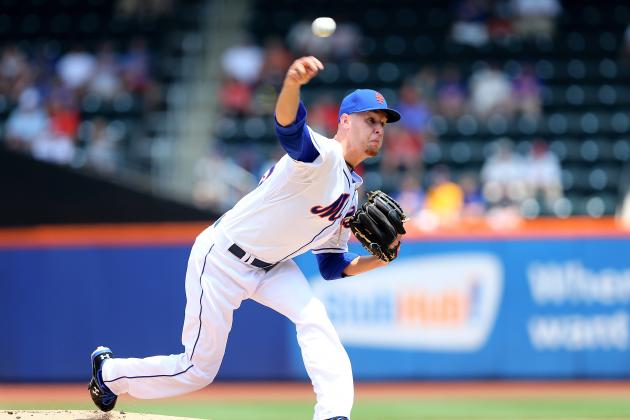 Elsa/Getty Images

Zack Wheeler looked the part in his first full month as a major leaguer.
In five starts, Wheeler allowed a grand total of seven earned runs, while never allowing more than three runs in any start.
Wheeler struggled with an elevated pitch count at times, but managed to pitch a career-high seven innings against the Giants and Marlins.
The 23-year-old right-hander enjoyed an impressive 2.78 ERA for the month of July to bring his season mark down to a strong 3.55.
Wheeler has certainly been brilliant at times during his first eight big league starts. He's admitted that he needs to work on his mechanics, but should make a great one-two punch with Matt Harvey for years to come.
July Grade: A-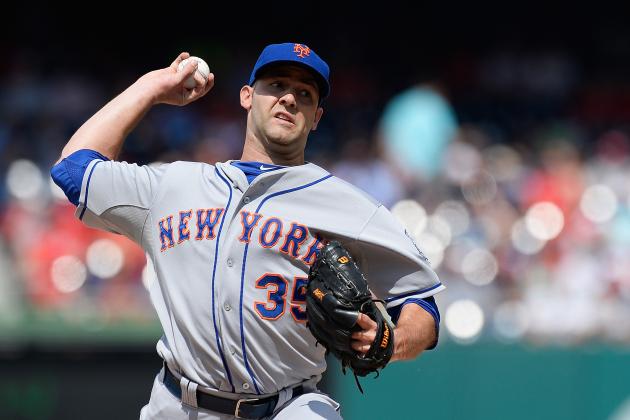 Patrick McDermott/Getty Images

In July, Gee went just 1-1, but contributed a solid 2.88 ERA in five starts. Gee gave the Mets some much-needed length, pitching into the seventh inning in each of his five outings.
Gee saw his ERA drop from 4.60 to 4.13 in July, despite allowing four earned in runs in a loss to the Nationals on Saturday.
After a terrible start to the season, Gee has really turned it around and is making a push to remain in the rotation in 2014.
July Grade: B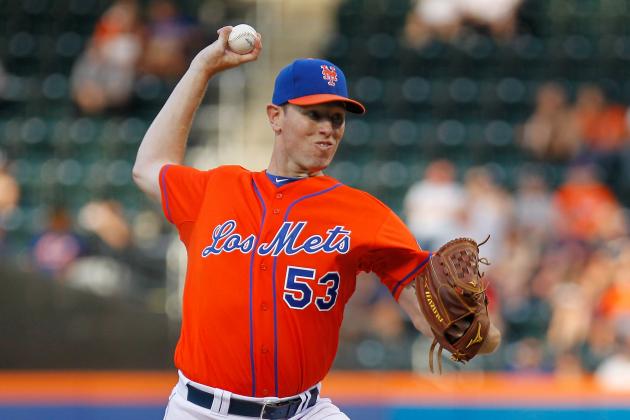 Mike Stobe/Getty Images

Hefner's July is a tale of two stories: before and after the All-Star break. Prior to the break, Hefner was on a hot streak that solidified his spot in the starting rotation.
In his first three starts of the month, Hefner went 2-0 with a 1.71 ERA. He pitched exactly seven innings in each of those outings and allowed a total of four earned runs.
In his first start following the layoff, Hefner allowed eight earned runs in just two innings in a 13-8 loss to the Phillies. In his following two starts, Hefner allowed eight earned runs, including three home runs, in 9.2 innings.
"Obviously, coming out of the break, he's not the same guy going in," said manager Terry Collins, according to MetsBlog.
With the Mets suddenly flush with starting pitching, Hefner will need to show that his hot stretch earlier this season wasn't merely a fluke.
July Grade: B-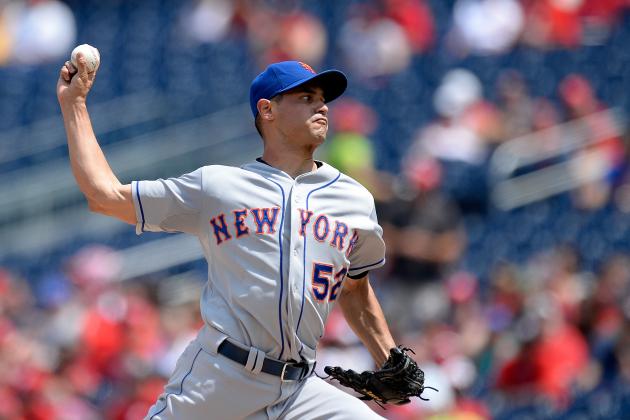 Patrick McDermott/Getty Images

Torres was elevated to the starting rotation after allowing just one earned run in 17.1 innings as a reliever.
The 30-year-old continued his strong pitching in his first two starts by allowing a mere two earned runs in 11 innings. He picked up his first win after six strong innings against the Braves on July 23.
However, Torres suffered a drubbing at the hands of the Nationals in the series finale on Sunday. He allowed eight earned runs in three innings as the Mets went on to lose 14-1. Torres saw his ERA jump more by than three times from 0.94 to 3.13.
Torres will likely be demoted out of the Mets' six-man rotation when Jonathon Niese returns from the disabled list.
July Grade: B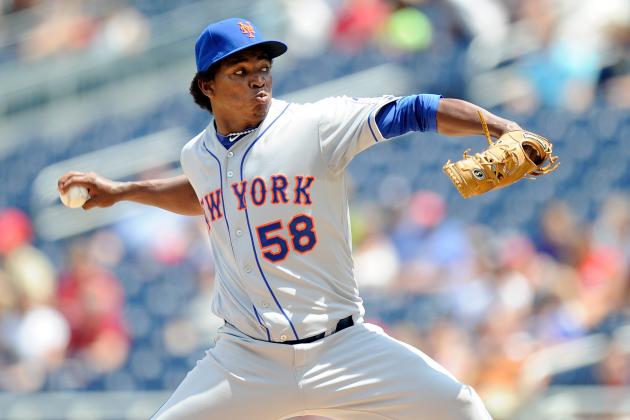 Greg Fiume/Getty Images

Mejia makes his second start of the season in Miami tonight and is part of a six-man pitching rotation that Terry Collins is using to limit the workloads of Wheeler and Harvey in the season's final two months.
In his first start, the 23-year-old Mejia showed flashes of brilliance that made him a top prospect in the Mets organization. In his first start since Sept. 30, Mejia pitched seven shutout innings against the Nationals on July 26. He allowed just seven hits and no walks while striking out seven batters.
The Mets have plenty of arms vying for a spot in next season's rotation, and Mejia will earn his by continuing to pitch like he did against Washington.
July Grade: Incomplete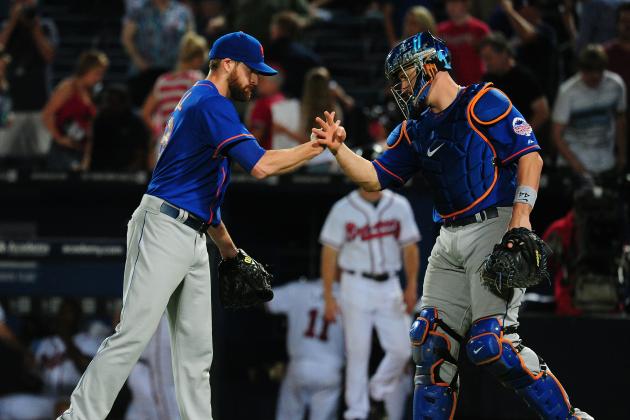 Scott Cunningham/Getty Images

Parnell has impressed in his first full season as the Mets' closer and July might've been his best month yet.
In 12 appearances, Parnell recorded eight saves and one blown save in 14 innings pitched. He compiled a sparkling 0.69 ERA by allowing just one earned run, but also surrendered five unearned runs.
For the season, Parnell's ERA dropped from 2.68 to 2.16 in July. He has 22 saves in 27 chances, and has converted 13 of his last 14 chances.
Prior to today's trade deadline, the Mets insisted that they'd need to be "blown away" to trade 28-year-old closer and it doesn't look like Parnell is going anywhere.
July Grade: B+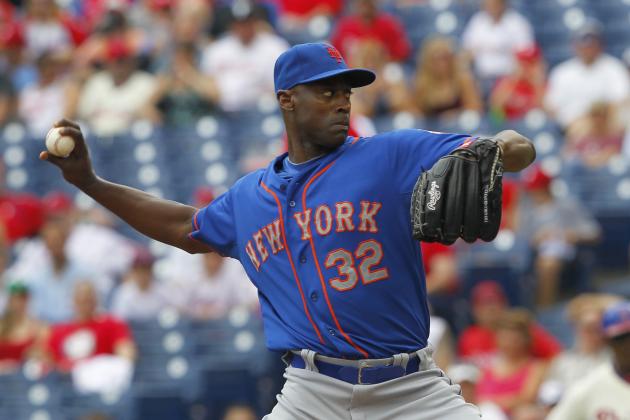 Hunter Martin/Getty Images

In July, the Mets got more of the same from Hawkins, who continues to vastly exceed New York's expectations this season.
The 40-year-old reliever made 12 appearances and allowed four earned runs in 10.2 innings pitched. For the season, Hawkins boasts a strong 3.09 ERA to go with 36 strikeouts in 46.2 innings pitched.
Hawkins continues to be the Mets' most consistent middle relief option this season.
July Grade: B+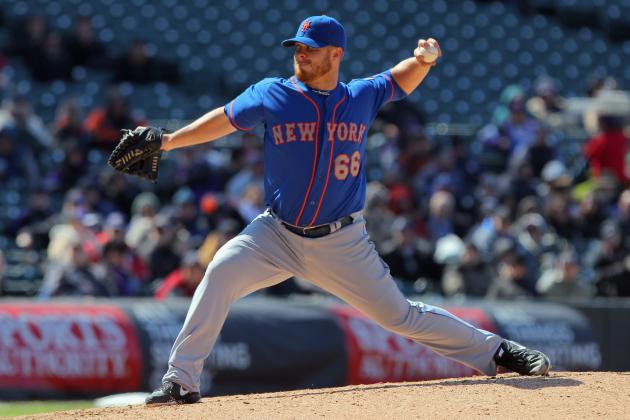 Doug Pensinger/Getty Images

Edgin put together a fantastic month of July and has supplanted Scott Rice as Terry Collins' go-to left-handed reliever in the late innings.
In 12 mostly high-leverage appearances, Edgin pitched 10.1 innings while allowing just one earned run and seven hits.
Edgin has been one of the Mets most consistent relievers following a terrible April in which his ERA spiked to 10.80. Since the start of June, Edgin's ERA is just 1.04 in 17.1 innings pitched.
July Grade: A-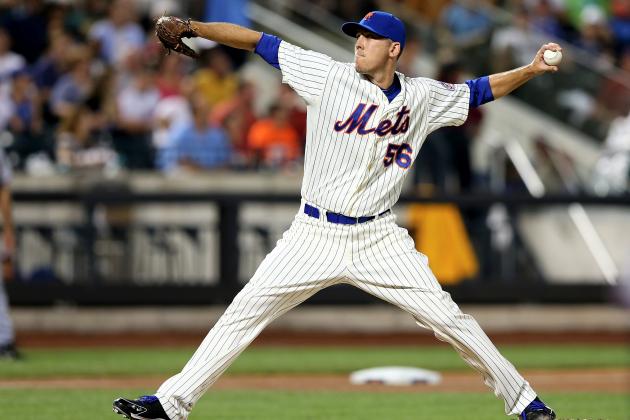 Elsa/Getty Images

In July, the Mets finally lightened Rice's workload after the 31-year-old rookie made 44 appearances in the first three months of the season.
The addition of Josh Edgin, who provides another left-handed arm in the bullpen, allowed Rice to hit season-low marks of 9 appearances and 5.2 innings pitched during July.
Not surprisingly, fewer pitches thrown has led to increased effectiveness for Rice. He allowed just one earned run in July and saw his ERA drop from 4.45 to 4.01.
July Grade: B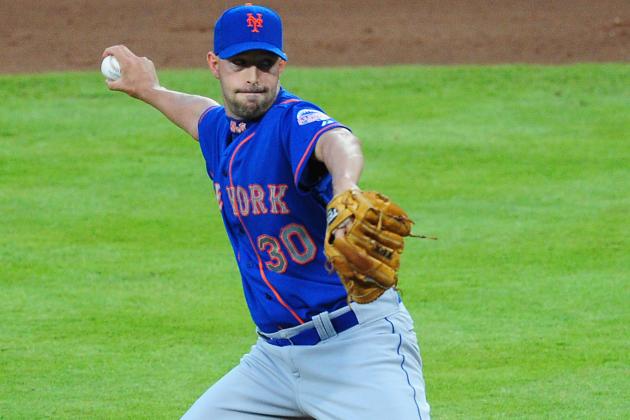 Scott Cunningham/Getty Images

Aardsma was a workhorse out of the pen for New York this past month. Despite the All-Star break, Aardsma still managed to pitch 12.2 innings in 12 appearances.
Aardsma allowed six earned runs, but three of those came with the outcome already decided in the Mets 14-1 loss to the Nationals this past Sunday.
The 31-year-old right-hander has proven to be a reliable option out of the pen since his acquisition last month.
July Grade: B-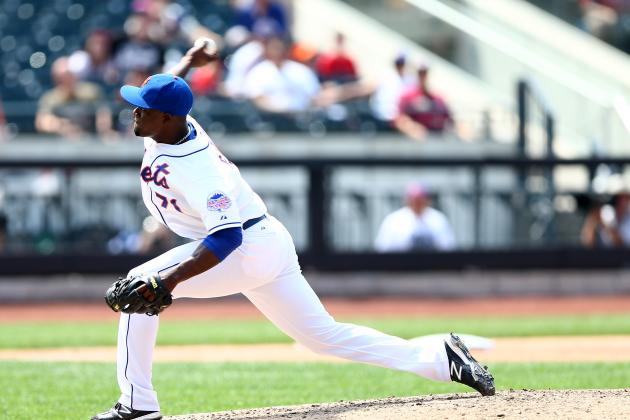 Elsa/Getty Images

The rookie Germen has pitched well since making his major league debut on July 11. In 9.1 innings pitched, Germen allowed three earned runs, but enjoyed a streak of five straight outing without allowing a run.
The 25-year-old right-hander should continue to see work, especially given his limited exposure to major league hitting.
July Grade: B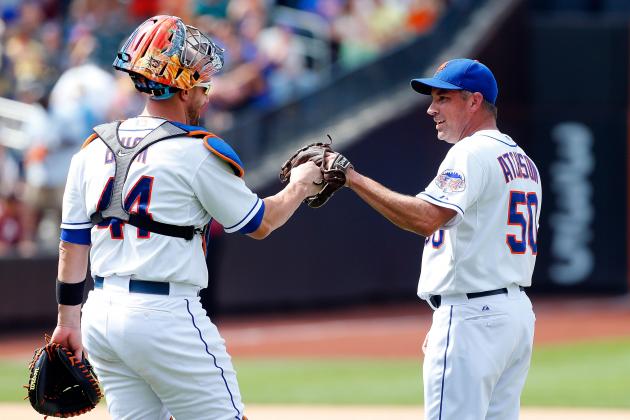 Jim McIsaac/Getty Images

Atchison was effective in limited action in July. The 37-year-old right-hander pitched four innings without allowing a run. He hasn't pitched in many high-leverage spots, but could be relied on in the later innings if he continues to get hitters out.
In five appearances, Atchison's ERA dropped from 4.42 to 3.52.
July Grade: B