Philadelphia Phillies infielder Michael Young may be dealt at any moment, but the veteran's destination is unclear.
A move appears imminent, though, as the Phillies announced Tuesday afternoon that the team was promoting Cody Asche from Triple-A Lehigh Valley. Asche isn't getting the call to sit on the bench, as Matt Gelb of the Philadelphia Inquirer thinks he'll be starting, and if Young stays past tomorrow, he'll be the backup.
3B @cody_smasche had his contract selected from @IronPigs. OF Steve Susdorf was designated for assignment.

— Phillies (@Phillies) July 30, 2013
Young is hitting .277/.342/.402 with seven home runs and 32 RBI through 98 games for the Phillies this year. He can play any infield position and could serve as a designated hitter as well. All signs point to him playing for an American League contender for the last two months of the season.
If the Phillies are planning on trading Young in the next few hours—or just before Major League Baseball's deadline tomorrow at 4 p.m. ET—Joel Sherman of the New York Post reports that he isn't going to be headed to the Bronx:
With 3B Cody Asche called up, suspicion growing that #Phillies trading Michael Young. If so, #Yankees people say it is not them

— Joel Sherman (@Joelsherman1) July 30, 2013
If not New York, then where will Young be playing for the rest of the 2013 season? Well, he has a full no-trade clause in his contract, and that makes things a little bit tricky. But by calling up Asche, the Phillies may now have some leverage on the veteran. He might rather be traded than sit on the bench going forward.
Let's examine two of the potential destinations for Young.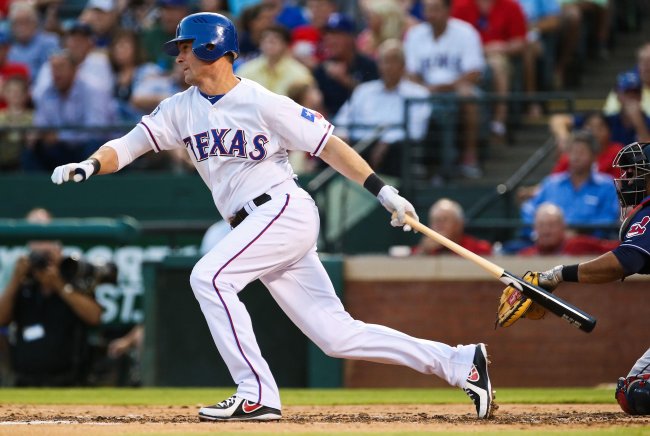 Kevin Jairaj-USA TODAY Sports
Young played for the Rangers from 2000 through last season, and it seems likely that he'd be open to returning to Texas. Ken Rosenthal of Fox Sports says that if Young is going to waive his no-trade clause, it'll only be to head back to the Rangers:
That last tweet should read, #Phillies' Michael Young only WILL approve trade to #Rangers. Left out a word. Again: Full no-trade clause.

— Ken Rosenthal (@Ken_Rosenthal) July 30, 2013
Texas doesn't have any immediate openings in its infield, and as I mentioned in a recent article, it wouldn't make much sense to play him over Mitch Moreland at first base. That being said, the Rangers could use Young as the regular designated hitter, as Lance Berkman is currently on the disabled list.
If that's the case, Jurickson Profar—who has played all over the place this season—could go back to the outfield. While he only has four games of big-league experience outside of the infield, David Murphy hasn't shown that he's worthy of a starting position. Profar could head to left field for the remainder of the year.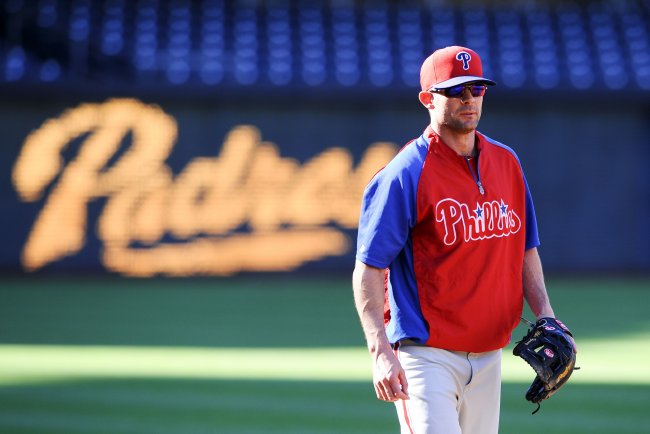 Christopher Hanewinckel-USA TODA
The Rangers just need to focus on getting someone who can provide some power to the position. Of the teams in the American League, Texas has the fewest home runs from the designated hitter's spot with six. Young only has seven homers on the year, and it doesn't appear that he's going to be a power threat with Texas.
There are better options available in the next day or so than Young. While I'm sure the Rangers are flattered that he'd be interested in making a comeback with the club, he just doesn't fit what they need right now. Unless he wants to be an option on the bench, he shouldn't want to go to Texas. Texas shouldn't really want him either.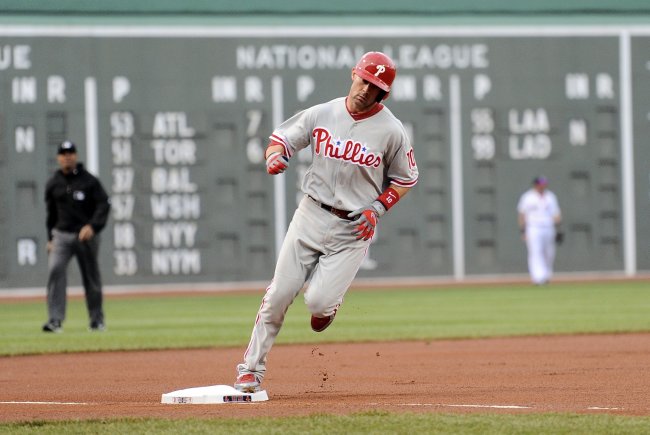 USA TODAY Sports
While Rosenthal noted that Young would only be willing to waive his full no-trade clause to return to the Rangers, some reporters have heard otherwise. Sherman, for one, reports that Young would likely waive it to go to the Red Sox as well:
There r execs I have contacted who believe if deal were made Michael Young also would waive no-trade for #Redsox #Phillies

— Joel Sherman (@Joelsherman1) July 30, 2013
Young would likely be Boston's third baseman going forward if he went there. The Red Sox started the season with Will Middlebrooks at third base, but he got injured and hit poorly in his limited time with the team. In 53 games with the Red Sox, he hit .192/.228/.389 with nine homers and 25 RBI.
Where will Young wind up?
Boston has gone with Jose Iglesias at third base since Middlebrooks' demotion to Triple-A and was playing quite well. From April through June—a stretch of 39 games—the infielder hit .409/.455/.530 with 12 extra-base hits and 23 runs. In July, he's hitting .200/.244/.213 and could end up losing his starting job.
The Red Sox have a couple options regarding the third base spot in the lineup. Boston could keep going with Iglesias at third for the rest of the year, go with someone like Brandon Snyder, recall Middlebrooks, promote someone like Xander Bogaerts or make a deal to trade for someone like Young.
Young probably won't cost the Red Sox a ton to acquire, which is one reason the team might see it as a risk worth taking. As long as he hits better than Iglesias has in recent weeks, it'll be a win for the team. If he doesn't work out, the Red Sox let him go at the end of the season knowing they only lost a low-level prospect.
All statistics in this article were obtained via FanGraphs unless otherwise noted and are current through July 29. All contract information in this article was obtained via Cot's Contracts and all injury information was obtained via Baseball Prospectus.